Sporting Achievements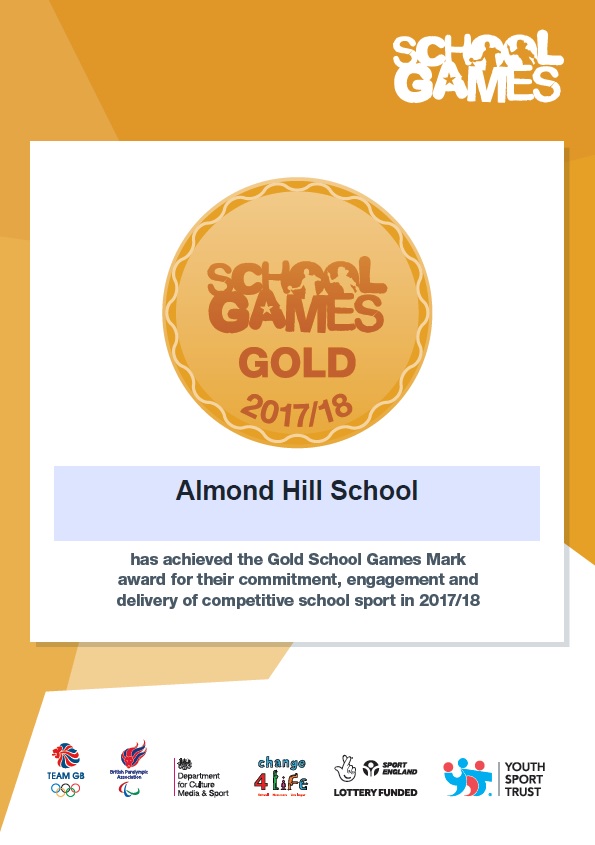 Almond Hill achieved a Gold Mark for School Games in 2017/18. The School Games Mark is a Government led awards scheme launched in 2012 to reward schools for their commitment to the development of competition across their school and into the community.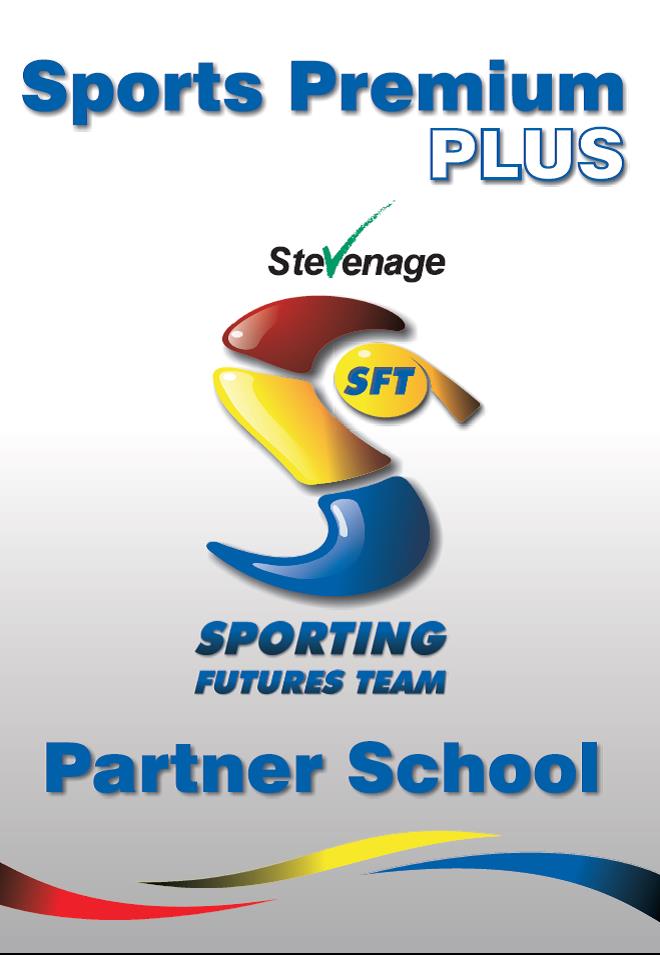 Stevenage Sporting Futures Team
With the collaborative partnership of our school and Stevenage Sporting Futures Team we are able to offer the children a fully inclusive variety of sporting experiences, festivals and competitions, along with support and training for our staff. We are proud to be a Sports Premium Plus school of the Stevenage Sporting Futures Team.
Hi I am Miss Garvey I have been a sports coach with Rising Stars for 4 years and thoroughly enjoy it. I enjoy both playing and coaching football. I have been playing for 10 years now and still going. I am really enjoying working at Almond Hill and co-ordinating with both the staff and year 6 sports leaders to deliver the Physical Curriculum and more.
Miss Garvey is supported by a group of Year 6 Sport Leaders. Sport leaders undertake special training with Stevenage Sporting Futures and promote and support sport in school. This term the sports leaders are helping Miss Garvey with lunchtime clubs and they are organising a Speed Stacking competition.
Ridlins Athletics - June 2019
There was a lot of excitement and passion from the students who participated in the Ridlins Athletics event this year. As a school and staff team we could not be prouder of each of the children who took part; from their behaviour at the event to how well they performed. Our year 6's did well with a gold, silver and bronze medal being awarded to individuals and a personal best achieved from our year 6 high jumpers. The Year 4's did exceptionally well with a gold, two silvers and a bronze being awarded to individuals and as a team in the relay. This resulted in the Year 4's coming 3rd place overall out of the Year 4 category. Well done to all our pupils and thank you to all the parents who were involved in getting the pupils there and back and for the support throughout the day.
Speed Stacking - December 2018
Over the last few weeks the year 3's and 4's have been given the opportunity to work with our year 6 sports leaders in entering an inter school speed stacking competition. The year 6 leaders taught them 2 different forms of stacking, using specific techniques that they could then practice before being timed. These results will now be put forward to Stevenage Sporting Futures Team who will enter our results to be compared to other schools and if successful we will be entered to compete in the final competition held in February.
Football Season 2018/2019
Sadly, our school football season has come to an end. I would just like to thank all who have been involved, from parents to volunteers but mostly thank you to all the pupils, boys, and girls for attending training and representing the school. It has been a joy coaching and working with you all and I could not be prouder of all the hard work the pupils have put in. I wish the year 6's all the best playing in the years to come. Many Thanks, Miss Garvey.
Boys Football Results 2018/2019
WC 04.12.18 The boys had an unlucky loss at Round Diamond this week, finishing the game 3-2. They played the best they have played all season. They have come on leaps and bounds and demonstrated some great team work.
W/C 26.11.18 The boys did really well, despite the score line of a 4-0 loss the boys showed enthusiasm and determination to keep on working hard and support each other as a team till the very end.
W/C 19.11.18 Last week, the boy's football team were very unfortunate to lose against Trotts Hill. They played well but the end result was 7-2
W/C 22.10.18 The year 5/6 boys football team were very unfortunate to be on the end of a loss against Peartree Spring Primary. They played extremely well, with the result not being a true reflection of how well the boys played.
W/C 15.10.18 A fantastic sports performance from the boys football team who drew 3:3 against Codicote. Very well done to everyone who took part.
Girls Football Results 2018/19
W/C 22.01.19 The girl's football team came back fighting fit this week after Christmas break with an incredible 19-1 win against Camps Hill. The girls were a bit rusty in the first half with a 0-0 score at half time. They soon found their stride in the second half, linking passages of play that impressed all. Once they found their stride there was no stopping the girls with goals being scored from a number of team mates. Camps Hill were unfortunate to only be able to arrive with 6 players so as an excellent show of sportsmanship the Almond Hill girls played with 6 players too, that is until the final 5 minutes when Daisy and Mia again showed great sportsmanship and played in defence for the opposition.
W/C 04.12.18 The girls won 1-0 against Ashtree last week. They played really well and Jo scored a last minute goal to win the game. Taya was unlucky with a disallowed goal.
W/C 21.11.18 The girls played away against St Nicholas on Monday and they won 4-1. They played really well together and it was a great team effort.
W/C 12.11.18 The Year 5/6 Girls Football Team played against Lodge Farm on Monday 12th November. The girls worked tirelessly against a good team which saw Almond Hill end the game as 1-2 winners. A very well done to our team for their efforts and to Jo who scored both goals.
W/C 5.11.18 The year 5/6 girls played brilliantly at Marriotts, showing great team work, skill and commitment. They did Almond Hill proud and despite winning 2 out of their 3 games they were very unfortunate not to qualify as they just missed out on goal difference.
W/C 15.10.18 Well done to the girls football team, what a fantastic start to the year. The girls played extremely well and won 2-1 against Giles Junior School last week.
Cross Country 2018/19
October 2018 - The cross country teams did us all very proud at Stevenage Sporting Future Annual Stevenage event! They ran with such determination at the local competition in October and showed themselves to be such good sports in their support of each other. Very well done to both girls teams who came 3rd overall (Yr 5) and 1st overall (Yr 6)
Basketball
November 2018 - A group of Year Six' took part in a Basketball tournament last Thursday 8th November at Barnwell School. The team played very well and showed an excellent understanding of the rules of the game and fair play. Unfortunately, we did not progress out of the group stages but did draw one of our games. As a group, this was their first basketball tournament playing competitively and they all made a brilliant effort - well done!
October 2018 - Basketball Wow Day! We were very fortunate to receive a visit last week from Paul Sturgess who is the tallest basketball player in the world! The children enjoyed an inspirational assembly and throughout the day, took part in sessions working with Paul to learn different basketball skills and tricks. A great day was had by all.