COVID-19 Updates and Information
Please see the attachments below for the latest letters and updates
Almond Hill Updates
After the Prime Minister's announcement, I am sure there have been many different reactions amongst us. I understand some parents and children will be anxious about the return to face to face education whilst others will be pleased about this decision. Please rest assured we will be working hard to ensure a safe return for all pupils and staff and will continue to monitor our procedures in line with government guidance. Over the next two weeks, we will review and update our risk assessment to follow the system of controls to minimise the risk of infection.
As has always been the case we are looking at the advice that has been given to help prevent the spread of the virus including:
Maintaining social distancing within the school. We will continue to work within our year group bubbles including our staggered start and finish times.
Minimise contact with individuals who are required to self-isolate by ensuring they do not attend the school. Please see below for a reminder on the guidance for this.
Ensure everyone is advised to clean their hands thoroughly and more often than usual (both at home and at school).
We will continue to operate with windows open to encourage ventilation so please ensure your children are dressed appropriately as at times the classrooms can get cold.
We will publish more information next week to parents, but expect all pupils to return on Monday 8th March. School will operate in a very similar way to the Autumn term. School attendance has been deemed by the government to be mandatory from this date, meaning they are all expected to return unless;
• they have one or more coronavirus (COVID-19) symptoms
• a member of their household (including someone in their support bubble or childcare bubble if they have one) has coronavirus (COVID-19) symptoms
• they are required to quarantine having recently visited countries outside the Common Travel Area
• they have had a positive test
They must immediately cease to attend and not attend for at least 10 days from the day after:
• the start of their symptoms
• the test date if they did not have any symptoms but have had a positive test.
In primary schools, it is now recommended that face coverings are worn by staff and adult visitors in situations where social distancing between adults is not possible (for example, when moving around in corridors and communal areas). Children in primary school do not need to wear a face covering but you may want to discuss this with your children to make them aware of this change for adults before they return. This is an additional precautionary measure for a limited time during this period of high coronavirus (COVID-19) prevalence in the community.
It is not necessary for children to bring anything in to school with them other than a water bottle, lunch box (if required) and a coat clearly labelled with their name. All other equipment will be provided for them in school. Children in years 5 and 6 are permitted to bring their mobile phones in, if they are coming to or from school independently and this will be put in a sealed wallet for the duration of the school day. They can wear PE kit on the days stipulated by their teachers.
24th February 2021
---
Please click here to read our guide on COVID-19 related pupil absence
Hertfordshire Updates
Latest advice
National lockdown rules apply in Hertfordshire.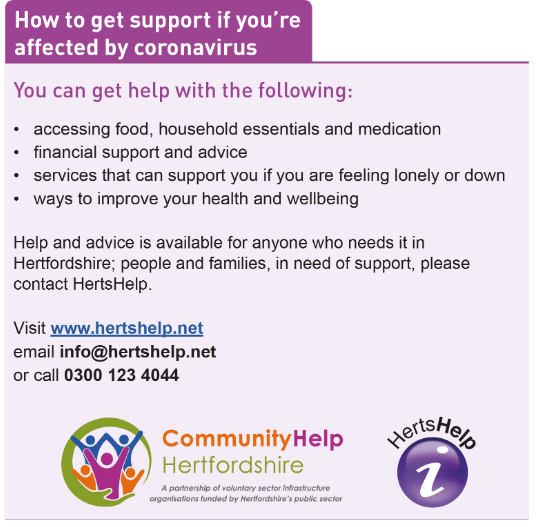 You can follow service updates to all Hertfordshire County Council services (including libraries and schools) on their Coronavirus service updates page.
Hertfordshire Local Offer
Updates and messages will be posted here from special educational needs and disabilities services relating to Coronavirus when they are available.
Information for parents and carers
Police have received reports of lack of social distancing and complacency around face coverings at school drop off and pick up times.
We all have a responsibility to take steps in helping reduce the spread of coronavirus. With this in mind, all families are required (unless exempt) to adhere to the following points to ensure a safe arrival and departure at school for all involved:
Only one parent or guardian should drop off and pick up their child/children to reduce numbers outside school
Stay 2 metres apart from anyone not in your household
Make good use of all available entry and exit points to the school site to avoid bottleneck
Refrain from lengthy face-to-face conversation with staff or other families; use digital communication methods during lockdown
Go straight home after dropping and/or collecting your child/children
Wear a face covering during pick up and drop off
Thank you for your support and understanding – together we will slow the spread of COVID-19 and save more lives.
You can familiarise yourself with the latest restrictions on the official Government website.
Looking after your mental health and wellbeing during Coronavirus: Information for Children and Young People – Oct 2020