Friends of Almond Hill (FOAH)
HELP NEEDED!
We really need your support to keep Friends of Almond Hill going! If you are willing to help organise events for our children to help raise funds for the school please let the office know! Even if you only have a small amount of time to offer, we would love to hear from you. Over the years, our parents have supported many fun events for the children and FOAH have paid for resources and educational activities which we are not able to provide from our budget. Without more help coming forward, I am very concerned that Friends of Almond Hill will not be able to continue. Thank you very much in advance. Any help is always so greatly appreciated.

Friends of Almond Hill are a dedicated group of parents who organise fund raising and fun events for our pupils and parents.
We view all parents and carers as members and welcome support in any way, big or small. FOAH are keen to organise events that reflect the interests of pupils as well as mums and dads!
FOAH meet each half term. Meetings are open to all parents/carers. FOAH keep you well informed of planned activities through their newsletters and welcome your ideas.
As a result of a lot of hard work and the support of all of our parents FOAH have contributed to a wide range of resources and treats for the children over the years. Last year they helped to provide the school with its first I Pad trolley and currently are raising funds to support the purchase of a second one.
If you are able to help FOAH in any way please contact the school office and we will pass on your details.
Spring/Summer Events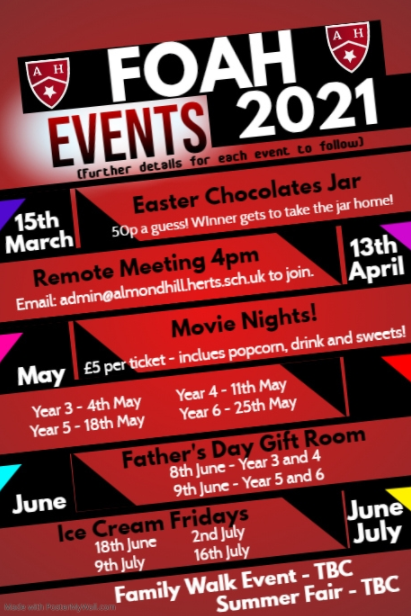 Autumn 2020 Fundraising
WHAT ARE WE RAISING FUNDS FOR?
FOAH are aiming to raise £3,000 for a new interactive whiteboard for Oak House. Oak House have 7
interactive whiteboards which are in need of replacement and they cost £3,000 each so FOAH is
aiming to raise £3,000 for the first one.
Bags2School
Thank you to everyone that donated to the Bags2School campaign we raised £54.
December 2020

FOAH Christmas Present Room
We raised a fantastic £734 from our present room this year, thank you everyone!
December 2020
Design your own Christmas Cards
This event raised £288.52!
December 2020
---
Volunteers Urgently Needed...
We can't do these events without your help so please do let the school office know if you can offer any help or donations at all - thank you.