Friends of Almond Hill (FOAH)
HELP NEEDED!
We really need your support to keep Friends of Almond Hill going! If you are willing to help organise events for our children to help raise funds for the school, please let the office know! Even if you only have a small amount of time to offer, we would love to hear from you. Over the years, our parents have supported many fun events for the children and FOAH have paid for resources and educational activities which we are not able to provide from our budget. Thank you very much in advance. Any help is always so greatly appreciated.

Friends of Almond Hill are a dedicated group of parents who organise fund raising and fun events for our pupils and parents.
We view all parents and carers as members and welcome support in any way, big or small. FOAH are keen to organise events that reflect the interests of pupils as well as parents and carers!
FOAH meet each half term. Meetings are open to all parents/carers. FOAH keep you well informed of planned activities through their newsletters and welcome your ideas.
Christmas Events
In the next couple of weeks, we have some lovely events running to raise funds for the school
Guess the number of Christmas chocolates - 50p a guess and the winner gets to take the Chocolate jar home for Xmas. Please bring money into the class (w/c 12th December).
Present room 2022 – Friday 9th December. Once again, our lovely volunteer elves have been working hard to find some lovely gifts for the children to purchase. Please make payment on School Gateway (by 7th December) for the number of items you would like your child to buy at £2 a gift (cash also accepted on the day) and this year there are also gifts for pets!
Christmas treats - Due to the popularity of the Halloween biscuits, we have an opportunity to purchase Christmas treats. Payment on School Gateway as before (by 9th December). Biscuits £1.50, cake £2.00.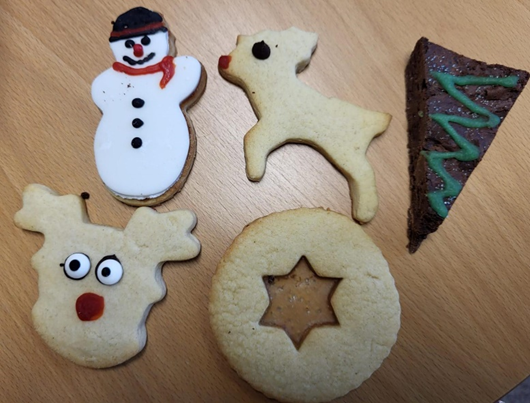 Guess the Christmas word - Each class will be given a Christmas scratch card. Guesses are £2. Children can bring in cash between 1st and 20th December. The lucky winner will receive ½ of the total takings to a maximum of £30 – every little helps at Xmas!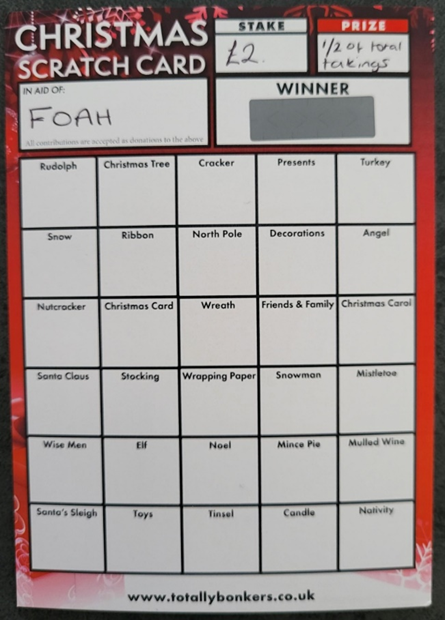 Remember whilst you are Christmas shopping online at Amazon you can support us by selecting us as your chosen charity at Amazon Smile. Once you set it up, we automatically are sent 0.5% of the sales. Search for Amazon Smile to set up your account.
School Lottery – tickets cost just £1 a week. To play, go to: www.yourschoollottery.co.uk/lottery/school/almond-hill
As always, if you have any fundraising ideas or would like to help at any events, please do get in touch at FOAH@ALMONDHILL.HERTS.SCH.UK
Autumn 2022
Standon Calling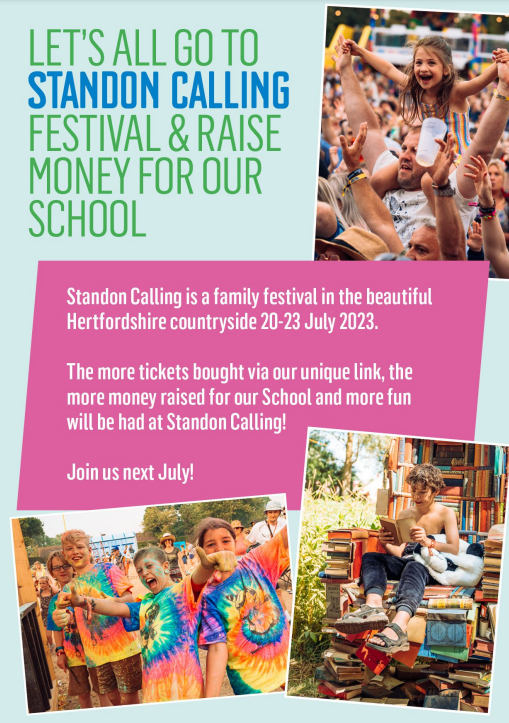 Rag Bag Recycling,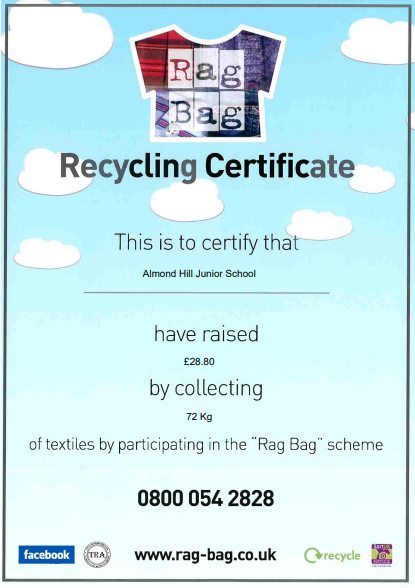 Summer 2022
Newsletter
FOAH NEWSLETTER
(FRIENDS OF ALMOND HILL)
A huge thanks to every one of you who has helped with and supported our latest events. Every penny helps towards making our children's education better with essential equipment we can help the school purchase.
FOAH has agreed to pay for the year 6 leavers hoodies and yearbook as well as recently funding the outdoor learning boxes for each year group too. So well done to all involved for making this happen.
The children once again enjoyed shopping at the Mother's Day Gift Room - and now Father's Day is just around the corner! Don't forget to pay on School Gateway for any gifts your child would like to buy. There's no limit and they can be for any special man in their lives – Grandads, Uncles, best friends … Please pay by Tuesday 7th June to ensure your children don't miss out. (Although cash will be accepted on the day too 😊).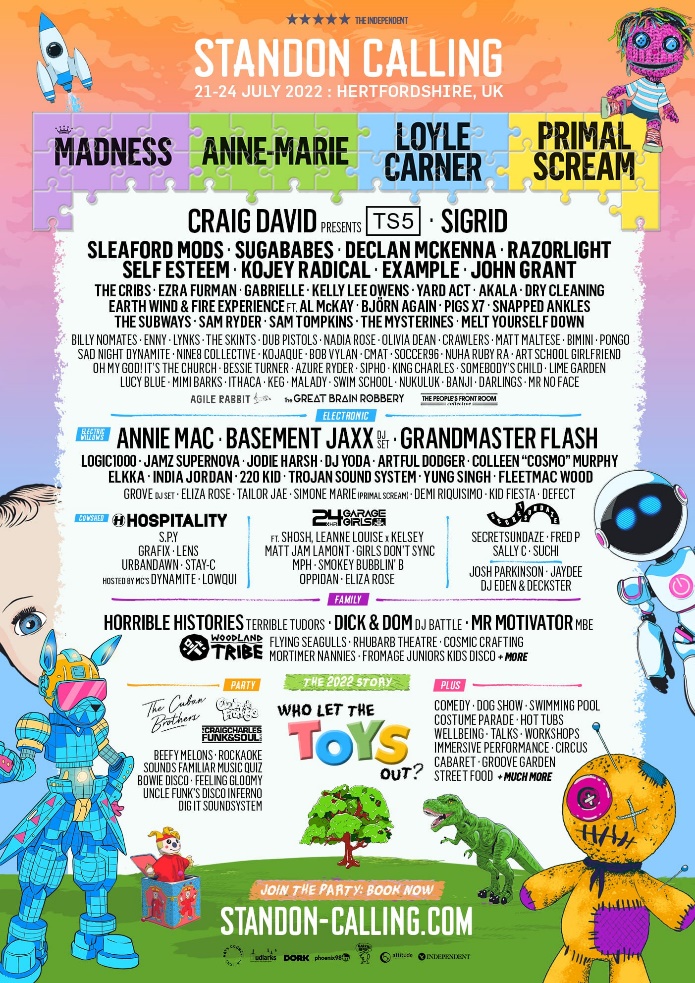 Anyone hoping to go to 'Standon Calling' this summer, you can book via this unique booking link –
https://go.kaboodle.co.uk/almond-hill-junior-schoolSG13RP
Not only will it get you an exclusive discount on weekend festival tickets, but for every order placed, 10% of the total face value will be donated to FOAH!
☀️ Wishing you all a very happy and relaxing half term break ☀️
DATES FOR YOUR DIARY
Tuesday 7th June, 6pm FOAH Remote Meeting (please e-mail the school office to get login details if you can make it: admin@almondhill.herts.sch.uk
Friday 10th June Father's Day gift Room (please pay in advance on School Gateway. £2 per gift, no limit)
Friday 1st July Ice Cream Friday! After School in quadrant (weather permitting)
Friday 8th July Ice Cream Friday! After School in quadrant (weather permitting)
Friday 15th July Ice Cream Friday! After School in quadrant (weather permitting)
VOLUNTEERS NEEDED TO MAKE THESE EVENTS HAPPEN! Maybe you could help to plan, or participate at one event? Anything would be really appreciated and allow us to make more money for our children. Thank you
If you wish to contact the committee for any reason, we can be contacted at: foah@almondhill.herts.sch.uk
Reminder of ways to help raise funds for FOAH from the comfort of your own home:
Amazon Smile – to help raise funds for the school we have registered Friends of Almond Hill on Amazon Smile. It costs you nothing but once registered, for every purchase you make on Amazon Smile, 0.5% of the value is paid to Friends of Almond Hill. It's quick and easy to register and a great way to raise funds.
School Lottery – tickets cost just £1 a week. To play, go to: www.yourschoollottery.co.uk/lottery/school/almond-hill
Textiles Donations – If anyone is having a clear out, remember that you can support the school by bringing your unwanted clothing and shoes to our textile recycling scheme. Just bring the items to the office where they can be put in the box in the hall. FOAH are only paid once the box is full, so get clearing!