Issue 11 - 17th November
Newsletters will be removed at the end of each term. If there is a copy of an old newsletter you would like please ask at the office.
17th November 2021
Issue 11
Dear Parents/Carers,
A big thank you to the families that came to see us last week at our open evening. It was lovely to be able to open our school to you and show you some of our wonderful displays and share some activities with you. Parents were incredibly complimentary of our ambassadors, their enthusiasm, behaviour and how highly they spoke of our school so a big well done to everyone involved. We have some photos on our website of our classroom displays which you can view here.
We have noticed whilst having conversations with children during playtimes and lunchtimes and from communication with parents, that many of our pupils are struggling with friendships and conflict resolution at the moment. As a school, we will continue to seek ways to support the children to develop the skills they need to manage their peer relationships and would encourage parents to talk at home about what solutions can be found when problems are encountered.
This is also a key focus for us in school with it being kindness week. We know kindness is more important today than it has ever been. The isolation of the last year has underlined how little acts of consideration can break down barriers and brighten the lives of the people around us.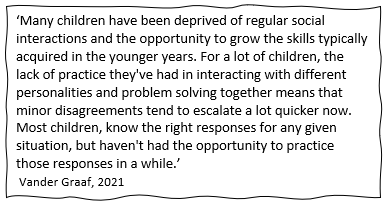 I hope children are looking forward to the 'break the rules day' on Friday. You will see a poster at the bottom of this newsletter for a reminder of the rules that can be broken on the day. We are raising money for Children in Need and you can make donations on School Gateway. We suggest 50p for each broken rule.

The Travelling Book Fair will be in school from Thursday 25th November for one week. Children will have the opportunity to look at the books and will bring home a wish list. We will be taking cash only payments. For children in year 5 and 6, please bring money into school in a named envelope. Children in year 3 and 4 can pay for the books at their year group's sale, with their parents. Books will be on sale at the following times:
Year 3 - Friday 26th November in hall after school (with parents)
Year 4 - Monday 29th November in hall after school (with parents)
Year 5 - Tuesday 30th November lunchtime sale in hall
Year 6 - Wednesday 1st December lunchtime sale in hall

Since my last newsletter, we have had two positive Covid cases at school.
Emma Fordham,
Headteacher
Almond Hill News
Attendance Last Week
Year 3 – 92.8%
Year 4 – 94.8%
Year 5 - 92.1%
Year 6 – 89.7%
Total - 92.4%
Class winners – 4J 99.1%
School Dinners
Next week we will be on week 1 of our winter menu. School Dinner Menu Please pay for your dinners in advance, using the School Gateway app
Clubs
There will no after school clubs on Tuesday 30th November.

Occasional Day
Please be reminded we have an additional occasional day this term. School will be closed on Friday 3rd December
Year 5 Trip to Barclay Academy

Year 5 were invited to go to Barclay Academy to watch Matilda (the musical / play) performed by the students there.
We loved how kind they were by welcoming us to their school, and the music in the play was amazing! All the characters were performed really well and we would love to go again. A big thank you for letting us to come to your school to watch the play!
Written by Lana and Ellie-Mae in 5P.
Reverse Advent Calendar 2021 for Foodshed
A message from Year 5 who have been learning about community action in PSHE - written by Jacob – 5P

If you have lots of food, please donate to Foodshed because there are lots of children who don't have anything. If you have any food, toys or treats, anything will help people and make children very happy and thankful. People who go to a foodbank may have lost their job or can't afford to buy food for their family and we need to help them. Please bring in your items during November.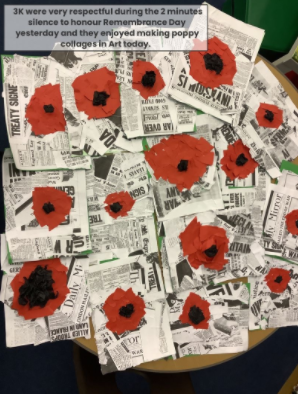 Remembrance Day
Last week, we recognised Remembrance Day in school by holding a 2-minute silence in honour of our war heroes.

Absence
Please be aware that due to current staff absence, we are under more pressure than usual so would appreicate your patience when contacting the school as we may not be able to respond as quickly as we would normally.

Home Learning
Our policy for work completion at home for is for those that are well but self-isolating due to Covid. If your child is not well enough to be in school, we would not expect work to be sent home.
Reminder
Gates close in the morning at 9.00am and all children should be in class ready for the register by 8.55am. If you are running late, please take your child to the office to be signed in.
Healthy Snacking Masterclass
A fun, free, family-focused masterclass on all things healthy snacking.
Healthy Snacking Masterclass leaflet.
SEND and Wellbeing Information


Just Talk Week 15 – 21 November 2021
Click the links to view details of the FREE webinars on offer from the Just Talk partners, taking place for Parents and Carers and Young People during Just Talk week.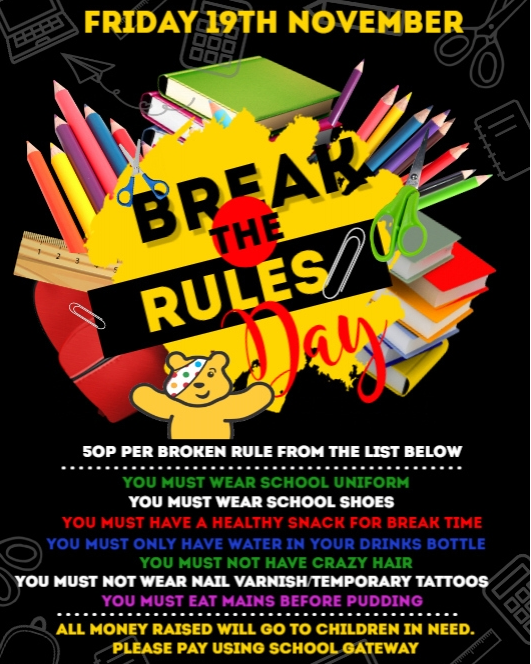 ---
Diary Dates
WC 15th November – Kindness Week
Friday 19th November – Break the rules Friday for Children in Need
Friday 19th November - Year 6 height and weight checks
Thursday 25th November – Travelling Book Fair
Friday 26th November - Year 3 book sale in hall after school (with parents)
Monday 29th November - Year 4 book sale in hall after school (with parents)
Tuesday 30th November - Year 5 book sale lunchtime sale in hall
Tuesday 30th November - After school clubs cancelled
Wednesday 1st December - Year 6 book sale lunchtime sale in hall
Friday 3rd December – Occasional Day
Tuesday 7th December – Choir performance (Holy Trinity)
Thursday 9th December – FOAH Christmas Gift Room
Friday 10th December - Flu vaccinations (12.30pm - 3.00pm)
Monday 13th December - Year 3 Christmas dinner day and party day
Tuesday 14th December – Choir performance (Cromwell)
Tuesday 14th December - Year 4 Christmas dinner day and party day
Wednesday 15th December - Year 3 and 4 - Talent show (details tbc)
Wednesday 15th December - Year 5 Christmas dinner day and party day
Thursday 16th December - Year 6 Christmas dinner day and party day
Friday 17th December - Year 3 and 4 Christmas performance 1.30pm
Monday 20th December – Carol service at St Nicholas Church for years 5 and 6 (details tbc)
Tuesday 21st December – Year 5 and 6 – Talent show
Tuesday 21st December – Last day of term (finish at 1.00pm)
Wednesday 22nd December – Tuesday 4th January – Christmas Holidays
Wednesday 5th January – INSET day
Thursday 6th January – First day of term
To keep up to date with what is happening at school, you can subscribe to our calendar here
---
In an effort to save paper we no longer send a paper copy of the newsletter home. You can access the weekly newsletter via the school gateway app or the school website and it is also sent home via email each week.
With our communication methods changing it is important more now than ever that we have an up to date email address for you. If you do not see the newsletter by email on a Wednesday please contact the school office to ensure we have the correct details for you.