Issue 13 - 1st December
Newsletters will be removed at the end of each term. If there is a copy of an old newsletter you would like please ask at the office.
1st December 2021
Issue 13
As we have now reached December, I wanted to remind parents of some of the plans for Christmas events.
On Thursday 9th December FOAH will be holding their very popular Christmas Gift Room. They have a range of gifts on offer, for him, her or sibling. Children can make as many purchases as they like and gifts are £2 each (to be paid on School Gateway by today). FOAH have also organised a fantastic raffle which will be drawn on Friday 17th December. You have until the 10th December to return your stubs and money – there are some great prizes to be won!
Each year group will have their Christmas dinner and class party during the last full week of term. On this day, children may come to school in a Christmas jumper, accessories or party clothes. Please see the diary dates at the end of this newsletter for a reminder of your child's party day.
We will be having talent shows in both the lower and upper school. Children will show off their chosen talent to their peers and will vote for a winner. What talent will your child be showing us? It could be their wonderful singing, a performance on their chosen instrument or will they be making us laugh with their best jokes, or perhaps they are going to be the next big magician. Whatever it is, we are looking forward to seeing their performances.
Unfortunately, the planned choir events have been cancelled by the event organisers. We are disappointed about this but understand this is out of our control. We have a fabulous choir at Almond Hill, run by Mrs. Cleaves and they have been rehearsing to get ready for their performances. We have decided we will film the choir and livestream for parents to watch so their hard work hasn't gone to waste. However, just like the year 3 and 4 performance, we need permission for this. So please complete the online consent form if your child is in the choir.
Year 3 and 4 will be live streaming their Christmas performance on Friday 17th December at approximately 1.30pm (technology allowing). Please ensure you have completed the consent form on our website to allow your child to be included in the film.
Children in years 5 and 6 will be attending St Nicholas' church on Monday 20th December for their carol service. Unfortunately, it is not possible for us to record the service at the church. I know parents will be disappointed but logistically it is not something we are able to do, and unlike our other events, this is not a performance but a service that the children are participating in.

Onto some more good news, I am delighted to be able to tell you that Mrs. Geer is expecting a baby. I'm sure parents will join me in congratulating Mrs. Geer and her family on their happy news.
As I am sure you will have seen in some of our recent communication, we are battling with significant staff absence at the moment and the reintroduction of a bubble in year 4 means we have less staff to move across the school. I would like to thank parents for their patience whilst we navigate through the next couple of weeks and want to sincerely thank the staff at Almond Hill for their resilience and teamwork.

Since my last newsletter, we have had two positive cases of covid in school.
We finish at 1.00pm on Tuesday 21st December and the lunch options will be packed lunch only (ham or cheese). With so much to look forward to I hope children will enjoy the last few weeks of term.
Emma Fordham
Headteacher
Almond Hill News
Attendance
Year 3 – 92.3% Year 4 – 91.8%
Year 5 – 89.2% Year 6 – 92.2%
Total - 91.4% Class winners – 3K 96.2%

Occasional Day
Please be reminded we have an additional occasional day this term. School will be closed on Friday 3rd December.
School Dinners
Next week we will be on week 3 of our winter menu. School Dinner Menu Please pay for your dinners in advance, using the School Gateway app.

Snacks
Please keep playtime snacks healthy e.g. fruit or salad. We do not allow sweets, chocolate or biscuits.
French Themed Afternoon
In years 3 and 4, the greengrocers were open for business! Children learnt the names of ten fruits or vegetables and produced some vegetable inspired art using this new vocabulary. Some children even made a price list for their own supermarché.
Back by popular demand, the French pop up café returned to years 5 and 6. The children practised ordering food and drink items from a menu and designing their own ones in French. Thank you once again to Mrs. Pridmore for making this such an exciting event for the children which was truly appreciated by parents and pupils alike.
Photos of the children's French learning can be seen here.
Pupil Feedback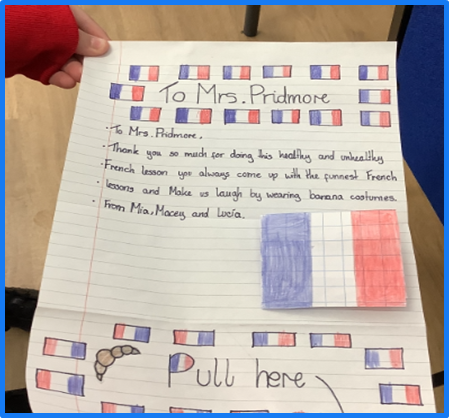 Parent Feedback
We received some lovely feedback from a parent who thanked Mrs. Pridmore for her banana costume and told us her child said she had "the best French lesson ever today".
Angels Autism and ADHD Help
Click here for information on support for parents/carers of children with ADHD and/or on the Autistic Spectrum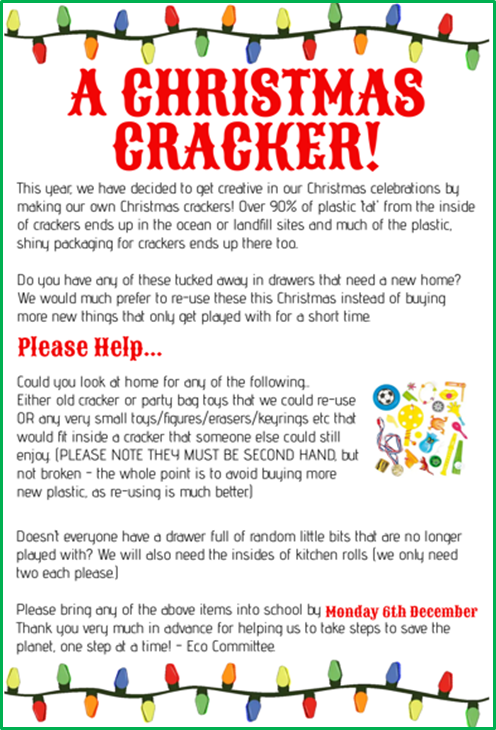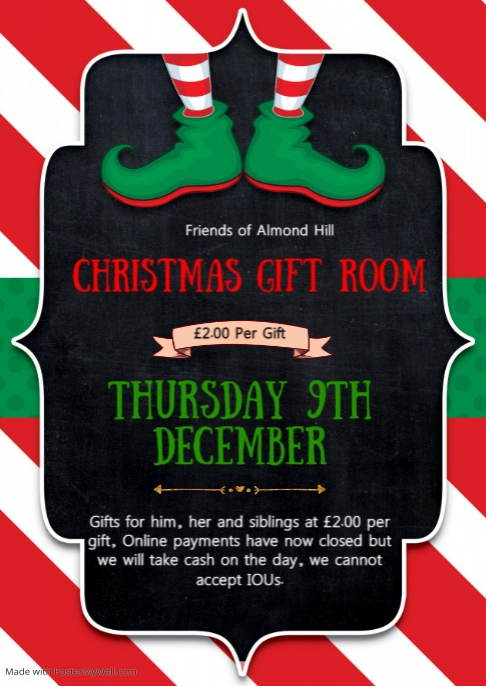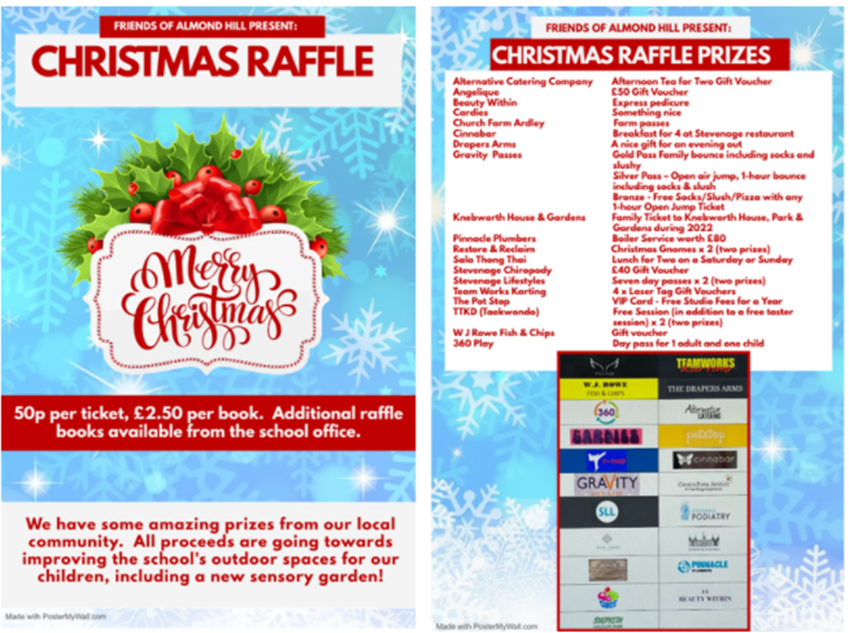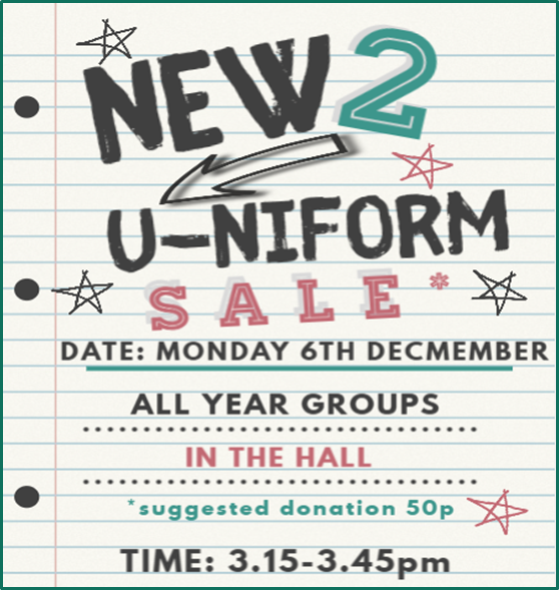 Club End Dates
Due to staff absence, we have had to end some of our clubs earlier than planned. Science and robotics club have now finished, including the rearranged club in December.
Cross stich will end on 7th December and Drama club will finish on 8th December. This does not affect any clubs run by Premier.
Diary Dates
Friday 3rd December – Occasional Day
Monday 6th December - Uniform sale
Tuesday 7th December – Reverse Advent donations collected
Thursday 9th December – FOAH Christmas Gift Room
Friday 10th December – FOAH Raffle (deadline for return)
Friday 10th December - Flu vaccinations (12.30pm - 3.00pm)
Monday 13th – Thursday 16th – Christmas Sweet Jars
Monday 13th December - Year 3 Christmas dinner day and party day
Tuesday 14th December – Almond Hill Book Fair
Tuesday 14th December - Year 4 Christmas dinner day and party day
Wednesday 15th December – Lower school performance costumes brought into school
Wednesday 15th December - Year 5 Christmas dinner day and party day
Thursday 16th December - Year 6 Christmas dinner day and party day
Friday 17th December - Year 3 and 4 Christmas performance (live streamed at approx. 1:30pm)
Friday 17th December – Choir performance (live streamed at approx. 2:30pm)
Friday 17th December – FOAH Raffle Draw
Monday 20th December – Carol service at St Nicholas Church for years 5 and 6
Tuesday 21st December – Packed lunch option only (ham or cheese)
Tuesday 21st December – Last day of term (finish at 1.00pm)
Wednesday 22nd December – Tuesday 4th January – Christmas Holidays
Wednesday 5th January – INSET day
Thursday 6th January – First day of term
To keep up to date with what is happening at school, you can subscribe to our calendar here
---
In an effort to save paper we no longer send a paper copy of the newsletter home. You can access the weekly newsletter via the school gateway app or the school website and it is also sent home via email each week.
With our communication methods changing it is important more now than ever that we have an up to date email address for you. If you do not see the newsletter by email on a Wednesday please contact the school office to ensure we have the correct details for you.