Issue 15 - 15th December
Newsletters will be removed at the end of each term. If there is a copy of an old newsletter you would like please ask at the office.

15th December 2021
Issue 15
Dear Parents/Carers,

We are nearing the end of term but we still have some exciting things to look forward to. The FOAH Christmas sweet jars are in classes and children can guess how many sweets are in the jar with the chance to win the jar. Please bring cash into school to place your guesses (50p each). We will be drawing the raffle on Friday and prizes will go home before the end of term. Thank you to everyone who has taken part in these special events and to FOAH for organising them for the children.
On Friday, we will be live streaming two performances to parents. Children in year 3 and 4 will be performing their Christmas performance at approximately 1.30pm and the Year 5 and 6 choir will perform at approximately 2.30pm. We will email the link to parents and it will be available to view after for those parents that are not able to join at the performance times.
Although cases of Covid remain low in school, we are struggling with a rise in staff absence which means staff are particularly stretched. Please be patient if you are waiting for a response for something but if it is an urgent query, contact the school office who will do their best to help you. Emails are monitored during school hours and you will not get a response during the weekend/evenings. Since my last newsletter, we have had three positive cases of Covid across the school.
This is my last newsletter of this term so can I please remind parents that school finishes at 1.00pm on Tuesday 21st December. Children can order a school dinner on this day but there is only a cold option (ham or cheese). Please ensure dinners are paid in advance and if there is a balance on your child's account this should be paid by the end of term.
Wednesday 5th January – INSET day Thursday 6th January – First day of term
I wish you all a very happy and healthy Christmas with your families and look forward to welcoming you back in the new year.
Emma Fordham,
Headteacher

News and Events
Attendance
Year 3 –94.9% Year 4 –95.2 %
Year 5 –93.3% Year 6 –92.4%
Total - 93.9% Class winners –4J with 98.7%
School notes this is phenomenally high 4J, well done!
School Dinners
Please pay for your dinners in advance, using the School Gateway app.

Christmas Holiday Scheme
Please follow the link for details of the activities available during half term from Brighter Days Kids Clubs. Brochure
Parents in Year 6
Please remember to complete the feedback survey on our website to let us know how the change in groupings has impacted your child. The survey will close on Friday.
www.almondhill.herts.sch.uk/survey
Survey
Mrs. Birchall has sent some parents a survey to complete. If you haven't already completed this survey, please take the time to do this. The survey will close on Friday.
Almond Hill Achievements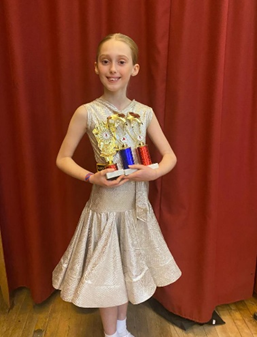 Nelly in Year 5 has been ballroom and Latin dancing for 2 years now and frequently competes in national competitions. She has now won over 30 trophies. Last Sunday, Nelly competed and placed FIRST in all her dances! She's currently working towards a national competition taking place in Blackpool in January 2022. Well done, Nelly!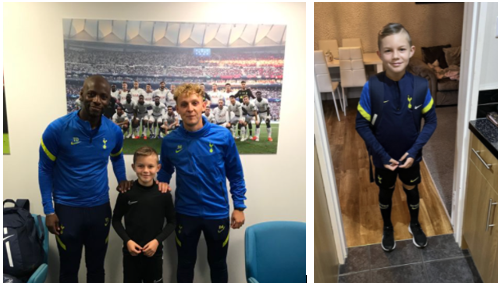 Having previously played for Watford, Harry in Year 4 has recently been signed for Tottenham Football Academy for under 9's! This is a huge achievement and shows how hard Harry works as well as his love and dedication for the sport. Well done Harry, we look forward to hearing how you get on at Tottenham!
Christmas Crackers
4L have been busy making their crackers. Thank you for supporting this project.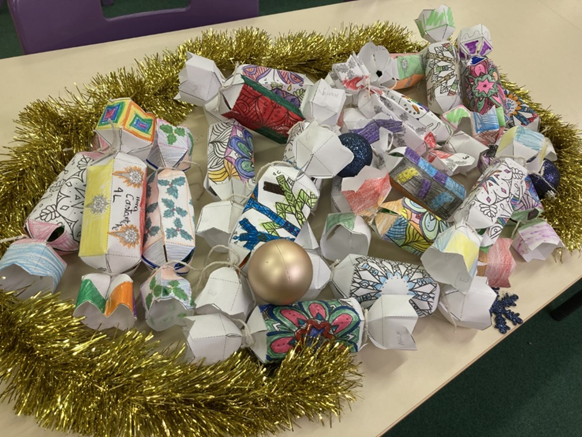 Donations
Mrs. Burgess and the Pastoral Team would be really grateful for any donations of Lego you may have at home. Please bring any donations in and give them to your child's class teacher - thank you.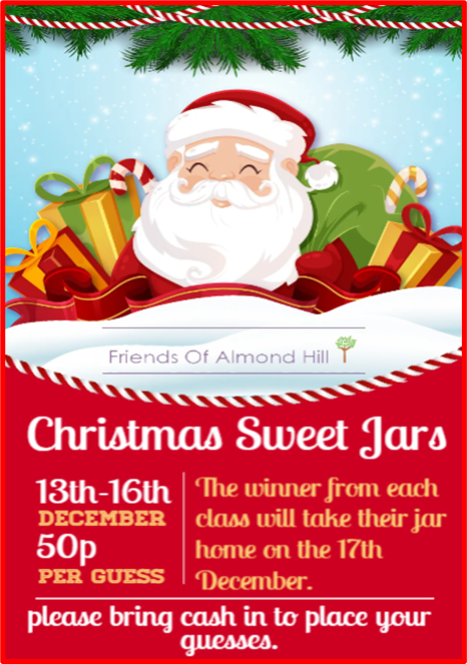 Book Recommendations
With Christmas round the corner, why not use this opportunity to gift your children some new books. You can see some wonderful recommendations across a variety of genres below. Perhaps your child will read a new book over the holidays – if so, we would love to hear all about it when they return in January.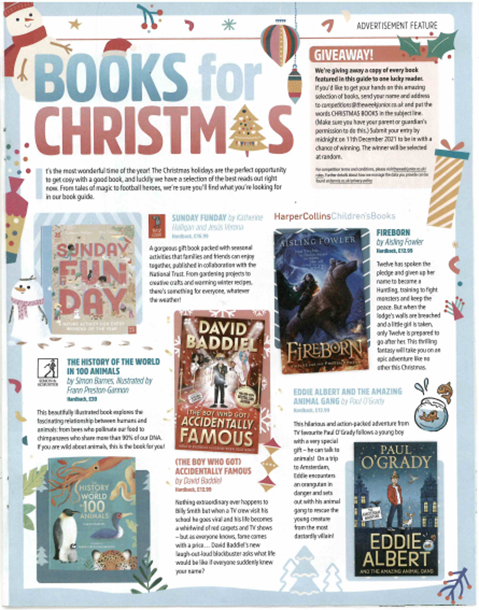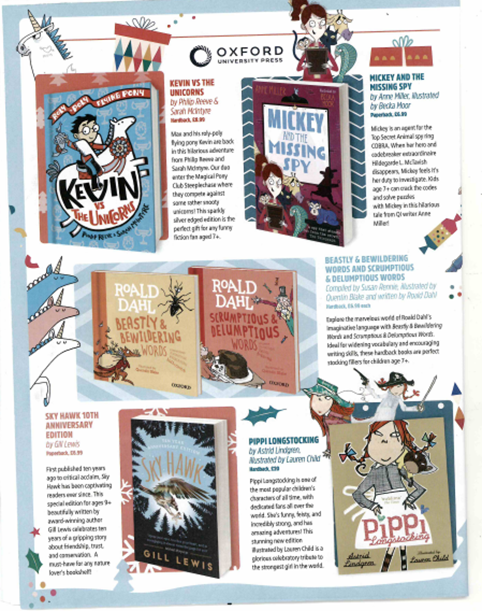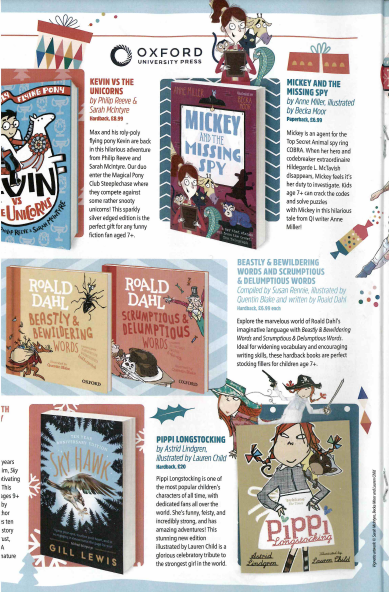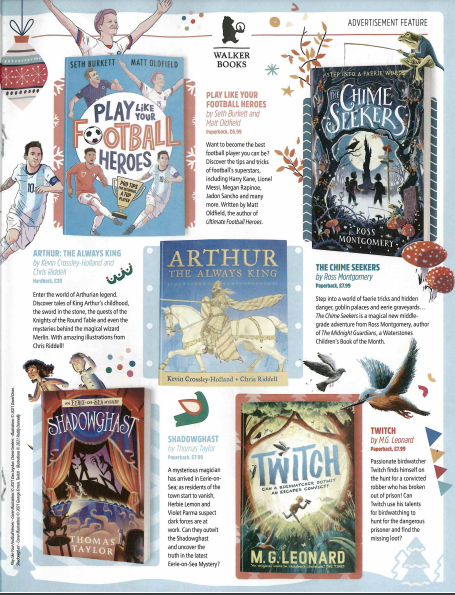 Diary Dates
Thursday 16th December - Year 6 Christmas dinner day and party day
Friday 17th December - Year 3 and 4 Christmas performance (live streamed at approx. 1:30pm)
Friday 17th December – Choir performance (live streamed at approx. 2:30pm)
Friday 17th December – FOAH Raffle Draw
Monday 20th December – Carol service at St Nicholas Church for years 5 and 6
Tuesday 21st December – Packed lunch option only (ham or cheese)
Tuesday 21st December – Last day of term (finish at 1.00pm)
Wednesday 22nd December – Tuesday 4th January – Christmas Holidays
Wednesday 5th January – INSET day
Thursday 6th January – First day of term
To keep up to date with what is happening at school, you can subscribe to our calendar here
---
In an effort to save paper we no longer send a paper copy of the newsletter home. You can access the weekly newsletter via the school gateway app or the school website and it is also sent home via email each week.
With our communication methods changing it is important more now than ever that we have an up to date email address for you. If you do not see the newsletter by email on a Wednesday please contact the school office to ensure we have the correct details for you.