Issue 2 - 8th September
If you missed a recent newsletter you can find a copy below. Newsletters will be removed at the end of each term. If there is a copy of an old newsletter you would like please ask at the office.

8th September 2021
Dear Parents/Carers,

I hope children have enjoyed their first few days back at school and are settling well in their new classes. Remember, if you have any concerns then you can contact your child's class teacher via the year group email accounts. If your query or concern is urgent, please use the admin email address and we will direct your email to the most appropriate person for a response. Please note, the admissions email box is now closed and therefore not monitored.

year3@almondhill.herts.sch.uk
year4@almondhill.herts.sch.uk
year5@almondhill.herts.sch.uk
year6@almondhill.herts.sch.uk
admin@almondhill.herts.sch.uk
As a school, we feel it right that we continue to work in an honest and transparent way regarding communication around Covid. Therefore, I will continue to update all families with any key messages in my weekly newsletter every Wednesday. I will include in this the number of positive cases that we currently have in our school community so that all parents know. When we are informed of a positive case, we will also alert the parents of the children within that class as they would have been deemed as a close contact. These children are still expected to attend school but we believe that parents would appreciate knowing anyhow.
With a positive case in the school community, parents may also receive a Track and Trace message from the NHS. This would ask you to book your child a Covid test as they are deeming your child to be a close contact. Any message from the NHS is out of our control. As always, please do get in touch with the school office if you have any questions or concerns.
With all children leaving at same time and from various exits it is important that parents of year 5 and 6 children are clear about where they expect their children to be at the end of the day. There are staff positioned across the site but because of the two vehicle exits that are open at the end of the day children may need to leave from a different exit to their peers to avoid crossing these. Parents of children in year 5 may also want to meet them on the playground by the external classroom doors. Children in year 5 and 6 are allowed to leave school independently with parental permission, but please ensure children are aware of your expectations. All children in years 3 and 4 must be collected by an adult. There will be times where your plans change, in this instance please inform the school office as soon as possible so we can get a message to your child's class teacher.

Home learning - in response to parental request, home learning will continue to be on TEAMs and will focus on a weekly task. For all children a focus on times tables, reading and spelling will be helpful and there is a lot of information on the school website on the year group pages to help with this as well as contacting the class teacher if you would like to know more.

www.almondhill.herts.sch.uk/support-for-learning
www.almondhill.herts.sch.uk/year-group-learning

A significant minority of parents expressed difficulty with accessing printed sheets so these will also be available to facilitate home learning too. Please use the year group email (detailed above) to contact the teachers if you have any concerns or queries about home learning. Because we are offering the homework in a range of ways to support the differing needs of families it will not be 'marked' in the traditional sense. However, it will be discussed and reviewed in the classroom each week so the learning points have been reviewed. Home learning is a contentious issue and we are keen to ensure it supports learning in the classroom and does not detract from it. It will remain important for families to be familiar with TEAMs as in the event of needing to revert to remote learning again this would be our current platform of use.
Emma Fordham,
Headteacher
Almond Hill News
Attendance Last Week

Year 3

99.4%

Year 4

96.6%

Year 5

97.1%

Year 6

95.1%

Total

97.1%

Class winners

3K, 3B, 4H and 4J 100%
Swimming Lessons
Swimming lessons for 6O start on the 21st September. If you haven't already done so, please ensure consent forms are returned by Friday 10th September. If your child is able to swim 25 metres, they do not need to attend swimming lessons and can stay at the school and do PE but you must let us know what you would like them to do.
Play School Re-opening
Pre-booked, adult supervised, children only sessions are available for Stevenage children aged 5 - 12
years at Bandley Hill, Pin Green and St. Nicholas. The play sessions remain free of charge for Stevenage children.
Seconday School Admissions
The applications for secondary/upper school places to start in September 2022 opened yesterday Wednesday 1st September 2021, for children in year 6.

Admissions information is available at: www.hertfordshire.gov.uk/admissions
On-time applications close on 31 October 2021
Click the link for the open events leaflet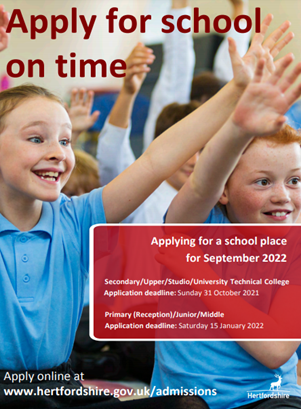 School Dinners
Next week we will be on week 3
School Dinner Menu

Please pay for your dinners in advance, using the School Gateway app.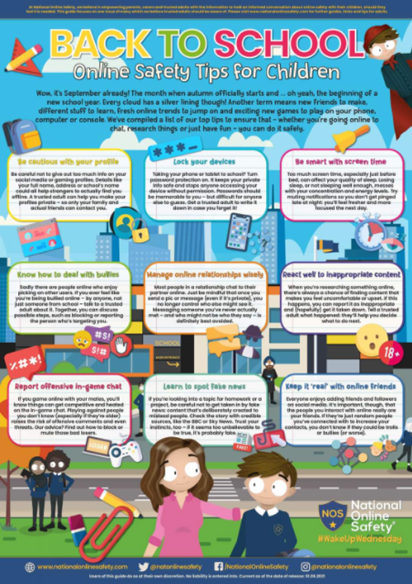 Diary Dates
Friday 15th – Sunday 17th October – Year 6 Residential Trip
Tuesday 19th October - PTIs virtual 4.00 – 7.00
Thursday 21st October PTIs in school 3.30 – 6.00
Monday 25th – Friday 29th October – Half Term
Sunday 31st October – Secondary school application deadline
Wednesday 17th November - Flu vaccinations (8.30am - 3.00pm)
Friday 10th December - Flu vaccinations (12.30pm - 3.00pm)
In an effort to save paper we no longer send a paper copy of the newsletter home. You can access the weekly newsletter via the school gateway app or the school website and it is also sent home via email each week.
With our communication methods changing it is important more now than ever that we have an up to date email address for you. If you do not see the newsletter by email on a Wednesday please contact the school office to ensure we have the correct details for you.