Issue 20 - 9th February
Newsletters will be removed at the end of each term. If there is a copy of an old newsletter you would like please ask at the office.
9th February 2022
Issue 20
Dear Parents/Carers,
Unfortunately, I have received a number of complaints from local residents over the last few weeks regarding inconsiderate parking around the local streets. I understand the school has grown over the last few years which means there will be more families coming and going to school however, it is important that we consider those living in the area when coming to school. I would encourage children to walk, scoot or bike to school where possible to ease congestion. I know some parents will be going to work straight from drop off and so walking is not an option but could you consider leaving a little earlier in the morning so you can park a little further away. If you are confident in allowing your child to do so, children in year 5 and 6 are allowed to come to school independently which is a great way to prepare them for secondary school. School has prepared and will be distributing to residents, a leaflet explaining how to report inconsiderate parking.
I would like to say a big thank you to FOAH for organising such a fantastic disco for the children yesterday. I hope the children that attended really enjoyed themselves - it certainly looked like they had fun! A big thank you also to the staff that volunteered their time to stay and help to ensure the disco was able to go ahead.
Over the last few weeks, children have been working incredibly hard on their Barnabus Project and I have been pleased to see the wonderful displays across the school. Today, along with Mrs. Cleaves, I have the pleasure to attend the awards evening and wanted to express how proud I am of all the children and look forward to seeing some of our children acknowledged. I will update you on the evening on my next newsletter. Please take some time to look at some of the work produced on our website: www.almondhill.herts.sch/learningupdates
On Monday 21st February, year 6 parents are invited to attend a virtual meeting to discuss SATs (6.00-7.00pm). At the meeting, we will offer advice on ways to support your child and get them ready for their SATs. We will also explain the arrangements and be available to answer any questions you may have. Over the next few days, we will be creating a section on our website with resources to help you prepare, including past SATs papers. I would encourage all parents to attend where possible but for those who can't, we will endeavour to make the information available, on our website, after the meeting.
Almond Hill and Letchmore Infants' have been working together to organise dates to hold INSET training in the next academic year. We are required by County to hold 5 INSET days and 1 occasional day each academic year. These days are used for staff training and preparation. If possible, we would like to continue to hold the same INSET dates to support families who attend both schools. However, sometimes this may not be possible due to booking suitable training and meeting the needs of both schools. We would therefore like to give all families as much notice as possible as to the dates agreed. Before coming to any final decisions, we wanted to gain your thoughts and preferences on these dates so we would be grateful if you could complete the short survey on our website: www.almondhill.herts.sch.uk/survey/
Next week is half term and school finishes at the usual time on Friday 11th February.
Since my last newsletter, we have had 3 new positive COVID cases.
Emma Fordham,
Headteacher




Click the image above and like or follow our new page!
Please note, comments are disabled on our page. You will see your comment appear on posts, but we cannot view them and are unable to respond.
News and Events
Attendance
Year 3 – 94.6% Year 4 – 92.9%
Year 5 – 88.6% Year 6 – 94.8%
Total – 92.7% Class winners – 3B – 99.1
School Dinners
Next week we will be on week 1 of our menu. Please pay for your dinners in advance, using the School Gateway app.
Online Safety
The online together project
A new interactive tool that encourages children to take part in building a positive and inclusive culture online – focusing on gender stereotypes. Take a short quiz with your child to help them recognise how gender stereotypes can impact them in online spaces and encourage them to respect and celebrate differences. Visit internetmatters.org/resources/theonlinetogetherproject
Kitchen Inspection
Last week, Stevenage Borough Council carried out a Food Hygiene Inspection in our kitchen. We are pleased to tell you that we maintained our 5* star rating. A big well done to our kitchen team.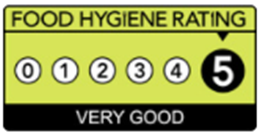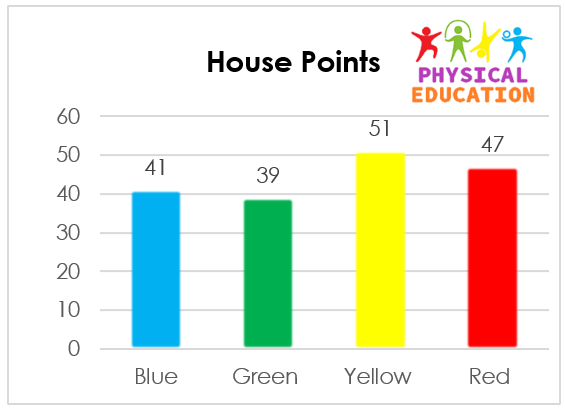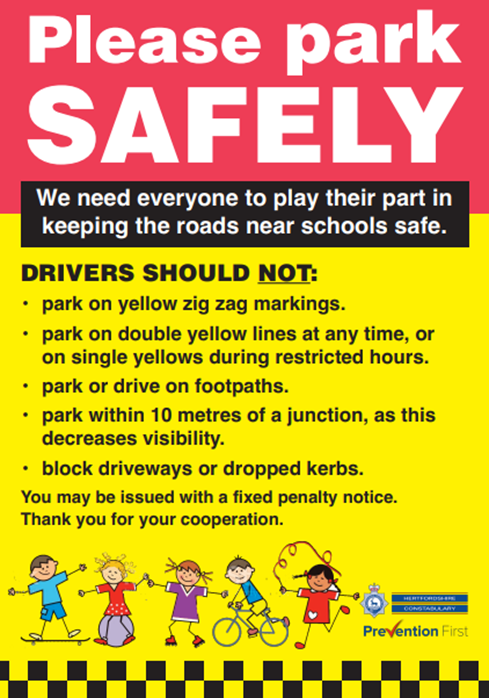 Book Boxes
You might have noticed some colourful boxes on poles in the quadrant between Oak and Acorn House. These are 'book boxes'. We are trying to encourage a love of reading so are piecing together a space for outdoor reading. There will be an official opening coming soon.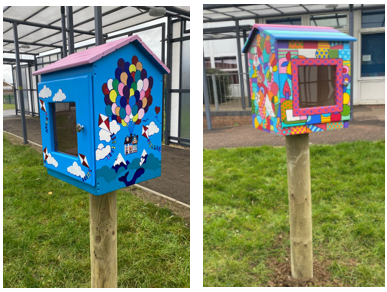 Ask me about…PSHE at Almond Hill!
We'd love to share what we're learning in PSHE this week. Try asking your child about these topics so they can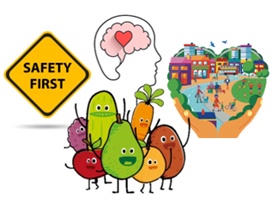 explain to you what they have been learning or discussing.
Year 3 – How can you improve your mental wellbeing?
Year 4 – How would you make a 999 call?
Year 5 – What benefits are there of living in a diverse community?
Year 6 – What are the negative effects of gaming?

Parent Mental Health Questionnaire
Miss Porter is currently taking part in a government suggested training course focused on developing mental health provision in schools. As part of this course, she has created a survey for parents to complete about the mental health of their child/ren at Almond Hill. With this information she will be able to gain a better understanding of how our current practice is helping our children and also highlight if/how parents would like to be more supported. Please could parents click the link below and complete the short survey. All responses are anonymous. Thank you! https://www.surveymonkey.co.uk/r/5X9BXHT
Almond Hill Achievements
Well done to Sienna in year 3 who was the winner of the year 3 Spelling Bee!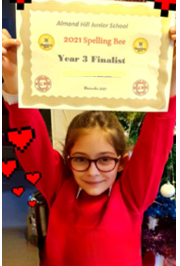 Olivia in year 6 was personally invited to attend Stevenage Fire Station recently and even watched the fire fighters cut up a car! In one of the photos, Olivia is standing next to Lead Fire Officer Lily who spent time explaining what the Fire Officers were doing. She was given the chance to handle the equipment and to sit in the car. This was a fantastic opportunity for Olivia who wants to be a Fire Officer when she grows up!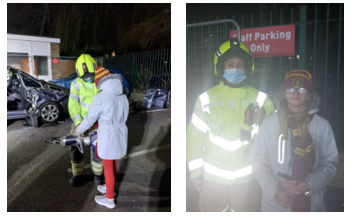 Meet our new Teacher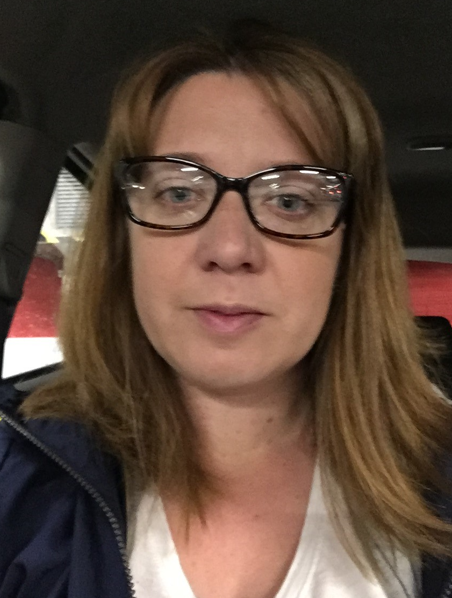 My name is Mrs Reeve and I am going to be teaching you in Year 3 alongside Mrs Brocklehurst. I am very much looking forward to joining your class and working alongside all of you.
I have been teaching for 13 years and have taught across Early Years, Key Stage 1 and Upper Key Stage 2. I love reading and can often be found with a new book and teaching phonics and science.
I have an eight year old daughter who is also in Year 3 who enjoys gymnastics and athletics.
In my spare time away from school, I enjoy going to the zoo, and spending time outdoors at National Trust and English Heritage properties. I especially enjoy the tea and cake afterwards!
Football Match Report!
Goals, Goals, Goals for Almond Hill
On Wednesday, Almond Hill hosted the Y5/6 football match against Bedwell School. It was an eagerly awaited fixture as the visiting team turned up very late but this did not put our boys off! The extra time for pre-match warm ups and set piece drills paid dividends, as Almond Hill rocketed home with an impressive 7-0 victory!
First half
Almond Hill started with a strong attack right from the whistle. The first chance came when Bedwell's tall Number 3 kicked the ball out for a corner which Ralphie hit just wide - Game on! Goal number 1 came when Charlie made a good run across the midfield, played the ball to Gene who found Albie in range - Albie calmly slotted home - 1:0. Albie's second goal came not long after when a through ball from Ralphie found his feet from across the park - 2:0 Whilst the midfield and attack were showing what they could do, some great work was also happening in defence and in goal. William was composed when guarding a ball for his keeper. Harrison was then called into action again when the Bedwell number 5 took a good rebound shot off the back off another shot he had blocked seconds before. Minutes later, Ralphie got himself on the score sheet with an unstoppable rocket shot - 3:0. There was some great battling in midfield with Gene and Henry applying constant pressure and Charlie showing some excellent team play with lots of tracking back (at great speed!) to support the keeper. A fourth goal was brewing when William played the ball into Xavi who shot just wide. Riley was playing well from the back and using his head to clear any long shots. A Charlie corner swung in and was hit towards the goal which the Bedwell keeper did well to save on the line. Half time: 3-0 to Almond Hill.
Second half
After a team talk, the boys came back out strong and clearly did not to relax after their impressive first half. The second half was a game of passing - simple and effective football from the reds. Our boys were knocking the ball about all over the field with a range of long and short passes making Bedwell players work for any possession. The team intercepted well and took many chances. A second goal for Ralphie was denied by the keeper who tipped the shot over the crossbar. Riley and Will continued to work well at the back communicating well. It was 10 minutes into the second half when Charlie played the ball in to Xavi, who looked up and saw Louis. Our Y5 took his chance and slotted past the keeper- 4:0. Charlie then nearly found the scoresheet himself: A great shot which their keeper did well to block, unfortunately for them Louis was there to tap in the follow up - 5:0. Charlie then acted as Mr Assist again when despite having a clear shot, he looked up to find Gene and passed to his feet for Gene to send to the back of the net: 6:0 Seconds later, the moment came for our number 5 to get on the scorecard - about time! 7-0! Some Bedwell players were for obvious reasons worn out and frustrated but they continued to try hard and apply pressure which Almond Hill continued to respond to. A change in keeper for Almond Hill in the final few minutes of the game made no difference to the score. A clean sheet was maintained and Almond Hill claimed the victory. Whilst the score speaks for itself, it should be noted that the team shown excellent determination and team spirit. They worked hard for each other and this paid dividends. Congratulations on your well-deserved win Almond Hill
Diary Dates
Wednesday 9th February – Drama club cancelled
Wednesday 9th February – Writing awards evening
Monday 14th – Friday 18th February – Half term
Monday 21st February – SATS virtual meeting 6.00-7.00pm
Monday 28th February – Football match
Almond Hill vs Roebuck (at home)
Tuesday 1st March - Year 5 maths challenge
Wednesday 9th March – Sports Hall Athletics (details tbc)
Saturday 19th March – FOAH Family Photographer
Tuesday 22nd March – Year 5 Stem Centre visit
Tuesday 22nd March – PTIs 4.00-7.30pm
Thursday 24th March – PTIs 3.30-6.00pm
Cultural Calendar
Tuesday 1st February - Chinese New Year) - https://www.bbc.co.uk/bitesize/topics
Friday 18th March - Holi (Hindu)
Saturday 2nd April – Sunday 1st May - Ramadan (Islamic)
Friday 15th April - Good Friday
Sunday 17th April - Easter Sunday
Saturday 16th April - Passover (Jewish)
Monday 2nd May - Eid al-Fitr (Islamic)
Friday 6th May - Wesak (Buddhism)
Saturday 9th July - Eid al-Adha (Islamic)
Saturday 30th July - Al-Hijra (Islamic New Year)
Monday 26th September - Rosh Hashanah (Jewish New Year)
Monday 24th October - Diwali (Hindu)
Monday 19th December - Hanukkah (Jewish)
Sunday 25th December - Christmas Day
Sunday 1st January - New year
To keep up to date with what is happening at school, you can subscribe to our calendar here
---
In an effort to save paper we no longer send a paper copy of the newsletter home. You can access the weekly newsletter via the school gateway app or the school website and it is also sent home via email each week.
With our communication methods changing it is important more now than ever that we have an up to date email address for you. If you do not see the newsletter by email on a Wednesday please contact the school office to ensure we have the correct details for you.