Issue 21- 23rd February
Newsletters will be removed at the end of each term. If there is a copy of an old newsletter you would like please ask at the office.
23rd February 2022
Issue 21
Dear Parents/Carers,

Welcome back!
At the end of last half term, I asked parents to complete a survey regarding INSET and occasional days. The survey will close in a week so if you would like to have your say, please complete the survey as soon as possible. Thank you to the parents who have already completed. https://www.almondhill.herts.sch.uk/survey/?pid=166&form=191
As we begin another half term, please can I remind parents the expectation for PE kits. A child's PE kit is part of the uniform and we would expect children to wear a red t shirt, blue/black shorts or blue/black/grey tracksuits so that children look smart as they are wearing this all day in school. Uniform standards are good across the school but this is not reflected in some children's PE kits. This change was made in response to parent feedback but we may have to reconsider if standards don't improve. Please speak to the school if you are having problems accessing uniform.
From Monday 21st February, the Government removed the guidance for staff and students in most education and childcare settings to undertake twice-weekly asymptomatic testing. From Thursday 24th February, the Government will remove the legal requirement to self-isolate following a positive test. Adults and children who test positive will continue to be advised to stay at home and avoid contact with other people for at least 5 full days, and then continue to follow the guidance until they have received 2 negative test results on consecutive days. As restrictions are easing, if children are late, please bring them in to the office where you will now sign them in (or out) yourselves.
To celebrate World Book Day, we will be having a 'FULLY BOOKED' week which is a week of activities linked to engaging children in reading. This will start on Monday 28th February and is centered around World Book Day 2022 on Thursday 3rd March. Each class will have various reading activities throughout the week including: cosy hour - reading in front of the fire, teachers read-around (being read to by a different teacher), making bookmarks, class reading scavenger hunts, 'Where's Wally' lunchtime activity to find as many book characters around the grounds as they can, 'make a book' competition, class quizzes, World Book Day live lesson, a pre loved book sale and lots more! The week will end with a 'pyjama day' on Friday 4th March. Look out for more information being sent home over the next few days.

We are planning Parent Teacher Interviews (PTIs) on 22nd and 24th March. The appointments on 22nd March will be virtual and those on 24th March will be in school. Please be aware that if Covid cases rise again the in school, appointments may be changed to virtual ones. Appointments opened on Friday 11th February and the booking system will close on Friday 18th March at 9.00am. Should you wish to make any changes after this date please contact the school office. For more information, please see the email sent home on 9th February.
During the week of the 28th February, we will be trialing providing bagels free of cost to children on entry to the school. Each year group will be on a different day. We will provide more details later in the week.

On Tuesday 1st March we will be having an 'online audit'. There will be an opportunity for parents to speak with the auditor (and myself) in the quadrant in the morning (8.30-9.00am) if they wish. We are always looking to develop our provision and take feedback in this important area.
Since my last newsletter, we have had 2 new positive COVID cases.
Emma Fordham,
Headteacher




Click the image above and like or follow our new page!
Please note, comments are disabled on our page. You will see your comment appear on posts, but we cannot view them and are unable to respond.
News and Events

Attendance
Year 3 – 97.4% Year 4 – 94.1%
Year 5 – 93.8% Year 6 – 90.6%
Total – 94.0% Class winners –3B –98.8 %
School Dinners
Next week we will be on week 2 of our menu. Please pay for your dinners in advance, using the School Gateway app.
Ask me about…PSHE at Almond Hill!
We'd love to share what we're learning in PSHE this week. Try asking your child about these topics so they can explain to you what they have been learning or discussing.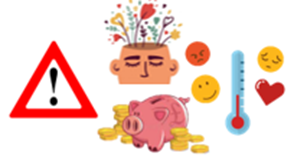 Year 3 – How many emotions words can you list?
Year 4 – What risks are there at school?
Year 5 – What are your 'gremlins'?
Year 6 – Ask me about the links between social media and self-worth

Parent Mental Health Questionnaire
Miss Porter is currently taking part in a government suggested training course focused on developing mental health provision in schools. As part of this course, she has created a survey for parents to complete about the mental health of their child/ren at Almond Hill. With this information she will be able to gain a better understanding of how our current practice is helping our children and also highlight if/how parents would like to be more supported. Please could parents click the link below and complete the short survey. All responses are anonymous. Thank you! https://www.surveymonkey.co.uk/r/5X9BXHT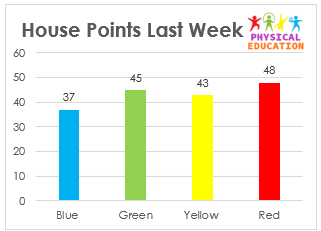 Year 6 Basketball Tournament
Year 6 ended the half-term on a high with an 'intra-house' team Basketball tournament. All the children were split into 8 mixed teams and all were competing for our new 'House Points'. At the end of the tournament, all children were praised by the Year 6 staff for their teamwork and sportsmanship and several children received certificates and house points. Well done Year 6!

Family Support
With energy prices going up and 1 in 5 families having to choose between food and energy last month, we know there will be families who are struggling. We can make a referral to services that can support you. If you need support, please contact Mrs. Burgess or Mrs. Bell from our pastoral team.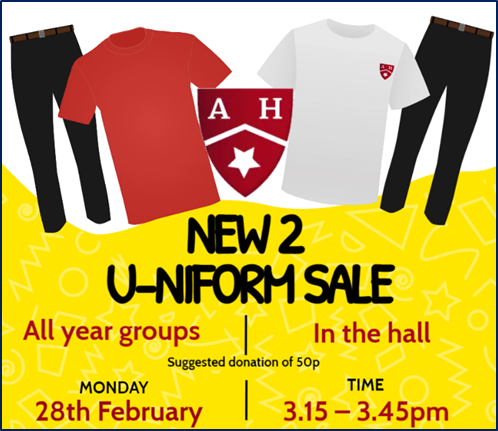 Online grooming and reporting online sexual abuse
The Child Exploitation and Online Protection Command (CEOP) helps keep children safe from online grooming. Grooming is a word used to describe people befriending children in order to take advantage of them for sexual purposes. If you suspect it is an adult who is in contact with your child, and they are behaving inappropriately then you should report this to the CEOP.
A summary of what parents need to know about online grooming can be found at: internetmatters.org/issues/onlinegrooming/learn-about-it
The links below contain a range of further information and age-appropriate resources to help keep children safe from child sexual exploitation.

5-7 year olds - thinkuknow.co.uk/4_7
8-10 year olds - thinkuknow.co.uk/8_10
11-13 year olds - thinkuknow.co.uk/11_13
Young people 14+ thinkuknow.co.uk/14_plus
Parents/carers - thinkuknow.co.uk/parents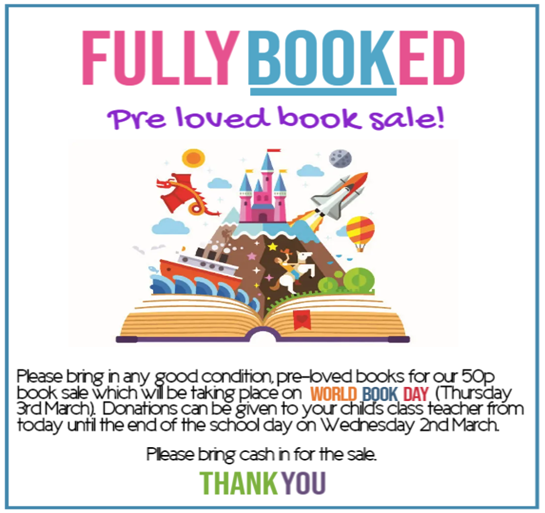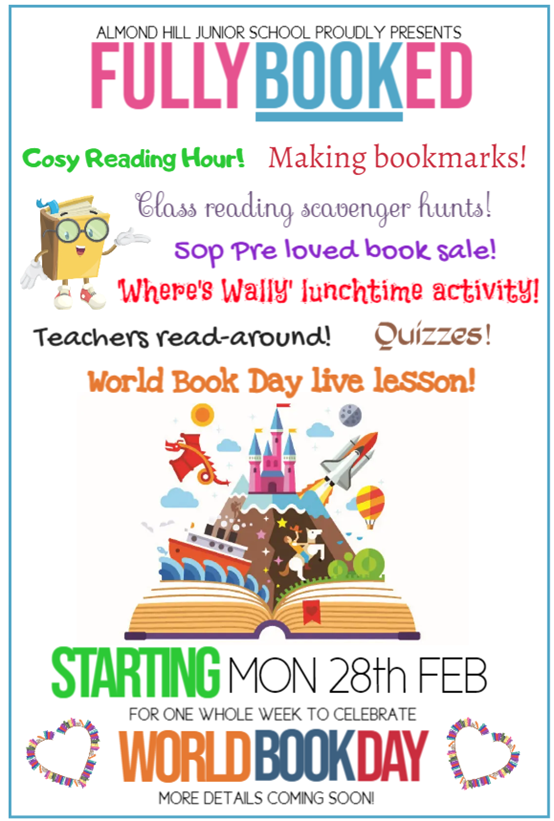 Diary Dates
Monday 28th February – Fully Booked week
Monday 28th February – Uniform Sale 3.15-3.45pm
Monday 28th February – Football match
Almond Hill vs Roebuck (at home)
Tuesday 1st March - Year 5 maths challenge
Thursday 3rd March – World Book Day
Thursday 3rd March – Make a book – entries due
Friday 4th March – Pyjama Day
Wednesday 9th March – Sports Hall Athletics
Fri 11th - Sun 20th March – British Science Week
Friday 18th March – PTI booking closes at 9.00am
Saturday 19th March – FOAH Family Photographer
Tuesday 22nd March – Year 5 Stem Centre visit
Tuesday 22nd March – PTIs 4.00-7.30pm
Thursday 24th March – PTIs 3.30-6.00pm
Cultural Calendar
Tuesday 1st February - Chinese New Year) - https://www.bbc.co.uk/bitesize/topics
Friday 18th March - Holi (Hindu)
Saturday 2nd April – Sunday 1st May - Ramadan (Islamic)
Friday 15th April - Good Friday
Sunday 17th April - Easter Sunday
Saturday 16th April - Passover (Jewish)
Monday 2nd May - Eid al-Fitr (Islamic)
Friday 6th May - Wesak (Buddhism)
Saturday 9th July - Eid al-Adha (Islamic)
Saturday 30th July - Al-Hijra (Islamic New Year)
Monday 26th September - Rosh Hashanah (Jewish New Year)
Monday 24th October - Diwali (Hindu)
Monday 19th December - Hanukkah (Jewish)
Sunday 25th December - Christmas Day
Sunday 1st January - New year
To keep up to date with what is happening at school, you can subscribe to our calendar here
---
In an effort to save paper we no longer send a paper copy of the newsletter home. You can access the weekly newsletter via the school gateway app or the school website and it is also sent home via email each week.
With our communication methods changing it is important more now than ever that we have an up to date email address for you. If you do not see the newsletter by email on a Wednesday please contact the school office to ensure we have the correct details for you.