Issue 24 - 16th March
Newsletters will be removed at the end of each term. If there is a copy of an old newsletter you would like please ask at the office.
16th March
Dear Parents/Carers,

A big thank you to parents for supporting us in the launch of School Grid. I am pleased to share that on our first day of ordering we had 100 pre orders across the school. Ordering from home gives you control over what your child is eating each day. Children are not able to change the preorder in school, the default will always be what is selected from home. The cut off for ordering from home is 8.55am and we are able to place orders for late arrivers up until 10.30am. However, if a child arrives after this time and a preorder has not been made, they will be offered a jacket potato unless a home packed lunch has been provided.
There are a small number of children in Years 3 and 4 who are not collected on time each day. We understand occasionally that parents may be held up however when children are regularly not collected on time this prevents class teachers from getting to their next commitment promptly such as staff meetings, clubs and 1:1 tuition. It is important to us that children are supervised adequately at this busy time of day so Mrs. Burgess (Pastoral Lead) may undertake this duty. Please be advised that from this week, if your child's classroom door is closed and the member of staff has left, then you will need to go to the office to let school know you have arrived and Mrs. Burgess will be contacted to bring them over. She will also be able to discuss with you how you can be supported if there is a barrier to prompt collection.
FOAH have been busy organising our Spring events. This Friday is our ever-popular Mother's Day gift room. Online payments have ended but children can bring money into school (gifts cost £2 each) on the day. They have also booked a family photographer for Saturday (10.30am-2.00pm). If you haven't already booked and would like to take up this fantastic opportunity, please book via School Gateway. A non-refundable deposit of £10 is required at the point of booking. For Easter, they are running a 'Guess How Many Sweets in the Jar' competition. Each guess costs 50p and money can be given to their class teacher during week commencing 28th March. I would like to take this opportunity to thank FOAH for all their hard work and commitment to providing lovely activities for the children which in turn raises much needed funds for the school. Their number is very small so if there are any parents out there willing to offer even the smallest amount of time to ensure these events go ahead, please contact the office for more information.
The School Government, the Royal Robins have organised a quiz for the last day of term. All children across the school will be invited to get into teams of between 4 and 6 children and will participate in the online quiz. It will be 50p to join which children can bring into school and the Royal Robins will collect results and decide the winner. All funds raised will be donated to organisations supporting the humanitarian crisis in Ukraine.
Last week I wrote to you regarding the Peer Mediation training programme we are currently undertaking. We have also been introducing 'restorative conversations' which are used to work through any incidents where children have been involved in conflict. The conversation takes place if both children agree to the discussion, a member of the pastoral or senior leadership team facilitates and the focus is on how to move forward with the situation. The process explores how the incident has made each child feel and the aim is to develop children's reflection, empathy and problem-solving skills. The member of staff holding the conversation only facilitates and stays neutral. This technique focusses on repairing the relationship and complements the STEPs approach already used within school. Investing in these strategies will hopefully help children to build on their resilience. Like most schools, we are finding that many of the children are struggling to manage their emotions in the wake of the disruption to our lives over the last 2 years and would ask that parents talk to children about these strategies to help them embed. STEPs, Peer Mediation and 'restorative conversations' are all outlined with further detail on our website.
As you will be aware, I shared our School Improvement Plan with parents at the end of last year. It is important to me that I continue to communicate our aims and progress with parents so I wanted to share where we are currently with our objectives. Please remember, this is a working document and is at the forefront of what we do so the work does not stop here. School Improvement Plan - Actions
Although we are not doing anything in particular for Red Nose Day, child are welcome to bring their red noses to school on Friday.

We are currently battling against staff shortages so please bear with us, this may mean activities are cancelled at short notice and it may take us longer to respond to queries.
Please note, due to PTIs next Tuesday and Thursday, Cross Stitch and tutoring classes are cancelled.
It has been brought to my attention that some children have been adding other children to large WhatsApp groups. We have discussed this in school but please can parents reiterate with children at home that they should not be sharing their phone number or that of their friends without permission as it is personal information.
Since my last newsletter, we have had 11 new positive COVID cases.
Emma Fordham,
Headteacher

Click the image above and like or follow our new page!




Click the image above and like or follow our new page!
Please note, comments are disabled on our page. You will see your comment appear on posts, but we cannot view them and are unable to respond.
News and Events
Attendance
Year 3 – 96.6% Year 4 – 91.3%
Year 5 –93.3 % Year 6 – 92.0%
Total – 93.3% Class winners –3B – 98.0 %
School Dinners
Next week we will be on week 2 of our menu. Please pay for your dinners in advance. Please use app.schoolgrid.co.uk to pre-order your child's lunches.
Ask me about…PSHE at Almond Hill!
We'd love to share what we're learning in PSHE this week. Try asking your child about these topics so they can explain to you what they have been learning or discussing.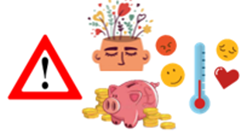 Year 3 – Can you name some changes that happen in our lives?
Year 4 – Who and what can you trust?
Year 5 – What role does money play in your life?
Year 6 – Ask me to explain what 'Emotional Regulation' means
Holi
Holi is a Hindu festival that celebrates spring, love, and new life. Some families hold religious ceremonies, but for many Holi is more a time for fun. It's a colourful festival, with dancing, singing and throwing of powder paint and coloured water. Holi is also known as the "festival of colours". In 2022, Holi will begin on Friday 18 March.
Follow the link to find out more: https://www.bbc.co.uk/bitesize/topics/zh86n39/articles/z4qqy9q
British Science Week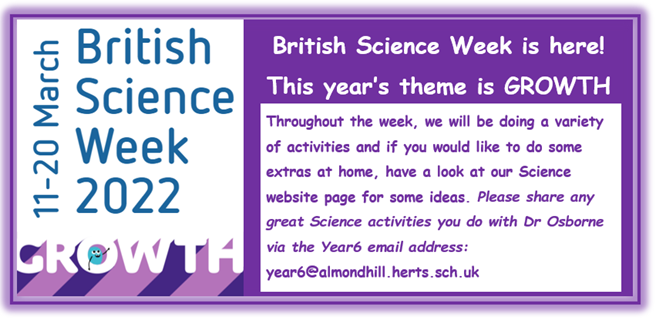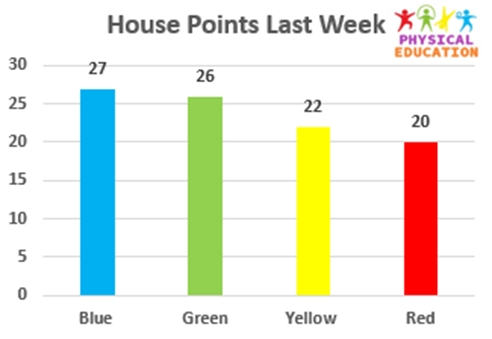 ​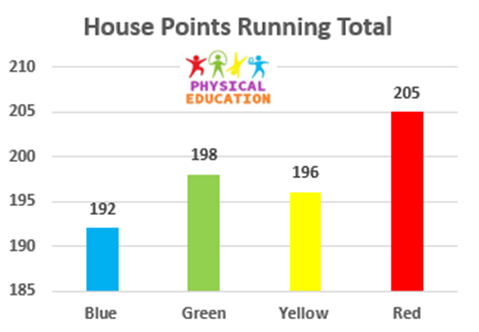 ​
Almond Hill Achievements
Mae (6J) came 2nd in her first dressage test with her horse, Campeon. Being a young competitor, she could have had assistance in the arena, but she wanted to do it by herself. She was the only competitor to do so and still took 2nd place! Well done, Mae!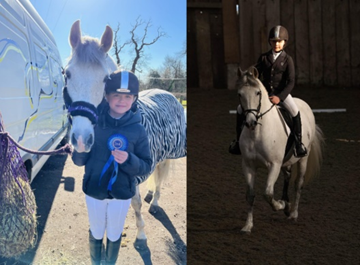 ​
On Saturday, Mason in year 3 was over the moon to receive his third Man of the Match so far this season, for Bedwell Rangers FC U8's. Well done, Mason!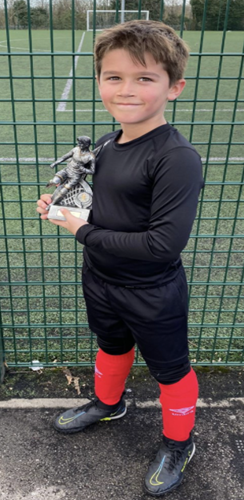 Sports Hall Athletics
Children from Year 6 represented Almond Hill at the Stevenage Sporting Futures 'Sports Hall Athletics' tournament at Barnwell School last week. Children showed fantastic team spirit and were unfortunate not to have been awarded a place in the Heat 2. However, a fun time was had by all and the children did our school proud - well done Year 6!
Two Online Parenting Courses Fully Funded by Herts County Council Family Services Commissioning Team
AVAILABLE TO ANY REFERRED PARENTS ACROSS HERTFORDSHIRE*
Course 1: A Protective Behaviours Approach to Emotional Safety and Wellbeing For Families
Click here for details
Course 2: The Secrets to Parenting Your Teenager
Click here for details
*please contact admin@almondhill.herts.sch.uk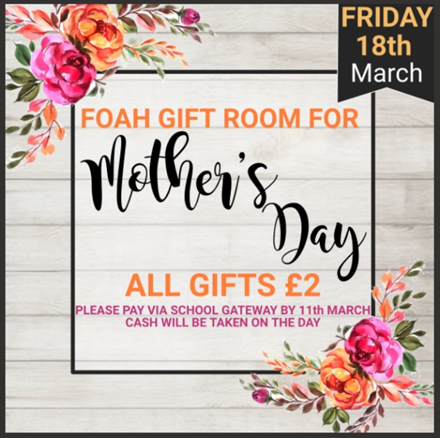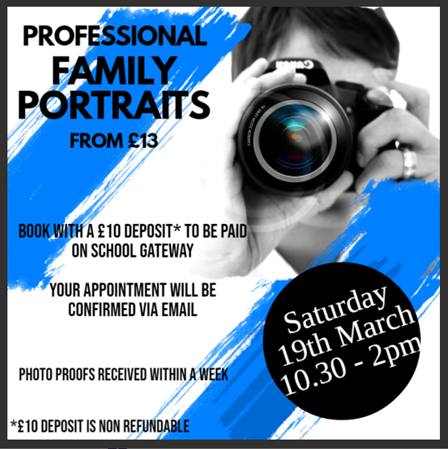 Diary Dates
Friday 11th - Sunday 20th March – British Science Week
Friday 18th March – PTI booking closes at 9.00am
Saturday 19th March – FOAH Family Photographer
Tuesday 22nd March – Year 5 Stem Centre visit
Tuesday 22nd March – PTIs 4.00-7.30pm (virtual)
Thursday 24th March – PTIs 3.30-6.00pm (face-to-face)
W/C 28th March – Guess How Many Sweets competition
Friday 1st April – Cold lunch option only
Friday 1st April – Last day of term – school finishes at 12.30pm
Monday 4th – Monday 18th April - Easter Holidays
Monday 9th- Thursday 12th May – Year 6 SATs
Wednesday 25th May – Year 4 Woodhall Estate Trip
Cultural Calendar
Tuesday 1st February - Chinese New Year) -https://www.bbc.co.uk/bitesize/topics
Friday 18th March - Holi (Hindu)
https://www.bbc.co.uk/bitesize/topics
Saturday 2nd April – Sunday 1st May - Ramadan (Islamic)
Friday 15th April - Good Friday
Sunday 17th April - Easter Sunday
Saturday 16th April - Passover (Jewish)
Monday 2nd May - Eid al-Fitr (Islamic)
Friday 6th May - Wesak (Buddhism)
Saturday 9th July - Eid al-Adha (Islamic)
Saturday 30th July - Al-Hijra (Islamic New Year)
Monday 26th September - Rosh Hashanah (Jewish New Year)
Monday 24th October - Diwali (Hindu)
Monday 19th December - Hanukkah (Jewish)
Sunday 25th December - Christmas Day
Sunday 1st January - New year
To keep up to date with what is happening at school, you can subscribe to our calendar here
---
In an effort to save paper we no longer send a paper copy of the newsletter home. You can access the weekly newsletter via the school gateway app or the school website and it is also sent home via email each week.
With our communication methods changing it is important more now than ever that we have an up to date email address for you. If you do not see the newsletter by email on a Wednesday please contact the school office to ensure we have the correct details for you.
​