Issue 27 - 20th April
Newsletters will be removed at the end of each term. If there is a copy of an old newsletter you would like please ask at the office.
20th April 2022
Issue 27
Dear Parents/Carers,

Welcome back! I hope you enjoyed the Easter break with your families.
Over the next term, children in Year 4, 5 and 6 will be taking part in lessons which will focus on some parts of the relationships and health education curriculum (RHE). As a school community, we are committed to working in partnership with parents; parental feedback has indicated that parents continue to be highly supportive of our relationships and health education programme. If you would like to find out more or discuss any concerns, we would urge you join the Teams information meeting and look forward to seeing you there. Links for these meetings will be sent to parents this week but are also linked below.
Year 4- Monday 25th April 4.00-4.30pm - Click here to join the meeting
Year 5 – Tuesday 26th April 4.00-4.30pm - Click here to join the meeting
Year 6- Wednesday 27th April 4.00-4.30pm - Click here to join the meeting
Thank you to those parents who completed the INSET day survey last term. It is very useful for me to see what our parents want when making decisions for the school. The views of parents varied as some parents wanted them to be the same as other schools whilst others preferred them to be different. Some parents also asked for the INSET days to be put together to allow children to have a whole week off. Unfortunately, this is not possible as these days are used for staff training (formally referred to as In-Service Training days). It's mandatory for staff to have regular training in certain areas, including child protection/safeguarding, health and safety, first aid and behaviour management. More parents asked for the 5th January than the 6th, however for obvious reasons, we cannot have an INSET a day after we return to school. Highlighted below in red are the five INSET days for the next academic year and highlighted in pink is our Occasional day. The last day of the summer term will be Thursday 20th July. I am pleased that we have been able to meet the majority of parents' requirements and although Letchmore's dates have not yet been communicated with parents, we think many are the same.

The difference between equality and equity - At Almond Hill, we are trying to teach the children this at school and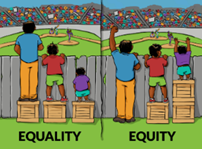 it would help if parents were able to relate this to real life- glasses are the example I use in school. If fairness is the goal, equality and equity are two processes through which we can achieve it. Equality simply means everyone is treated the same exact way, regardless of need or any other individual difference. Equity, on the other hand, means everyone is provided with what they need to succeed. Simply put, if a child requires glasses to help them to read, not all children would be given glasses as they would not be necessary. That means that sometimes, some children are given different support or resources than other children to help reach their full potential.
Mrs. Joannou left at the end of last term to begin her adventure in her new school. As a result, we have made some changes to our staffing. Mrs. Brocklehurst will be teaching in 4J supported by Mrs. Richardson and Mrs. Reeve will continue to teach in 3C. We also have vacancies for a class teacher and teaching assistant roles. If you are interested in applying, please visit www.teachinherts.co.uk.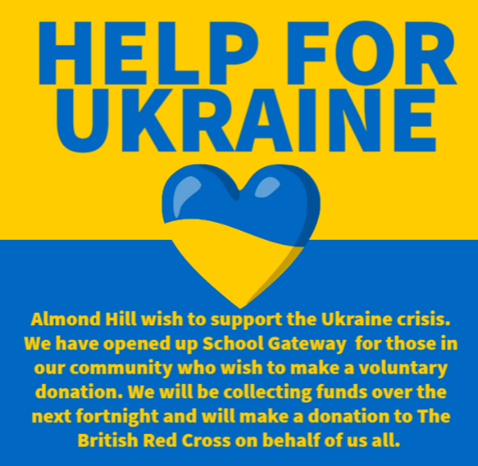 Emma Fordham,
Headteacher
Click the image above and like or follow our new page!




Click the image above and like or follow our new page!
Please note, comments are disabled on our page. You will see your comment appear on posts, but we cannot view them and are unable to respond.
News and Events
Attendance
Year 3 – 91.4% Year 4 – 90.3%
Year 5 – 89.3% Year 6 – 93.2%
Total – 91.0% Class winners 4J – 97.6%
School Dinners
Next week we will be on week 1 of our menu. Please pay for your dinners in advance. Please use app.schoolgrid.co.uk to pre-order your child's lunches. Please note, dinners have increased in price to £2.85.

Almond Hill Achievements
A big well done to Jack in year 3 who won man of the match during the Easter holidays!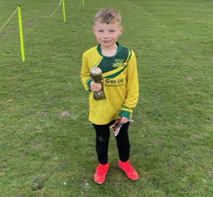 Her Majesty Queen Elizabeth, The Queen Mother's Handwriting Awards 2022.
Joe in year 5 entered the competition and we are incredibly proud to tell you that he has been awarded 2nd place in 'Class 4'. He has been invited to receive a certificate in their awards ceremony in July. Congratulations, Joe!
PE Days for Summer Term
3B - Wednesday and Thursday
3C - Monday and Wednesday
3K - Wednesday and Thursday
4H - Tuesday and Friday
4L - Monday and Wednesday
4J - Monday and Friday

5A - Tuesday
5C - Tuesday
5P - Tuesday
6O - Wednesday and Friday
6S - Wednesday and Thursday
6J - Thursday and Friday
Diary Dates

Monday 25th April
Y4 RHE Meeting (4.00-4.30pm)
Tuesday 26th April
Y5 RHE Meeting (4.00-4.30pm)
Wednesday 27th April
Y6 RHE Meeting (4.00-4.30pm)
Monday 2nd May
Bank Holiday
Monday 9th- Thursday 12th May
Year 6 SATs
Wednesday 25th May
Year 4 Woodhall Estate Trip
Monday 30th May – Friday 3rd June
Half Term
Wednesday 8th June
Class Photos
Wednesday 22nd June
Year 3 Shepreth trip
Friday 24th June
INSET Day
Monday 27th June
Occasional Day
Tuesday 5th July
Year 6 Legoland trip
Monday 11th July
6S Awards Afternoon
(2.00-4.00pm)
Tuesday 12th July
6J Awards Afternoon
(2.00-4.00pm)
Wednesday 13th July
6O Awards Afternoon
(2.00-4.00pm)
Wednesday 20th July
Last day of term (1.00pm finish)
Thursday 21st/Friday 22nd July
INSET Days
Cultural Calendar
Tuesday 1st February - Chinese New Year) -https://www.bbc.co.uk/bitesize/topics
Friday 18th March - Holi (Hindu)
https://www.bbc.co.uk/bitesize/topics
Saturday 2nd April – Sunday 1st May - Ramadan (Islamic)
Friday 15th April - Good Friday
Sunday 17th April - Easter Sunday
Saturday 16th April - Passover (Jewish)
Monday 2nd May - Eid al-Fitr (Islamic)
Friday 6th May - Wesak (Buddhism)
Saturday 9th July - Eid al-Adha (Islamic)
Saturday 30th July - Al-Hijra (Islamic New Year)
Monday 26th September - Rosh Hashanah (Jewish New Year)
Monday 24th October - Diwali (Hindu)
Monday 19th December - Hanukkah (Jewish)
Sunday 25th December - Christmas Day
Sunday 1st January - New year
To keep up to date with what is happening at school, you can subscribe to our calendar here
---
In an effort to save paper we no longer send a paper copy of the newsletter home. You can access the weekly newsletter via the school gateway app or the school website and it is also sent home via email each week.
With our communication methods changing it is important more now than ever that we have an up to date email address for you. If you do not see the newsletter by email on a Wednesday please contact the school office to ensure we have the correct details for you.