Issue 31 - 18th May
Newsletters will be removed at the end of each term. If there is a copy of an old newsletter you would like please ask at the office.
18th May 2022
Issue 31
Dear Parents/Carers,
Thank you to the children in year 6 (and their parents) for sending in their 'profiles' for the year book. All information has now been sent to the designer and we can't wait to see them when they are ready! Year books will be given to children, along with their jumpers, at our very first graduation awards afternoons in July. We would love to see as many of you there as possible. It will not be possible to record this event but we hope that with enough notice, almost all of you will be able to attend. It is our intention that each child will have a 'family table' and are able to invite up to 4 people to attend. We would like to get an idea of how many people are able to come (to make sure we have enough chairs set) so please take a minute to complete the form below to ensure you receive your ticket. See below for dates and times for the graduation dates for each class.
www.almondhill.herts.sch.uk/graduation
Starting from Monday 23rd May, the school government will be holding a school wide football tournament with the help from Mr. Keane (the Premier sports coach). When they were elected, the Royal Robins made pledges to help the school, the community, a national charity and an international charity. They will now be raising money for Cancer Research (as well as Ukraine) with their football tournament. Children pay 50p to participate, which can be done on School Gateway. They will be placed in a team to play against each other. This is open to children of all ages and all abilities. It is for the children to enjoy rather than a serious competition. Children will be informed when they are playing and will need school appropriate clothing (school PE kit, trainers/boots and shin pads if available). Depending on the number of children who want to participate, this will run for a number of weeks and children will come out of class for a short time to play their match.
We hope the children are enjoying the clubs provided free of charge by Almond Hill staff. Some of these clubs are new this term and some have been running for much of the year. I thought parents might be interested in knowing the full range that is on offer. Drama, journalism, ECO, computer aided design, art, dance, cross stitch, choir, set design (backstage crew), Latin and rounders. We are also extremely grateful to some year 5 parents who manage our football team and have also provided a non-competitive football club this year. Some of these clubs are for the upper school and some are for the lower school. Some are by invite only and others are open to all but I'm sure parents will agree, there is a wonderful selection on offer. In addition to these extra-curricular clubs, the school funds a daily lunch time sports club which is led by Mr. Keane our Premier sports coach.
In conjunction with FOAH, the school hosts a clothes textiles recycling bin in the school hall. This is an opportunity to both meet our aims of being more ECO friendly and raising a small amount of money for the school. I would just like to remind parents of its existence so that any good quality, unwanted, clothing and textiles can be sent in with the children so we can fill it. When we have hosted Bags2School, we have always had a very good response from parents but I appreciate it is harder to remember without a focus date.
We recently took part in the Stevenage and North Herts Schools Writing Project. The writing project was nominated for a Pearson National Teaching Award for Impact through Partnership. In recognition for the success of the project and our partnership we have been given a certificate to display in school. A big well done to everyone involved.
Emma Fordham,
Headteacher


Click the image above and like or follow our new page!
Please note, comments are disabled on our page. You will see your comment appear on posts, but we cannot view them and are unable to respond.
News and Events
Attendance
Year 3 95.3% Year 4 93.9%
Year 5 90.7% Year 6 93.2%
Total – 93.2% Class winners – 3B – 98.0%
School Dinners
Next week we will be on week 3 of our menu. Please pay for your dinners in advance using app.schoolgrid.co.uk. Don't forget to preorder!
Almond Hill Achievements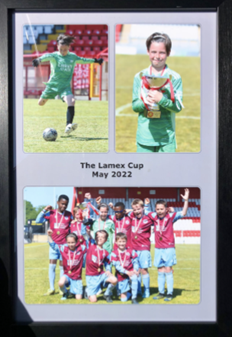 Teddy in year 4 played in his 1st Football Tournament this weekend at Stevenage Football Club and we are incredibly proud to tell you that Teddy and his team won The Lamex Cup! Congratulations, Teddy.
Ruby B in year 5 competed in the UK Street Dance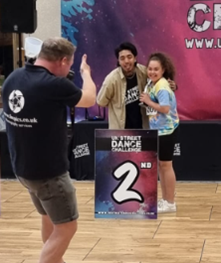 Championship at the weekend representing her dance school "WARRIORS ". She was placed 2 in intermediate solo, 1st in advanced duo, 4th in 13 and under with her quad and 3rd with her team! Well done, Ruby..
Adult Training Network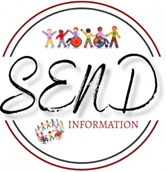 Free* courses for adult learners in:
English ESOL
Health and Wellbeing
Skills for Work
Digital Skills
Click here for details.
* Eligibility subject to status

Diary Dates
Monday 16th- Friday 22nd May Walk to School Week
Monday 16th- Friday 22nd May French Stories Week
Wednesday 25th May
Year 4 Woodhall Estate Trip
Monday 30th May – Friday 3rd June
Half Term
Wednesday 8th June
Class Photos
Wednesday 8th June
History Day (usual uniform)
Wednesday 22nd June
Year 3 Shepreth trip
Friday 24th June
INSET Day
Monday 27th June
Occasional Day
Thursday 30th June
Year 3 and 4 Sports Day
(1.00-3.00pm)
Wednesday 6th July
Year 6 Legoland trip
Thursday 7th July
Year 5 and 6 Sports Day
(1.00-3.00pm)
Monday 11th July
6S Awards Afternoon
(2.00-4.00pm)
Tuesday 12th July
6J Awards Afternoon
(2.00-4.00pm)
Wednesday 13th July
6O Awards Afternoon
(2.00-4.00pm)
Wednesday 20th July
Last day of term (1.00pm finish)
Thursday 21st and Friday 22nd July
INSET Days
Cultural Calendar
Saturday 9th July - Eid al-Adha (Islamic)
Saturday 30th July - Al-Hijra (Islamic New Year)
Monday 26th September - Rosh Hashanah (Jewish New Year)
Monday 24th October - Diwali (Hindu)
Monday 19th December - Hanukkah (Jewish)
Sunday 25th December - Christmas Day
Sunday 1st January - New year

To keep up to date with what is happening at school, you can subscribe to our calendar here
---
In an effort to save paper we no longer send a paper copy of the newsletter home. You can access the weekly newsletter via the school gateway app or the school website and it is also sent home via email each week.
With our communication methods changing it is important more now than ever that we have an up to date email address for you. If you do not see the newsletter by email on a Wednesday please contact the school office to ensure we have the correct details for you.