Issue 33 - 8th June
Newsletters will be removed at the end of each term. If there is a copy of an old newsletter you would like please ask at the office.

8th June 2022
Issue 33
Dear Parents/Carers,
Welcome back – I hope you all enjoyed the half term break and were able to celebrate the Jubilee!
Thank you to those parents who took the time to provide feedback on the changes we are making to our uniform from September. As mentioned, I will respond to your queries here. I would like to remind parents that the changes we are making are not significant and the intention is to streamline our current offer. We understand there will be a transition period and would never expect parents to buy new uniform if their current uniform is still wearable. However, if you are planning to purchase new uniform, we would ask that you do so with the new uniform standards in mind. Red polo shirts will no longer be part of our standard uniform in September. As well as the red dress, children may wear black shorts/skirts in the summer term as part of their uniform, apologies for this omission on the previous communication. Before making this decision, we looked at what children were wearing to school and found that the vast majority were wearing white polos for their normal uniform and red for PE. We have reviewed our uniform in line with the new government guidance for September 2022. I hope this helps to respond to your queries. We will also continue to offer our New2U recycling sales to help parents manage the cost of uniform and ensure less waste. Please name all school uniform and check regularly that it has not been washed off. We had 8 bags of unnamed/unclaimed uniform at the end of last half term.
After such a long time, we are looking forward to welcoming parents to our upcoming sports days. There will be two dates, 1 for the lower school and another for the upper school. Although the finer details will be communicated nearer the time, I wanted to outline some of the key information for parents now to help you prepare. Children will be asked to wear a t-shirt in their 'house' colour (red, yellow, blue or green). Children are aware of their house colours but we will communicate this to parents to ensure this is clear. We know for some parents having events on separate days is not always easy so we would like to offer parents to take siblings from other year groups home at the end of sports day. This will be facilitated by staff helping with the running of sports day, not the school office. We are hoping to have refreshments available (at a small charge) with the help of FOAH but this will be confirmed nearer to the time.

Thursday 30th June – Year 3 and 4 Sports Day (1.00-3.00pm)
Thursday 7th July – Year 5 and 6 Sports Day (1.00-3.00pm)
For 5 weeks throughout June and July we have an instructor from Stevenage Sporting Futures coming into school on a Friday lunch time to work with some girls in year 6. The club will be focused on aerobics, dance and fun fitness and the idea is to inspire these girls to be active in a fun and engaging way. We look forward to telling you how they get on.
Emma Fordham,
Headteacher


Click the image above and like or follow our new page!
Please note, comments are disabled on our page. You will see your comment appear on posts, but we cannot view them and are unable to respond.
News and Events
Attendance
Year 3 91.1% Year 4 94.5%
Year 5 90.8% Year 6 92.4%
Total – 92.2% Class winners 3C– 96.3
School Dinners
When we return from half term, we will be on week 2 of our menu. Please pay for your dinners in advance using app.schoolgrid.co.uk. Don't forget to preorder!
Letter from a Pupil
Recently, a child took the time to write me a beautiful letter to tell me what they liked about our school and the teachers that work here. She had joined us mid-year and not always attended this school. This got me thinking about our school values and I would like to add gratitude to one of our monthly values. Sometimes, we take things for granted and aren't always good at looking back and thanking people for the good things they have done and I would like to change that mindset as gratitude leads to feelings of happiness. A big thank you for your wonderful letter (you can see a redacted version here).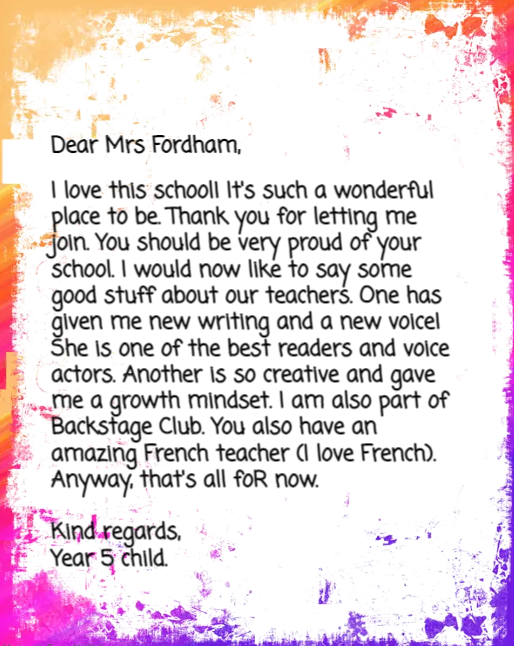 Almond Hill Achievements
Evelyn, Casey and Rosie recently performed in the Peter Pan Show before half term at the Gordon Craig Theatre. They performed incredibly well. Well done!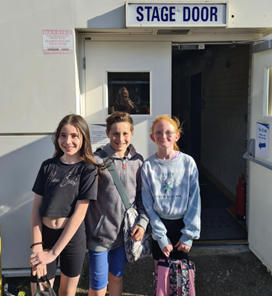 Lily-Mae in year 6 recently went to a karate bootcamp. She came 2nd place in team games, 3rd place in sparring, the bigger trophy was for 'Warrior of the Week'. Well done, Lily-Mae!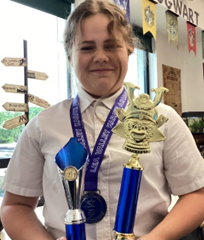 Brooke in year 6 won a trophy for her effort and listening in dancing from the 'Emerald Dance Academy'. Well done, Brooke!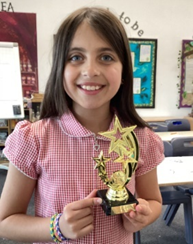 Huge congratulations to the Almond Hill football team who were runners up in the league. Some of the team went to the trophy and medal presentation at the end of half term. Well done, boys!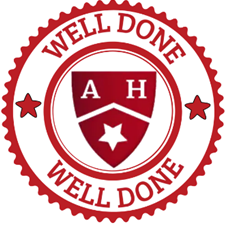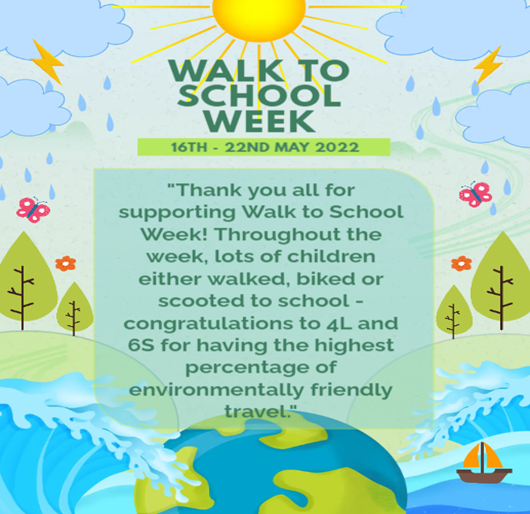 Celebrating the Jubilee
We are incredibly proud of our Jubilee display and the children have really enjoyed looking at the other classes' work and showing you.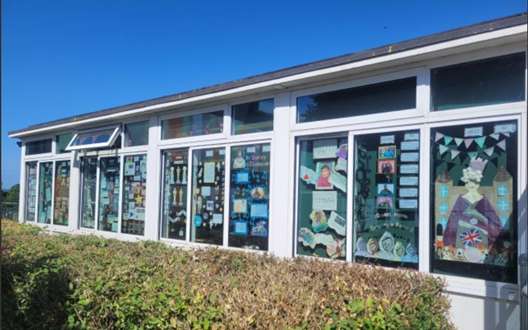 FOAH Events
FOAH will be holding their Father's Day present room on Friday 10th June. (please pay in advance on School Gateway. £2 per gift, no limit). They will also be selling ice creams after school in the quadrant on the following dates:
Friday 1st July
Friday 8th July
Friday 15th July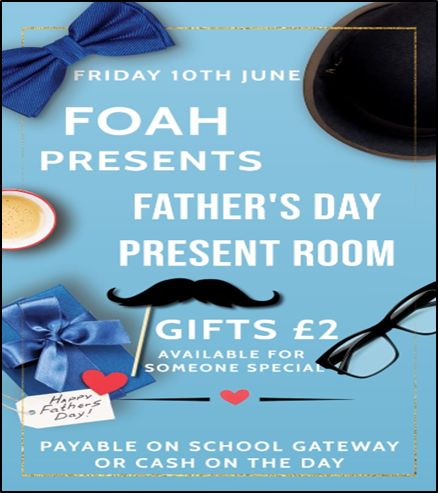 Woodhall Estate
Year 4 attended the Woodhall Estate for an outdoor learning trip. Throughout the day, the children took part in a 'round robin' of activities all about the environment, ecology, farming and sustainability. We were fortunate for a dry day and the children had a great time. Well done to Year 4 for their excellent learning behaviours on the day.
Please click here to see some of the photos from the day
French Stories Week
Last week, each class spent one afternoon studying a French story, from traditional fairy tales such as Le Petit Chaperon Rouge (Little Red Riding Hood) to more modern stories like Les Aventures de Tintin (The Adventures of Tintin). The children had opportunities to practise their reading and decoding skills, writing their own book reviews, listening to the stories and acting them out themselves. A big well done to all children for 'Having a go' and 'Aiming High' – lots of fun was had by all.

Please click here to see some of the photos from the day
Shrepreth Trip – Year 3
Please be reminded, if your child is going to Shrepeth on Wednesday 22d June, they must arrive on time. Those that are coming to school and walking from here must be here no later than 8.50am ready to leave promptly at 9.00am. Parents can drop their children off at the Leisure Park side of the station at 9:40am, where a member of the Year 3 team will meet them. I must stress that if your child is late, they run the risk of not going on the trip as unlike a coach, we cannot hold up a train.
Travelling Book Fair
The travelling book fair sold £323.18 which gives us £89.27 of free books! A big thank you to everyone who placed an order and happy reading!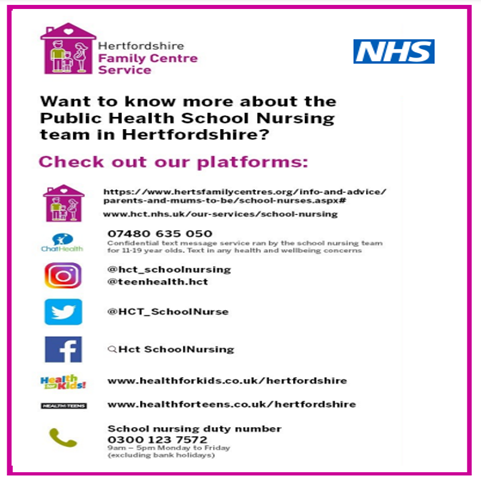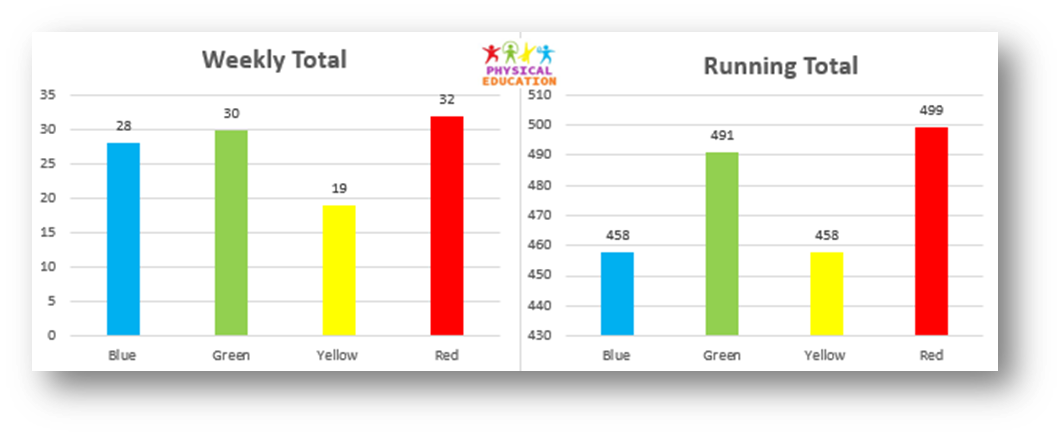 Police Visit
On Tuesday, children in year 5 and 6 were lucky to have a visit from local police officers to talk about online safety. They spoke about online risks, rules to stay safe online and age appropriate content. They also explained what children should do if they come across something they are not happy with and who to speak to. Children engaged really well and were very forthcoming in sharing with police the games and social media platforms they're using which they're not old enough for yet! A big thank you to Herts Police for taking the time to visit.
In keeping with this, I would like to remind parents that smartwatches are not permitted in school as they contravene our safeguarding procedures. Watches that act as step counters only are acceptable but nothing that has a 'smart' feature such as messaging or photos.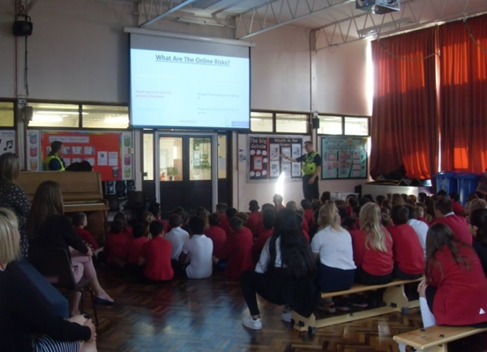 Diary Dates
Friday 10th June - Father's Day gift Room
Wednesday 22nd June – Year 3 Shepreth trip
Friday 24th June – INSET Day
Monday 27th June – Occasional Day
Thursday 30th June – Year 3 and 4 Sports Day (1.00-3.00pm)
Friday 1st July – Ice Cream Friday
Wednesday 6th July – Year 6 Legoland trip
Thursday 7th July – Year 5 and 6 Sports Day (1.00-3.00pm)
Friday 8th July – Ice Cream Friday
Monday 11th July – 6S Awards Afternoon (2.00-4.00pm)
Tuesday 12th July – 6J Awards Afternoon (2.00-4.00pm)
Wednesday 13th July – 6O Awards Afternoon (2.00-4.00pm)
Friday 15th July – Ice Cream Friday
Wednesday 20th July – Last day of term (1.00pm finish)
Thursday 21st and Friday 22nd July – INSET Days
Saturday 9th July - Eid al-Adha (Islamic)
Saturday 30th July - Al-Hijra (Islamic New Year)
Monday 26th September - Rosh Hashanah (Jewish New Year)
Monday 24th October - Diwali (Hindu)
Monday 19th December - Hanukkah (Jewish)
Sunday 25th December - Christmas Day
Sunday 1st January - New year

To keep up to date with what is happening at school, you can subscribe to our calendar here
---
In an effort to save paper we no longer send a paper copy of the newsletter home. You can access the weekly newsletter via the school gateway app or the school website and it is also sent home via email each week.
With our communication methods changing it is important more now than ever that we have an up to date email address for you. If you do not see the newsletter by email on a Wednesday please contact the school office to ensure we have the correct details for you.

In this section