Issue 37 - 6th July
Newsletters will be removed at the end of each term. If there is a copy of an old newsletter you would like please ask at the office.

6th July 2022
Issue 37
Dear Parents/Carers,
Secondary transfer day will be taking place next week on Thursday 14th July. A really exciting and important part of the transition process that we haven't been able to engage in for some years now. I would like to give parents some prior explanation as to how it will work this year so you are informed and can discuss with your children if you see fit.

After much consideration and discussion with staff about the pros and cons of keeping the classes the same for next year and the alternative of regrouping them, I have taken the decision to mix the classes of the children in the current Years 3, 4 and 5. We have had a more constant year in terms of full school opening and believe that now is the right time for this. Historically at Almond Hill, we have generally kept classes the same through the children's four-year journey with us and on occasion taken the decision to mix where we felt the benefits would outweigh the disadvantages. Mostly parents have agreed with our decision though there have always been some parents with reservations. However, when we have reflected after the subsequent school year, it has always been the right decision for the majority of the children. For some schools, this is an annual event and they report it helps children build resilience and a wider group of friendships.
Reasons for regrouping the classes include the following. Since the onset of pandemic, there have been many new children to Almond Hill who have been very welcome and wonderful additions to our whole school community. The addition of new, not previously known children, can affect the dynamic of a class and once classes have settled, it can become apparent that there are better ways in which to organise the new, larger cohorts such as considering gender, SEND needs, attainment and indeed personalities. Children have also left, moving on to pastures new, resulting in uneven numbers in classes.
However, one of the most compelling reasons for deciding to regroup the classes is related to the change in many of the children's well-being and the development of their resilience skills. Over the last year, we have noted that many of our children do not have the skills required to manage low level conflict with their peers. We have taken proactive steps to address this via developing Peer Mediators in current Year 5 pupils with external funding and providers and Restorative Conversations training for all staff - further information can be found out about these interventions on the website. Both of these interventions can already be seen to be having a positive impact across the school. Please do talk to your children about them. However, it remains the case that there are a significant minority of children (e.g. some in every class) who find it extremely difficult to tolerate and manage their relationships with some of their peers. This not only affects them negatively but also creates discord in the classroom and impacts on the teaching and learning taking place.
With all of this in mind, we have been preparing for the class regroupings for some time to ensure that they are successful. All children were asked at the start of the process to write down some names of closest friends to ensure that in the class mixes at least one of these friends would be included (preferably more if possible) so no child becomes isolated. 'Friends' as many parents will agree, can be slightly shifting sands for some children but we do our best to cover all possibilities. Subsequent to this, new classes were generated according to all criteria and considerations already stated and then trialled. Formal lessons and less structured activities were part of the trials to see how the classes operated in a variety of situations and some tweaks then took place. I am extremely pleased to report that we have finalised our class lists for September and the children will be taught in these groups next Thursday.
To reduce confusion, anxiety and the need for a huge amount of unnecessary administration, we have decided to communicate these new groupings during transition day.
Current Year 2 (most but not all coming from Letchmore Infants) are really lucky that they will be able to join us for the day to gain a real sense of what it feels like to be a part of our junior school. They will enter the classrooms that will be theirs in September to help them really feel comfortable with their change of school.
This means that current Year 3 will need a temporary home for registration at the start of the day and also at the end of the day which will be in the hall. They can access the hall using the doors that open into the quadrant where the year group team will be waiting for them.
Children in current years 4 and 5 will be expected to go to their current classroom doors at the start of the day and will end the day in the current classrooms too. During the morning, all children in Years 3, 4 and 5 will be told who their new teacher is and then there will be assembly led by myself about new beginnings. Children will leave the hall with the new teacher and class grouping and spend the day in their new classroom before going back to their current class at the end of the day.
Children in current Year 6 will be going to their secondary schools for the day. We wish them luck and look forward to hearing about their experiences upon their return.
Year 3 teachers: Mrs Brocklehurst, Mrs Campbell, Mrs Barham and Miss Andrews
Year 4 teachers: Mrs Lyons, Dr Osborne, Mrs Reeve, Miss Hayllar
Year 5 teachers: Mrs Cleaves, Miss Porter, Miss Wase
Year 6 teachers: Miss Simmons, Ms Stewart, Mrs Bond
Emma Fordham,
Headteacher



Click the image above and like or follow our new page!
Please note, comments are disabled on our page. You will see your comment appear on posts, but we cannot view them and are unable to respond.
News and Events
Attendance
Year 3 92.2% Year 4 91.1%
Year 5 93.4% Year 6 93.2%
Total –92.5% Class winners 5A- 95.8%
School Dinners
Next week, we will be on week 3 of our menu. Please pay for your dinners in advance using app.schoolgrid.co.uk.
Don't forget to preorder! If your child is having packed lunch, please ensure they do not have any nut products.
House Points

Sports Day
Congratulations to the children in the lower school for an amazing sports day last week! Children had so much fun and were so resilient. We are especially proud of those that fell over and got straight back up and carried on! It was fantastic to see so many parents and carers so a big thank you for coming and supporting the children, even though the weather wasn't the best!
Tomorrow, we will be holding our upper school sports day at the slightly later time of 1.00pm-2.45pm. Remember to bring lots of money as there will be refreshments, an opportunity to buy second hand books and uniform as well as the FOAH hat. The clothing recycling box will also be out should you have items you would like to recycle. There are lots of photos on the website of the lower school sports day for you to enjoy and we will add photos of the upper school as soon as possible.
Please enter via the pedestrian gate closest to St Nicholas' church and make your way to the seated area.Please be reminded that the gate will remain unlocked so any siblings or small children must be supervised. You are welcome to take photos of your child during sports day but for the safety of other children, please do not post photos on social media.

Children can leave once sports day is finished but they will be taken back to their classrooms by their teachers to be signed out first. Siblings from other year groups can also leave earlier. Children in years 3, 4 and 5 can be collected from their classroom doors. For children in year 6, please go to the Acorn House front doors where a member of staff will be there to inform your child's class teacher of your presence.
Parent Feedback
We have had several emails in the last week thanking the staff for going the extra mile e.g. the Fairlands trip for those that missed Grafham and the Year 3 fun day organised because of the postponed Year 3 trip. I wanted to share my gratitude for those families that have taken the time to communicate their appreciation - it really does mean a lot to the staff and myself. In addition to this, I was approached by two people in the community over the weekend to inform me that parents of children that have moved to our school from other schools speak very highly of the transition and our provision overall. It is wonderful to hear that Almond Hill is being recognised for all the hard work that the staff put in. Once again, I am truly grateful for those people who are enhancing our local reputation.
COVID-19
If a child or young person has a positive COVID-19 test result they should try to stay at home and avoid contact with other people for 3 days after the day they took the test, if they can. After 3 days, if they feel well and do not have a high temperature, the risk of passing the infection on to others is much lower. This is because children and young people tend to be infectious to other people for less time than adults.
Children and young people who usually go to school, college or childcare and who live with someone who has a positive COVID-19 test result should continue to attend as normal. https://www.gov.uk/
Ties
Children in year 6 are encouraged to wear a shirt and tie. Ties are now available to purchase on School Gateway for children in year 5 ready for September.
Almond Hill in the Community
Our school choir were invited to sing at a wedding on Saturday. The wedding was particularly special as it was Mrs. Lamacraft's daughter who got married. They sang beautifully and it was a real honour to be invited.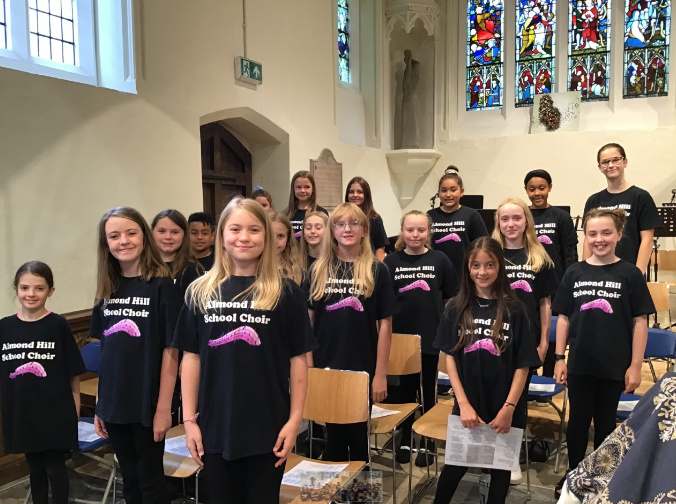 FOAH Ice Cream Fridays
8th July and 15th July
FOAH will be here at 2.45 on Friday selling icecreams.
Almond Hill Acheivements
In year 5 art lessons, we created multimedia face pictures. Nelly in 5C made her own picture at home. It looks brilliant!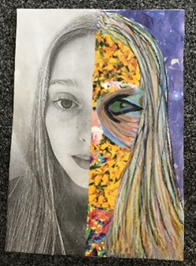 Eid ul-Adha
Eid ul-Adha ('Festival of Sacrifice') is one of the most important festivals in the Muslim calendar. The festival remembers the prophet Ibrahim's willingness to sacrifice his son when God ordered him to. In 2022, Eid ul-Adha will begin on the evening of Saturday, 9 July and end on the evening of Wednesday, 13 July.
https://www.bbc.co.uk/bitesize/topics/zyb4q6f/articles/zgpwkty

Year 6 Graduation
Just to confirm, the year 6 celebrations take place next week with 6S Monday, 6J Tuesday and 6O Wednesday (2.00-4.00pm). Please can we ask parents to arrive just before 2 o'clock (please don't be any earlier than this as this will result in you queuing outside) and enter the site via the school reception gate where will you be greeted at the hall doors and shown to your seats. Each child will have a table prepared as booked by parents on our website. Ideally, there will be no younger children in attendance as this may distract from the event. However, we do understand for some families this will be unavoidable. For any younger siblings that attend Almond Hill, if there is no one else to collect the children, then they can be brought to the hall at 3:15 to join their siblings and family. Children who go to Almond Hill are not invited to the first half of the ceremony and will be expected to stay in class. Please ensure you have informed the class teacher if you would like any siblings to be taken to the hall 3:15pm.
---
Diary Dates
Wednesday 6th July – Year 6 Legoland trip
Thursday 7th July – Year 5 and 6 Sports Day (1.00-2.45pm)
Friday 8th July – Ice Cream Friday
Monday 11th July – 6S Awards Afternoon (2.00-4.00pm)
Tuesday 12th July – 6J Awards Afternoon (2.00-4.00pm)
Wednesday 13th July – 6O Awards Afternoon (2.00-4.00pm)
Thursday 14th July – Secondary Transition Day
Cultural Calendar
Saturday 9th July - Eid al-Adha (Islamic)
Satuday 30th July - Al-Hijra (Islamic New Year)
Monday 26th September - Rosh Hashanah (Jewish New Year)
Monday 24th October - Diwali (Hindu)
Monday 19th December - Hanukkah (Jewish)
Sunday 25th December - Christmas Day
Sunday 1st January - New year
---
In an effort to save paper we no longer send a paper copy of the newsletter home. You can access the weekly newsletter via the school gateway app or the school website and it is also sent home via email each week.
With our communication methods changing it is important more now than ever that we have an up to date email address for you. If you do not see the newsletter by email on a Wednesday please contact the school office to ensure we have the correct details for you.