Issue 38 - 13th July
Newsletters will be removed at the end of each term. If there is a copy of an old newsletter you would like please ask at the office.

13th July 2022
Issue 38
Dear Parents/Carers,
Last week, we welcomed parents to our upper school's sports day. The children really loved having families here for the events and I would like to thank parents for coming to support them. The children showed great sportsmanship and determination during their events and supported each other. Winners will be communicated by the end of term. A big thank you to FOAH for supporting at both events.
We have held our very first graduation awards afternoons this week with the finale today with 6O. They have been fantastic! It has been lovely to see so many of you here celebrating your children's junior school journey. Children have received their year books and hoodies, which were kindly paid for by FOAH as well as receiving their graduation certificates and individual achievement awards. We also showed the ever-popular leavers' video! Year 6 staff have put a lot of time into making this event memorable for the children and hope you have all enjoyed them.
Please be reminded it is Hertfordshire's Transition Day on Thursday 14th July. Information regarding this was communicated on last week's newsletter (I will add a link to that here). To help the day run smoothly, please ensure children arrive to school on time and if they are having a school dinner, please pre-order. There will be an opportunity for you to meet your child's new teacher at the end of the school day.
New Year 3 – Mrs. Brocklehurst, Mrs. Campbell, Mrs. Barham and Miss Andrews will meet new year 3 children in their classrooms in the morning. Parents can come to meet their child's teacher from 2.30pm in their classrooms.
New Year 4 – Mrs. Lyons, Miss. Hayllar, Dr. Osborne and Mrs. Reeve will meet children in the hall in the morning and they will be taken to their classrooms. Parents should collect their children at 3.15 as usual from the hall and will have the opportunity to say hello to the class teacher between 3.15 and 3.45pm.
New Year 5 – Children will go to their current year 4 classroom to be registered. They will be met by Mrs. Cleaves, Miss. Porter and Miss. Wase and taken to their new classrooms. Parents should collect their children at 3.15 as usual from the year 4 classroom and will have the opportunity to say hello to the class teacher between 3.15 and 3.45pm.
New Year 6 – Children will be met in their current year 5 classroom by Miss. Simmons, Mrs. Bond, and Ms Stewart before going to their new classrooms. Children will leave at 3.15 as usual and parents will have the opportunity to say hello to the class teachers between 3.15 and 3.45pm in their current year 5 classroom.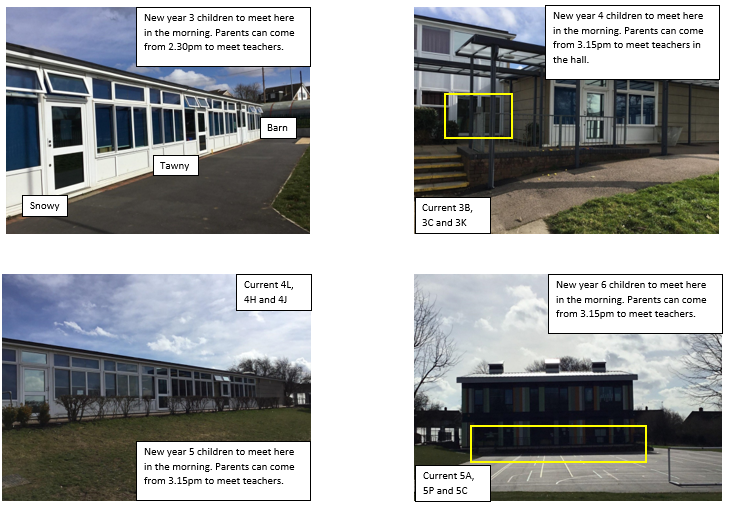 On Friday 15th, children will be bringing home their school reports. Inside the envelope there is a letter for you to read with the details of a survey for you to complete as well as some explanatory information about some of the terms used within the report.
Shepreth Trip - thank you those parents who have contacted me to support my decision to cancel the Year 3 trip. I have acted on advice sought and since I took the decision Monday evening, the forecast temperature for Monday has risen even higher. It is my responsibility to keep the children and staff safe and not to take unnecessary risks.
Our last day of term is Wednesday 20th July and we will finish at 1pm. Please be reminded that the lunch option will be ham, cheese or tuna baguette. Please help cook to prepare by preordering on School Grid.

After many years at Almond Hill, Mrs. Bell our pastoral teaching assistant will be leaving us at the end of term. She will be relocating to a different area. Although she will be missed by all, we wish her all the very best!
Mrs. Pearce will also be leaving us to begin a new job within IT. I'm sure parents will join me in wishing her luck in her new role.
Miss. Harris will be leaving her role as Cover Supervisor at the end of term.
We will also be welcoming a new teacher next term, Miss Wase who will be teaching in year 5.
Emma Fordham,
Headteacher



Click the image above and like or follow our new page!
Please note, comments are disabled on our page. You will see your comment appear on posts, but we cannot view them and are unable to respond.
Hi I'm Miss Wase and I will be teaching in year 5! I have been teaching for 6 years in both year 3 and 4, however this will be my first year teaching at Almond Hill. I love all things PE and Maths. I am looking forward to joining the team and meeting you all!
News and Events
Attendance
Year 3 90.9% Year 4 90.5%
Year 5 87.1% Year 6 92.8%
Total 90.2% Class winners 6S - 95.7%
School Dinners
Next week, we will be on week 1 of our menu. Please pay for your dinners in advance using app.schoolgrid.co.uk. Don't forget to preorder! If your child is having packed lunch, please ensure they do not have any nut products.
House Points
There will be final round up of house points communicated to parents in the last newsletter of the term next week.

Almond Hill Achievements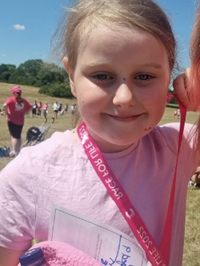 On Sunday Willow in year 4 completed the 5k race for life, this is her second race for life and she came in with an impressive time even in the heat. Well done, Willow!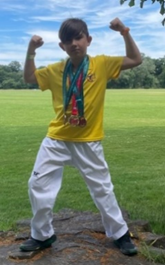 Eden in year 5 competed in the international Wales Poomsae and sparring championships. Eden got a silver medal in sparring, bronze in Poomsae teams and bronze in the individual Poomsae! Congratulations, Eden.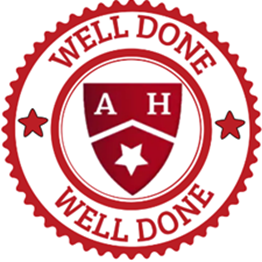 Trials have been completed for the Stevenage District football team. They started with 66 boys and narrowed them down week by week and we are delighted to tell you that TWO of our very own pupils have been picked for the team. A big congratulations to Harry in year 4 and Ralphie in year 5 we look forward to hearing how you get on.
Parent Courses
If you have done any of the courses advertised either here on our newsletter or on our website, please can you email us some feedback so we can understand if these have been beneficial. You can email: admin@almondhill.herts.sch.uk
Play Centres
Stevenage Borough Councils Summer holiday play activity programme information flyer
School open events and key dates for secondary transfer
Moving on 2023
Information for parents with children in year 5. Further information about moving to secondary school in September 2023 will be available at www.hertfordshire.gov.uk/admissions from 1st September 2022.
Information to Support Wellbeing over the Summer
As we go into the summer break, we would like to share details of the support that will be available throughout the summer to help look after your child's mental health and wellbeing: Summer emotional wellbeing support and self-help tools
• Services for Young People offer a range of emotional wellbeing support as well as programmes and activities over the summer break. More details can be found here -https://servicesforyoungpeople.org/support-for-young-people/
• Herts Mind Network offer messaging and telephone support for young people -https://www.hertsmindnetwork.org/services-for-young-people/
• Chat Health text messaging support can be accessed on weekdays via the school nursing service. Secondary school aged young people can text any physical or mental health question or concern to 07480 635 050
• Kooth online support for 10 – 25 year olds - https://www.kooth.com/
• Togetherall 16+ (online support for parents, professionals, and year 13 students) - https://togetherall.com/en-gb/
• Just Talk Five ways to wellbeing e-learning and other information on self-help tools -
https://www.justtalkherts.org/just-talk-herts.aspx
• SPA (single point of access) for more specialist mental health services: HPFT's freephone 24/7 helpline: 0800 6444 101
School Nursing
We are still here over the summer holidays The School Nursing Team remain working over the Summer Holidays. We are here to help with any emotional or physical health concerns you may have about your child. We can offer advice, support or signpost you to other services who can help. Please ring our School Nursing Duty line on 0300 123 7572 (9am– 5pm, excluding bank holidays). Refer using our online referral form at: School nurses in Hertfordshire (hertsfamilycentres.org) Chat Health Our chat health confidential text messaging service is for young people aged 11-19 year olds in mainstream school in Hertfordshire. Also available throughout the summer holidays. Young people can text in any concerns regarding their health and wellbeing and a school nurse will text back. Just text: 07480 635050
Diary Dates
Wednesday 13th July – 6O Awards Afternoon (2.00-4.00pm)
Friday 15th July – School reports going home
Friday 15th July – Ice Cream Friday
Tuesday 19th and Wednesday 20th June –Cold lunch only
Wednesday 20th July – Last day of term (1.00pm finish)
Thursday 21st and Friday 22nd July – INSET Days
Cultural Calendar
Saturday 9th July - Eid al-Adha (Islamic)
Satuday 30th July - Al-Hijra (Islamic New Year)
Monday 26th September - Rosh Hashanah (Jewish New Year)
Monday 24th October - Diwali (Hindu)
Monday 19th December - Hanukkah (Jewish)
Sunday 25th December - Christmas Day
Sunday 1st January - New year
---
In an effort to save paper we no longer send a paper copy of the newsletter home. You can access the weekly newsletter via the school gateway app or the school website and it is also sent home via email each week.
With our communication methods changing it is important more now than ever that we have an up to date email address for you. If you do not see the newsletter by email on a Wednesday please contact the school office to ensure we have the correct details for you.