Issue 4 - 22nd September
22nd September 2021
Issue 4
Dear Parents/Carers,

Some parents will be aware that we have had an outbreak in one of our year 3 classes. All families affected were notified at the weekend and we are continuously monitoring the situation in individual classes and across the school. We have an outbreak management plan which details the changes we would make in the event of an outbreak. This may include having classes taught in the hall to limit close contacts if required and introducing staggered start and finish times for the affected classes. I would like to thank families from the affected class for being so accommodating whilst we manage the outbreak. Please can I urge these parents to stick to the staggered start times to protect our community.
FOAH are looking for parent volunteers to help them this year. FOAH are a dedicated group of parents who work very hard to provide our children with resources and fun events. Last year, they funded our year 6 children's much loved year books and leavers' hoodies. They have also provided the children with fun outdoor games for the children to use at lunch time. If you are able to spare some time to help FOAH, please email them at foah@almondhill.herts.sch.uk as they would love to hear from you. Some events can only go ahead with additional support from parents.
FOAH's next project is Bags2School – we all have clothes in our wardrobes that we no longer wear or our children have grown out of. Bags2School help us raise money for our school by collecting our unwanted clothes and turning them in to cash! The amount of money we receive is based on the weight of the bags we donate. It's that simple. So, have a look through your wardrobes and bag up your unwanted clothes and bring them to school on Wednesday 6th October to help raise money for the school.
We have almost completed the setup of the new Seesaw app. All classes have now been set up and those parents that have given consent have been invited to join. Please be patient with teachers as they are learning how to use the app whilst sharing technology with other classes. We are working on improving the technology to allow all classes to have access to their own iPads, but this is taking a little longer than anticipated.

We have had an overwhelming response to our clubs offer which is fantastic. I am so glad that the staff are willing to offer these opportunities and that children are so keen to get involved. We are currently processing requests and you will hear later this week or early next week which have been allocated. Due to the huge demand, we cannot meet all requests but will endeavour to ensure every child who has asked for a club will get one of their choices. We will keep a waiting/reserve list for the remainder of the list. Football club will start w/c 27th September and all other clubs w/c 4th October. Mrs Cleaves has already started auditions for choir and there are also two additional clubs on offer for upper and lower school called Authorfy, which are invite only. You will be contacted directly about these. We are genuinely so excited to be able to offer extra-curricular clubs again. However, be advised that if your child's class has to temporarily return to a bubble, they will not be able to attend for the duration of that period.
Due to high uptake of school cooked dinners we need to stagger lunchtimes slightly to allow all children sufficient time to be able to eat their lunch. Consequently, year 3 will be trialling having lunchtime at the slightly later time of 12.15 - 1.15pm. Parents may want to consider a larger snack for those children that may find this slightly longer morning difficult. We encourage children to bring a healthy snack for break time e.g. a piece of fruit or chopped vegetables. We do not allow sweets, crisps or cakes. For safety reasons, we do not allow children to bring any product containing nuts or traces of nuts for snacks or in their packed lunch.
Emma Fordham
Headteacher
Almond Hill News
Attendance Last Week

Year 3

94.8%

Year 4

95.4%

Year 5

93.8%

Year 6

91.6%

Total

93.9%

Class winners

4H - 98.3%
School Dinners
Next week we will be on week 2
School Dinner Menu
We will be going back to the Pupil's Choice Extra menu. Please pay for your dinners in advance, using the School Gateway app.
School Lottery
The FOAH have launched our School Lottery, tickets are available to buy NOW. Please support our school and follow the link to buy tickets:
School Lottery
Courses for Parents and Families
Our website is regularly updated with the courses and support available to support parents and families. Please click here for upcoming courses.

Guidance on identifying dyslexia and supporting children and young people (CYP) who have persistent difficulties in acquiring literacy skill:
guidance
Non Uniform Day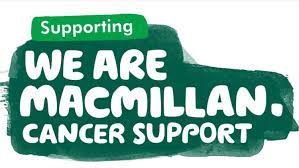 As always we will be supporting MacMillan this year. We will be doing it slightly differently this year and will be having a non-uniform day instead of our usual 'coffee morning'. Children can wear what they like on Friday 24th September for a suggested donation of £1. Donations can be made on School Gateway.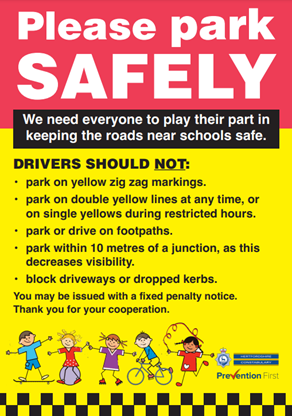 PEDESTRIANS MUST NOT WALK ACROSS THE DROP OFF ZONE!
We have three pedestrian entrances/exits around the school which means you do not need to cross the drop off point to access the school. Please use the first gate you reach as you get to the school.

This is a matter of safeguarding – we do not want an accident to occur or any of our children hurt.
This also stops the flow of traffic making it harder for people to access the drop off zone.
A Message from Herts Catering
You will be aware from the national media that a shortage of HGV drivers is having an impact on food supplies. we are now experiencing difficulties as the food orders placed by Bidfood (our supplier) with the manufacturers are not being delivered as scheduled.

It is only when the delivery arrives on the school site that we know what has or has not been delivered. While we have currently been able to cope with these last-minute changes, we may possibly have to change the menu without giving prior warning to parents, children and the school. We are doing everything we can to minimise the chance of any disruption so I can only apologise if this happens, but these are issues beyond our control.
Secondary School Admissions
The applications for secondary/upper school places to start in September 2022 opened yesterday Wednesday 1st September 2021, for children in year 6.

Admissions information is available at: www.hertfordshire.gov.uk/admissions
On-time applications close on 31 October 2021
Click the link for the open events leaflet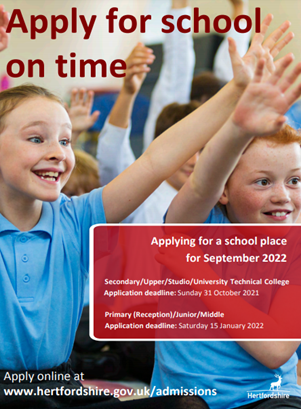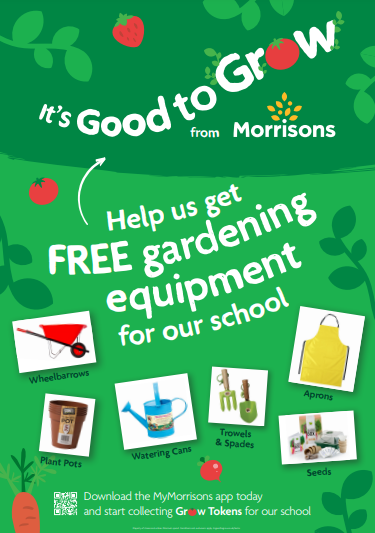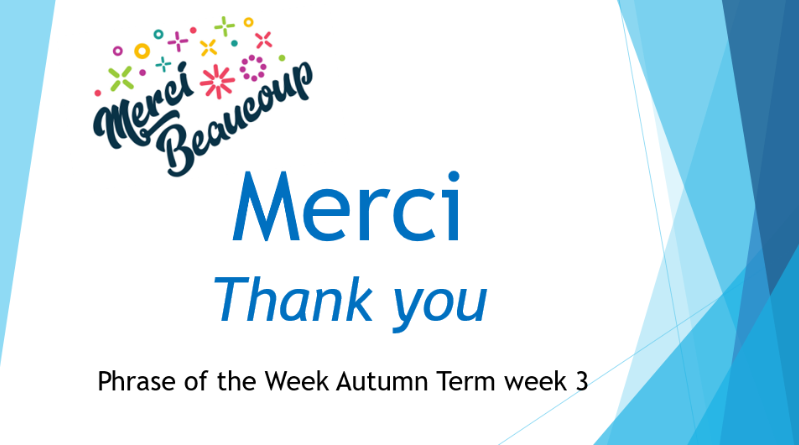 Diary Dates
Friday 24th September – Non uniform day
Monday 4th October – Grafham parent meeting 6.00-6.30pm
Friday 15th – Sunday 17th October – Year 6 Residential Trip
Tuesday 19th October - PTIs virtual 4.00pm – 7.00pm
Thursday 21st October PTIs in school 3.30pm – 6.30pm
Monday 25th – Friday 29th October – Half Term
Sunday 31st October – Secondary school application deadline
Thursday 11th November – Open evening for prospective parents 5.00pm-7.00pm
Wednesday 17th November - Flu vaccinations (8.30am - 3.00pm)
Friday 3rd December - Occasional Day
Friday 10th December - Flu vaccinations (12.30pm - 3.00pm)
In an effort to save paper we no longer send a paper copy of the newsletter home. You can access the weekly newsletter via the school gateway app or the school website and it is also sent home via email each week.
With our communication methods changing it is important more now than ever that we have an up to date email address for you. If you do not see the newsletter by email on a Wednesday please contact the school office to ensure we have the correct details for you.