Issue 5 - 29th September
Newsletters will be removed at the end of each term. If there is a copy of an old newsletter you would like please ask at the office.
29th September 2021
Issue 5
Dear Parents/Carers,

Please remember we are holding our parent information meeting on Monday 4th October at 6pm for those parents of children in year 6 attending Grafham next month. We hope to see as many parents there as possible as it is a really important opportunity to ask any questions you may have about the trip, meet the adults attending and gather more information.
Governor vacancy - following a discussion with our governors exploring the skill set required by the governing body, it was identified that the governing board would benefit by recruiting a governor with a finance background. If you or anyone you know would be interested in supporting the school in this role and have the desired experience, please contact me by emailing admin@almondhill.herts.sch.uk
We will be hosting an open evening on Thursday 11th November between 5.00 and 7.00pm. We were unable to do this last year due to the government restrictions but I am pleased that we are able to welcome families back into our school. Along with their parents, children have the opportunity to meet some of our staff and children, as well as having a tour of our school. We know how important it is for parents to be informed when deciding what school to send their child to and we are determined to give families the best possible experience to gain the knowledge you need about Almond Hill. If you, or anyone you know is looking for a junior place for September 2022 (or looking to make an in year application) please come along as we would love to meet you. The parents of any children that have joined us in the last year are also very welcome to come along.
Please do not allow children to play on or climb the railings/gates outside classrooms when waiting to collect siblings, particularly by the year 3 classrooms. These areas are not supervised and accidents can happen.
With the rise in positive cases in school, I am acutely aware that some parents will have worries about their children in school. We follow the guidelines set by the government and the health and safety of our children and staff is of the upmost importance. This being said, I continue to believe it is important to communicate to our parents regarding the situation in our school community. Since our last newsletter we have had 25 positive cases reported. The vast majority of this is within year 3 and we have already put our outbreak management plan in place to limit transmission.
Emma Fordham
Headteacher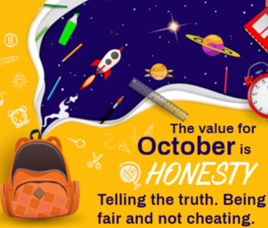 Almond Hill News
Attendance Last Week

Year 3

94.8%

Year 4

97.7%

Year 5

92.2%

Year 6

92.0%

Total

94.2%

Class winners

4H - 98.8%
School Dinners
Next week we will be on week 3
School Dinner Menu
Please pay for your dinners in advance, using the School Gateway app.
School Lottery
The FOAH have launched our School Lottery, tickets are available to buy NOW. Please support our school and follow the link to buy tickets:
School Lottery
Courses for Parents and Families
Our website is regularly updated with the courses and support available to support parents and families. Please click here for upcoming courses.
Bag2School
Don't forget to bring your unwanted clothes in on Wednesday 6th October to help raise money for the school. Bags can be dropped off in the morning to the quadrant (between the drop off zone and the year 5/6 building). Bags will be collected at 1pm so we cannot accept donations after this time.

Secondary School Admissions
The applications for secondary/upper school places to start in September 2022 opened yesterday Wednesday 1st September 2021, for children in year 6.

Admissions information is available at: www.hertfordshire.gov.uk/admissions
On-time applications close on 31 October 2021
Click the link for the open events leaflet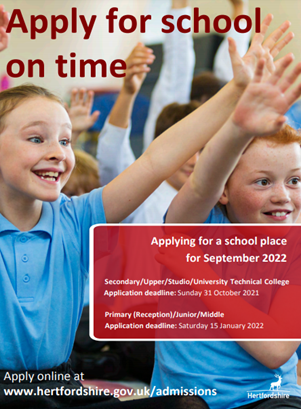 Design your own Christmas Card
NOW is the time to design your unique festive masterpiece to be turned into greetings cards, gift tags, tea towels, bags and mugs - all in time for Christmas.

Make sure they keep within the black border, with any writing well clear of the edges. For best results use felt tips, coloured pencils or paint and avoid glitter, metallics 3D objects and fluorescent colours. Designs will be SHRUNK to fit the finished card. Please make sure the children only use the template they are given for their artwork
Please write your child's name clearly on the back of their design and return it to school by 8th October. After half term, you will receive a free sample card and have the opportunity to order unique items designed by your child.

A digital template can be found here: https://www.classfundraising.co.uk/wp-content/uploads/2020/08/CC-Template-2020-In-house.pdf
Fundraising Update
Following our recent wear what you like day, we raised £292.30 for Macmillan Cancer Support – thank you!
Science Club
Due to an oversight, Science club will now be on a Monday not Tuesday as originally stated. We apologise if this causes any inconvenience. Please let us know if your child can no longer attend.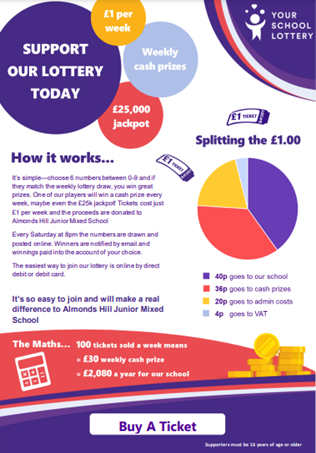 Diary Dates
Monday 4th October – Grafham parent meeting 6.00-6.30pm
Wednesday 6th October – Bag2School
Friday 15th – Sunday 17th October – Year 6 Residential Trip
Tuesday 19th October - PTIs virtual 4.00 – 7.00pm
Thursday 21st October PTIs in school 3.30 – 6.30pm
Monday 25th – Friday 29th October – Half Term
Sunday 31st October – Secondary school application deadline
Thursday 11th November – Open evening
(for prospective parents and those that joined us in the last year)
Wednesday 17th November - Flu vaccinations (8.30am - 3.00pm)
Friday 3rd December – Occasional Day
Friday 10th December - Flu vaccinations (12.30pm - 3.00pm)
Tuesday 21st December – Last day of term
Wednesday 22nd December – Tuesday 4th January – Christmas Holidays
Wednesday 5th January – INSET day
Thursday 6th January – First day of term
In an effort to save paper we no longer send a paper copy of the newsletter home. You can access the weekly newsletter via the school gateway app or the school website and it is also sent home via email each week.
With our communication methods changing it is important more now than ever that we have an up to date email address for you. If you do not see the newsletter by email on a Wednesday please contact the school office to ensure we have the correct details for you.