Issue 6 - 6th October
Newsletters will be removed at the end of each term. If there is a copy of an old newsletter you would like please ask at the office.
6th October 2021
Issue 6
Dear Parent/Carers,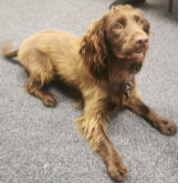 As most of you are aware, we are fortunate to have a wonderful member of our school community, Miya our school dog. During the pandemic, we had to stop Miya coming into school and I know the children really missed having her around. I am pleased that we can have her back in and Mrs. Burgess has already started introducing Miya to some children. I am sure if your child is one of those people, you have heard all about it! Before Miya can work with children, we do ask that parents complete a permission slip to give their consent. This also helps us to understand your child's relationship with dogs and how confident they are. Most people will have completed the consent form when they did their admissions forms (year 3 and 4 children), but we have a lot of children in the upper school that have not yet been given consent to work with Miya. If you haven't already completed a form, please do this now. It is also important to complete if you do not give permission and/or your child has an allergy to dogs. www.almondhill.herts.sch.uk/school-dog
Over recent months, we accumulated lots of unclaimed school uniform. It is really important that all uniform is clearly labelled to allow lost items to be returned to your child. At the end of last term, we invited parents to look through and claim items that belonged to their child. Although some items were collected, we were still left with lots of uniform. Ordinarily, these items would be recycled but after listening to parents and understanding how successful 'nearly new' uniform sales have been locally, we have decided to hold a uniform 'sale' for each year group. We have lots of items including t-shirts, cardigans and jumpers and welcome all parents to come to the sales. We are asking for a voluntary donation of 50p which will be given back to the school. You can see more information on dates and times on the flyers below.
Whist on the topic of school uniform, some children are not wearing correct PE kit and as a consequence do not look as smart as they do when in school uniform. We are really keen on the uniform as it is part of belonging to the school family. Children wear their PE kit to school on their classes PE day: navy blue shorts and red t-shirt for indoor PE and for cold weather, warm jogging bottoms and sweatshirt with plain black or white trainers. In previous years we have not stated what colour the jogging bottoms and sweatshirts needs to be. This is because children only wore this for part of the day, now that children are wearing the tracksuit for the whole day, we would prefer the tracksuit to be navy or black.
PTIs will be held on 19th and 21st October. Following our parent feedback survey, we will be holding both a virtual parents evening and face to face to allow parents to make a choice on what they would prefer with the hope this makes it more accessible for all. Please make sure you book an appointment with your child's class teacher, they are looking forward to meeting with you. Booking closes on 15th October and if you need to amend your booking after this time, please contact the office.
Since my last newsletter we have had 2 positive covid cases across the school.
Emma Fordham,
Headteacher
Almond Hill News
Attendance Last Week

Year 3

92.0%

Year 4

96.4%

Year 5

91.8%

Year 6

89.7%

Total

92.4%

Class winners

3C - 97.2%
Drop Off - Reminder
Some children are being dropped off at school far too early. Please be reminded that drop off should be between 8.45 and 8.55am. The school grounds are not supervised before this time. Premier provide our wrap around care so should you need to drop off before this time, please visit their website to book.
www.almondhill.herts.sch.uk/premier
Survey
We are always looking at ways to advertise our wonderful school. We are discussing the use of social media as a way to advertise events to parents. Please complete the survey, following the link below, to help us understand which platforms are used by parents to enable us to connect with you best. This will be used for advertisement only it will not be used as a form of communication.
www.almondhill.herts.sch.uk/survey
Design your own Christmas Cards
Christmas card designs should be returned to school by Friday (8th October). Please write your child's name clearly on the back of their design. After half term, you will receive a free sample card and have the opportunity to order unique items designed by your child.
Flu vaccinations will take place, in school, on Wednesday 17th November. Please ensure your consent form is returned no later than Monday 1st November as the forms will be collected from school. The immunisation team will be following up with those that have not returned a form. It should be completed for all children, even if you do not consent.
Secondary Admissions
The applications for secondary/upper school places to start in September 2022 opened Wednesday 1st September 2021, for children in year 6.
Admissions information is available at: www.hertfordshire.gov.uk/admissions
On-time applications close on 31 October 2021. Click the link for the open events leaflet
School Dinners
Next week we will be on week 1
School Dinner Menu
Please pay for your dinners in advance, using the School Gateway app.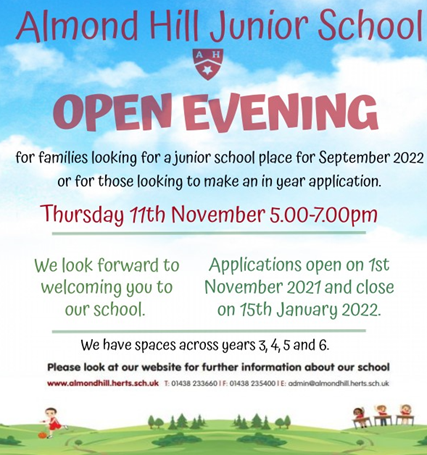 Almond Hill Achievements
Mrs Joannou ran the virtual London Marathon on Sunday: 26.2 miles in loops of her village, raising money for the Ian Pratt Motor Neurone Disease Foundation. Lots of fun was had, including the wearing of various different fancy dress outfits (different for every lap!) and lots of money was raised for this small charity that supports those diagnosed and living with MND.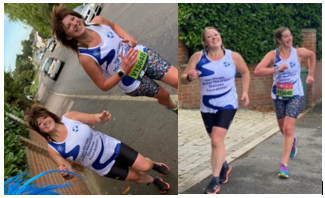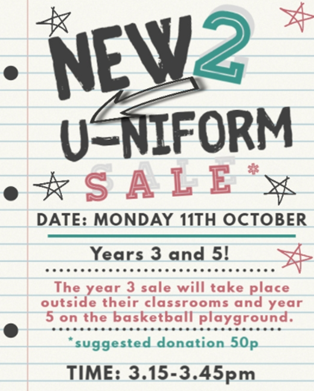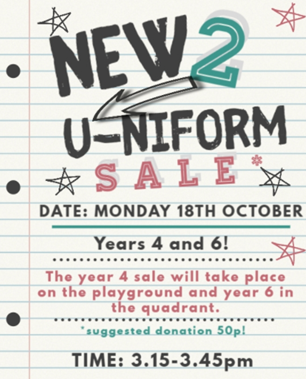 Diary Dates
Monday 11th October – Year 3 &5 New2U-niform Sale 3.15-3.45pm
Friday 15th – Sunday 17th October – Year 6 Residential Trip
Monday 18th October – Year 4&6 New2U-niform Sale 3.15-3.45pm
Tuesday 19th October - PTIs virtual 4.00 – 7.00pm
Thursday 21st October PTIs in school 3.30 – 6.30pm
Monday 25th – Friday 29th October – Half Term
Sunday 31st October – Secondary school application deadline
Thursday 11th November – Open evening for prospective parents and anyone that joined us in the last year
Wednesday 17th November - Flu vaccinations (8.30am - 3.00pm)
Friday 3rd December – Occasional Day
Friday 10th December - Flu vaccinations (12.30pm - 3.00pm)
Tuesday 21st December – Last day of term
Wednesday 22nd December – Tuesday 4th January – Christmas Holidays
In an effort to save paper we no longer send a paper copy of the newsletter home. You can access the weekly newsletter via the school gateway app or the school website and it is also sent home via email each week.
With our communication methods changing it is important more now than ever that we have an up to date email address for you. If you do not see the newsletter by email on a Wednesday please contact the school office to ensure we have the correct details for you.