Issue 8 - 20th October
Newsletters will be removed at the end of each term. If there is a copy of an old newsletter you would like please ask at the office.
20th October 2021
Issue 8
Dear Parents/Carers,

I am pleased to say that our recent uniform sales were a big success. I'm glad many of you came and were able to get some uniform and thank the staff members that helped with the 'stalls'. We hope to make this a regular event and look forward to inviting you to the next sale, which will be held in the hall to make it easier for parents that wish to look for items across different sizes.
Christmas dinner days – each year group will be having their Christmas dinner on different days during the week before the end of term. When a year group are having their Christmas dinner, the rest of the school can have jacket potato with cheese or school packed lunch (ham or cheese). Please see the diary dates at the end of this newsletter for the dates. Children can wear Christmas jumpers/accessories on their year groups' Christmas dinner day. On the last day of term, Tuesday 21st December, we will finish at 1.00pm and the school dinner option will be packed lunches only (ham or cheese).
After a number of complaints from parents, senior leaders have been monitoring the use of the drop off point to ensure it is fit for purpose. We agree that most parents and carers are using the drop off well but there are some things we can do to ensure it is as safe as possible. Please can I ask that parents that are only dropping off to stop on the bend before the crossing and allow children to exit the vehicle on the left-hand side where there is some pavement children can use to access the school safely.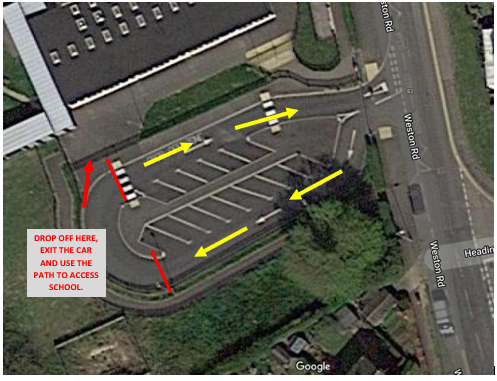 We held the first of our PTI appointments yesterday and I am pleased that the evening ran smoothly. We know with technology things can go wrong so if you had any problems connecting to your appointment, teachers will be in contact with you as soon as possible. Face to face appointments take place in school tomorrow and teachers are looking forward to seeing you. Please ensure you are on time for your appointments to help the evening run smoothly.
Following last week's newsletter and the mention of the Netflix series, Squid Game I wanted to offer some further guidance to help support parents if needed. Please follow the link for information on setting parental controls on Netflix – https://oursafetycentre.co.uk/stream-safe-netflix

There have been multiple online challenges appearing following the SQUID GAME show release and I would like to signpost parents to a resource that should help address the issues of these viral challenges with their children: Understanding and Responding to Online Challenges
Please continue to be vigilant about what your child(ren) is/are accessing and make sure the content is appropriate. Parental controls are available on apps/websites and can help keep children safe. For further guidance and support to help you to keep your child safe on-line please look at the following websites:
At the weekend year 6 children had their residential trip to Grafham. What a wonderful weekend they had! A big thank you again to the staff that accompanied them and thank you to parents for arriving promptly to collect children on Sunday. I'm sure they have enjoyed telling you all about their activities!

Please remember, anyone with COVID-19 symptoms or a positive test result should stay at home and self-isolate. If you have symptoms of COVID-19, you should arrange to take a PCR test as soon as possible, even if you've had one or more doses of a COVID-19 vaccine. If your child is off school as a result of a positive test, they should be self-isolating. These are the rules that the government have set out and we must all follow these to help limit transmission within our community and help to keep the people around us safe.

Since my last newsletter, we have had 4 positive cases of COVID.

Emma Fordham,
Headteacher
Almond Hill News
Attendance Last Week

Year 3

95.7%

Year 4

94.1%

Year 5

93.7%

Year 6

90.7%

Total

93.6%

Class winners

3C - 98.9%
School Dinners
Next week we will be on week 3
School Dinner Menu Please pay for your dinners in advance, using the School Gateway app. Please ensure children like the food they are choosing and we will ensure they have enough time to eat, though they often want to play
Black History Month
This month is Black History month, so we decided to have a brief look at how black britons have helped shape our nation. We looked at a timeline which showed different times when black people came to Britain and what they have done. We learned that black people have been here since the Roman times!
National Hate Crime Awareness Week
It was National Hate Crime Awareness Week last week and year 4 had an assembly on what a 'hate crime is.' We went through a scenario and talked about how we can react if someone is hateful to us. The children were able to express how it makes one feel and what they would do.
Cross Country
Well done to the Year 5 and 6 cross country team who represented our school at Fairlands Valley. They competed against children from twelve other schools. Children in Year 5 had to run a distance of half a mile and children in Year 6 ran one whole mile! Congratulations to Ava who came 2nd in the Year 6 girls race, winning a silver medal and also our Year 6 girls team who came 1st out of all thirteen schools! We are very proud of all the children who took part. You were all fantastic ambassadors for our school!

Learning Updates
At the end of each half term, we publish a learning update on our website for parents which are usually written by the teacher. This year, we have asked children to create the update for their year group. We have published the updates for this half term on our website, you can view them here. They are fantastic; well done to the children that made them.
Reverse Advent Calendar 2021 for Foodshed
A message from Year 5 who have been learning about community action in PSHE - written by George 5A.
During this event, if you can, we would like you to donate food (which will be in date for Christmas), toys, games, books and even Christmas treats. Try to donate things that you would enjoy this Christmas but of course you don't have to spend hundreds of pounds! Please only donate if you feel that you are able to. We would like to support our community this Christmas. Please bring in your donations during November to your child's class teacher. You can help people who won't have enough this Christmas. Please donate to the cause, if you can, and have a good day!
School Elections
Children in year 6 presented their pledges to the year groups this week and children have begun placing their votes. We look forward to announcing who will be Almond Hill's next Prime Minister.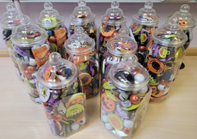 FOAH Trick (not treat) Jars
There's still time to place your guesses! There is a Halloween treat jar in each class and the winner will get to take the jar home in time for Halloween. It costs 50p per guess and the competition runs until Friday. Please bring cash in to participate.
Flu Vaccinations
Flu vaccinations will take place, in school, on Wednesday 17th November. Please ensure your consent form is returned no later than Monday 1st November as the forms will be collected from school. The immunisation team will be following up with those that have not returned a form. It should be completed for all children, even if you do not consent.
Vacancy
We have a vacancy in school for a Teaching Assistant, please follow the link if you are interested in applying: Teach in Herts
Stevenage Rugby
Stevenage Rugby are recruiting players, both boys and girls. Click here to view their leaflet. New joiners get a one month free trial!
Diary Dates
W/C 18th October - FOAH Halloween Treat (not trick) Jar
Thursday 21st October – Almond Hill Book Sale (50p)
Thursday 21st October PTIs in school (3.30 – 6.30pm)
Monday 25th – Friday 29th October – Half Term
Sunday 31st October – Secondary school application deadline
Thursday 11th November – Open evening for prospective parents and anyone that joined us in the last year (5.00-7.00pm)
Wednesday 17th November - Flu vaccinations (8.30am - 3.00pm)
Thursday 25th November – Travelling Book Fair (TBC)
Tuesday 30th November – After school clubs cancelled
Friday 3rd December – Occasional Day
Friday 10th December - Flu vaccinations (12.30pm - 3.00pm)
Monday 13th December - Year 3 Christmas dinner day
Tuesday 14th December - Year 4 Christmas dinner day
Wednesday 15th December - Year 5 Christmas dinner day
Thursday 16th December - Year 6 Christmas dinner day
Tuesday 21st December – Last day of term (finish at 1.00pm)
Wednesday 22nd December – Tuesday 4th January – Christmas Holidays
Wednesday 5th January – INSET day
Thursday 6th January – First day of term
In an effort to save paper we no longer send a paper copy of the newsletter home. You can access the weekly newsletter via the school gateway app or the school website and it is also sent home via email each week.
With our communication methods changing it is important more now than ever that we have an up to date email address for you. If you do not see the newsletter by email on a Wednesday please contact the school office to ensure we have the correct details for you.