Letters
Please see below for copies of letters that been sent home with your child recently. Copies of letters will be removed half termly, but if there is something you would like a copy of please ask at the office. Letters relating to specific year groups can be found in the year group pages.
New Classes for September 2021
Dear Parents/Carers
I am writing to inform you about class organisation for September 2021.
Year 3 Team
3C Mrs Katie Brocklehurst
3K Mrs Kate Bond
3B Miss Louise Coulter (who is getting married in the summer and will be known as Mrs Louise Barham)
Support staff: Mrs Sarah Wilkinson, Miss Louise Hall, Mrs Monika Paszek
Year 4 Team
Current 3C will become 4L (Mrs Roisin Lyons)
Current 3S will become 4J (Mrs Helen Joannou)
Current 3K will become 4H (Miss Lauren Hayllar)
Support staff: Mrs Karen Johnson, Mrs Lisa Goddard (new to school in September)
Year 5 Team
Current 4L will become 5A (Miss Andrews)
Current 4C will become 5C (Mrs Cleaves)
Current 4H will become 5P (Miss Rebecca Porter)
Support Staff: Mrs Sarah Barker, Mrs Corinne Hewitt, Mrs Alison Hodgkinson, Mrs Helen Salam-Khan
Year 6 Team
Current 5J will become 6S (Miss Vikki Simmons)
Current 5P will become 6O (Mrs Gabby Osborne / Mrs Jo Geer)
Current 5A will become 6J (Ms Jacyn Stewart)
Support Staff: Mrs Susan McLellan, Mrs Fiona Pearce
SENCO : Mrs Birchall
Pastoral Team : Mrs Gemma Burgess, Mrs Rebecca Bell
Cover Supervisors: Miss Becky Harris, Mrs Jacqueline Richardson, Mrs Janet Pridmore, Mrs Susan Lamacraft
Achievement Mentors: Mrs Sharon Start (upper school), Mrs Joanne Hukin (lower school)
PE Coach : Mr Milo Keane
All children will have the chance to spend some time outside with their teacher near the end of term. This is being kept flexible and under review due to the rising incidences of infection and resulting bubble closures within schools across the town.
Yours sincerely,
Emma Fordham
Head Teacher
Drop off Zone
28th May 2021

Dear Carers/Parents,
Drop Off Zone

Due to the ongoing works outside of school, I have decided to open the drop off zone so that children can be dropped off and collected safely and pressure on the road will be alleviated. I appreciate that parking has been even more difficult lately with the roadworks, and I have spoken with the site manager to request that works vehicles are not parked around school during drop off and pick up times.
Government guidance still advises social distancing measures are adhered to, and we should maintain bubbles within school. Parents may be aware of some school closures in our neighboring county Bedfordshire due to increased infection rates. Therefore, it is imperative that opening the drop off zone does not increase the risk of exposure, and we continue to move safely around the school. There will no longer be a one-way system around the school grounds, but we do still ask you to wear a face mask and maintain social distancing.
In order for us to be able to use the drop off zone safely, we will need to make some changes to the way children enter and exit the school grounds.
No child should cross the drop off entrance.
If you are using the drop off zone, please be vigilant when entering/exiting in case there is somebody crossing.
Pedestrians entering from the Walkern Road side of the school will enter school via the nearest gate (this is green and was previously the year 5/6 entrance gate). No child coming to school from the Walkern Road side should cross the drop off zone.
Pedestrians entering from St Nicholas Church end will enter school via the nearest entrance gate (which was previously the year 3, 4, 5, exit gate).
Children can now use the bike shelter for parking bikes and scooters.
The drop off area is for vehicle entrance/exit only NOT for pedestrian use. It will be open in the mornings until 9.00am for drop off and opened again at 3.00pm for pick up.
Observe a speed limit of 5MPH.
Drivers enter the drop off via the left hand side and drive clockwise. In the morning, you can either park in one of the marked bays and walk your child to their classroom (please use the marked crossing to get from your vehicle to the grounds via the gate)
or drop them off on the path in the indicated drop off area. This is written clearly on the road.
Children must not be in the drop off zone unaccompanied.
Please only park in a marked bay. Please park your car then go and collect your child from their classroom door.
Please be vigilant whilst leaving the drop off zone as the work taking place can make visibility difficult.
I would like to stress that my decision in opening the drop off zone is in response to local issues, and I will close this again should this pose a risk to the safety of our children or the local community. I am sure, like me, you wish to keep our children as safe as possible.

Yours sincerely,
Emma Fordham
Headteacher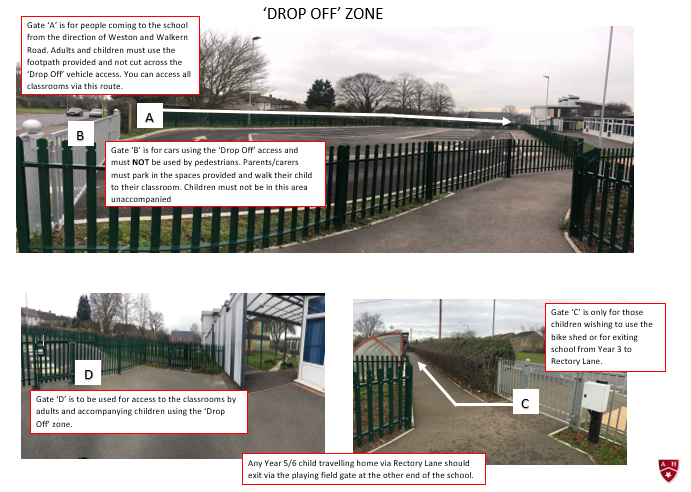 Grafham Water June 2021
Please see the below PowerPoint that was shared at the Grafham parent meeting on Monday 24th May.
Freedom from Abuse June 2021
Marilyn Hawes from Freedom from Abuse will also be holding two virtual workshops for parents and governors on Wednesday 9th June and I would urge all parents to attend. The earlier workshop (9.30-10.30am) is focussed on the needs of children ages 7-11, whilst the evening workshop (6.30-8.00pm) will also include information relevant to older children so may be of particular interest for year 6 parents but all are welcome. These workshops are not suitable for children.

Marilyn delves deep into the world our children are exploring and offers tips and advice on how to keep them safe. If you would like to explore more about the work they do at Freedom from Abuse, please visit their website https://freedom-abuse.org/
CONTENT:
Who is at risk and what do the statistics say?
Impact and harm of cyber bullying;
What is the law, who is accountable and what are the legal age limits?
What is consent/abuse/joint enterprise
What is predatory behaviour on the internet & CSE & County Lines & peer on peer abuse?
What are the possible consequences of not following the advice?
How many hours sleep a night do I need to succeed at school?
What is the negative impact on my health of extreme use of looking at screens?
How do I know who is contacting me?
What can happen to my photos & messages online?
Sextortion; live streaming abuse
What is stalking, who are the stalkers? how does it work and what are the dangers?
How to avoid hate crime and trolls;
Youth gambling
What are County Lines? & CSE - Child Sexual Exploitation – how does it all work?
Where are the local risks ?
What are the various apps and online games needing caution?
What do I need to know to avoid a crisis occurring?
What does viral look like, what is the dark web / deep web / surface web?
May 2021
Year 6 Update
April 2021
Dear Carers/Parents,
We are now in the summer term where we would usually be getting ready for year 6 SATS as well as organising events to make the last term at primary school a memorable one for our year 6 pupils. I wanted to update you on the plans for the coming weeks and months.
Assessment and Transition
As you will be aware, due to Covid-19 and the disruption in education, the Department for Education have cancelled Key Stage 2 assessments (SATS) for 2021. Children in year 6 will be sensitively assessed as will all children in the school and their progress and achievements will be shared via a written report as usual at the end of term.
We have been asked to complete and share the results with secondary schools of some transition tasks related to reading, writing and maths in addition to the assessments we will do in school. We are confident that there will be sufficient information passed up about your child, so the receiving school is well informed.

Secondary schools will be organising transition events in line with Covid-19 regulations, and all information will be shared between Almond Hill teachers and the receiving schools. If your child has additional needs, there will be meetings with the SENCO at the secondary school as well, these might be in person or virtual.

Grafham
I am pleased that many of you would like to go ahead with Grafham. I am also very grateful to the staff that have offered to support the trip. With numbers now finalised, we are able to confirm that the final cost is £253.50. We will send more details about payments and deadlines to parents directly. You will also be receiving a form this week which needs to be filled in and returned by Friday 7th May.
End of Year Performance
Over the years the children in Year 6 have put on an end of year production for parents. However, we have decided going forward we will share a film with parents where more children are able to have a meaningful part. As well as the restrictions with Covid-19, we now have three forms of entry in year 6 so with almost 90 children to involve, a play would be much harder to manage. I am positive you will enjoy what the staff and children put together for you.

Achievement Day
I would like to plan an 'Achievement Day' if Covid-19 guidelines allow. The children have many achievements and successes. We would love the opportunity to celebrate these with them before they leave to go to secondary school and will make a decision about what this will look like after the 17th May, where further restrictions may have been lifted.

Events for Leavers
We are very lucky at Almond Hill to have such a dedicated parent group, FOAH, who ensure that our Year 6 children leave with something special to remember the final part of their primary school journey. They have very kindly agreed to fund a leavers' book for each of our year 6 pupils. Each child will receive a book full of memories and messages from their teachers and some photos. We will ask for your help to get this ready (a questionnaire for your child to complete for example) so please look out for information regarding this.

FOAH have also agreed to support an event for year 6– this may be a traditional disco or a 'silent disco', but we will share details of these plans once confirmed.

Hoodies
There may be an opportunity to purchase hoodies for pupils in year 6. These have been very popular in the past and we will update you on this when more details are available.

I hope this information is helpful and you are happy with the steps we are taking to ensure our year 6 children enjoy their last term at Almond Hill. We are immensely proud of all of them and the way they have handled the changes they have faced over the last 2 years. If you have any concerns regarding your child's transition, please speak to their class teacher.

We will keep you updated with any changes to these events and will provide more information as soon as possible.

Emma Fordham
Headteacher
Update 12th May 2021
Further to my previous letter I wanted to update you on the plans for our year 6 children. FOAH have kindly agreed to pay for either a hoodie for each child in year 6 or a school disco. Children were asked which they would prefer and they decided they would rather have a hoodie. Please look out for further information regarding how to place orders in the next few days.

Spring Term Parents' Evenings - Online Appointments
25th February 2021

Dear Parents,
Spring Term Parents' Evenings - Online Appointments
We are planning a Parent Teacher Interview (PTI) for you in the week commencing 22nd March. The PTI will be run remotely using the Parents Evening Booking System to make an appointment and meet with the teacher. Appointments can be made from 9.00am on Monday 1st March and the booking system will close on Friday 19th March at 9.00am. Should you wish to make any changes after this date please contact the school office.
Please visit https://almondhill.parentseveningsystem.co.uk to book your appointment. If you have the School Gateway app you will also find a link to the website there. A short guide on how to add appointments is available on the school website. Please log in with the following information:
Your child's first name
Your child's surname
Your child's date of birth
Please see the attached link for a guide on using the system.
https://support.parentseveningsystem.co.uk/article/801-video-parents-how-to-attend-appointments-over-video-call
Please read this carefully as it tells you how to check that your technology will work correctly for the meeting. You will be sent a link for the meeting and will need to ensure you are prompt to start. The meetings follow back to back so your time cannot be adjusted. The meetings will be timed to 9 minutes and will cut out after this time. There will be a clock on screen as an indicator for both you and the teacher that the meeting is coming to an end.
Such meetings cannot replace the usual personal contact we are able to have with meetings in school, but they do bring a different kind of convenience reducing the need to leave you home/organise babysitter etc.
We must ask parents to comply with our remote learning policy to ensure safeguarding in the meetings.
In attending the meeting, parents must be appropriately dressed, they should be should be in a neutral, quiet, downstairs area of the home. Parents should be aware of any backgrounds that could be seen by teachers - e.g. personal photographs of family and background noise. As with any meeting with school staff, we will terminate any meeting should there be any inappropriate or threatening use of language.
All meetings are subject to technology working and we ask you to be supportive if things do not go quite to plan. Please be assured that if there is a technical hitch at the time of the meeting then your child's teacher will contact you to rearrange.
Yours sincerely,
Mrs E Fordham
Head Teacher
School Gateway
Communication
As many of you are aware, we use the 'School Gateway' which enables you to make payments for
school trips and school meals.

I'm pleased to advise that we also have a text and email service through the School Gateway which will allow you to receive messages from school and for you to be able to reply to these messages.
The School Gateway app allows us to do this in the most cost effective way. If parents download the app we will be able to send text messages free of charge through this system.
Please help the school save money by downloading the School Gateway app.

What you need to do now
If you already use School Gateway to make payments then there is nothing else you need to do. If you haven't yet activated your School Gateway account it's quick and easy to do. All you need are your email address and mobile number that school holds on record for you.
Download the app: If you have a smartphone, please download School Gateway from your app store
(Android and iPhone).

We're aiming to get 60% of parents using the School Gateway smartphone app – please help us achieve this target.
OR
Visit the website and click on 'New User'. You'll receive a text message with a PIN number. Use this PIN to log into School Gateway.
If you're having trouble logging in, it may be because the school doesn't have your current email and mobile phone number on record. Complete the change of details form on the Forms and Surveys page and we can check these details for you.
Operation Encompass
The school has been given the opportunity to take part in a project that will run jointly between schools and Hertfordshire Constabulary.

Operation Encompass is the notification to schools, prior to the start of the next school day, of incidents where and when a child or young person has experienced or been exposed to any domestic abuse.

Operation Encompass will ensure that a member of the school staff, (DSL) known as a Key Adult, is trained to allow them to liaise with the police and to use the information that has been shared in confidence. Whilst also ensuring that the school is able to make provision for possible difficulties experienced by children, or their families, who have been experienced a domestic abuse
incident.

We are keen to offer the best support possible to all our pupils and we believe this will be extremely beneficial for all those involved.
Red Box
Almond Hill has joined the Red Box Project, a national community organisation committed to giving young people access to fre menstrual products in schools.

As a result, we now have a selection of menstrual products available for students to access during school hours. This includes a range of pads in all absorbencies, night pads (and tampons). It also contains clean underwear, should it be needed. The box is stocked from donations from our local community, who support the project and its aims.

Any student who needs to receive items from the box, whether it's one item to get them through the day or several packs to ensure they're able to attend school throughout their period, will be able to access it via their teacher. Students should ask for the Red Box where they will be able to take away whatever they need.

We will be speaking to students about the box but you may also want to take this opportunity to talk to your children about their needs and how the box might be able to help them.

If you have any further questions, or would like to know more about the Red Box Project, you can email Gerry The Red Box Coordinator for Stevenage at;
theredboxprojectstevenage@gmail.com. There is also a Facebook page of the same name, Gofundme page and Twitter @RedStevenage
School Closure Notification System
Along with many other local schools we use a system to inform parents/carers of times when the school may need to be closed in an emergency e.g. bad weather. To receive these communications please register following this link:-
This link will direct you to the "Sign Up" page where you should click on the "Sign Up" button located at the top right hand side of the page on the grey strip and from there follow the instructions. It should take no more than 5 minutes to register and you can edit your information at any time should you change your mobile number or email address.
Each contact can have 2 devices added for each communication type if you wish to – this means that in addition to adding your own mobile number and email address, you could include the mobile number and email address of a partner or a grandparent in your registration process. They too would then receive any messages in relation to the school's closure. Alternatively, interested parties could register themselves separately.
If a parent / guardian has children at more than one school they can register for those schools too in a single registration process by selecting all schools they have children at.