Letters
Please see below for copies of letters that been sent home with your child recently. Copies of letters will be removed half termly, but if there is something you would like a copy of please ask at the office. Letters relating to specific year groups can be found in the year group pages.
Spring Term Parents' Evenings - Online Appointments
25th February 2021

Dear Parents,
Spring Term Parents' Evenings - Online Appointments
We are planning a Parent Teacher Interview (PTI) for you in the week commencing 22nd March. The PTI will be run remotely using the Parents Evening Booking System to make an appointment and meet with the teacher. Appointments can be made from 9.00am on Monday 1st March and the booking system will close on Friday 19th March at 9.00am. Should you wish to make any changes after this date please contact the school office.
Please visit https://almondhill.parentseveningsystem.co.uk to book your appointment. If you have the School Gateway app you will also find a link to the website there. A short guide on how to add appointments is available on the school website. Please log in with the following information:
Your child's first name
Your child's surname
Your child's date of birth
Please see the attached link for a guide on using the system.
https://support.parentseveningsystem.co.uk/article/801-video-parents-how-to-attend-appointments-over-video-call
Please read this carefully as it tells you how to check that your technology will work correctly for the meeting. You will be sent a link for the meeting and will need to ensure you are prompt to start. The meetings follow back to back so your time cannot be adjusted. The meetings will be timed to 9 minutes and will cut out after this time. There will be a clock on screen as an indicator for both you and the teacher that the meeting is coming to an end.
Such meetings cannot replace the usual personal contact we are able to have with meetings in school, but they do bring a different kind of convenience reducing the need to leave you home/organise babysitter etc.
We must ask parents to comply with our remote learning policy to ensure safeguarding in the meetings.
In attending the meeting, parents must be appropriately dressed, they should be should be in a neutral, quiet, downstairs area of the home. Parents should be aware of any backgrounds that could be seen by teachers - e.g. personal photographs of family and background noise. As with any meeting with school staff, we will terminate any meeting should there be any inappropriate or threatening use of language.
All meetings are subject to technology working and we ask you to be supportive if things do not go quite to plan. Please be assured that if there is a technical hitch at the time of the meeting then your child's teacher will contact you to rearrange.
Yours sincerely,
Mrs E Fordham
Head Teacher
Letter from the Headteacher and Chair of Governors - 26/01/2021
26th January 2021
Dear Carers/Parents,
We wanted to write a joint letter from the Headteacher and Chair of Governors to summarise the key issues surrounding COVID-19 and the resulting impact on learning and organisation so parents and carers were fully aware of the focus of the leadership team at this time.
Remote provision
As well as our weekly whole school and class assemblies, we have introduced daily check ins, so all children have the opportunity to speak with a teacher in their year group. Remember attendance to these are not compulsory but we hope they will help with any learning related queries. In addition to these live sessions, there is a daily programme of lessons assigned via Teams. For those children with additional needs, there is further provision to meet specific targets. We also aim to stay in touch with all families, via phone call and email as appropriate. All children should receive regular feedback and parents can also contact class teachers using the year group emails and the SENCo using the IEP email address. If paper copies of any learning is required, then please ask via the year group email and this can be organised for collection.
Devices, Data and Routers
You will be aware we sent out a survey regarding access to technology which many of you completed. We have used this information and that which we have collected via phone calls and emails to prioritise the families in greatest need for devices, data and routers. We have already allocated many devices and will continue to do so if and when we can source more. We have requested further devices from the Department for Education as well as looking at local sources of donated devices. This work is ongoing and families will be advised individually by the office if they have been successful.
Free School Meals
All those families entitled to free school meals, have now been offered either in school meals, a weekly home care package or the option for vouchers. We hope this supports families at this very challenging time.
On site Provision
Once again we would like to thank parents for keeping children at home where possible since we know this is the safest place to be at the current time. However, we have noticed that numbers are slowly creeping up. It is imperative to remind parents that places are finite since we need to ensure pupils and staff are safe and social distancing can be facilitated. Because of this, we would like to ask families to now provide evidence of their critical worker status in case we have shortage of places and have to prioritise them. Please send this evidence to the admin email address at the earliest convenience. Some parents have requested their children have a school place because they feel their wellbeing is being affected and this makes them vulnerable. Our families are telling us that the vast majority of children are feeling this way therefore we cannot allocate places in school on this basis only. We would remind families that wellbeing is of extreme importance and to remember this when considering the access of remote learning. It would be better to complete less tasks and maintain family harmony, than increase stress in the home with unmanageable expectations. Remember, every family is different. If you feel you need further support from the year group team, please use the year group emails.
The Testing of Primary School Staff
You may have heard in the media that from 25th January primary school staff will be offered the opportunity to self-test for COVID-19 twice a week. If a member of school staff obtains a positive result, this will mean they have to self-isolate following the usual rules. Although we have directed staff to take these tests on different days, it is very likely that their introduction will lead to an increase in staff absence. This means we are also more likely to require bubbles to close at short notice. Either because staff and children need to self-isolate, or because of low staff numbers on site. We will keep you updated and request parents do not drop their children at school without checking their bubble is open. The easiest way to do this is by ensuring you are regularly checking your emails for updates. There is always a member of senior staff outside at the drop off gate at the start of the school day if you need to clarify anything.
February half term
It is not yet clear when schools will open fully although the government has assured us schools and families will have at least two weeks to prepare. Staff at Almond Hill have been working extremely hard to ensure provision both onsite and remotely meets the highest of standards. At this stage, we would not expect to be offering any sort of holiday childcare provision at half term. We wanted to give parents this information as early as possible so that arrangements can be made if childcare is needed. We will of course signpost any childcare provision we are aware of if parents have indicated a need. There will also be no remote learning provision this week as it is a school holiday.
Kindest regards,
Emma Fordham Headteacher
Andrew Boakes Chair of Governors
Remote Learning Update - 22/01/2021
22nd January 2021
Dear Parents/Carers
Remote learning update
Next week, we will be trialing daily 'check ins'. Children will be able to join a remote classroom via TEAMs for half an hour each day with a teacher from their year group. These will be staggered throughout the day and start later to avoid those being done at Letchmore to help our families who have children at both schools.
The older children can attempt their work and then ask questions as appropriate if there are any issues. Teachers will advise on the lessons for that day or any other learning queries. It is not compulsory to attend these sessions and children should only attend if they want to.
Weekly assemblies will move to the afternoons for Years 3, 4 and 5 so they don't clash with the daily 'check ins'. These will be at fixed times to help families structure their day. A whole school assembly with Mrs Fordham for families at home and children at school will take place at 9.15am on Mondays and similarly at 9.15 am on Fridays, Mrs Brocklehurst will also host an assembly for both groups. Attendance at these assemblies is voluntary, although we do love to see the children there.
We spent a large proportion of Thursday working with our partner school who are experts in technology to iron out the safeguarding and privacy concerns that have arisen when trying to provide 1:1 SEND intervention provision. They have told us that all the schools they are working with and indeed they themselves are finding daily technological challenges with rolling out remote provision on such a large scale at such a fast pace.
We have trialed some 1:1 sessions today and are hoping to resume provision on Monday. However, as I have very often stated, we, like all schools, are learning as we go so I predict there will continue to be barriers; I also promise we will continue to strive to overcome these as they arise.
I hope the breakdown below will enable you to easily structure your day: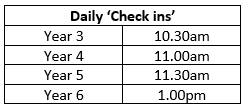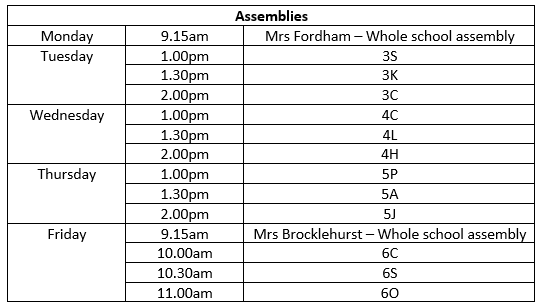 I wish you all a restful weekend and would like to once again thank the wonderful staff at Almond Hill Junior School for their dedication and perseverance. I would also like to sincerely thank parents for their kind and supportive words of appreciation. We really value your positive comments at this challenging time and are delighted so many of the children are enjoying the learning we are providing.
Emma Fordham
Headteacher
School Gateway
Communication
As many of you are aware, we use the 'School Gateway' which enables you to make payments for
school trips and school meals.

I'm pleased to advise that we also have a text and email service through the School Gateway which
will allow you to receive messages from school and for you to be able to reply to these messages.
The School Gateway app allows us to do this in the most cost effective way. If parents download the
app we will be able to send text messages free of charge through this system. Please help the
school save money by downloading the School Gateway app.

What you need to do now
If you already use School Gateway to make payments then there is nothing else you need to do.
If you haven't yet activated your School Gateway account it's quick and easy to do. All you need are
your email address and mobile number that school holds on record for you.
Download the app: If you have a smartphone, please download School Gateway from your app store
(Android and iPhone).

We're aiming to get 60% of parents using the School Gateway smartphone app – please help us
achieve this target.
OR
Visit the website and click on 'New User'. You'll receive a text message with a PIN number. Use this PIN to log into School Gateway.
If you're having trouble logging in, it may be because the school doesn't have your current email and
mobile phone number on record. Complete the change of details form on the Forms and Surveys page and we can check these details for you.
Operation Encompass
The school has been given the opportunity to take part in a project that will run jointly between schools and Hertfordshire Constabulary.

Operation Encompass is the notification to schools, prior to the start of the next school day, of incidents where and when a child or young person has experienced or been exposed to any domestic abuse.

Operation Encompass will ensure that a member of the school staff, (DSL) known as a Key Adult, is trained to allow them to liaise with the police and to use the information that has been shared in confidence. Whilst also ensuring that the school is able to make provision for possible difficulties experienced by children, or their families, who have been experienced a domestic abuse
incident.

We are keen to offer the best support possible to all our pupils and we believe this will be extremely beneficial for all those involved.
Red Box
Almond Hill has joined the Red Box Project, a national community organisation committed to giving young people access to fre menstrual products in schools.

As a result, we now have a selection of menstrual products available for students to access
during school hours. This includes a range of pads in all absorbencies, night pads (and
tampons). It also contains clean underwear, should it be needed. The box is stocked from
donations from our local community, who support the project and its aims.

Any student who needs to receive items from the box, whether it's one item to get them
through the day or several packs to ensure they're able to attend school throughout their
period, will be able to access it via their teacher. Students should ask for the Red Box where
they will be able to take away whatever they need.

We will be speaking to students about the box but you may also want to take this
opportunity to talk to your children about their needs and how the box might be able to
help them.

If you have any further questions, or would like to know more about the Red Box Project,
you can email Gerry The Red Box Coordinator for Stevenage at;
theredboxprojectstevenage@gmail.com. There is also a Facebook page of the same name,
Gofundme page and Twitter @RedStevenage
School Closure Notification System
Along with many other local schools we use a system to inform parents/carers of times when the school may need to be closed in an emergency e.g. bad weather. To receive these communications please register following this link:-
This link will direct you to the "Sign Up" page where you should click on the "Sign Up" button located at the top right hand side of the page on the grey strip and from there follow the instructions. It should take no more than 5 minutes to register and you can edit your information at any time should you change your mobile number or email address.
Each contact can have 2 devices added for each communication type if you wish to – this means that in addition to adding your own mobile number and email address, you could include the mobile number and email address of a partner or a grandparent in your registration process. They too would then receive any messages in relation to the school's closure. Alternatively, interested parties could register themselves separately.
If a parent / guardian has children at more than one school they can register for those schools too in a single registration process by selecting all schools they have children at.