School Government
Every year, children at Almond Hill vote for their Prime Minister and government. Children in Year 6 are invited to form 'parties' and canvas children for their votes.
Each party has to come up with a school, local, national and international pledge that they promise to fulfil through the year.
2021/22
Online Quiz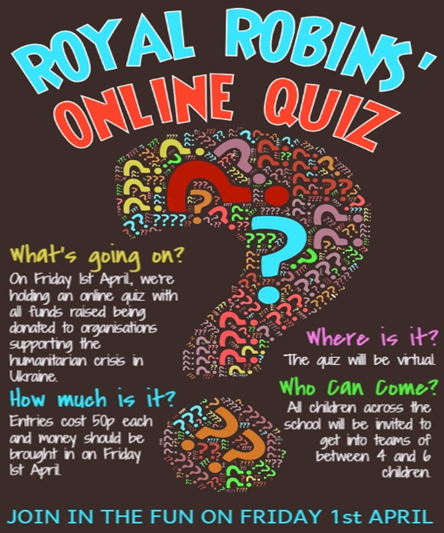 The Votes are in...
Congratulations to the Royal Robins and their Prime Minister Ava!
Prime Minister: Ava
Deputy Prime Minister: Charlie and Tanisha
Party members: Louise, Tate, Olaf and Harry
Their pledges include:
A 'chill' day
Football tournament
Harry Potter quiz
Bigger football goals.
The Parties and their Pledges
Children in year 6 presented their pledges to the year groups this week and children have begun placing their votes. We look forward to announcing who will be Almond Hill's next Prime Minister.
Tall Ties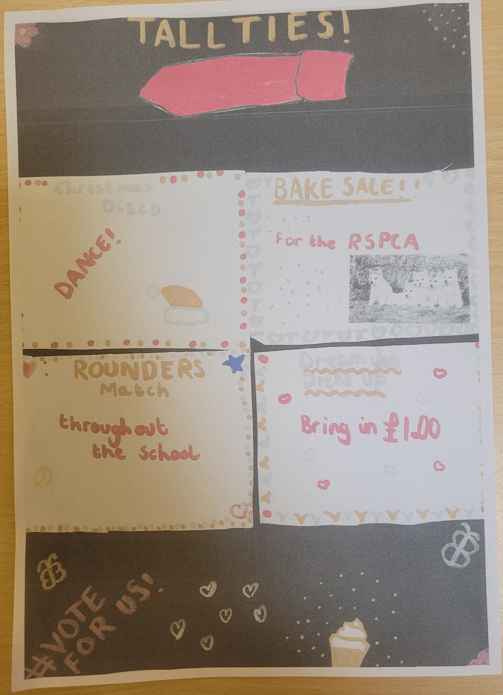 Dark Demons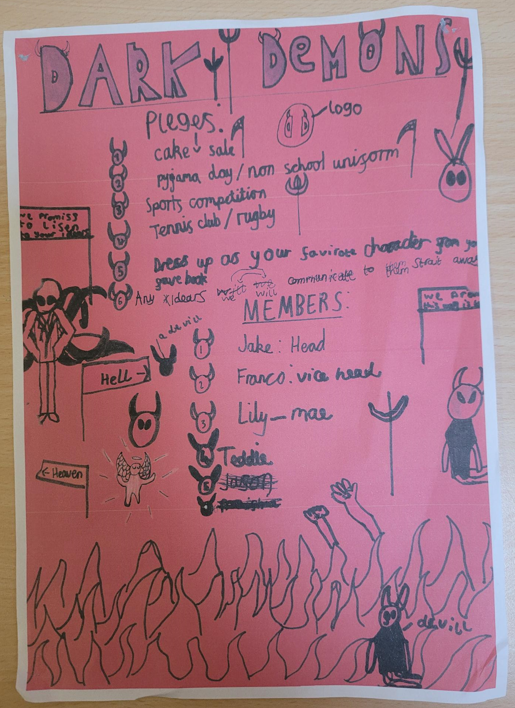 Fabulous Flames

Royal Robins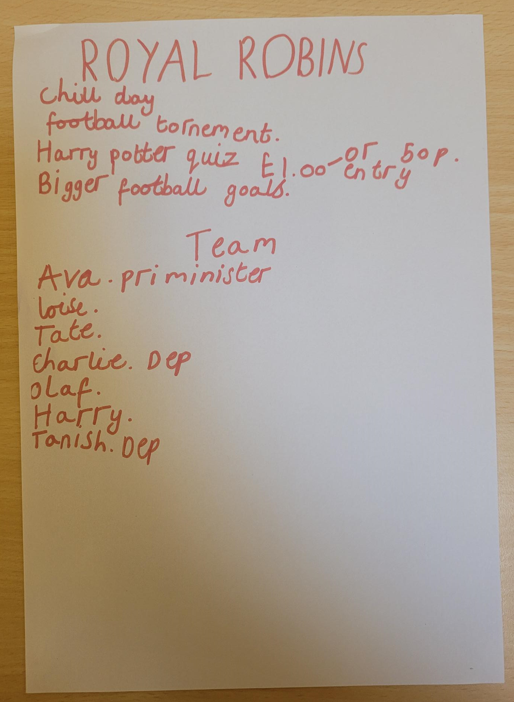 Falcon Racers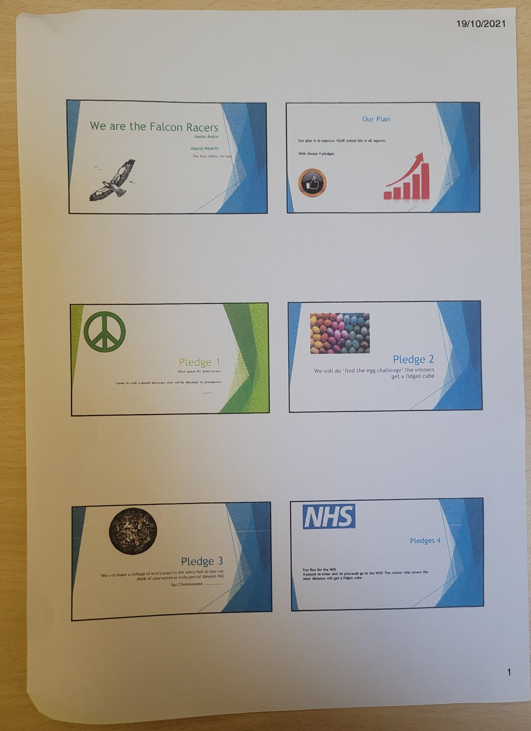 Cuddly Koalas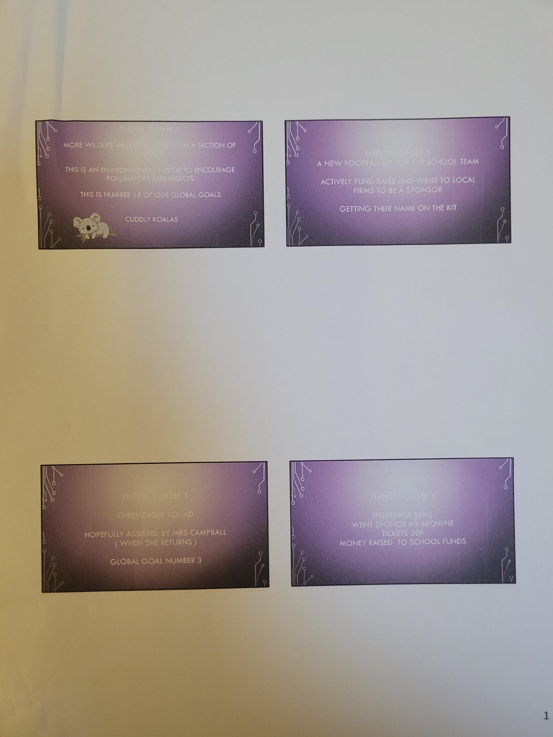 High Aims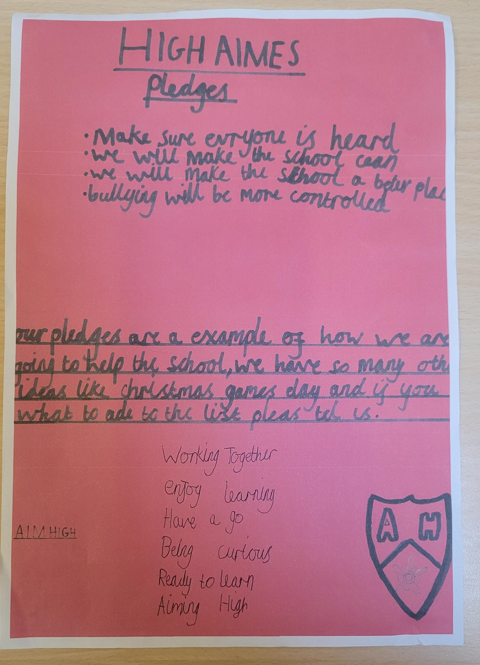 Loyal Leopards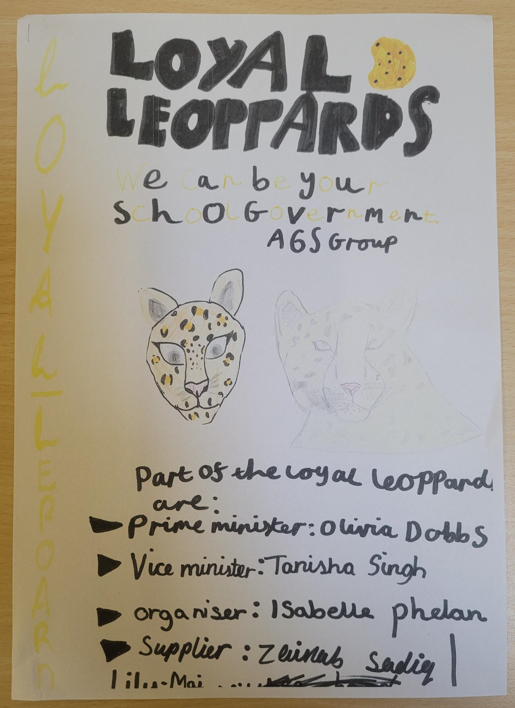 Government Campaign
Get a group together that can work well together…
You need a leader and a deputy
You need some pledges
What are pledges?
Promises you make to try and realise that may interest the electorate
Who are the electorate?
The children and staff at Almond Hill
What do the pledges include?
1)A pledge that positively affects the children of Almond Hill
2)A pledge that positively affects our local area
3)A pledge that positively affects the country – national charity
4)A pledge that positively affects the world – international charity
What's next?
Prepare a presentation for Monday 18th October explaining your four pledges – the voting will take place this week
If you are not in a political party you might be asked to be on the election committee to organise the voting process
This can be a speech, drama, song, PowerPoint – whatever you think will be memorable.
You might organise a logo or a slogan
You need a name for your party
How can you persuade the electorate to vote for you?
1)Talk to your peers on the playground at playtime and lunchtime
2)You can make 2 posters for display – they must be submitted to Mrs Fordham via your class teacher
3)You can create badges and slogans
All of this must be done kindly – do not try to force the electorate to vote for you – persuade them with your fabulous pledges!
2020/21
The Loyal Legends
Prime Minister : Tom
Deputy Prime Minister : Joseph
Other Members : Anthony, Ruby, Joseph, Harry, Henry and River.

Pledge 1 - Charity
Our first pledge is to hold a book sale to raise money for charity. Any money raised will go to Children in Need and planting trees.

Pledge 2 - School
We are going to run several different clubs at lunchtime. These will include dodgeball, cricket and football. We will be looking for volunteers to help with this.

Pledge 3 - Students
We will be running a quiz and a treasure hunt for children.

Pledge 4 - Community
With half of the money raised from the book sale we will plant some trees in Stevenage, including the school grounds.

Book Fair
The Loyal Legends are planning their next event! One of their pledges is to hold a book sale and raise money to enable them to be able to plant trees in Lovelock Wood as well as raising money for Children in Need. They would appreciate any donations of unwanted books you have at home, please bring them in to school and give to your child's class teacher before, or on Friday 2nd July, thank you!
May 2021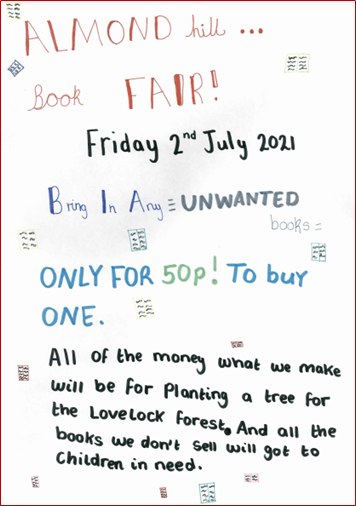 The school government's first book sale was a huge success! The generosity of children, parents and staff means £150 was raised and there were still lots of books left. It has inspired us so much that we will be doing regular book sales next year to promote reading and make it affordable and sustainable for all. A big well done to the Loyal Legends for their hard work!
Virtual Quiz
Children took part in the virtual quiz last week, hosted by our school government, the Loyal Legends. They raised an impressive £81.50 in total. A big well done to everyone involved. The money raised will be used to buy books for each class. The books will be chosen by the children and read to them in class.
5th May 2021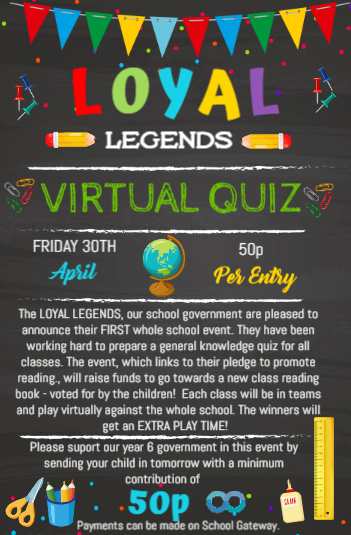 April 2021
General Elections 2020
WC 03.12.20
The results are in…
All political parties received a large number of votes during the election, but as the week went on one particular party pulled in front and were our clear winners. It is with great pleasure that we introduce you to our new Almond Hill School Government – The Loyal Legends. Tom (Prime Minister), Joseph, Anthony, Ruby, Harry, Henry and River are very happy with the result and 'can't wait' to start their new roles. It is a great privilege for our year 6's to form political parties and take on this important role in our school and we are very proud of all parties for their involvement. Well done to the Loyal Legends!

WC 23.11.20
Last Friday all the children took part in Question Time, where they had the opportunity to put their questions to each party regarding their pledges. Children in all classes got involved on our Teams session and asked some fantastic, well thought out questions. The party leaders answered confidently and showed great leadership. We are always proud of how the school organises the elections but it is particularly difficult this year with the restrictions in place, well done to everyone involved. We look forward to introducing you to our new government soon.

WC 16.11.2020
Children in Year 6 have been busy forming their political parties and deciding their pledges for the coming year. This week they will be talking to the rest of their school (via Teams) about their plans should they be elected in to Government. You can see the posters they have designed here. Each child in our school gets to vote for who they want to represent them on the school committee.

Our parties this year:

Crazy Caramel:
Neave, Myah, Neve, Daisy, Alan, Baylie, Casey and Ruby.
Silver Studies:
Daisy, Hannah, Stanley, Lexi and Mia.
Biscuit Band:
Yash , Oscar, Govardhan, Enrique, Tommie, Shay
The Furious Falcons:
Subana, Angel, Joe, Molly, Darcy, Eliza, Ollie and Ralph.
Awesome Oaks:
Emie, Maggie, Scarlett, Simile, Hazel, Skylar and Bobby.
The Loyal Legends:
Tom, Joseph, Anthony, Ruby, Joseph, Harry, Henry and River.
Humble Hedgehogs:
Emily, Carlos, Ayah, Maggie, Raya, Amelia-May