Sporting Achievements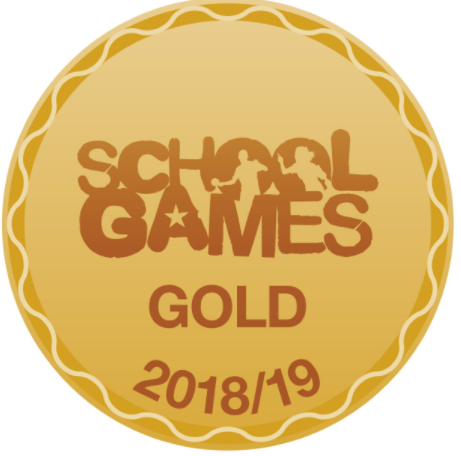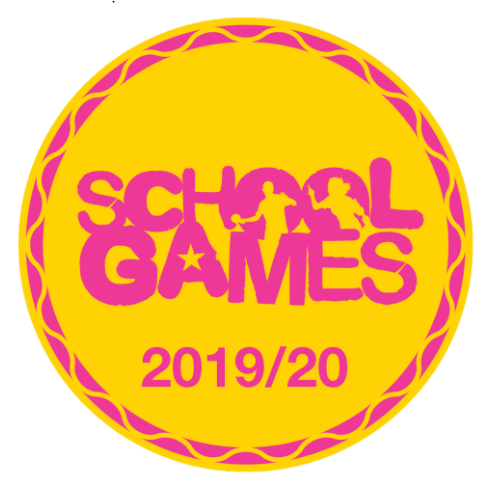 Almond Hill achieved a Gold Mark for School Games in 2018/19 and 2019/20. The School Games Mark is a Government led awards scheme which launched in 2012 to reward schools for their commitment to the development of competition across their school and into the community.
Stevenage Sporting Futures Team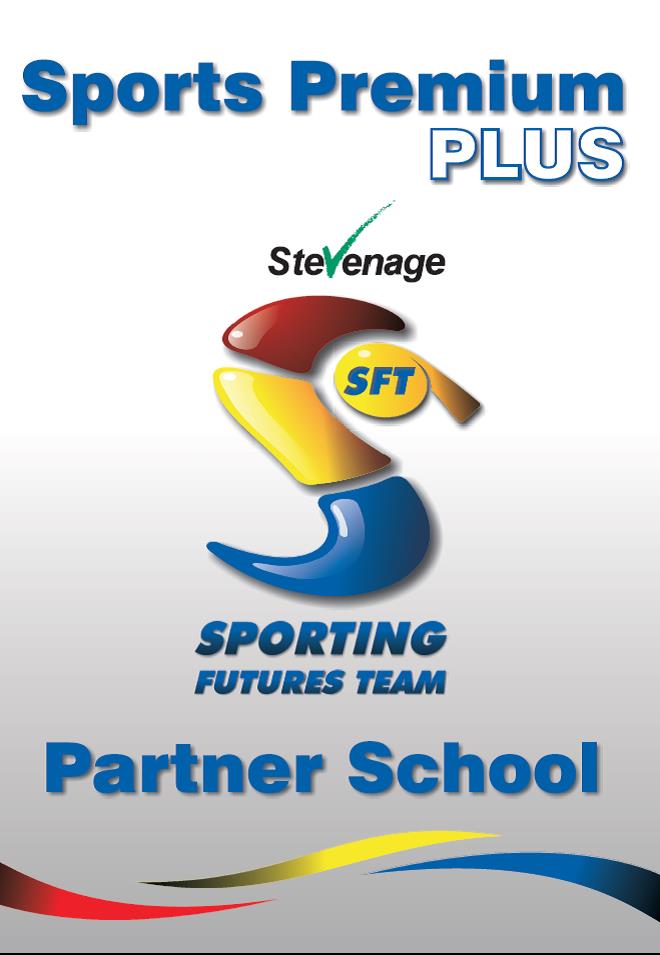 With the collaborative partnership of our school and Stevenage Sporting Futures Team we are able to offer the children a fully inclusive variety of sporting experiences, festivals and competitions, along with support and training for our staff. We are proud to be a Sports Premium Plus school of the Stevenage Sporting Futures Team.

Year 6 Sports Leaders
Sport leaders undertake special training with Stevenage Sporting Futures and promote and support sport in school. This the sports leaders have helped with lunchtime clubs and they have organised a Speed Stacking competition.
Football Scores and Updates
Knebworth vs Almond Hill
The team started off their Stevenage Schools league campaign well on Monday, with an impressive 5-0 victory over Knebworth Primary School. It was an impressive display from the whole team, who dominated play with solid defending, strong passing, and clinical finishes. Goals from Albie (2), Austin, Charlie & Xavi.
Mini Tournament
Last Monday we 'kicked off' our first sporting fixture with a mini tournament as part of the Stevenage Primary Schools FA at Woolenwick the team played well as they had only had 3 training sessions to prepare and work as a team. We won 1 and lost 2, but scored some wonderful goals and played with determination and respect. It was a pleasure to watch them play and am proud to join them in being the face of Almond Hill football. We look forward to the rest of the season and our next match after half term.
21st October 2021
Sporting Events
Cross Country
Well done to the Year 5 and 6 cross country team who represented our school at Fairlands Valley. They competed against children from twelve other schools. Children in Year 5 had to run a distance of half a mile and children in Year 6 ran one whole mile! Congratulations to Ava who came 2nd in the Year 6 girls race, winning a silver medal and also our Year 6 girls team who came 1st out of all thirteen schools! We are very proud of all the children who took part. You were all fantastic ambassadors for our school!
October 2021
Almond Hill Achievements
Football
Having previously played for Watford, Harry in Year 4 has recently been signed for Tottenham Football Academy for under 9's! This is a huge achievement and shows how hard Harry works as well as his love and dedication for the sport. Well done Harry, we look forward to hearing how you get on at Tottenham.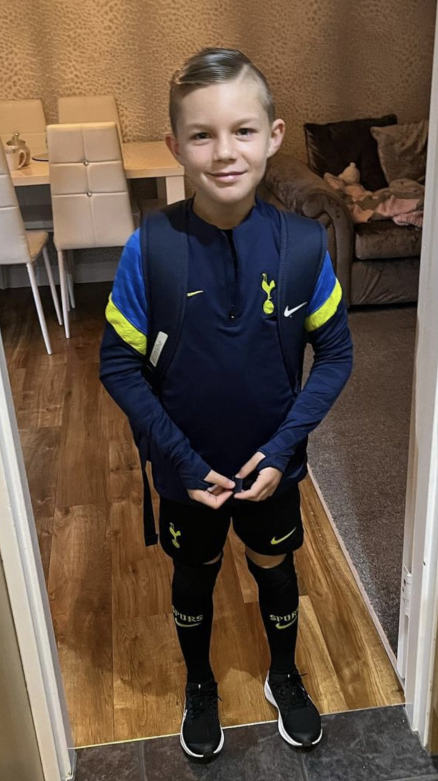 Dancing
Nelly in Year 5 has been ballroom and Latin dancing for 2 years now and frequently competes in national competitions. She has now won over 30 trophies. Most recently, Nelly competed and placed FIRST in all of her dances! She's currently working towards a national competition taking place in Blackpool in January 2022. Well done Nelly!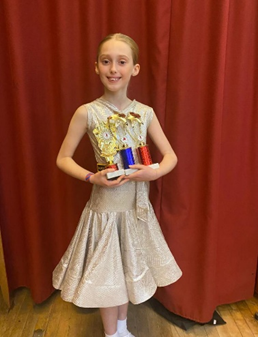 Gymnastics
A big well done to Annelise in year 5 who competed at the Hertfordshire County Gymnastics Championships over the weekend and won gold! Annelise is county champion cup level 1 age 9-10. Congratulations!
November 2021

Taekwondo!
Jake and Eden in year 5 recently competed in their first Taekwondo competition and we are incredibly pleased to tell you that they came 3rd! Well done both of you, we are looking forward to hearing about your future achievements.
November 2021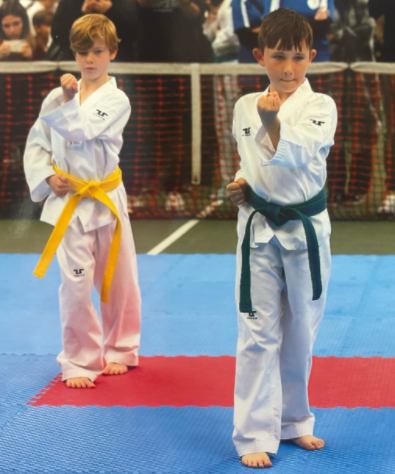 ---
Mrs Joannou ran the Marathon!
Mrs Joannou ran the virtual London Marathon on Sunday: 26.2 miles in loops of her village, raising money for the Ian Pratt Motor Neurone Disease Foundation. Lots of fun was had, including the wearing of various different fancy dress outfits (different for every lap!) and lots of money was raised for this small charity that supports those diagnosed and living with MND.
October 2021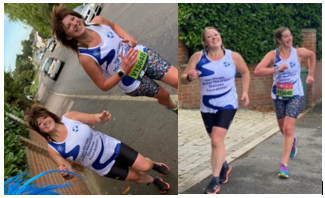 ---
Race for Life
On Saturday 9th October, Willow in year 4 took part in a 5k kids muddy Race for Life event. She did an amazing job and raised £300 for Cancer Research. Well done Willow!
October 2021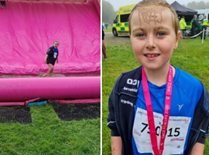 ---
Joining the Team!
After attending trials for Stevenage District's football team, we are very proud to announce that Gene in year 5 has been accepted and will be joining the squad for 2021-22. Well done, Gene!
To keep track of how the team get on during the season you can follow their progress here:
www.pitchero.com/stevenagedistrictprimaryschools
July 2021
---
Going for Gold!
The Stevenage team had their last event of the season, and it was a major tournament that began last October with 21 teams competing in regional hub events all over England and Wales. The climax was a finals tournament on Saturday 26th June down in Surrey where the final eight teams would play off to determine the champions.
The Stevenage side began the day in great form, and won their first two games against Wokingham and Swansea, and a draw with Gloucester meant that they would progress to the semi-final stage. They then faced another, really tough, team from Swansea and managed to beat them 2-1 to earn a place in the final. The final itself was a cagey affair, two teams working hard to try and score, but both defences in good form. The game finished all square at 0-0, but the organisers decided to give Stevenage the gold winners medals as they had beaten Wokingham earlier in the group stages.
This is a huge achievement, and we are incredibly proud of the boys but more specifically, Tom in year 6 who was part of the winning side — congratulations Tom!
June 2021