Wellbeing and Mental Health
Below you will find useful information and tools to support wellbeing
School Policies and Local Offer
Crisis Support
If you're child or young person in a mental health crisis
The NHS and our local hospitals are really busy at the moment, so if you're experiencing a mental health crisis, the quickest way to get help at any time of the day or night is to call our freephone number: 0800 6444 101, or call NHS 111 and select option 2 for mental health services.
In the case of serious illness or injury, dial 999 for emergency services
If you are already using these services
If you are already receiving support from the service and need help please contact:
Your care co-ordinator on the number provided to you or if you need help in the evening, weekend or bank holiday call 0800 6444 101.
Email: hpft.spa@nhs.net for non-urgent enquiries
For a range of self-help information please click here
Live webchat service
If you'd prefer to speak online, click on the SPA red button here. This service is available Monday-Friday, 7am-7pm.
Alternative Contacts
Samaritans Tel: 116 123, 24 hours a day, every day
Childline Tel: 0800 1111 via 1-2-1 chat between 7.30am and 3.30am every day.
HOPELINEUK (papyrus): Tel: 0800 0684141 Text: 07786209697 Email: pat@papyrus-uk.org, 10am-10pm weekdays, 2pm-10pm weekends and bank holidays.
Most referrals to our services are made by GPs
If you are experiencing mental health problems and need help please speak to your GP (family doctor). They will discuss the issues you are facing and refer you to our services, if appropriate. To register with a GP in your area go to www.nhs.uk
January 2021
Looking after your mental health and wellbeing during Coronavirus
It is important more now than ever that we look after our mental health and wellbeing. We aim to provide advice and resources to support you and your family during the pandemic and beyond. Please use the information below and contact the school if you feel you need further support.
Useful Websites:
The Mix
Shout
Young Minds
Child Line
Family Lives
February 2021

www.adhdfoundation.org.uk/
This is a useful resource from the ADHD Foundation. It is for parents or anyone working with children/young people with ADHD. This PDF will give advice and tips on how You can build your resilience during difficult times.
January 2021
---
Looking after your mental health and wellbeing during Coronavirus
Grief and Bereavement
https://unravelsupport.co.uk/grief
This 'Grief Support' booklet is a FREE practical guide to supporting yourself and the children in your care who are experiencing feelings of loss and grief.


www.stand-by-me.org.uk
When someone dies we can be totally unprepared. Even if the death is expected it can be difficult to know how to best help the children and young people we care for.
Stand-by-me offers information, advice and support to help children, young people and their families living in North Hertfordshire & Stevenage understand and manage their grief.​​​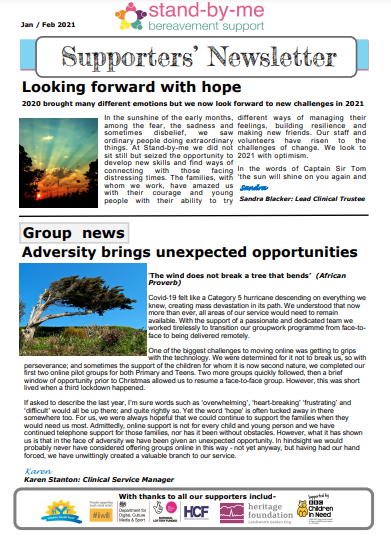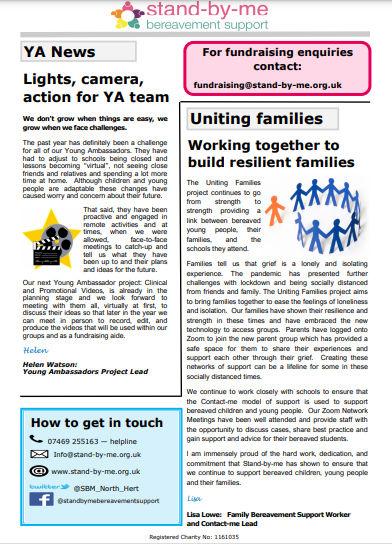 March 2021
Mental Health
Click here for an A-Z of mental health.
When you're living with a mental health problem, or supporting someone who is, having access to the right information - about a condition, treatment options, or practical issues - is vital.

www.annafreud.org
'We're transforming mental health by working with infants, children, young people and their families, their communities and professionals to deliver timely evidence-based support for all.'
https://www.mind.org.uk/
Mind provide advice and support to empower anyone experiencing a mental health problem.
www.nhs.uk/CYPMHS
Please follow the links for information about Children and Young People Mental Health Services (CYPMHS)
www.youngminds.org.uk/guide-to-camhs/
This A-Z gives you advice on how to help your child with specific mental health conditions, and life events which might be negatively affecting their wellbeing. it will also show you where you can get help.
www.hpft.nhs.uk/spot-the-signs
Spot the Signs is a suicide prevention campaign, helping to remove the stigma of talking openly about suicide. They provide training courses and signpost to mental health services available in Hertfordshire.
Spot the signs campaign is run in partnership with:
Hertfordshire Partnership University NHS Foundation Trust
https://www.hpft.nhs.uk/get-help/
Herts County Council

www.hertfordshire.gov.uk/mental-health
www.mindinmidherts.org.uk
Hertfordshire Mind Network
Hertfordshire Mind Network deliver essential mental health support in Hertfordshire, providing a diverse range of services over seven Wellbeing Centres and other venues across all ten districts of the county. The services are available to all residents in Hertfordshire over the age of 18 and they offer dedicated services for 15-18 year olds.
https://www.hertsmindnetwork.org/
Parenting Together
www.parentingtogethersupportprogramme.org.uk
Parenting Together is one strand of the Reducing Parental Conflict Programme led by the Department of Work and Pensions. This programme is funded and managed by the Department of Work and Pensions, but is being coordinated locally by Hertfordshire County Council on behalf of all participating local authorities.
Hertfordshire County Council is the main contact point for all queries about the programme from local areas, and will receive and quality check all referrals before passing them onto the provider. A steering group of all 6 local authorities meets regularly to manage the local elements of the programme.
When family life is good, children thrive. Find out why relationships between parents matter so much to children, and how to improve your relationship with your partner or ex-partner. For tools and information to help support your family you can use the following website.
Support for Families and Carers
The Living Room

www.livingroomherts.org
The Living Room have developed a range of services to support adults suffering with the illness of addiction and their family members and carers. If you are currently using drugs or alcohol, The Living Room can help you find harm reduction services in Hertfordshire to help you safely reduce before you join.
Young Carers' Crew
www.young-carers-crew.org
Support for young carers in North Herts.
Supporting children and families affected by a family member's offending.
www.nicco.org.uk/
Fore more information please use the following links: