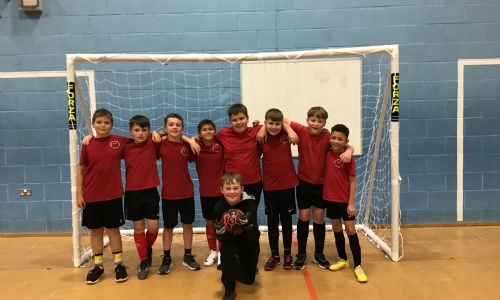 Year 5 and 6 Futsal
Published 23/11/23
The boys were up for the Futsal tournament from the start; the first game saw us start fast and get the first goal. Unfortunately, the ref gave a goal against us (it was kicked out of the keeper's hands). We were unlucky with the decision but we carried on.
The boys continued to use that enthusiasm into the next game with more goals and a win. To add to that, was a big win in the next game with a hat trick from Dawson. For me, this was the game of the day as the Futsal all the boys played (and the passing and moving) was the best I had seen in the tournament.
After lunch time, the boys seemed to have lost their momentum a bit. We lost the next two games. One was close and the other was a clear loss to the league winners. The boys still played good Futsal though and didn't give up. This saw them get 3rd place in league 1 and set them up to play 3rd place in league 2, both playing for 5/6th position. This was a tight game and ended in a 1-1 draw. We all thought we were going to penalties but the organisers then awarded us 5th position (out of 12 teams).
The boys worked so hard throughout and played some amazing Futsal; they showed some admirable teamwork and resilience. They should all be very proud of themselves - I was very proud of them all.
GOALS:
Dawson (5)
Harry (2)
Mason (2)
Ollie (1)
Rocco (1)
Players' Player - Mason and George
Coach's Player - Ollie (by far the best goalkeeper in the tournament)
I would like to finish by saying how well behaved all the boys were throughout the day. They were, by far, the best behaved school in comparison to those around them. Well done to Almond Hill.
Mr Hewitt.
Read More