Our School
Welcome to our digital prospectus and a special welcome to our new year 3 children.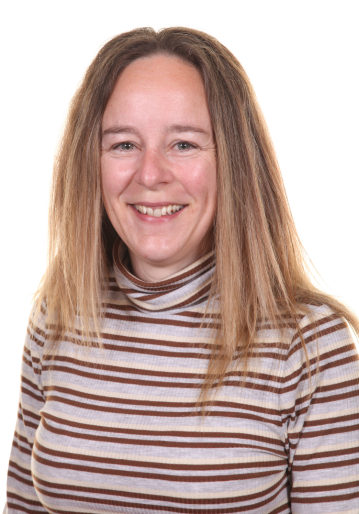 Headteacher's Welcome
Dear Parents and Carers,
I am pleased to welcome you to our school.
Almond Hill is a community school, which opened in 1957. Our school is situated close to Stevenage Old Town in a very pleasant environment. It is a school of approximately 300 children aged 7 –11.

Our school staff work very closely together to provide a happy, safe, stimulating and healthy environment in which your child will learn, be respected and valued. High standards of educational achievement are promoted and attained. Effort and hard work are rewarded, achievements are celebrated and individual needs supported.

We aim to provide an excellent education for all pupils, working in partnership with our feeder schools to provide continuity in learning and pastoral care. We work closely with parents and carers to help them support their child's education. We 'Aim High' in everything we do to achieve our very best and develop our skills and talents and be proud of our achievements. We aim to have a 'growth mindset' and learn from mistakes. We may not be able to do something 'yet', but we will if we keep trying. We recognise we are all individuals and respect our uniqueness. We expect to treat others in the way we wish to be treated ourselves, always showing respect and good manners and a high standard of behaviour.
We are a school who celebrates our successes, but also moves forward by evaluating our work. To achieve our aims, we believe it is essential that a partnership exists between home and school. As a parent you have a vital role to play in all aspects of your child's education. We encourage close links with parents to ensure you are well-informed about your child's progress in both their educational achievements and personal and social development and so you are aware of school policy and practice. We also regularly ask for your views, so we can move forward together.
We want you and your child to feel valued members of our school community, and we look forward to a close association with you and your child.
Emma Fordham,
Headteacher
School Improvement Plan - November 2021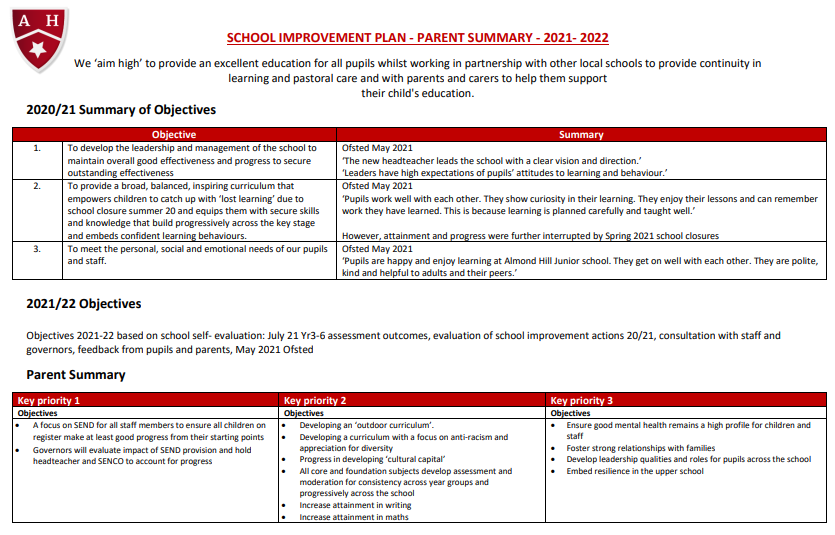 Our Staff, Governing Body and School Community
Our Staff
Please follow the link to be taken to our whole school staffing page: Almond Hill Staff

You can find more information about the team at Almond Hill here on our website:
Meet the Support Staff
Year Group Pages
The Governing Body
The governing body comprises appointed, elected and co-opted governors. Governors delegate responsibility for the day to day running of the school to the Head teacher, but they are responsible to:
ensure safeguarding procedures comply with statutory guidance and monitor the safety and wellbeing of pupils and staff;
establish the aims and policies of the school;
support and monitor the review and development of the curriculum;
monitor standards of achievement and pupil progress;
provide support and challenge;
help decide the spending of the school's budget and to monitor expenditure and financial procedures to ensure best value;
monitor the condition of the school premises;
appoint new staff.
Governors are responsible for the appointment of the Head Teacher and Deputy Head. They act as a link between school, parents, and the local community, promoting a strong partnership between them. The governing body meets formally each term working closely with the Head Teacher and staff to stay well-informed about the school. Regular committee meetings and link governor visits ensure governors receive up to date information on curriculum policy, progress on school development plans, standards, special educational needs, personnel and finance. The school premises are inspected every term with health and safety checks being regularly completed. As well as formal planned visits, governors also make informal visits to the school during the working day. Governors are elected for a four-year period of office. Any parent or guardian of a child at Almond Hill may stand for election, details of which will be supplied by the Head Teacher.
For more information on our governors please follow the link: www.almondhill.herts.sch.uk/governors
Friends of Almond Hill
'Friends of Almond Hill' are a group of parents who are interested in supporting school events and fundraising activities. The group is firmly established and warmly welcomes all new parents, either on a regular basis or to help out on occasions. They meet regularly each half-term to discuss plans for forthcoming events. Information regarding events and meetings are published in a newsletter to parents. Any parent is welcome to join our half termly planning meetings. FOAH funds a wide range of resources, activities and visitors for our children that support both learning and recreational activities.
The School Government
The School Government is an elected body of children from the school. Pupils in year 6 form 'political parties' and present their 'manifesto' to the school to share their pledges. Children across the school then vote to elect a winning Prime Minister and Deputy. Once elected, they work with staff to make their pledges happen across the year.
Safeguarding and Child Protection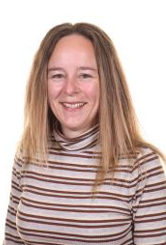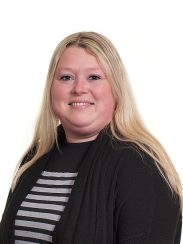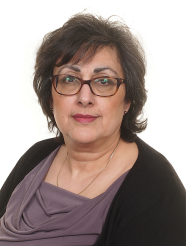 Safeguarding has the highest priority at Almond Hill and is at the forefront of all we do. The school is committed to the safety of all pupils and staff and promotes an 'it could happen here' ethos to support our vigilance.
All of our children have the right to be safe and happy at school, and it is our responsibility to try to make them feel that way. All adults working in school are subject to DBS clearance and appointments follow the school's safer recruitment policy. Safeguarding is discussed regularly at staff meetings and there is an expectation for all staff to be highly vigilant.
All staff undertake safeguarding training on appointment, statutory 3-yearly update, and annual school update along with regular specific training. The governing body has appointed a named safeguarding governor and there is a governor safeguarding working party that meets to regularly monitor all of the school's safeguarding procedures. Annually, the school invites an external 'Herts for Learning' review of school procedures to ensure the very best practice is maintained. Our monitoring involves all of our stakeholders and covers all aspects of our provision as well as statutory responsibilities. The school's Child Protection Policy and Whistleblowing Policy are published on the school's website.
All of the school policies support our safeguarding practice, but we believe that our effective safeguarding is achieved not only through policy documents but through our daily actions and building strong relationships with our children, so we know them well, and they all feel confident to build trust in the adults they work with.
All schools have a clear responsibility placed on them by the Children Act 1989 and guidance from the Department for Education and Skills to safeguard the welfare of all their pupils. In doing so, schools are expected to consult with Children's Services if they believe there is a possibility that a child may be suffering from abuse or neglect. A referral to Children's Services is not intended to be an accusation of any particular action or against any particular person. It is the reporting of concerns that have come to the school's attention. This is in accordance with Hertfordshire Area Child protection procedures.
Almond Hill Junior School has a Child Protection Policy and follows safeguarding guidance from other key documents e.g. Keeping Children Safe in Education all of which are available for parents/carers to see.
Mrs. Fordham is the Designated Teacher for Child Protection. In her absence, Mrs. Burgess and Mrs. Birchall deputise in this role. They will be happy to discuss any questions or concerns parents/carers may have about child protection policy and practice. The appointed governor for Child Protection is Mrs Michelle Finch and the school Safeguarding governor is Mr Andrew Boakes.
The Curriculum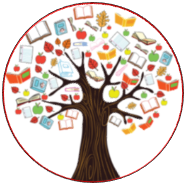 The children are taught all subjects in the National Curriculum. Core subjects include: — English and Maths (taught daily) Science and Computing.

Foundation subjects include: — Art, Design Technology, Geography, History, Music, Personal Social Health and Citizen Education, Physical Education, Religious Education and Languages (French). We believe that every child should have equal access to learning regardless of gender, disability, or cultural background. We aim to provide equal opportunity of learning throughout our curriculum.
Curriculum Intent
Our curriculum is designed to ensure:
Children have access to a broad and rich curriculum, make cross curricular links and see the bigger picture.
Children achieve their academic potential and have secured strong basic maths and English skills in line with National Curriculum expectation which can be used to solve problems.
Recognise and develop creative skills.
Children have the confidence to know that they can achieve anything they put their mind to, the sky is the limit with a good education but to achieve their aspiration hard work is also essential.
Children are able to communicate in formal and social situations. They will value friendship and the variety of safe relationships in which they interact.
Children are able to assess risk and take risks — they will know that sometime life has disappointment but have resilience to be able to bounce back.
Children will know how to keep themselves healthy both physically and emotionally.
Children will be aware of the benefits of technology but will not be constrained by it.
Children will have experienced the rich cultural diversity on their doorstep and want to know more about the cultures and languages of our world, particularly those relevant to our community.
Children will learn to interact socially with different groups and cultures and communicate effectively, including respecting everybody's views.
Children leave the school with happy memories of learning and children will want to continue their education and love learning.
In addition to the outline of coverage given in this prospectus, the school website publishes long-term plans and medium term plans* for each year group. Each year group posts a half termly report on aspects of the curriculum children have been learning and enjoying.
*These are evolving documents.
For more information about our curriculum please visit the learning page on our website: Learning
SEND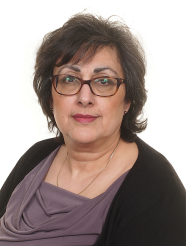 The school's SENCo is Mrs. Birchall. Parents are welcome to make an appointment to meet with her if they have specific concerns they wish to discuss.
Sometimes a child will need extra support. This may be educational (they may need more time to understand the work they are doing) or they may be 'able' and need to extend their learning. They may be experiencing behavioural or emotional problems and need support to overcome them. Children with special educational needs at both ends of the spectrum are catered for. A team of highly experienced teaching assistants support pupils in class and lead individual teaching programmes.
Children who need their work to be differentiated beyond that normally planned for the class may have an Individual Education Plan (IEP). These outline specific targets children are working towards and are drawn up in consultation with the child and parents to ensure learning is personalised to their individual needs. The IEP is reviewed regularly and parents are invited to contribute their views at the meeting and review progress.
The school website publishes our 'Local Offer.' This details the provision that may be offered to a pupil at the school with special educational needs.
Sometimes children need a short intervention to help them make progress in particular areas. This may be for aspects of their academic work or to support emotional or behavioural development. In this instance, parents are informed and invited to discuss the intervention with the class teacher, the teaching assistant leading the intervention or the Special Educational Needs Co-ordinator (SENCo). Sometimes children need very specific support; teachers work in close liaison with outside agencies such as the Educational Psychologist or specialist outreach teachers who provide guidance and extra tuition when needed. Any additional provision is always fully discussed with parents. All additional provision is mapped so that it is tailored to individual needs. A copy of the school's SEND policy is on the website and available from the school office.
Pastoral Care and Discipline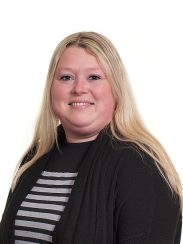 Code of Conduct
We have very few rules at Almond Hill and those we do have are concerned chiefly with safety, the happiness of the child and preparing for life in society. We follow a simple code of conduct. At Almond Hill we take pride in our school and respect the environment we work in. We are a community who cares for each other. To achieve our aims, we work in close partnership with parents and seek your support in helping us achieve them.
Classroom rules
We are silent when the teacher is talking.
We follow instructions immediately.
We let others get on with their work.
We respect each other.
We are safe.
Our aim is to help children achieve self-discipline. Children are expected to be polite and respect other people's views and their belongings. Good behaviour is recognised and praised. Breaches of behaviour are dealt with firmly and fairly through a clear policy of procedures which are published in all classes. We follow the Hertfordshire STEPs approach to behaviour. Bullying, either verbal or physical, which intends to threaten or intimidate is not acceptable at Almond Hill. The school's anti-bullying policy is published on the school website. Also, available from the school office are the school's policy for preventing and dealing with racist behaviour and the school policy for promoting race equality and equal opportunity.
Whilst children get on well and play co-operatively, there are times when they have disputes or things go wrong, and they need adult support at play times. Year 6 'buddies' and 'sports leaders' support children at wet play and are around in the playground to invite any child to take part in different activities. We also have newly introduced 'play leaders' who run structured games for their own year group each day supported by a teaching assistant and overseen by Miss Simmons.
Our team of teaching assistants are there to help any child who has a particular problem. In addition, the school has a supervised Friendship Room that any child may access if they are feeling lonely or have had a fall out with their friends. This is supervised by a member of our pastoral support team.
We appreciate that for some children they may find it difficult to express concerns, particularly when they are new to us. Therefore, each class has a 'worry box' where children may post any concern. They are checked regularly by the class teacher and issues discussed in class.
Children may need some additional support to manage their behaviour. In this case a member of our pastoral support team may work with your child in partnership with you.
Almond Hill 'Steps Approach'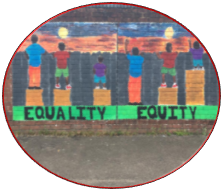 Hertfordshire Steps is the local authority's preferred approach to supporting positive behaviour management in schools and settings. The Steps approach forms part of the authority's behaviour strategy. It has been agreed through the SEND Executive and forms part of Hertfordshire's Local Offer.
Meet Miya — Our School Dog
Miya has been working with children in the school, and she is having a really positive impact on those who meet her. The children are learning about respecting life and animals and this encourages respect towards teachers, their peers and parents. Miya has a beneficial effect on the wellbeing of the children and for those who work closely with her, it fosters a sense of responsibility.
We do ask for parental consent before children work with Miya.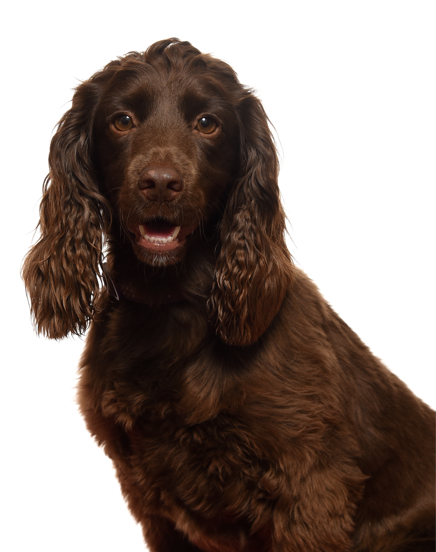 For more information on our pastoral care and the interventions we offer please click here.
You can view the school's aims and values here.
Assessment for Learning
A continuous process of assessment enables teachers to plan work matched to the child's ability and to set targets and challenges for further development.

Assessment may be formative: to plan the next stage in learning; diagnostic: to identify strengths and weaknesses; or summative: to summarise levels of achievement.
Children receive regular feedback from their teachers about their progress and are encouraged to evaluate their work through self and peer assessment.
At the start of a lesson the 'learning objective' is shared with the children to explain the focus and context of the learning.
Verbal / Written Feedback
We believe the best feedback is as immediate as possible and verbal in the lesson or individual through conferencing, and where possible teachers provide this to children on a daily basis. We teach children to be reflective of their own learning and teach them how to edit and improve their work, and the importance of verbalising and explaining their thinking.
Teachers will work with children in a variety of ways to provide feedback during lessons; they will also review all outcomes of pupil work at the end of a lesson to inform their planning. Sometimes the teacher will make a written comment in a child's book or provide a guided task/model or writing frame to help a child secure a skill or move their learning on.
Learning Partners
Within daily classwork children will spend some time working with a learning partner. Learning partners are selected randomly and change regularly. Learning partners are used to engage all pupils in focused discussion about their learning — they talk to their partner to share ideas and/or to work collaboratively. For example, they may discuss what they think about a piece of writing they are studying, they might work on a problem together, or they might work together to create a descriptive sentence. The use of learning partners ensures all pupils are actively involved and able to contribute their ideas to the learning taking place.
Assessment
Parents are invited to parent consultation evenings in the autumn and spring terms. At these meetings, teachers discuss the child's progress and effort in their work and their attendance A detailed written report is sent to parents in the summer term. Children also contribute to their annual reports.
Standard Assessment Tests are administered at the end of Key Stage 2 (Year 6) in Maths and English. Formal tests are marked externally. In other year groups, the school uses teacher assessment combined with age-appropriate assessment materials and some additional published standardised assessment materials.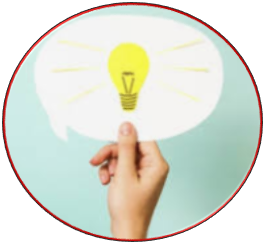 Attendance and Punctuality
AT ALMOND HILL JUNIOR SCHOOL, WE ASPIRE TO ALL CHILDREN HAVING 100% ATTENDANCE.

Under the Education Act, a pupil is required to attend regularly at the school where he/she is a registered pupil. Regular attendance and prompt punctuality supports pupil progress and at Almond Hill we strongly promote this expectation.
The school is obliged by law to differentiate between authorised and unauthorised absence. A letter or telephone message from a parent does not in itself authorise absence. Only if the school is satisfied as to the validity of the explanation offered by the letter or message, will the absence be authorised.
We have a school target of 96%+ for attendance. We appreciate that children are ill sometimes, but all absence is rigorously monitored by senior leaders in the school. If your child's attendance drops to 96% or below within a half-term you will be informed by letter. If absence below 96% persists you will be invited to discuss the absences with the Head teacher, Deputy or Assistant Head.
If your child is absent, please contact the school office on 01438 233660 or e-mail admin@almondhill.herts.sch.uk before 9.00am. If you do not contact the school, we will try to contact you by phone or text to ask the reason for absence. We will continue to try to contact you and this may involve a visit to your home by a senior member of staff.
If your child returns to school without a reason for absence, the school will contact you asking for parents/carers to confirm the reason for absence. If no reason for absence is received, the absence will be recorded on your child's record as an 'unauthorised absence'.
Absence from school will be authorised if it is for the following reasons: -
• sickness;
• unavoidable medical or dental appointments;
• days of religious observance;
• exceptional family circumstances, such as close family bereavement.
Please see our attendance policy on our website for full details.
Attendance falling to less than 90% shows a serious risk of underachievement and even attendance falling to 95% may present a risk of underachievement. When looked at in terms of time lost, 90% attendance means that half a day a week is missed or 4 weeks missed over the course of a school year or half a year missed over your child's time at primary school!
100% attendance gives your child the opportunity for the greatest achievement!
Holidays in Term Time
Along with all schools in Stevenage, Almond Hill Junior School does not authorise holidays in term time. If you take your child out of school during term time it will be recorded as an unauthorised absence. Over 10 days unauthorised absence across a year can attract a fixed penalty notice. Any application for holiday leave during term time must be made using an application form which can be found on our website, which must be submitted to the office. Details of Fixed Penalty Notices can be found in our Attendance policy on the website.
When not to send a child to school
Details of isolation and incubation periods for infectious and contagious diseases are available from the school office. If your child is well enough to attend school, and you wish them to stay inside at playtime we appreciate you sending a letter or doctor's certificate.
Head lice are common among children and clean, tied back hair is not immune. It is important that parents carry out regular checks on their child for head lice.
Attendance — Pupil View
All the children at Almond Hill have been learning about attendance and why it is so important to have a high attendance at school. These are the reasons that some pupils thought of for why it is so important to be in school every day:
You get maximum learning time
You get to spend time playing with your friends
You get to take part in workshops, see visitors and go on school trips
You'll get home learning on time so you get lots of time to do it
Practising good attendance will help you when you get a job
You can be chosen to be a classroom monitor
You won't miss fun lessons and activities
If you are off school you will find it hard to catch up on missed learning
You might find learning hard and confusing if you're absent.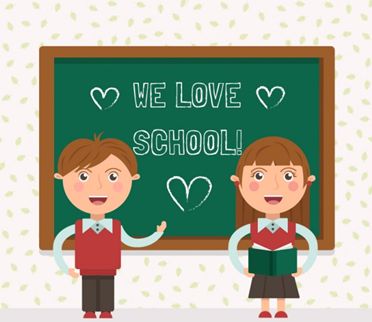 The School Day
8.45 am

On arrival children should make their way to the classroom doors.

Children should not arrive in the playground before this time as it is not supervised, and should not wait at the school gate before coming in to school. The gates are locked at 9.00am. Children arriving after this time must come in through the main entrance and report to the office.

8.55 am — 9.00am

Registration

9.00 am — 12.00pm

Lessons including assembly

12.00pm — 1.00pm

Year 4, 5 and 6 lunch

12.15pm - 1.15pm
Year 3 lunch

1.15pm –3.15pm

Lessons

3.15pm

At the end of the day children leave school via their classroom doors, accompanied by their class teacher and walked to the pedestrian gate. Children are not allowed to use the main entrance. Parents or carers should meet children in year 5 and 6 at the school gate or, for children in year 3 and 4, wait outside their classroom doors. Should you be late collecting at 3.15pm children must be signed out at the main office.
For safety, children are told to always return to the office and wait inside school if the parent or carer collecting them has been delayed. Parents will need to sign their child out at the main office if they arrive late to collect them. They should never wait outside on their own. Parents with younger children must supervise them while they are waiting to collect their child and ensure they do not go near or obstruct the main automated vehicle entrance gates. Pedestrians should never enter school via the vehicle entrance.

The school office is open from 8.30am to 4.00pm. Messages may be left on the school answer phone when the office is closed. Pupil pedestrian gates are locked at 9.00am and re-opened at the end of the school day.
Registers will be completed each day at 9.00am and 1.15pm. A child who arrives after the register has closed at 9.00am is deemed as being late and arrivals after this time without adequate explanation will be classed as an unauthorised absence.

Medical appointments should be made outside of school time. Where this is not possible your child should attend school before and after the appointment.
Communication with Parents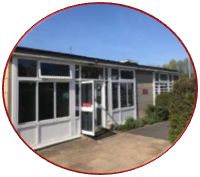 In addition to a range of information that is published on our school website, the school publishes a weekly newsletter on Wednesdays.
The school uses the School Gateway text and e-mail service which will allow you to receive messages from the school and for you to be able to reply to those messages. This system allows for messages to be sent in a cost effective way. Please support the school by downloading the app so messages can be sent to you free of charge.
If you already use School Gateway to make payments, then there is nothing else you need to do.
If you haven't yet activated your School Gateway account it is quick and easy to do. All you need are your email address and mobile number that school holds on record for you.
Download the app: If you have a smartphone, please download School Gateway from your app store (Android and iPhone).
Visit the website: www.schoolgateway.com and click on 'New User'. You'll receive a text message with a PIN number. Use this PIN to log into School Gateway.
We're aiming to get all parents using the School Gateway smartphone app — please help us achieve this target. If you're having trouble logging in, please contact the school office.
All other information and letters are published on the school website. We aim to inform parents of events in the school calendar as soon as possible. Parents should be aware the school itself sometimes has limited notice of activities pupils are invited to take part in. We aim to keep our parents fully informed of curriculum developments and events. Letters will be issued with details of specific events and these will also be published on the school website for reference.
Each year group has an e-mail that parents can use to contact class teachers:
year3@almondhill.herts.sch.uk
year4@almondhill.herts.sch.uk
year5@almondhill.herts.sch.uk
year6@almondhill.herts.sch.uk
The Special Educational Needs co-ordinator (SENCo) also has a dedicated e-mail iep@almondhill.herts.sch.uk for parents of pupils with special needs.
Should you ever have any queries or problems relating to your child at school, we believe it is very important that they are resolved quickly. Parents are encouraged to make an appointment with the class teacher. Should you have continued concerns, please make an appointment with the Deputy Head or Assistant Head. If an issue is still not resolved, please make an appointment with the Head Teacher.
There may be occasions when we need to contact you urgently. It is very important that the office has details of how you may be contacted during the day and an emergency contact number plus an additional 2 emergency contacts.
Seesaw
In September 2021, we began introducing a new parental engagement app across all classes. Seesaw is a fantastic way to see in 'real time' what your children have been learning at school. Children can share videos, photos of their work or use the creative tool to show you what they are proud of. We are really excited about Seesaw and look forward to using this as a way to communicate with parents.
Partnership with Parents and The Community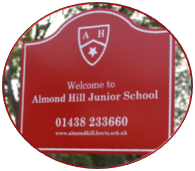 At Almond Hill, we seek to work in partnership with you to ensure you are well-informed about all aspects of the school and your child's learning and progress. Almond Hill has a Home School Agreement which outlines what the school expects to provide for each pupil, what parents will try to do to support their child and the school, and what pupils will try to do to support their own learning. We believe the agreement unites school, parents and children.
To keep you well-informed about your child's learning we:
Invite you to a formal parent teacher interview twice each year. This may be offered remotely.
Provide you with an annual written report in the summer term.
Invite you to view your child's work at any time after school.
Invite you to open events to see your child's classroom and work.
Provide a year group e-mail so you can contact class teachers directly.
Invite you to contribute to school self-evaluation.
Invite parents of children with special educational needs to review meetings every term.
Invite you to parent forums and to workshops that explain aspects of school policy and developments.
Publish information about what your child has been learning through our Medium Term Plans under the learning section of our website.
Publish a weekly newsletter to inform you of school events and diary dates.
Welcome parental help which is highly valued, and we encourage volunteers to support a range of activities in the classroom (subject to safeguarding checks).
Publish a wide range of information on our school website: www.almondhill.herts.sch.uk/almondhill.
New for September 2021 – we will use the Seesaw app to share your child's learning with you, and you will be able to comment on these posts. Teachers will also be able to send you messages and reminders to keep you updated with what is happening in school.
School Uniform
Our expected uniform standards can be seen here, please support us by following our uniform expectations.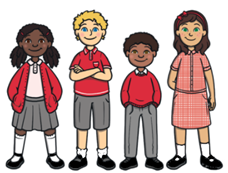 Extra Curricular Activities
At Almond Hill we believe in the all round development of the children and aim to provide a wide range of activities to encourage this. Many clubs are organised by teachers, parents and through our links with the Sporting Futures Team after school and at lunchtime. Sometimes, clubs are arranged through external providers.
Our clubs include:
| | | | |
| --- | --- | --- | --- |
| Art | Football | Choir | Robotics |
| Cross Country | Walk and Talk | Cross Stitch | Board Games |
| Science | Authorfy | Running | Drama |
Most after school clubs finish at 4:15pm. A register is taken at the start of each club and children should inform the club teacher if they are going to be absent. For children in school teams, matches are arranged after school. School concerts and plays are organised on a regular basis and rehearsals for these take place after school. Details of clubs will be published to parents and children at the start of each term.
Day outings to places of interest are arranged to support studies in the classroom.
School journey is regarded as an important feature in a child's development. In Year 6 children are offered the opportunity to go on a residential journey. Currently, Year 6 have the opportunity to stay at Grafham Water for three days of outdoor and adventurous activities.
Music Lessons
For those who wish to take up an instrument to further their learning, lessons are available for which a charge is made. These lessons may include: guitar and violin. All music lessons at Almond Hill combine learning with enjoyment. Music features regularly in weekly assembly, and special music concerts which are held to celebrate the children's achievements. Parents pay for music lessons unless they are exempt (see remissions) and are expected to make a commitment of at least a year's tuition.
Premier Education Wrap Around Care
Our wrap around care is provided by Premier Education who provide a premium Ofsted-registered wraparound care facility. They are passionate about offering high quality out-of-school-hours care for primary school children, to create an outstanding service for busy parents. Details of the courses available are published on the school website.
Only children attending Almond Hill Junior School are eligible to attend the before and after school. Provision can be booked online before 12pm on the day of the booking.
The school are unable to book sessions for you, they should be booked directly through the Premier website: www.premier-education.com/parents
Joining Almond Hill in Year 3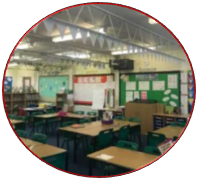 'At first I was so nervous to come to year 3 in a new school, but after I had the first visit and I met the teachers I knew everything would be alright.'
Year 3, 2020
Coming into a new school setting, with new adults and unfamiliar surroundings can be overwhelming. Whilst we have lots of provision in place to support your child as they transition into Year 3, we would also recommend this is supported further at home by implementing and encouraging good, consistent routines for children. This includes appropriate bedtimes and get up times, regular hygiene routines, daily reading time, monitoring of time on electronic devices and encouragement to be independent. Home routines will support your child in a smooth transition and enable them to achieve optimum learning experiences.
Admissions Forms
We ask parents to complete the admissions and parental consent form online as soon as possible. The form can be found on our website. There are 4 documents for you to read and share with your child (where necessary) and we ask that parents read these before completing the form. These documents outline our terms of use for image consent, online user agreement, our home school agreement and information about our school dog.
We have also put together a short survey for you and your child to complete to help us get to know them a little better.
Medical and Diet Information
It is very important that you inform us of any medical needs your child may have so we know how best to support them.
If your child has Asthma or a medical condition that requires treatment with an Epipen, please complete the form on our website here: Forms
If you are providing packed lunches for your child, they must not include any nut products.
If your child has a food allergy or intolerance, you must inform the school so we can update our records. If your child has an allergy that requires them to have a special menu then you need to apply via the HCL website. We are unable to provide a school dinner until this has been done. We advise you to apply for the special menu even if you intend on providing a home packed lunch as you will not be able to order a school dinner at all, including Christmas dinner, if the special menu is not in place.
Social Story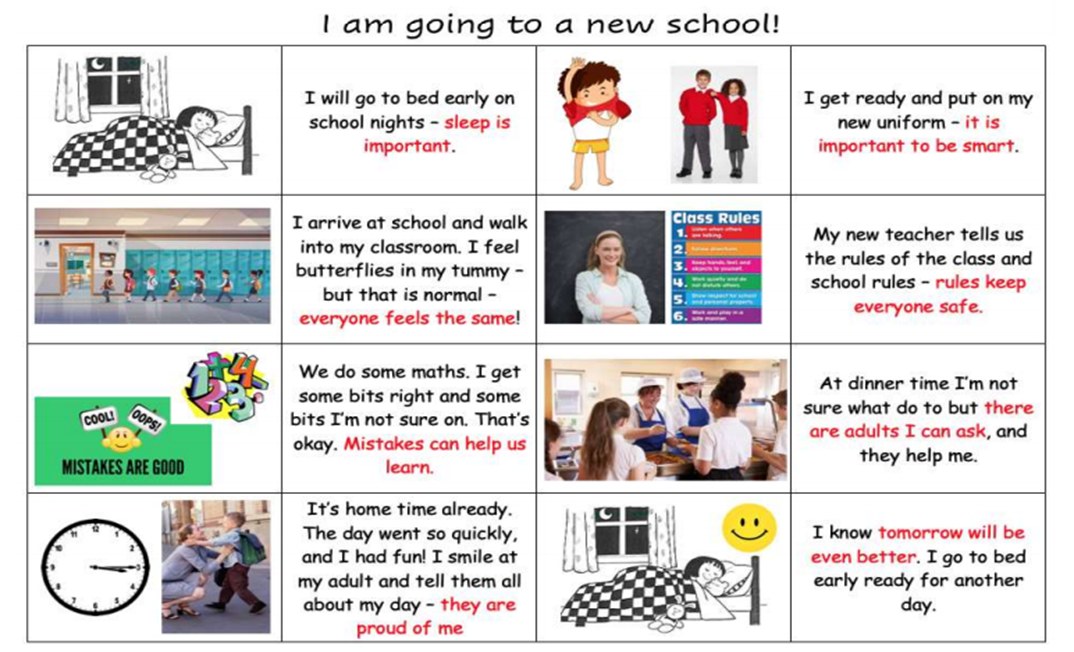 Get to Know the Year 3 Teaching Team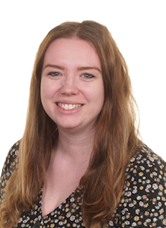 Mrs L. Barham
Hello, I am Mrs. Barham and I have been teaching at Almond Hill for many years. I have taught in both Year 3 and Year 4. I have been teaching in Year 3 the last few years and I am excited to get stuck into the topics we have planned next year. We can't wait to meet you all and start our first topic, which is based around 'Journeys', as we watch you start your own journey at our school. When I am not in school, my interests include reading and my biggest hobby is playing netball! I play twice a week for a local club.
Miss L. Andrews
Hi I'm Miss. Andrews and I will be teaching in year 3 this year; this will be my fifth year at Almond Hill and before moving here, I used to live and work in London. I really enjoy reading and have lots of books I can't wait to share with you! My subject responsibilities are RE and PSHE and I also run the school council.
Mrs B. Campbell
Hi, I am Mrs. Campbell and I am excited to be joining the Year 3 team. When not at school, I enjoy dancing - particularly tap, modern and ballet. In my spare time, I visit the theatre to see plays and musicals, take my dog Maggie for long walks in the fields whilst listening to an audio book and I like to cook for my family.
Support Staff
Pastoral Provision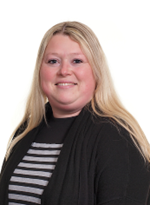 Mrs G. Burgess — Pastoral Lead
Hi, I'm Mrs. Burgess and my job is to make sure children at Almond Hill feel safe and happy. I also work with Miya — our school dog! I'm really looking forward to meeting you!
Learning Behaviours
At Almond Hill, we believe 'Learning Behaviours' help prepare our children with the skills to help them adapt to the future challenges they will face in an ever changing world. Children who are inspired learners have the confidence to recognise that by working hard and focusing on learning these skills they can achieve success.
The way we describe our learning behaviours change as the children progress from the lower school to the upper school, however the behaviours stay the same. Our learning behaviours are outlined below along with the key attributes we ask the children to consider within their learning.
We actively promote the learning behaviours within the school and encourage you to do so at home and whilst in the wider community.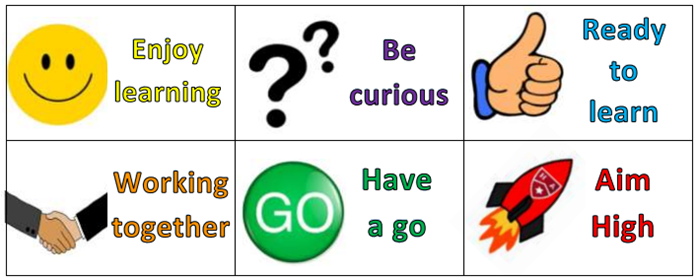 School Meals and Snacks
We want all children to eat healthy snacks and lunches. Many of our children have school dinners or a school packed lunch. As a 'healthy school' we promote a balanced diet. We also encourage parents whose children have a packed lunch to consider nutritional balance.
Parents are welcome to come and see the selection of meals provided and in the autumn term we invite you to have a school lunch with your child.
How do I make payments?
The cost of a children's school dinner is £2.85. The school offers the facility for parents to make payments and pre-order meals online using School Grid. School meals must be paid for in advance. Please ensure you include an up to date email address on your admission forms to enable you to use School Grid.
Free School Meals

In Junior school, school meals are not funded by the government, but your child may still be entitled to a free school meal. It is easier than ever for families to apply for free school meals. Applicants do not usually need to provide paper proof of benefit and there have been significant improvements to the renewal process, so that all the checking goes on in the county council without the need to ask parents to renew. If you think you are entitled to free school meals, then you can apply online at www.hertsdirect.org/freeschoolmeals

Snack Time

Unlike in Key Stage 1, children in Key Stage 2 are not provided with a snack. This means that parents/ carers will need to provide their child with a healthy snack for them to have during break time. The children eat their lunch at 12:15 so it is important that they have a healthy, nutritious snack to keep them going until lunch. Because the school has a 'no nut' policy, please ensure your child's snack does not contain nuts.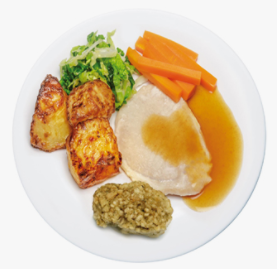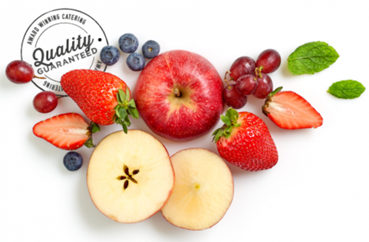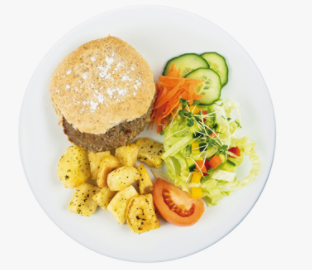 Coming to School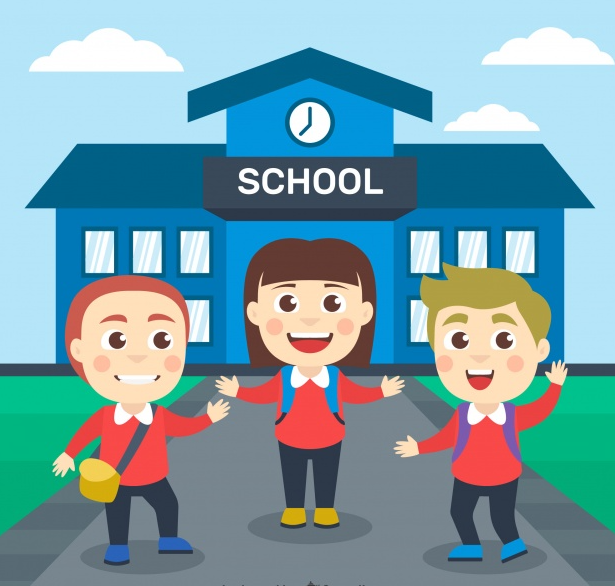 There are over 300 children arriving and leaving our school every day. So, if you are able to walk, scoot, or bike that would be best. Children in the lower school must be accompanied whatever mode of transport you choose. They must wear a bike helmet when cycling to school and we do have a bike shed on site.
In the interests of the safety of all our children, we expect you to observe the parking restrictions when dropping off or collecting your child in a car. Please can you make your child aware that the raised area outside of the school is not a pedestrian crossing. At the end of the day the school gate area is very busy.
Year 3 and 4 wait at their classes to be collected. Class teachers in year 5 and 6 walk their children to parents waiting at the gate. If parents are delayed, children must return to the office to wait to be collected. Children should NEVER wait on their own at the gate at the end of the day.
If you park in the 'drop off' zone at the end of the day it must be in one of the marked bays. You may not park on the access roadway around these spaces. Adults who park in one of the allocated parking spaces at the end of the day need to get out of their cars and walk to collect their child. The 'drop off' area is for vehicle entrance/exit only NOT for pedestrian use. I am sure like me; you wish to keep our children as safe as possible. I hope the guidelines are clear enough for all parents/carers to follow. If you have any queries or concerns about the use of the drop off, please contact me.
All gates are locked during the school day. Access is by the main pedestrian gate and main vehicle gate through a buzzer system. The school will not tolerate any verbal or physical aggression towards staff and will ask any adult behaving in this way to leave the premises and if necessary, report to the police.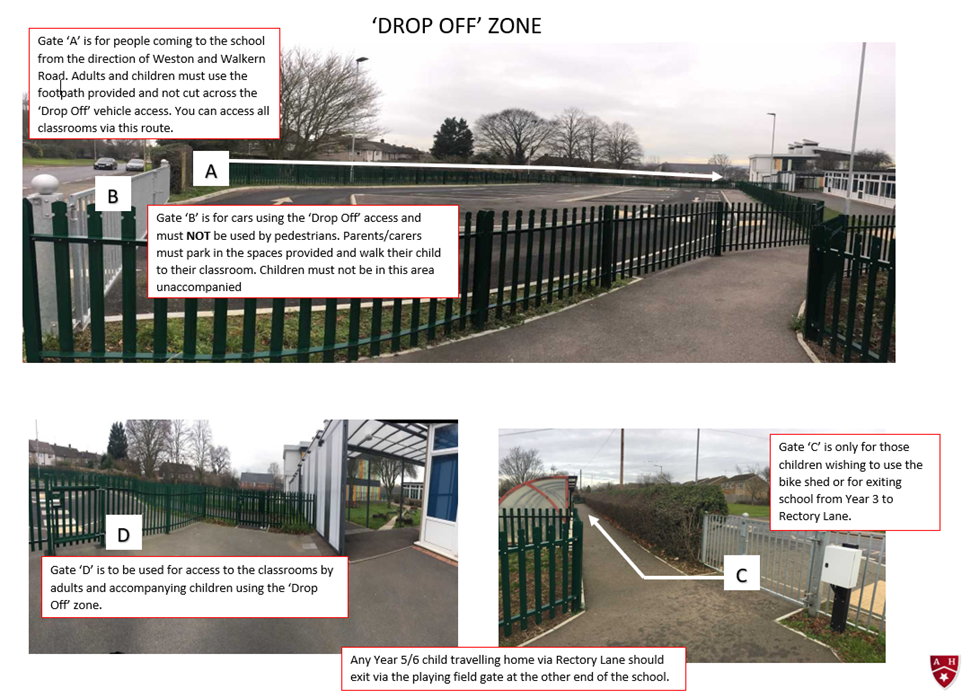 Home Learning
We believe it is important for children to do some home learning every day to support learning in school, extend learning and to enable children to undertake personal research. The school recognises that parent view of Home Learning will vary. Our policy has taken note of the very wide range of parent views with aim to providing a balance.
We expect children to read with an adult regularly, every day if possible. Reading with an adult is vital even when your child becomes a fluent reader. Please continue reading to them even when they become independent readers, so they have opportunity to discuss the text they are reading. Whilst children will have favourite authors, please encourage them to read a range of genres. If your child is reluctant to read — encourage reading from any (age suitable) material e.g. newspapers, magazines, adverts, instructions on packaging etc. The school promotes the national annual Summer Reading Challenge organised by local libraries and arranges its own reading challenge annually.
If a child does not complete their home learning on a regular basis they may be kept in for a short while during lunch time to do so.
If your child experiences any difficulty with their home learning, we ask you to inform the class teacher. We do not expect children to struggle on with an activity they are not fully sure of. If you have given your child significant support with their home learning, please send a note in to the class teacher.
You can help your child with their home learning by:
providing a quiet working place;
setting a regular time for home learning;
taking an interest, but letting your child do the work herself or himself;
letting us know if your child has a problem with the work;
ensuring online safety agreement for remote learning is adhered to.
The school seeks to help parents to support their child's learning at home and offers workshops and information meetings to keep you fully informed of current practice.
Home learning will usually comprise of a spelling and reading activity (see below) plus sometimes another task dependent on current learning. We also have an expectation that times tables rehearsal will be embedded into your home routine. Children who are secure in times tables are best placed to problem solve and access maths learning across the curriculum. At Almond Hill, we use TTRockstars to help children have fun with learning their timetables. Your child will be given a log-in for this, and you can log on at home and participate in different battles and challenges against school friends and even teachers! Children get to choose a 'rock name' and through their playing they can earn coins which they can spend in the online 'shop' where they can buy new outfits and accessories for their avatar.
Reading
Reading plays a pivotal part in your child's learning experiences at Almond Hill. We recognise the undisputed positive impact that being a good reader and being exposed to a broad range of high-quality texts, can have on your child's learning and achievement. We strive to ensure our teaching of reading supports our belief in the value of books. We have therefore devised a set of core reading principles that are implemented across the school. These are our values of reading and support both children and staff in assessing the quality of teaching and learning in reading. We believe that when these principles are met — great learning in reading is happening.

| | |
| --- | --- |
| For Adults | For Children |
| Children have extended opportunities for reading both independently, in pairs and in groups. Children are engaged in reading and get enjoyment from books. | 'Read read read!' |
| Children can use retrieval skills and answer 'find and retrieve' questions based on what they have read. Children have a literal understanding. | 'Find it!' |
| Children infer. They can use a combination of knowledge from what they have read and their own prior understanding to support their inferences. Children are able to link their ideas and find evidence from the text to support them. | 'Use the clues!' |
| There is opportunity to explore new vocabulary. Children are able to make suggestions for meaning. They can use what has been read and context of a text to make a judgement on vocabulary. They may go on to use in future learning. | 'Ooooo that's new!' |
| Children make links to other texts they have previously explored. This might be from both fiction and non-fiction books of from home or school. Children may find links between authors and their styles of writing. | 'I've seen this before!' |
| Teachers are enthusiastic and enjoy reading. Teachers use expression and engage the children in the reading process. Teachers model the reading process and embrace and encourage a love for reading amongst children. Teachers are passionate about books that children discuss. | 'Our teacher loves reading!' |
| Children understand the purpose of their class reading river and refer to it when applicable. Children can discuss the journey of reading they have taken and recall the texts and learning to link them. | 'Reading Rivers rule!' |
Photos of our School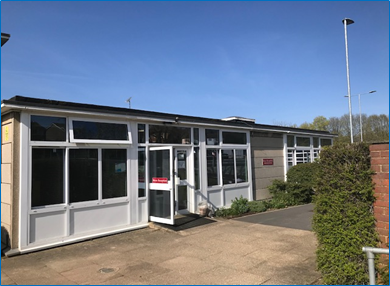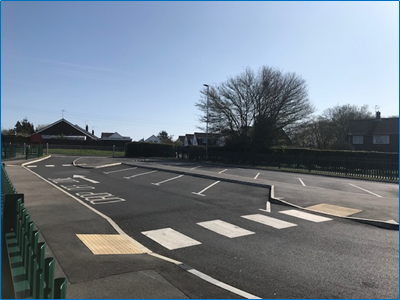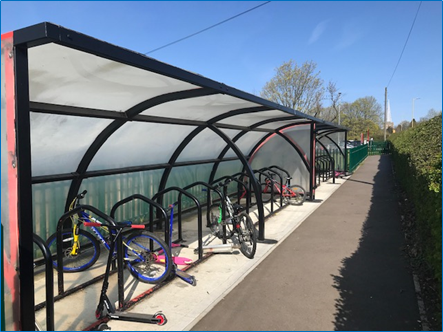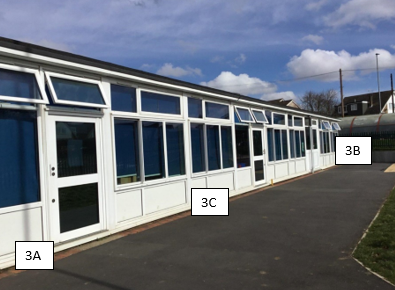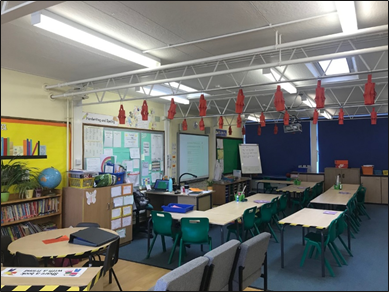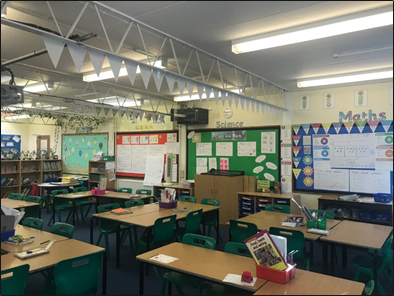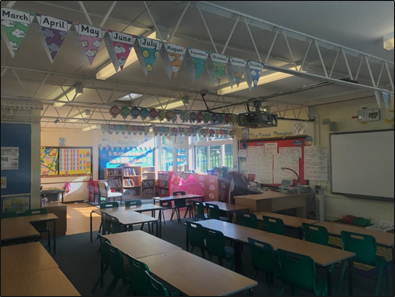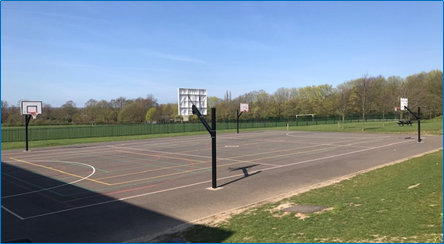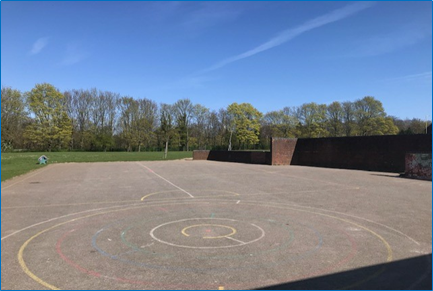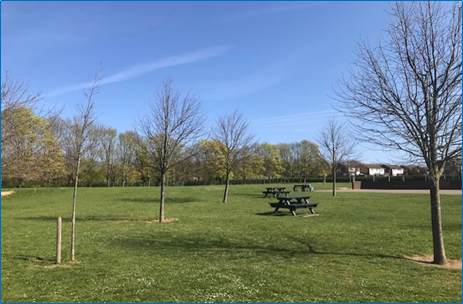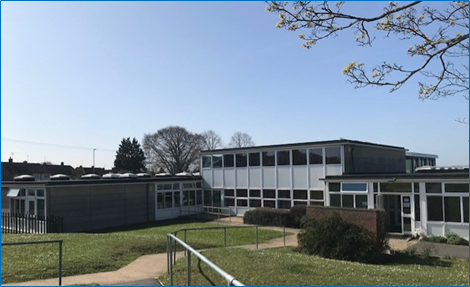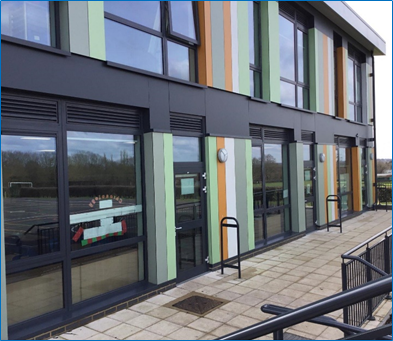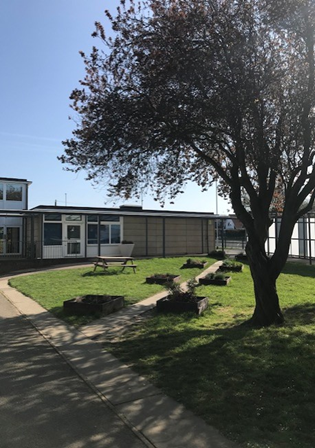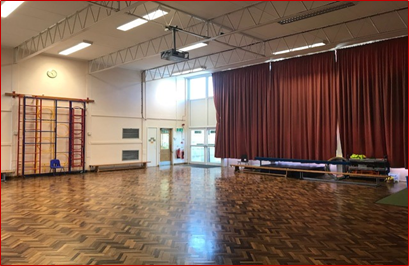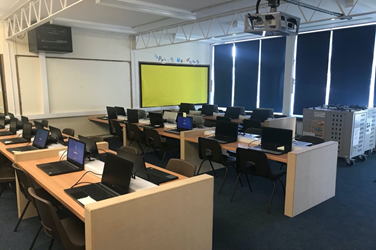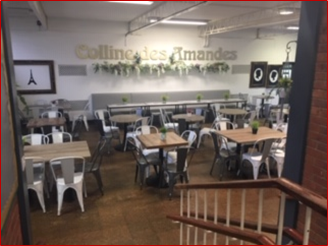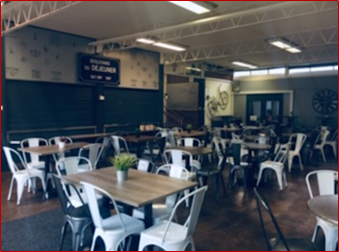 Key Information
If you have any queries, please contact the school office or email admin@almondhill.herts.sch.uk
To make payments, clubs and trips as well as receiving messages from the school please sign up to School Gateway: www.schoolgateway.com/login
To pre-order and pay for your child's school dinners, please use School Grid: app.schoolgrid.co.uk
Class teachers can be contacted using the following email addresses:
year3@almondhill.herts.sch.uk year4@almondhill.herts.sch.uk
year5@almondhill.herts.sch.uk year6@almondhill.herts.sch.uk
Mobile Phones: School policy allows for children in years. 5 and 6 to bring a mobile phone to school for safety reasons if they travel to and from school independently. Mobile phones must be switched off whilst on school premises and not be used during the school day.

First Aid: Recognised personnel administer first aid in school. If your child has received first aid during the school day involving a bump to the head, they will be issued with a wristband and an email will be sent to parents/carers so you are aware. Parents are always informed if more than a minor first aid injury has occurred.
Freedom of Information — Information is published on our school website or is available on request from the school office.

Charging: The school is committed to ensuring equal access to the curriculum for all pupils. The policy for charging for school activities by the Governors of Almond Hill Junior School is published on the school website.