Issue 1 - 7th September 2022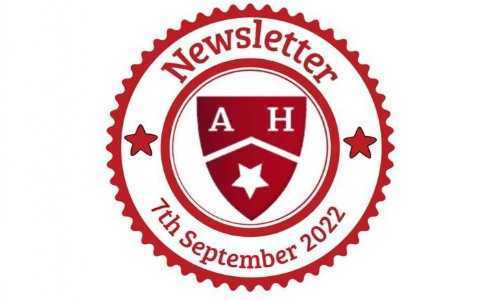 Dear Parents/Carers,
Welcome back! I hope you had a lovely summer and enjoyed the weather. A huge welcome to the families that have joined us both in year 3 and across the school.
I am excited to announce that Mrs. Barham in year 3 is expecting a baby. I am sure you will join me in congratulating her and her husband. Mrs. Barham will be with us until Christmas and I will inform parents of her replacement in due course.
We do have some members of staff leaving us. Although he has only been at Almond Hill for a short time, Mr. Glynn is relocating and will be leaving us before half term.
Mrs. Brocklehurst our deputy head will be leaving at half term. 3C will continue to be taught by Mrs. Campbell who will be joined by Mrs. Richardson as a job share.
A message from Mrs. Brocklehurst: 'It is with great sadness that I have to leave the Almond Hill family a lot sooner than I ever thought. After half term, I will be relocating further North to support my family. I will miss the staff and families that I have been fortunate to work with in my short time but Almond Hill will certainly stay in my heart for many years to come.'
We are very pleased with the success of the breakfast bagels and I am happy to say this will be continuing this term. We are very keen to ensure no child is hungry and this is an opportunity for those children that may have missed breakfast at home. The bagel bar will be open to all children on a Friday as a treat and will remain open Monday-Thursday for those children that need it. Whilst it is important that all children have a good, healthy breakfast, it is equally important that this isn't used as a chance to have a second breakfast as over eating is also unhealthy. Please speak to children at home about this as we genuinely are happy to feed any child that has missed their breakfast for whatever reason and do not want anyone to feel that they cannot ask. If we notice the same children attending daily, we may contact parents to check that everything is okay.
Our value for September is friendship. With children moving classes this year or indeed moving school, friendship continues to be important. Children can help others by offering to play with everyone and not leaving others out. We have a friendship bench on our lower school playground where children can go if they are struggling to find someone to play with. We also have a friendship room which is for children who may find social times particularly hard. This is run by our pastoral team and they offer a range of activities for children to do to ensure they enjoy their lunchtimes.
In addition to our monthly values, we will be having a whole school focus on the concept of gratitude this year. The dictionary definition of gratitude is: the quality of being thankful and readiness to show appreciation for and to return kindness. ​
It is more than just being grateful, or polite or kind. It's all these things rolled into one. Showing gratitude is really important! Gratitude is a powerful positive force. It has real impact on physical health, emotional wellbeing, motivation, engagement and belonging. This is both for the people that show gratitude and receive it. ​
Gratitude is also the root of happiness. It tends to focus you on what you have and replace a sense of what you might be lacking. According to some philosophers, you can't feel both grateful and unhappy, so when your mind focuses on all you are thankful for, you're more likely to feel joy. This is the information that has and will continue to be shared with the children.
Thank you to those parents who completed the parent feedback survey at the end of last year. I will share the details of this over the next few weeks.
Emma Fordham,
Headteacher

News and Events
Diary Dates
Monday 3rd October
Year 6 – Grafham parent meeting (6:00 - 6:30pm)
Tuesday 4th October
Flu vaccinations
Thursday 6th October
Rail safety assemblies
Thursday 6th October
Phonics and reading parent meeting
Tuesday 11th & Wednesday 12th October
NSPCC Speak Out. Stay Safe workshops (yr. 5 & 6)
Friday 14th – Sunday 16th October
Year 6 residential trip
Tuesday 18th October
Virtual Parents' Evening 4-6.30pm
Thursday 20th October
Face-to-face parents' evening
Monday 24th- Friday 28th October
Half term
Monday 31st October
Secondary school application deadline
Cultural Calendar
Monday 26th September
Rosh Hashanah (Jewish New Year)
Monday 24th October
Diwali (Hindu)
Monday 19th December
Hanukkah (Jewish)
Sunday 25th December
Christmas Day
Sunday 1st January
New year
Attendance
Please click here to view our document with tips to support your child's attendance.
School Dinners
Next week, we will be on week 2 of our menu. Please pay for your dinners in advance using app.schoolgrid.co.uk. Don't forget to preorder!
Almond Hill Achievements
At Almond Hill, we celebrate our successes. We love to hear about what children are doing outside of school. They may have won an award in their chosen sport or learnt a new song on their instrument, we want to hear all about it. Please send an email to admin@almondhill.herts.sch.uk with a picture of your child and some details about what they have been doing and we will include this on our newsletter and school website
TTRockstars
Times tables is a key focus for us this year as they underpin much of the mathematics needed in the upper school. Children will be practising them in school daily and Mrs Fordham will be introducing a 'times table of the week' on Mondays. It would be brilliant if parents could support this at home in a range of ways. Download the TTRockstars app to practise at home, make flashcards, say them on the way to school and back again. Parents can expect feedback on how their children are managing learning their times tables at the first parents evening in October. We will also celebrate the achievements on TTRockstars on the newsletter.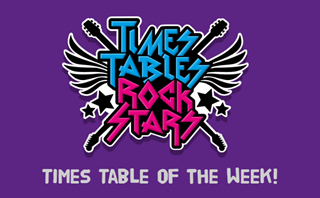 The times table of the week is 3 x 6 = 18. On the left there are some learning resources to help with this.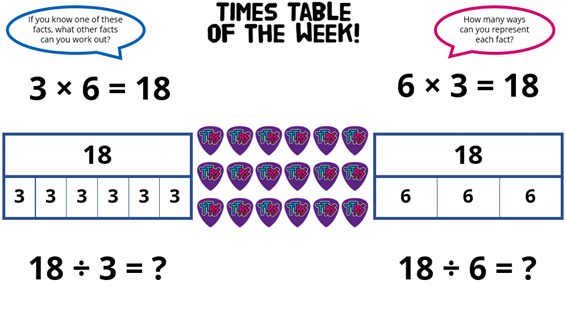 We use Seesaw across the school to share and celebrate the children's work. New parents will receive an invitation to join the app! For more information follow the links below.
Facebook
For those of you who don't know, we have a school Facebook page. We already have almost 90 of you following but would love to see many more of you including our new families! Please follow the link to follow our page:https://www.facebook.com/121almondhill
Other Key Apps
Please download the School Gateway app to receive messages and emails from school. You will need to give your email address and you will be given a PIN number to set up your account.

To order and pay for school dinners, you will need the School Grid app.
Secondary School Applications