Issue 5 - 5th October 2022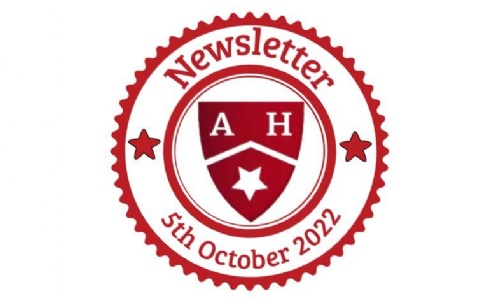 ​
Dear Parents/Carers,
We are currently processing the club requests made by parents last week. Some clubs are very over subscribed so not all children will get a place this time. The year 5 and 6 basketball/benchball clubs had very low take up so will be put together and will now take place on a Thursday. All children that asked for a place in these clubs have been successful. In response to parent feedback and as a result of putting two clubs together, we are now able to offer a year 5 football club on a Wednesday. Anyone in year 5 who wanted a place in the football club on a Monday will automatically be put on the list. Because we have made some adaptations to our original offer, we understand that some people may not now be able to attend, please let us know if this is the case when we send the confirmation email otherwise we may contact you on the evening of the club to check the whereabouts of your child. Clubs will be confirmed by the end of the day on Friday.
As part of our commitment to continue to improve provision for children with SEND and to gather the views of parents, there were some questions in the summer parent survey targeted specifically to parents of children with SEND. As you can see, the feedback from the small group of parents that responded was overwhelmingly positive. An area that remains an issue is ensuring that parents receive a certificate to indicate when their child has met their targets. This has been discussed with teachers and we have agreed that the children will receive a paper copy and this will be photographed and added to Seesaw – just in case they lose it on the way home!
Graphs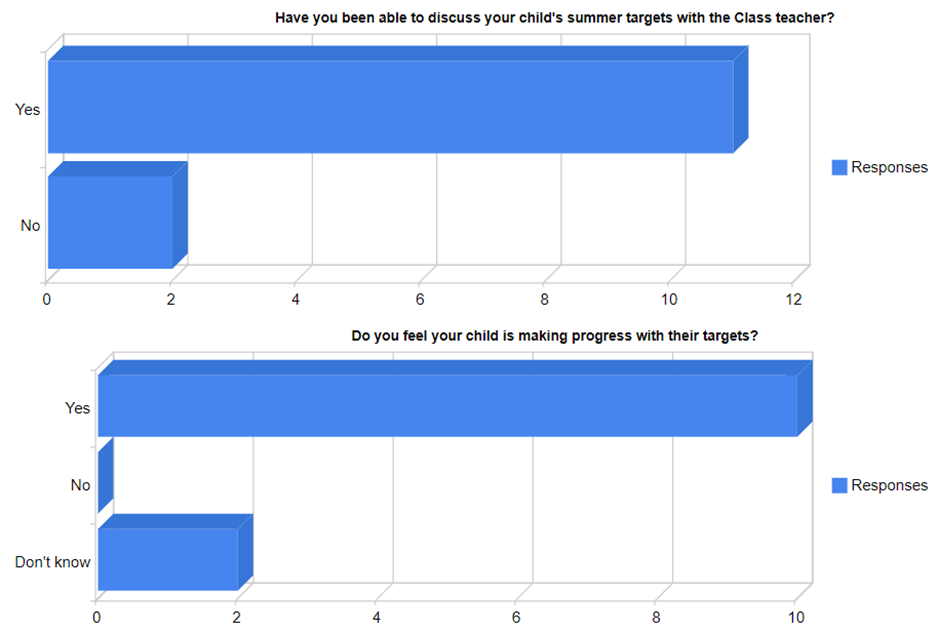 ​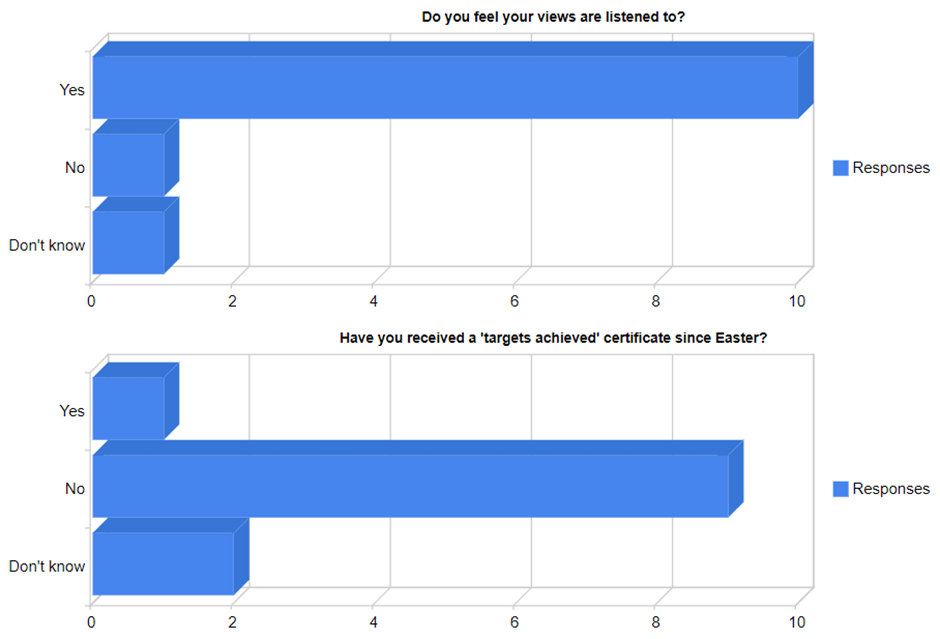 ​

​
We are looking forward to welcoming parents to the Phonics and Reading Workshops tomorrow. The workshops at 1.45pm and 4.00pm will be held in the hall. Please use the main gate (on the way to the office) and follow the path around to the hall doors where you will be signed in. There is a further online session at 6.00pm (Click here to join the meeting). Historically, we have not had a huge turn-out to parent workshops but we really believe that the children who achieve and thrive the most are those where school and home are working closely together. This is why we have chosen to put on three sessions and use face-to-face and online opportunities to engage as many people as possible. If you want to attend but are unable to, please let us know what the barrier is via the admin email so we can take this into account when planning future events.
I am pleased to tell you that this term we will be participating in the NSPCC's Speak out. Stay safe. online programme. This consists of an online assembly and supporting classroom based activities. Speak out. Stay safe. is a safeguarding programme available to all primary schools in the UK and Channel Islands. It aims to help children understand abuse in all its forms and to recognise the signs of abuse in a child friendly way. Children are taught to speak out if they are worried, either to a trusted adult or to Childline. In the online assembly, the Speak out. Stay safe. messages are delivered in a fun and interactive way with the help of their mascot Buddy as well as special guest appearances from Ant and Dec. Following-on from the assembly, specially trained NSPCC volunteers will also be delivering a workshop to our years 5 and 6 children next week that will build-on and deepen pupils' learning gained from the assembly. If you would like to know more about the Speak out. Stay safe. programme you can find information on the NSPCC website www.nspcc.org.uk/speakout
FOAH have been busy organising events for the autumn term. WC Monday 17th October will see the return of guess how many gruesome chocolates are in the jar for Halloween. The jars will be taken to classes in the next few days and children can pay 50p to guess how many sweets are in the jar (cash only please). The winner will then take the jar home ready for half term! They will also be holding a silent Halloween disco on Tuesday 1st November. A flyer has been emailed to parents this week with the times for each year group. Tickets cost £5 and include a slice of pizza and a drink. Please make payments on School Gateway by 26th October. The next FOAH virtual meeting will be held on Monday 10th October at 6pm. All parents are welcome to attend (link below). https://teams.microsoft.com/
Emma Fordham,
Headteacher

​
News and Dates

Diary Dates

Thursday 6th October
Rail safety assemblies
Thursday 6th October
Phonics and reading parent meeting
Thursday 6th October
Uniform sale – 3.00-3.30pm
Monday 10th October
FOAH meeting 6.00-6.30pm
Tuesday 11th & Wednesday 12th October
NSPCC Speak Out. Stay Safe workshops (yr. 5 & 6)
Wednesday 12th October –
3B Parent lunch
Friday 14th – Sunday 16th October
Year 6 residential trip
WC Monday 17th October
Guess how many gruesome chocolates are in the jar for Halloween
(50p per guess – cash)
Tuesday 18th October
Virtual parents' evening 4-6.30pm
Tuesday 18th October
Almond Hill Book Sale
(in school)

Wednesday 19th October –
3C Parent lunch
Thursday 20th October
Face-to-face parents' evening
4.00-7.30pm
Monday 24th- Friday 28th October
Half term
Monday 31st October
Secondary school application deadline
Tuesday 1st November
Silent (Halloween) Disco
(£5 payments on School Gateway)
year 3 - 3.30-4.30pm
year 4 - 4.15-5.15pm
year 5 - 5.00-6.00pm
year 6 - 5.45-6.45pm
Thursday 3rd November
Uniform sale – 3.00-3.30pm Thursday 10th November
Year 6 Cinema trip
Thursday 10th November
Open evening for new parents (5.30-7.00pm) Thursday 17th November Flu vaccinations (2nd visit)

Tuesday 29th November
Almond Hill Book Sale (in school)
Thursday 1st December
Uniform sale – 3.00-3.30pm
Tuesday 6th December
Year 3 Christmas Show 6.00pm
Wednesday 7th December
Year 4 Christmas Show 6.00pm
Monday 12th December
Year 3 Christmas Dinner*
Tuesday 13th December
Year 4 Christmas Dinner*
Wednesday 14th December
Year 5 Christmas Dinner*
Thursday 15th December
Year 6 Christmas Dinner*
Tuesday 20th December
Almond Hill Book Sale (in school)

*All other year groups will have the option or a jacket potato or cold packed lunch on other year groups' Christmas dinner days.
Cultural Calendar
Monday 24th October
Diwali (Hindu)
Monday 19th December
Hanukkah (Jewish)
Sunday 25th December
Christmas Day
Sunday 1st January
New year
Attendance
Year 3 – 92.47%
Year 4 – 90.86%
Year 5 – 96.32%
Year 6 – 91.93%
All students – 92.84%
Class winners – 5W –97.69%
School Dinners
Next week, we will be on week 1 of our menu. Please pay for your dinners in advance using app.schoolgrid.co.uk. Don't forget to pre-order!
Uniform Sale
Over recent months, we accumulated lots of unclaimed school uniform. It is really important that all uniform is clearly labelled to allow lost items to be returned to your child. Previously, items left would be recycled but after listening to parents and understanding how successful 'nearly new' uniform sales have been locally, we now hold uniform 'sales' for all year groups. We have lots of items including t-shirts, cardigans and jumpers and welcome all parents to come to the sales. We are asking for a voluntary donation of 50p which will be given back to the school. The first of this academic year will be held in the hall on Thursday 6th October at 3.00pm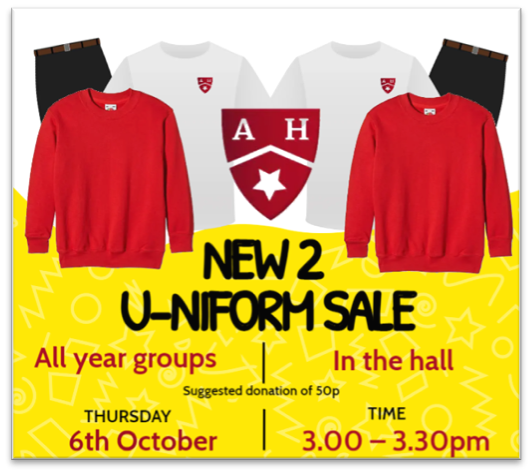 Almond Hill Achievements
Jake took part for in the taekwondo British National Championships last weekend, the first time. No medal this time, but a super competitive category and he won his first fight. Great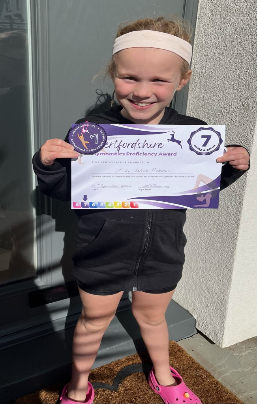 Lola started a new acrobatics group and is having to start again with her levels. This weekend she has achieved her level 7 (again). Well done, Lola!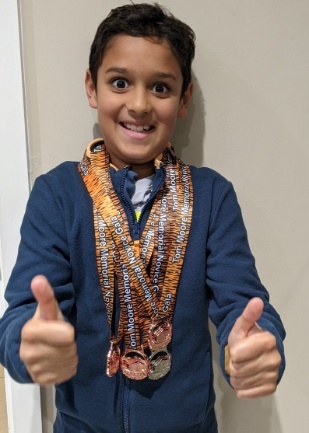 Ananmay took part in the swimming gala last weekend and won 3 bronze and one silver medal for the 4 races he participated in!
25m front crawl and breast stroke and 50m front crawl and breast stroke! Great achievement, well done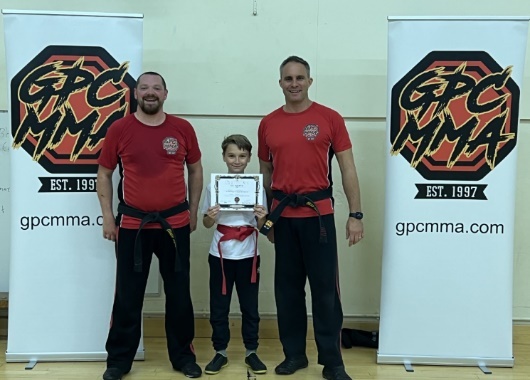 A BIG well done to Bobby who has recetly achieved Red Belt grading in MMA.
House Points Weekly Total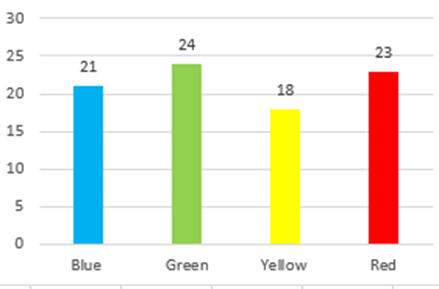 House Points Running Total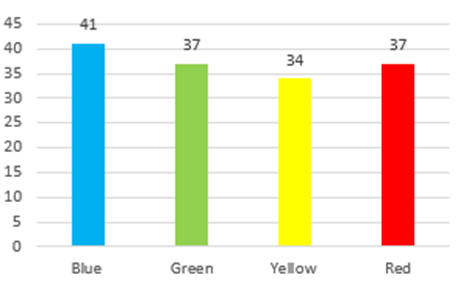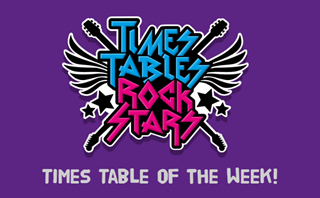 The times table of the week is 7 x 6 = 42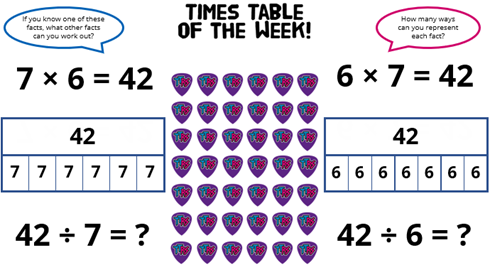 We have been informed by TTRS that some children are not using the latest version of the app. The newest version includes different elements to the game plus the latest bug fixes etc. To see if you are using the latest version, check the app store and update as necessary.
Parents' Evening
We are planning Parent Teacher Interviews (PTIs) on 18th and 20th October. The appointments on 18th will be virtual and those on 20th will be in school.
Appointments can be made online until the booking system closes on Friday 14th October at 9.00am. Should you wish to make any changes after this date, please contact the school office.
Please visit https://almondhill.parentseveningsystem.co.uk to book your appointment.
You will receive an appointment reminder, with a link to join (if your appointment is virtual), an hour before your appointment.
Christmas Jumpers
If your child's Christmas jumper no longer fits them, please consider donating them to the school so we can hold a pre-loved Christmas jumper sale. This would help with cost, is eco-friendly and most have only been worn a handful of times before they're outgrown. Please give any donations to your child's class teacher.
Inhalers
If your child has asthma, they must have an in-date inhaler in school at all times. This is to ensure we are safeguarding your children. Inhalers will be taken to PE lessons, lunch and breaktimes and school clubs/trips and should be carried by the children themselves. Please bear this in mind when buying uniform e.g. coats. If your child no longer needs their inhaler, please inform the schools so we can remove this from their records.
Grafham
For those parents who were unable to attend the Grafham parent meeting on Monday we have added the presentation and kit list to our website:
Flu Vaccinations
If your child was unable to have their flu vaccination this week and you would like them to, we have a 'mop up' session on Thursday 17th November. We will send the link to the consent form once this becomes available.
Wonderdome
The Wonder Dome visited year 5 last Friday as part of our science topic, 'Earth and Space.' It was very exciting to learn so much about space in such an exciting way!
Megan: " I loved this massive Stardome. It's the best space thing I've seen!
Aahana: " The Stardome was a truly amazing experience and I would love to do it again."
Rosie: " I thought it was very interesting and I learned a lot more about space."
Adelle: " I absolutely loved the Moon bit when it showed us the different shapes of the Moon. It's a really fun way to learn."
A Message from Herts Catering our School Dinners Provider
We have noticed an increasing trend over the last term when meals are being pre-ordered on the meal ordering system and then are not being taken. This has resulted in meals being thrown away at the end of the meal service as the cook prepares meals according to the number ordered. This is creating a significant amount of food waste, which goes against our targets to be more environmentally sustainable. It also increases the cost of our food production which ultimately reflects into higher prices for our meals.
Therefore, parents must cancel any pre-ordered meals for that day before 8.55am if their child will not be eating. If it is not cancelled, we will still be charging for the meal.