Issue 9 - 9th November 2022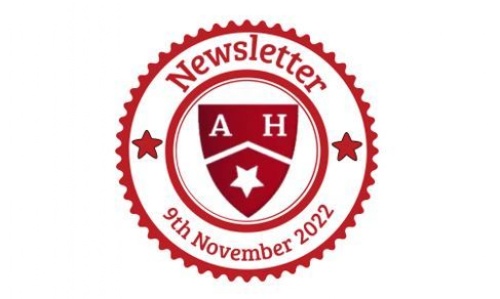 Dear Parents/Carers,
This half term, we will be inviting parents into school for a reading afternoon. This is an opportunity to come in and listen to the class teacher read with your child and get tips for how to help with reading at home e.g. asking questions and discussing unfamiliar vocabulary. This will take place on Thursday 8th December 2.15-2.45.pm. Any parents who wish to, can take their children home at 2.45pm after the reading session this allows time for Letchmore parents to collect siblings. At Almond Hill, reading is one of our key focusses and we would love to see as many parents there as possible. Please take a look at our reading section on our website for book recommendations and information from our recent parent workshop.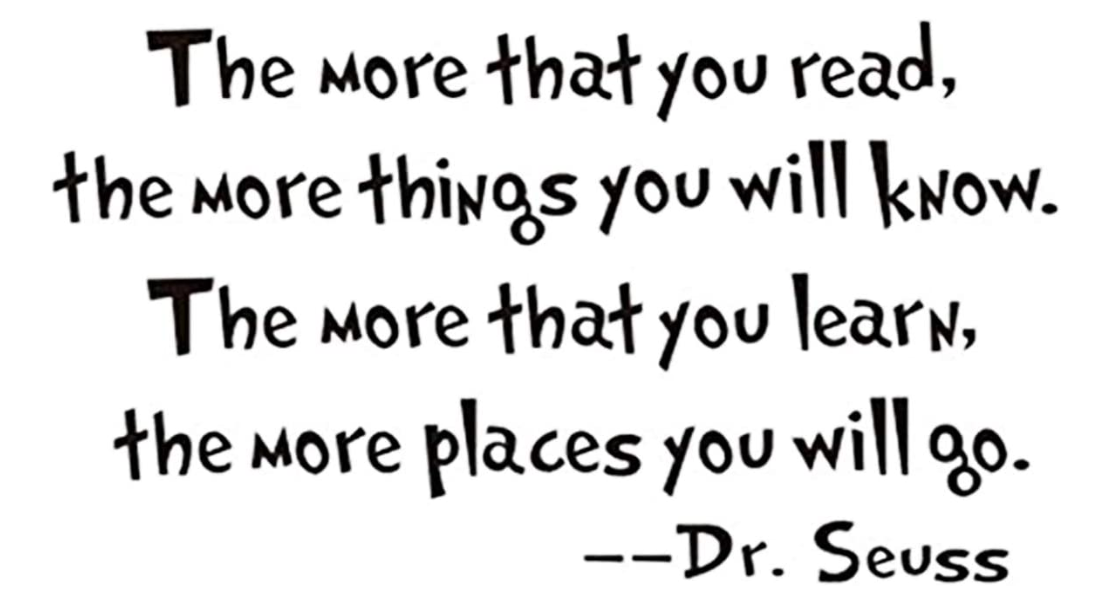 We have received a huge number of orders for CGP books. I am really pleased so see that so many of our parents would like to help support their child's learning at home and are taking up the extra discount school are able to offer. The payment request for orders will close at 9.00am on Tuesday 15th November. . If you would like to order books but haven't yet, you can do this through School Gateway. Please remember to put the stock codes of each book you would like to order in the comment section. For those parents that have already ordered, we will be placing the order after the deadline to secure the discount.
I am very grateful to the parents and children who are engaging in our monthly preloved book sale. I am incredibly pleased to tell you that these book sales (which were first brought in by a previous school government) funded the purchase of new books for the classes which were given out in assembly this week. We are dedicated to sustaining and improving our class libraries. I purchased the books from David's bookshop in Letchworth who give us 20% discount and delivery free of charge! It is a really lovely bookshop where I selected some books this month for those more reluctant readers, diverse novels encouraging wider representation and picture books with a moral or personal development message. I hope the children will enjoy reading them. Our next book sale will take place in school on Tuesday 29th November.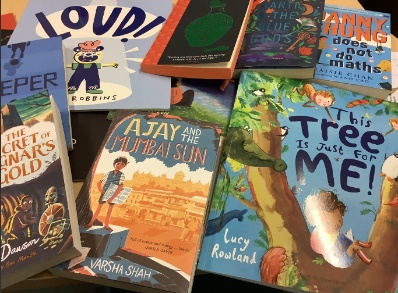 Emma Fordham,
Headteacher

Diary Dates
Monday 7th – Thursday 10th November
Poppy sales
Thursday 10th November
Year 6 Cinema trip
Thursday 10th November
Open evening for new parents
(5.30-7.00pm)
Thursday 17th November
Flu vaccinations (2nd visit)
Tuesday 29th November
Almond Hill Book Sale (in school)
Thursday 1st December
Uniform sale – 3.00-3.30pm
Tuesday 6th December
Year 3 Christmas musical
6.00-7.00pm
Wednesday 7th December
Year 4 Christmas musical
6.00-7.00pm
Thursday 8th December
Reading afternoon 2.15-2.45pm
Friday 9th December
FOAH Present Room
Monday 12th December
Year 3 Christmas Dinner*
Tuesday 13th December
Year 4 Christmas Dinner*
Wednesday 14th December
Year 5 Christmas Dinner*
Thursday 15th December
Year 6 Christmas Dinner*
Monday 19th December
Yea 5/6 Church service 1.45pm
Tuesday 20th December
Almond Hill Book Sale (in school)
*All other year groups will have the option on a jacket potato or cold packed lunch on other year groups' Christmas dinner days.
Cultural Calendar
Monday 19th December
Hanukkah (Jewish)
Sunday 25th December
Christmas Day
Sunday 1st January
New year
Attendance
Year 3 – 94.32%
Year 4 – 95.26%
Year 5 – 93.03%
Year 6 – 92.41%
All students – 93.73%
Class winners – 4L – 98.75%
The government expectation for attendance is 96%+
School Dinners
School Menu
Next week we will be on week 2.
Don't forget to pre-order!
Please ensure you are paying for school dinners in advance. It takes a lot of admin time to chase and manage dinner money debt which stops our office team from doing other things to support parents and children.
School Grid
After the successful roll-out of School Grid, we will be moving onto the final stage of implementation. By the end of this term, we will expect all orders to be made from home. A huge thank you to those parents who consistently pre-order their children's lunches. This helps the kitchen to plan and creates less food waste. If a pre-order hasn't be made but a child is wanting a school dinner, they will be offered a jacket potato as per the Herts Catering guidelines. Please contact the school office if you have any issues with using School Grid.
House Points
Weekly Total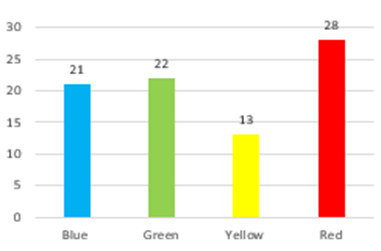 Running Total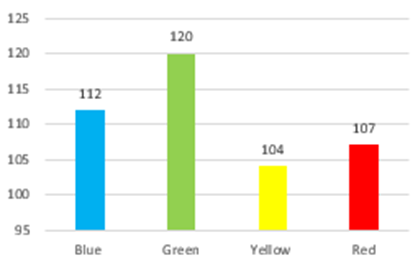 Poppy Sales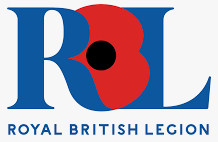 With the help from children in Year 6, we will be having poppy sales each afternoon from 7-10th November. Children can bring money into school to purchase a poppy from the Royal British Legion.
Christmas Jumper
We are hoping to hold a Christmas jumper sale this term. If you have any Christmas jumpers at home that your child no longer wears or they don't fit, please consider donating them to the school.
TTRockstars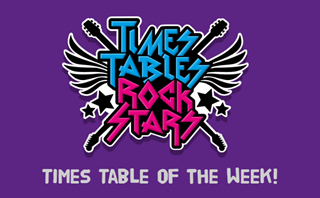 The times table of the week is
4 x 8 = 32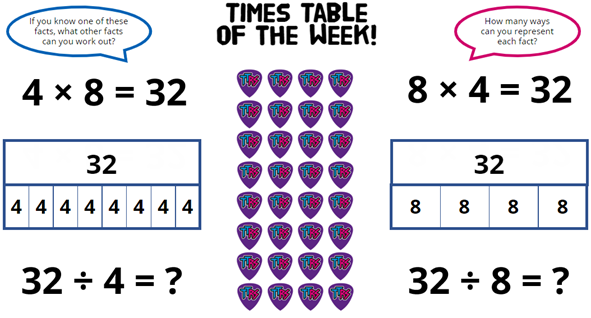 'England Rocks'
We're celebrating Maths Week England and upcoming football world cup by taking part in a friendly times tables (and division) competition, 'England Rocks'. The competition runs from 07:30 Monday 14th November to 19:30 Wednesday 16th November. It's all done online via play.ttrockstars.com.
Children can play in any game mode with every correct answer to a multiplication or division question, earning themselves, their class and the school a point. The Times Tables Rock Stars platform will calculate the class average (the number of correct answers per pupil in the class who play during the competition hours, subject to a daily 60-minute limit (see below)). Winning classes in the school and in the competition as a whole will be the ones with the highest average.
To support player wellbeing, there is a daily time limit of 60-minutes per player. In other words, each player can earn competition points for up to 60-minutes between 07:30 and 19:30 on 07:30 Monday 14th November to GMT Wednesday 16th November. Once the player goes beyond 60-minutes of play on that day, they will still earn coins but will no longer earn points towards the competition.
Almond Hill Achievements
This weekend Jack attended his final golf competition of the year at Letchworth Golf Club which he is a member of. He was awarded "Best Academy Player of the Year 2022" and received a trophy. The competition organiser for his club said he nominated Jack without hesitation. This is a fantastic achievement for Jack who only started playing in the summer of this year!
ECO Competition
We have been asked to take part in a competition where the winning school will choose the name of a new woodland area in Stevenage. This is a great opportunity for our school to leave a lasting legacy in the area and is the first new woodland in Stevenage for over 20 years. If your child has any suggestions for a name, please email year4@almondhill.herts.sch.uk FAO Mrs. Osborne. The deadline for this is 16th November. We will then arrange for a school vote to take place ready to submit our suggestion by the competition deadline on 23rd November.
The name of the site will be displayed on signs at the site which will be 'unveiled' at a formal opening ceremony in the spring.
Inclusivity Week
Last week we celebrated 'Inclusivity Week'. We discussed what being inclusive meant to us and about the meaning of the word diversity. We celebrated what makes us different and unique and how this enriches our lives. We thought about why sometimes people are not inclusive and how this makes people feel. We watched videos to help us understand which situations are not acceptable and we learnt about the definition of a hate crime. Please ask us all about how we can be more inclusive because we have lots of great ideas!
4L loved the video and diversity tasks. Here's our jigsaw all about us - differences and all. 'I like talking about our differences this week in Inclusivity week. Some people might think being different is bad but it's not! We like to celebrate our differences at Almond Hill'.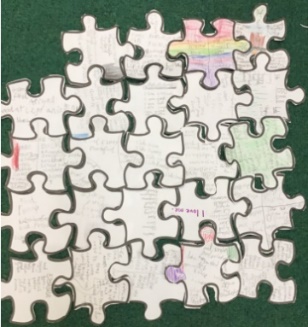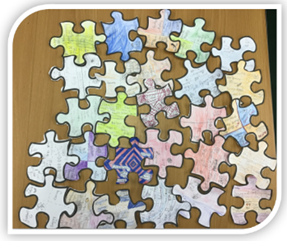 Even though we are all different, we all fit together.' 4O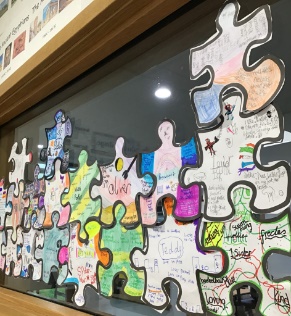 5P's inclusivity jigsaw
Dogs Trust Visit
The Dog's Trust visited Almond Hill this week! The week started with an Assembly about general dog safety to the whole school and what to do if you see dogs out in your everyday life. This was then followed up with a special visit to each classroom where children had the chance to ask questions and gain further understanding about dog safety. Some of our favourite facts were 'Did you know that raisins and grapes are poisonous for dogs?' and 'Dogs liked to be stroked on their backs and not have hands in front of their faces'. Children acted out how to get into safe positions if unfriendly dogs approached them and had a go at mimicking the noise level dogs hear by cupping their ears and making a loud noise. It has been a fantastic week of learning new things so thank you Mrs Burgess for organising and The Dog's Trust for all their hard work at our school this week.
'It was such a pleasure to visit your school, I was made to feel so welcome, and the pupils were so lovely to teach, so engaged and asked such interesting questions.'
Dogs Trust

French Week
In years 3 and 4, the greengrocers was open for business! Children learnt the names of ten fruits or vegetables and produced some vegetable inspired art using this new vocabulary. Some children even made a price list for their own supermarché. Back by popular demand, the French pop up café returned to year 5. The children practised ordering food and drink items from a menu and designing their own ones in French. Year 6 explored the theme of healthy eating and Madame Banana helped the children sample some fruits! Thank you to all the staff who supported this event, it was really enjoyed by the children.

Aahana: The French cafe has definitely been one of my favourite activities! I enjoyed role-playing as the customer and waiter but best of all was when we got to order real food.
Molly: The French cafe had the best food and decorations. It was fancy and stylish and I would go there again. It's 5 star!
Macie: I really enjoyed it because we got to try new food and listen to French music which made it more fun.
George: In the cafe we practiced ordering food so we would know what to say.
Year 6 SATs Meeting
Teachers will be providing information about the reading, writing and maths SATs tests that your chid will be sitting in May. Knowledge of the tests will help you to support your child when preparing, and I am asking all Year 6 parents to attend. The meeting will be held online and you will receive an invite to join via email.
Monday 14th November 6.00-6.30pm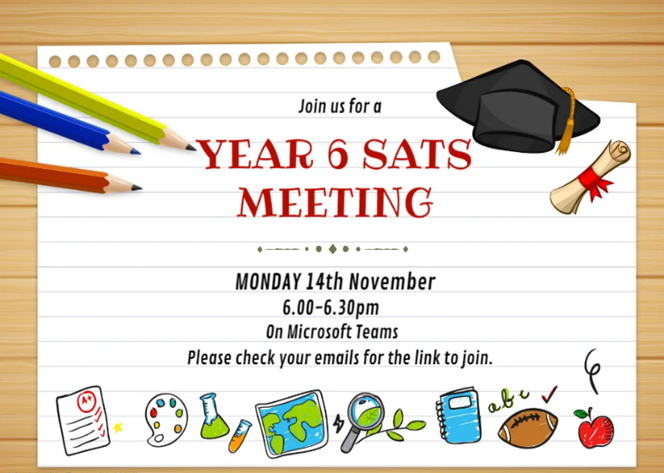 Reverse Advent
At Almond Hill, we are collecting donations for Food Shed, a charity that donate food to people in need. You can donate items such as canned food, cereal, rice, pasta, biscuits, drinks like tea and hot chocolate and also toiletries. You can bring in your food to your classroom starting until December. Please donate because it will help children and families who don't have any food and can't afford to buy things. It will make their day! When it is Christmas, donate some toys and some Christmas food for the family so that they can have a happy Christmas and a proper meal. Please only donate if you can though. By Deniz, Bonnie and Miss Porter.
Christmas Grant
There is a grant available to support families with cost of Christmas which will be a gift card for a local supermarket. If you feel you could benefit from this, please contact Mrs. Burgess via admin@almondhill.herts.sch.uk