Issue 11 - 23rd November 2022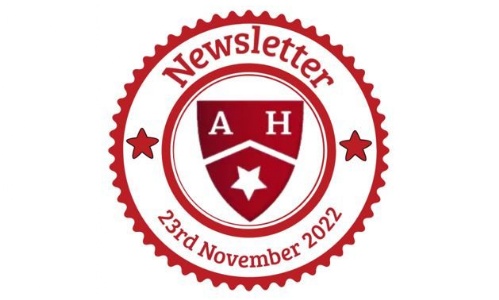 Dear Parents/Carers,
Having worked alongside the parents and pupils of Almond Hill for almost 20 years now, I have come to greatly value the huge contribution that our parents make in supporting our school community. As teachers, we work hard to plan lessons and teach the skills and knowledge our pupils need to succeed in life. However, I also appreciate that the 'teaching' does not stop at the end of the school day for it is you, as parents, that instil the key learning about life, behaviour, respect and moral values that shape the individuals that walk through our doors.
Recently, I was made aware of an incident that occurred in a school close to where I live: Two parents had become involved in a physical altercation at the end of the day at the school gates. It was rumoured that the child of one parent had been bullying the child of the other. Harsh words were exchanged which quickly escalated.
In stark contrast, an incident occurred recently at our school. One child had been physical with another child. The incident was dealt with and both parents were informed by the class teacher. These parents spoke patiently with each other and encouraged their children to talk what had happened together. The parent of the child that had been hurt understood that there may have been a reason for the behaviour even if it was not kind and both children were encouraged to make up.
The benefits of the strong partnership we hold with you cannot be underestimated and it is with this in mind that I would like to extend an invitation for parents to join an Almond Hill 'focus group'. The aim of the group would be to share and discuss important educational issues affecting the school and to get parents even more involved in decision making that directly affects your children. Miss Simmons will be heading this up and in the first instance I am envisioning a half termly meeting to discuss an agenda jointly formed between the school leadership team and parent volunteers. This meeting could be held at different times/in different ways to ensure parent availability such as during the school day/after school/in person/online. The most important thing is that parents get involved. We were thinking approximately three parents per year group. Please email admin@almondhill.herts.sch.uk FAO Mrs Fordham if you would like to get involved. I think this could be a really exciting opportunity to further develop the home school partnership.
'Parents are not customers of education but active participants.'
Andreas Schleicher
Emma Fordham,
Headteacher

Diary Dates
Tuesday 29th November
Almond Hill Book Sale (in school)
Thursday 1st December
Uniform sale and Christmas jumper sale –
3.00-3.30pm
Tuesday 6th December
Year 3 Christmas musical
2.00-3.00pm and
6.00-7.00pm
Wednesday 7th December
Year 4 Christmas musical
2.00-3.00pm and
6.00-7.00pm
Thursday 8th December
Reading afternoon 2.15-2.45pm
Friday 9th December
FOAH Present Room
Monday 12th December
Year 3 Christmas Dinner*
Tuesday 13th December
Year 4 Christmas Dinner*
Wednesday 14th December
Year 5 Christmas Dinner
Thursday 15th December
Year 6 Christmas Dinner*
Monday 19th December
Year 5/6 Church service 1.45pm
(parents invited)
Tuesday 20th December
Almond Hill Book Sale (in school)
Wednesday 21st December
Last day of term finish at 1.30pm
*All other year groups will have the option on a jacket potato or cold packed lunch on other year groups' Christmas dinner days
Cultural Calendar
Monday 19th December
Hanukkah (Jewish)
Sunday 25th December
Christmas Day
Sunday 1st January
New year
Attendance
Year 3 – 94.67%
Year 4 – 89.97%
Year 5 – 91.33%
Year 6 – 92.53%
All students – 92.08%
Class winners – 3A - 99.17%
The government expectation for attendance is 96%+
School Dinners
www.almondhill.herts.sch.uk/menu
Next week we will be on week 2.
Don't forget to pre-order!
Please ensure you are paying for school dinners in advance. It takes a lot of admin time to chase and manage dinner money debt which stops our office team from doing other things to support parents and children.
House Points Weekly Total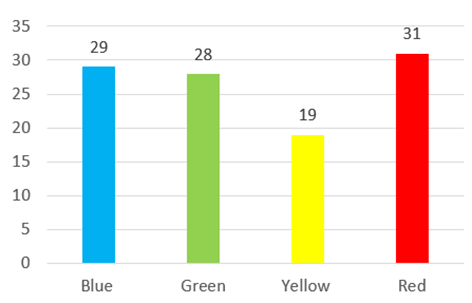 House Points Running Total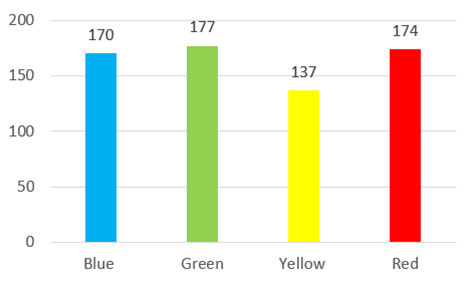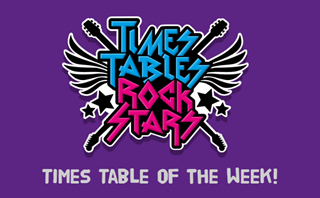 The times table of the week is
6 x 8 = 48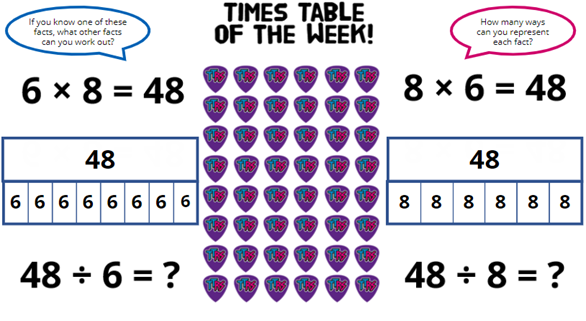 A big well done to every pupil who took part in our 'England Rocks' times table competition. Our school finished in the top third nationally of the schools that entered! Congratulations to 5P (upper school) and 4O (lower school), you are true TTRockstars. Congratulations also to individual class winners, who were presented with a certificate in assembly.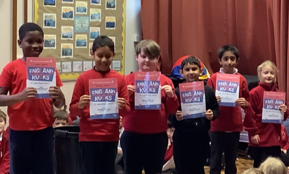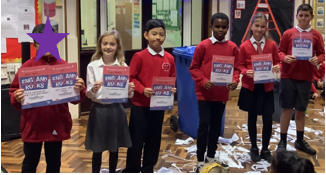 The votes are in...
All children had to the chance to vote for this year's school government. The votes have been checked and verified and I am pleased to tell you that the winners were The Funky Flamingos! Well done!
You can watch a video of their manifesto here!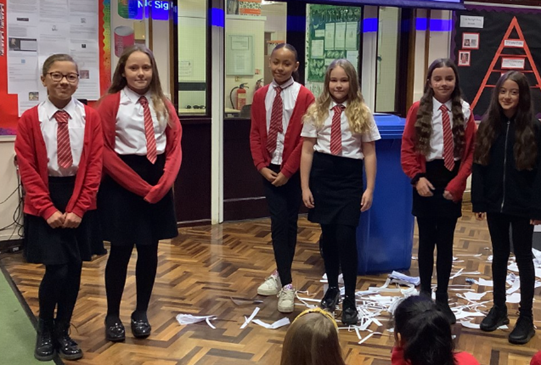 Premier Feedback Survey
2 parents have completed the Premier feedback survey and the feedback has been very positive. The suggestion given will be passed on to Premier for consideration.
There is still time to participate. The survey will close on Wednesday 30th November.
Almond Hill Acheivements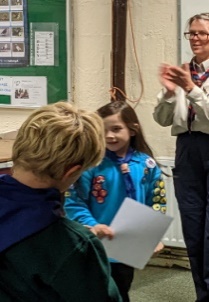 On 10th November Lottie-Page received her bronze award in beavers. This is the highest that can be completed in beaver scouts. On Sunday, she was chosen by the district team to lead the scouting community in the Remembrance Day parade.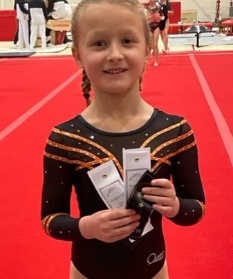 Fiorella took part in the Marriott's gymnastics club championships on Sunday with her squad and she was awarded Silver in Bars, Silver on the Vault and 4th place overall. Fantastic achievement, well done.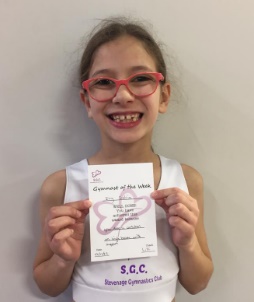 Well done to Ivy in year 4 who received a certifcate of acheievment in gymnastics for doing a cartwheel on a beam! Wow, well done!
Christmas Musicals
Children in year 3 and 4 have been very busy rehearsing for the Christmas musicals in December. The year 3 performance will take place on Tuesday 6th December and year 4 will be on Wednesday 7th. Both year groups will do a dress rehearsal at 2.00pm and then the final performance at 6.00pm. Parents are welcome to attend either but we can only guarantee one seat per family. You can ask for more and we will allocate these on Friday 2nd December. Please follow the link below to book your ticket. The deadline for bookings is Tuesday 29th November.
We know parents have been denied the opportunity to attend lovely events such as the nativities which is why we are so keen to put these on. However, when they expanded our school from 2 form entry to 3, they did not expand spaces such as the hall and dining room and we do have to work within the fire regulations. We have also liaised with Letchmore to avoid any clashing of dates which only left us with Tuesday and Wednesday.
We absolutely do not expect parents to buy any costumes for the performance. We do not want to put any pressure on parents and we have suggested simple ideas but if you do not have anything suitable at home, school clothes are also fine.
YEAR 3 PARENTS
What to wear? Children should have brought home a note from their class teacher to tell you what part they have and simple costume suggestions. If you haven't seen this, please ask your child's class teacher.
YEAR 4 PARENTS
What to wear? Something Christmassy - could be a party dress, Christmas jumper, glitter or sparkly accessory. Some children will be narrators, they might like to dress up smartly with bowties or dress.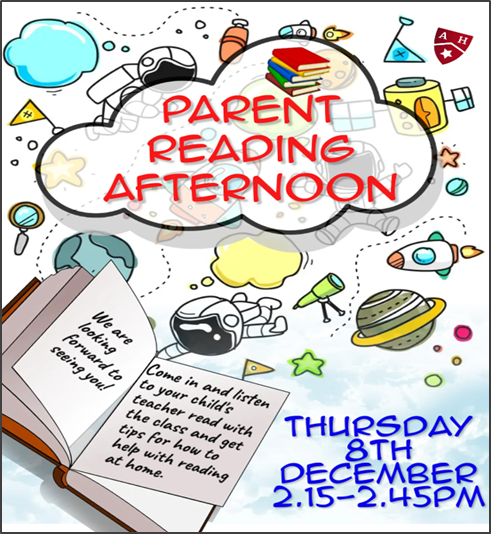 Parents Reading Afternoon
Any parents who wish to, can take their children home at 2.45pm after the reading session this allows time for Letchmore parents to collect siblings. At Almond Hill, reading is a key focus and we would love to see as many parents there as possible.
Thursday 8th December 2.15-2.45pm.
Please complete the form (linked below) to let us know if you are coming.
The Almond Hill Pyramid
It is fantastic to see more children reaching the top of the pyramid. Well done!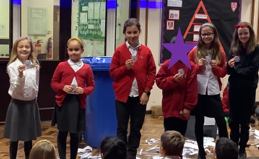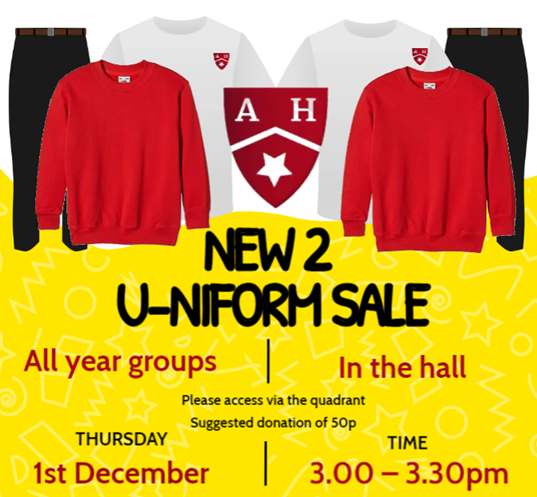 Christmas Jumper Sale
At our uniform sale on 1st December, we will also be selling Christmas jumpers that have been kindly donated. Come down and have a look!