Issue 13 - 7th December 2022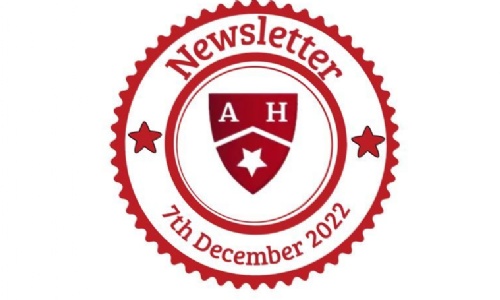 Dear Parents/Carers,
Reading Afternoon
We are looking forward to seeing so many parents at our reading afternoon tomorrow. It is fantastic to see so many people have signed up! The reception pedestrian gate will open at 2.05pm. Please make your way to the hall where you will be met by myself and Miss. Standley to be signed in. A teaching assistant from your child's year group will take you to your child's classroom. All children will bring home a bookmark and a 'reading spine' with book recommendations for their year group.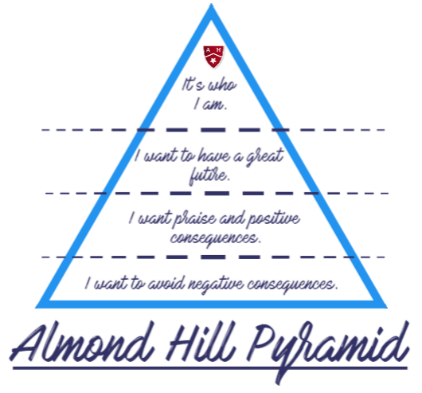 The Almond Hill Pyramid
We are working with all children across the school to reach the top of our pyramid. The pyramid helps children to identify why they make the choices they do. Is it for reward or positive praise? Is it because they want to avoid negative consequences? Or is it because it's just who they are? You will have seen in recent newsletters, children who reach the 'top' are celebrated in our weekly assemblies.
Christmas Dinner
Next week, children will be having their Christmas dinners. Each year group will have theirs on different days followed by their class parties. If you haven't already, please help our cook to prepare by pre-ordering your child's lunch on School Grid. If it is not your child's Christmas dinner day, they will have the option of a cold packed lunch or jacket potato which can be pre-ordered in the same way. Children can wear their Christmas jumper, Christmas accessories or clothes suitable for a party – but they will be outside at playtimes and lunchtime so please be aware of the weather conditions.
Year 3 - Monday 12th December
Year 4 - Tuesday 13th December
Year 5 - Wednesday 14th December
Year 6 - Thursday 15th December

FOAH Events
The deadline for online payments for the FOAH present room is today ready for the 'Present Room' to open on Friday. Children can bring money in on the day but we cannot accept IOUs. Gifts cost £2 each and there is no limit to the number of gifts children can buy. Please try to provide the right amount where possible.
Christmas 'treats' are available to order on School Gateway until Friday 9th December. Biscuits cost £1.50 and cakes £2.00. Please use the comment section to state what you would like to order.
From next week, children can guess the number of Christmas chocolates in the jar for 50p a guess and the winner gets to take the Chocolate jar home for Christmas! This is a cash only event running all week next week.
Each class has been given a Christmas scratch card where they can guess the Christmas word for £2 a guess. This will run until Monday 19th December. The lucky winner will receive half of the total takings to a maximum of £30.
Remember whilst you are Christmas shopping online at Amazon you can support us by selecting us as your chosen charity at Amazon Smile. Once you set it up, we automatically are sent 0.5% of the sales. Search for Amazon Smile to set up your account.
I am sure parents will join me in thanking the FOAH for all their hard work organising these wonderful events for the children. In a recent meeting with FOAH we noted that some of the members are parents of children in year 6 so to ensure that FOAH can run in future years it is really important that more parents get involved. Please speak to a member of school staff or email admin if you are interested in helping out. Even busy parents can help out on a more limited basis.
Teddy Tombola
We will be holding a Teddy Tombola after school on Friday 9th December in the quadrant. Tickets are 50p, please come along and support this fundraiser
Talent show
Children will be performing or watching the annual Almond Hill talent show on Friday 16th December. All classes will be invited to audition in preparation for the final show. Children may bring in props (at own risk, please don't send in anything valuable) and costumes. Please do not buy anything specifically for this. It is always wonderful to see the range of talents and skills that our children have that might not always be evident in the school curriculum.
School Government Christmas Pyjama Day
Our newly elected School Government have begun organising their first event – A Christmas Pyjama Day. As you can see from their wonderful poster at the end of the newsletter, they were a little enthusiastic with their planning (watching Christmas films all day) but I am pleased to tell you children can wear their pyjamas (Christmassy or otherwise) on Tuesday 20th December and bring in some snacks to eat whilst watching a film (please remember NO nuts in any quantity). They are fundraising for Cancer Research UK and are asking for 50p to take part. Please bring cash in on the day. Good luck to the Funky Flamingos on running their first event.
Booster Classes
We will be sending out an invitation to booster classes for some children in year 6. These are targeted for an identified group of pupils whom we feel benefit, so not all children will be invited. Please look out for the letter which will be sent soon. If you have any questions about this, please contact your child's class teacher.
Please be reminded, we finish at 1.30pm on Wednesday 21st December. The lunch options on this day will be cheese, ham or tuna roll. Please order using School Grid.
Emma Fordham,
Headteacher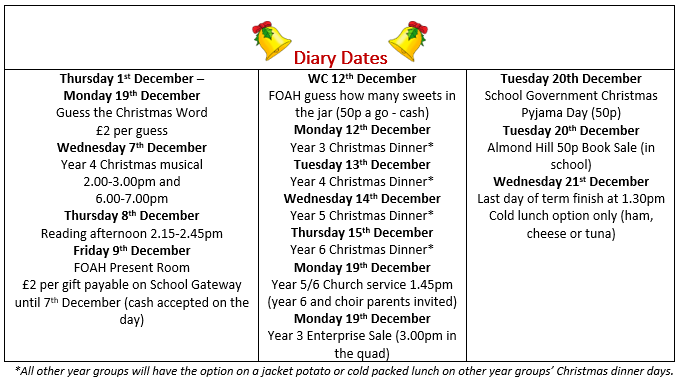 Cultural Calendar
Monday 19th December
Hanukkah (Jewish)
Sunday 25th December
Christmas Day
Sunday 1st January
New year
Attendance
Year 3 – 93.51%
Year 4 – 93.29%
Year 5 – 90.67%
Year 6 – 89.88%
All students – 91.8%
Class winners – 3A – 96.25%
The government expectation for attendance is 96%+
School Dinners
Click here for the menu
Don't forget to pre-order!
Please ensure you are paying for school dinners in advance. It takes a lot of admin time to chase and manage dinner money debt which stops our office team from doing other things to support parents and children.
Year 3 Enterprise Sale
The year 3 Enterprise sale will be held on Monday 19th December from 3:00pm in the quad. The children will be selling outcomes from their DT topic and parents/carers will have the opportunity to purchase their products.
They can't wait to show you their products!
House Points Weekly Total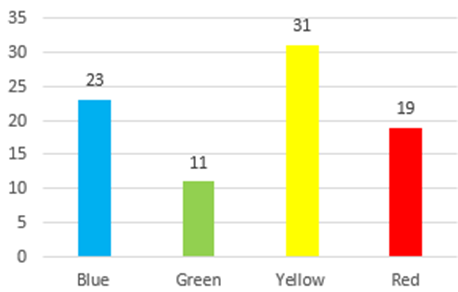 House Points Running Total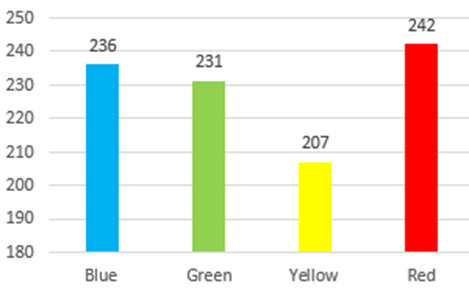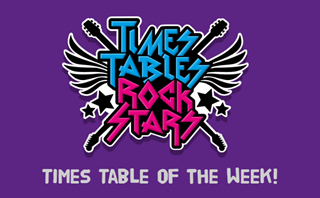 The times table of the week is
8 x 8 = 64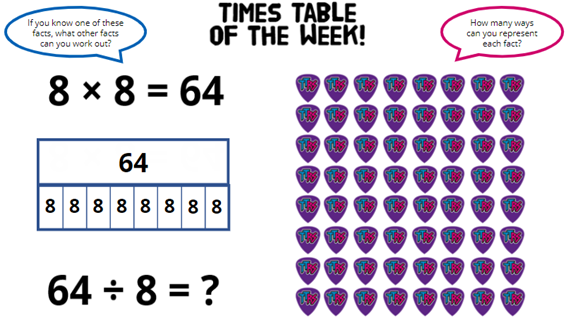 Almond Hill Achievements
In class on Friday, year 4 were discussing what community issues are important to us, what changes could be made and how Parliament could help. After reading a letter about the homeless from The Salvation Army, Layla made a lovely donation to help the homeless. What a fantastic example of citizenship!
Inayah in year 3 took part in her gymnastics club showcase on Sunday 4th December. She did a great job – well done!