Issue 16 - 11th January 2023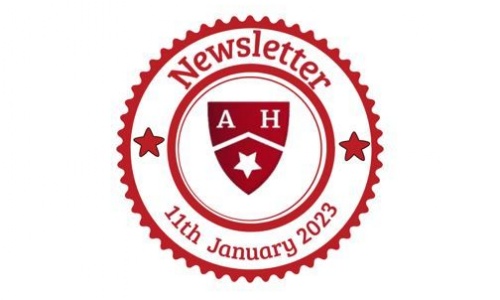 Dear Parents/Carers,
Welcome back. I hope you were able to enjoy some quality time with family over the Christmas period. I'm pleased to welcome you back to the start of the spring term where our focus will remain on gratitude which is ever important as we reflect upon Christmas and look forward to the coming weeks.
Safeguarding and Online Safety
Some children will have excitedly opened new internet enabled devices over Christmas and will be branching out to new areas of the digital world. It is important that parents understand how to set up parental controls on new devices to keep children safe online. We regularly share tips on our website for various devices including Android and Apple as well as tips and tools to help parents navigate this ever-evolving world. Please make sure you are aware of the age limits for certain apps such as WhatsApp, Snapchat and TikTok as these are not suitable for younger children. Supervising your child's online use is the best way to monitor their interactions and what they are doing online. We would encourage parents to check WhatsApp and discourage the use of groups as you tell us these often cause problems for children in our school. If your child is in a WhatsApp group, please remind them not to invite people into the group that others do not know.
At Almond Hill, we pride ourselves on what we feel is excellent safeguarding and are always looking for ways to improve this. We continually work with our children to ensure they know how to correctly raise any safeguarding concerns or worries and help them to develop their network of support using the network hand model. As adults, we have a duty of care to ensure 'all' children are safe. We are asking you as parents and guardians to take a moment to reflect on whether you know how to raise a concern to ensure we are keeping all children safe. If your gut instinct is telling you something is wrong, please trust this intuition - it is far better to raise or query and it to be nothing, rather than not to take action and it to turn out to be something that has negatively impacted a child or put them in danger. Please continue to be vigilant and have an open mind to 'it can happen anywhere' approach.
Almond Hill Pyramid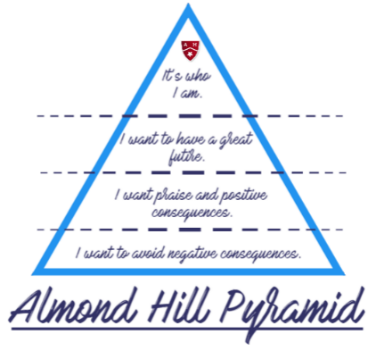 We had an excellent day across the school on the first day of term last Friday when all year groups reviewed rules and routines for successful learners. I visited all of the classes during the day and the main topic they seemed to agree on was that too much learning time was wasted in every lesson and this was an area that they felt they could improve upon. All children were taught the meaning of stoicism at an age-appropriate level which closely links to the mindset of gratitude and skills of resilience that we strive to embed into the curriculum for our children to help them be happy and successful. We also unpicked the Almond Hill Pyramid and what this means in practice. It would be interesting to ask your child the key thing they learnt about and what they will be working on this term to see if they can remember what was discussed.
Linked to the concept of stoicism, I discussed the following quote with the children in assembly on Monday (which you might recognise on the window display by the quadrant). "Do not complain; think your way through difficulties.' Children suggested reasons why just complaining was not a good idea - which I recorded on the flip chart in red and reasons for trying to think your way through difficulties which I recorded in green.
Year 3 and 4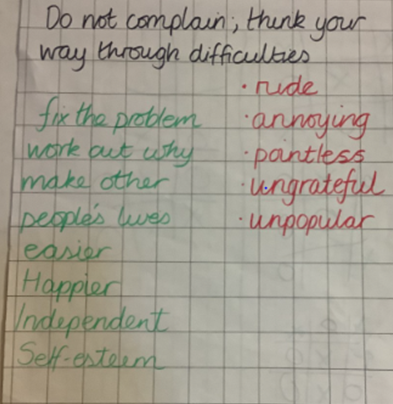 Year 5 and 6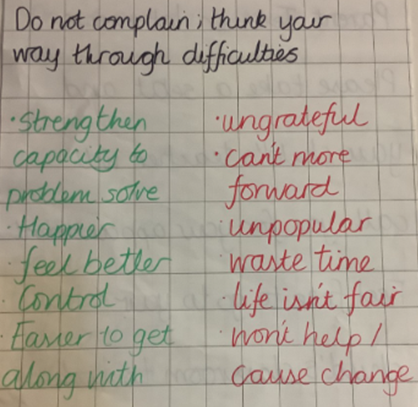 Below is a sample of what was shared in assembly.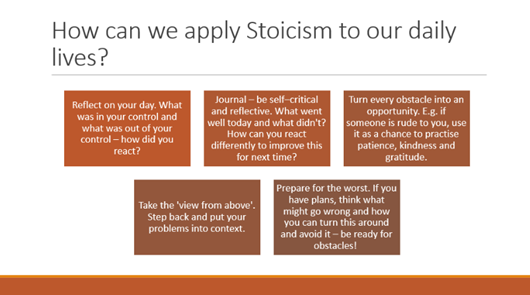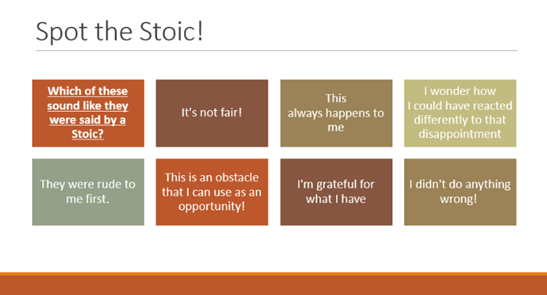 Home Learning
Parents will notice this week that we continue to work to improve home learning so that it supports the most crucial core learning that we are covering in school and is easy for parents to support their child with. We have kept the most successful elements of reading, writing and maths practice and added in some learning key definitions to help children secure in their long-term memories some of the need-to-know information required as they pass through the school and into Year 7. We have also added a parental engagement box. If you want to tell or ask us something related to home learning, then there is now a space for this. Evidently it is perfectly acceptable to leave this box empty if nothing needs to be said. Across each year group, there is an 'age related' home learning sheet, another separate activity which provides opportunity for further challenge in one of the core subjects of reading, writing or maths for those children that want or need extension and a further sheet which hones in on more personalised and appropriate learning for those children with additional needs.
All children are expected to complete their home learning and will be given the opportunity to do so in school if not brought in for Tuesdays. This is because we value home learning and it supports what is being taught in school. We do not want any child to get behind or be disadvantaged because they have gaps in their learning as they have not been able to complete their home learning. Please speak to your child's class teacher directly if you need more information or if you need any help with supporting your child to complete their tasks.
Emma Fordham,
Headteacher

Diary Dates
Monday 16th January
FOAH meeting (6.00-6.30pm)
Wednesday 18th January
Stevenage Museum assembly
for Year 4
Monday 13th February –
Friday 17th February
Half term
Monday 20th February
FOAH Year 5 and 6 movie night
Monday 27th February
FOAH Year 3 and 4 movie night
Friday 10th March
FOAH Mother's Day Present Room
Monday 13th March –
Friday 17th March
Science Week
Tuesday 14th March
Individual photos
Tuesday 14th March
Parents' evening –
details to follow
Thursday 16th March
Parents' evening –
details to follow
Monday 20th March
Year 3 British Museum trip
Friday 31st March
Last day of term
School Dinners
Please be reminded, children will no longer be able to order lunches in the classroom. If a pre-order hasn't been made at home, but a child is wanting to eat a school dinner, they will be offered a jacket potato as per the Herts Catering guidelines. All pre-orders must be made before 8.55am.
Next week, we will be on week 3.
Attendance
Year 3 – 90%
Year 4 – 88.27%
Year 5 – 89.61%
Year 6 – 90.36%
All students – 89.56%
Class winners – 6J - 96.55%
The government expectation for attendance is 96%+
Almond Hill Pyramid
Gabriel, Ruby, William, Jasmine, Xavi and Evie have all reached the TOP of the Almond Hill pyramid. Well done!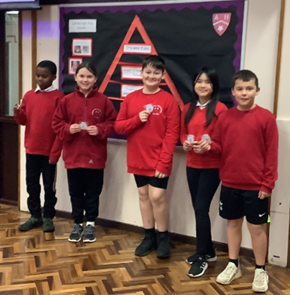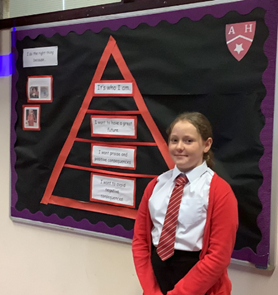 Information shared with children in our assembly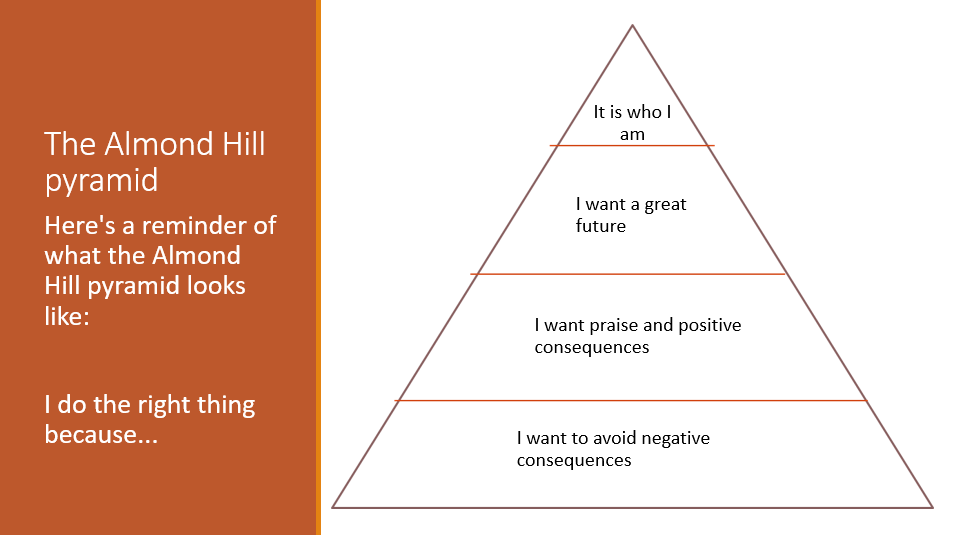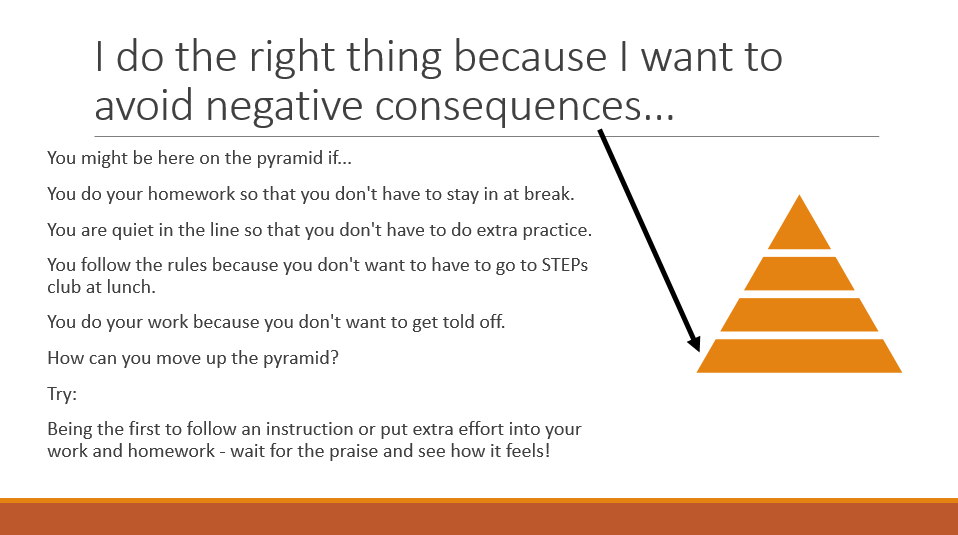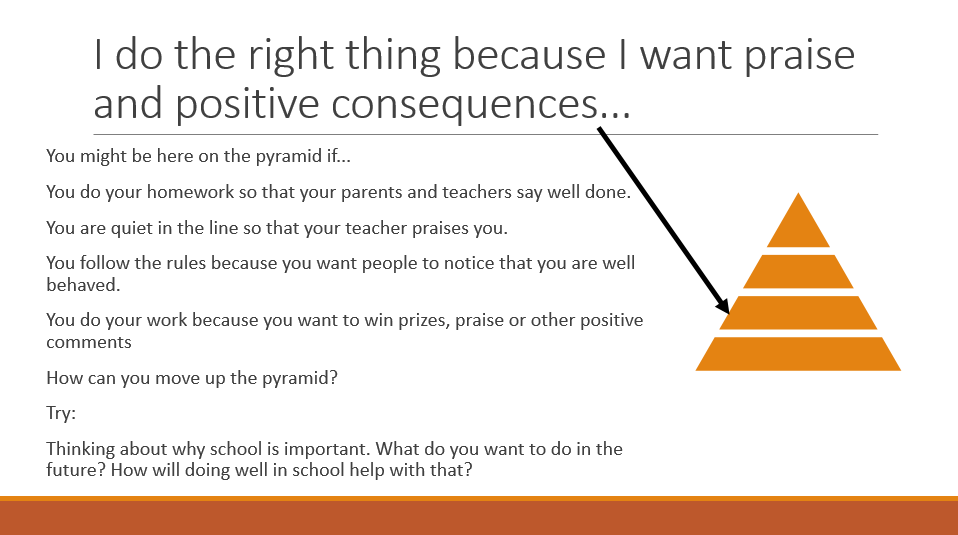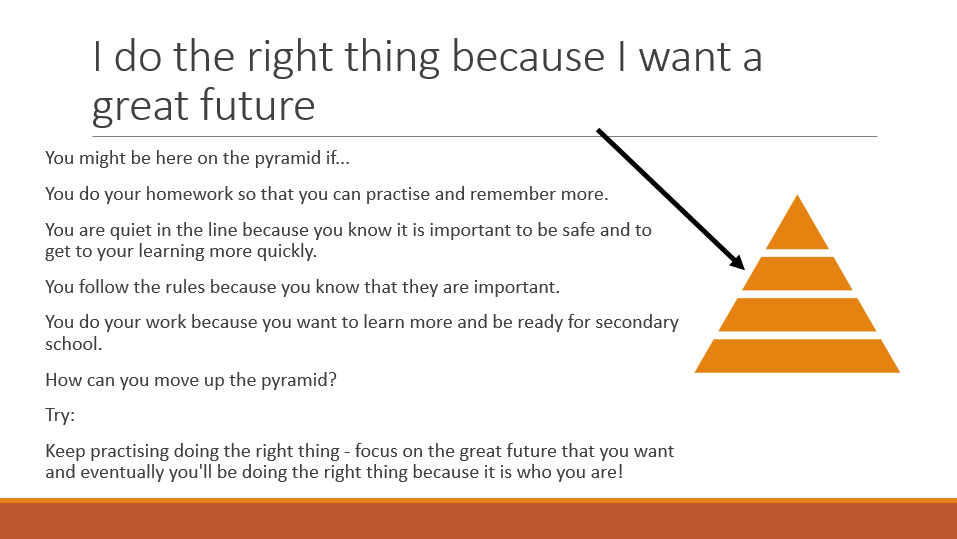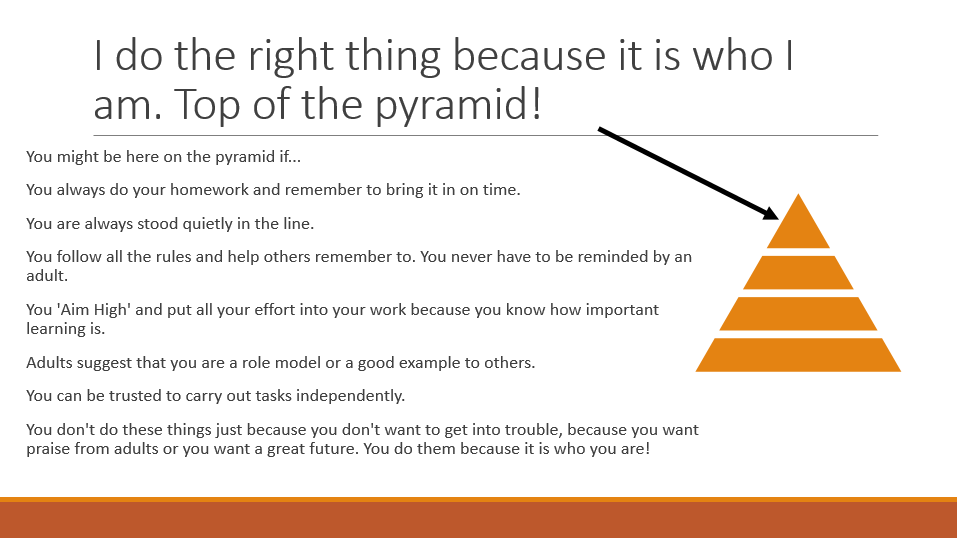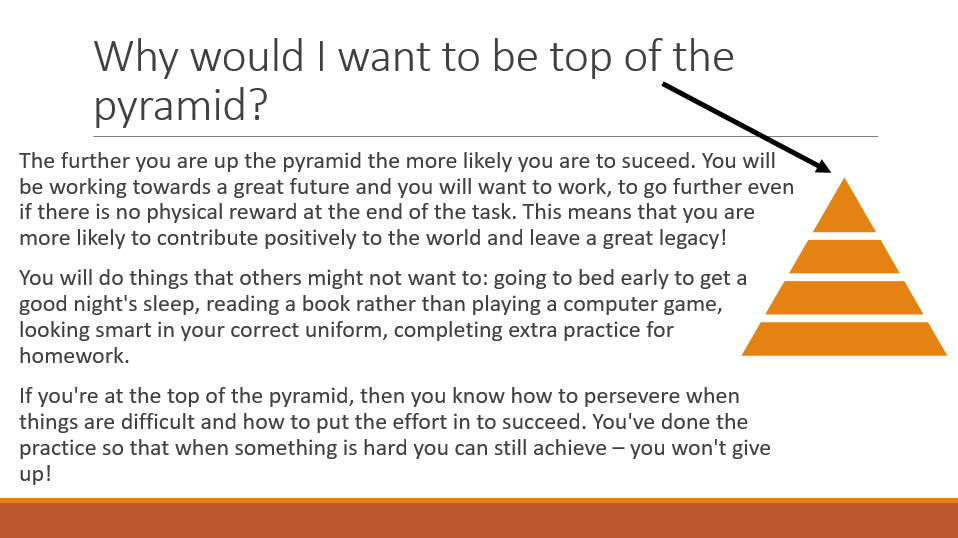 Almond Hill Achievements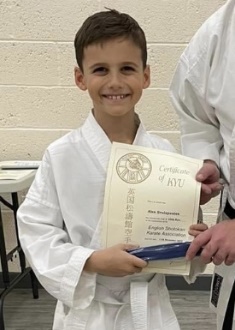 Alex in year 5 recently passed his first Karate grading moving from white belt to blue belt. He started in September and really loves his lessons! Well done, Alex.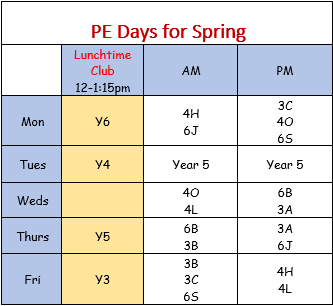 Year 6 SATs
Children in Year 6 will begin preparing for their SATs which will take place in May. Some children have been invited to take part in booster sessions after school. If you have accepted this invite, it is imperative that children attend regularly to get the best out of the sessions. If children do not attend regularly, their place may be offered to another child. Likewise, if your circumstances have changed and your child is no longer able to attend, please ensure you inform the office so we can give the opportunity to another child.
Activties at Stevenage Library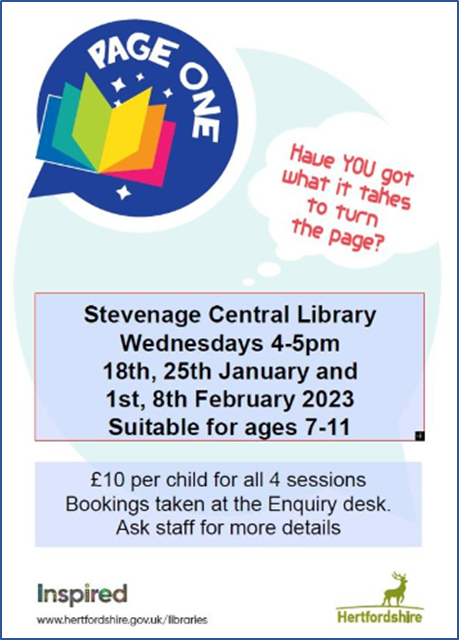 The block of 4 sessions costs £10 per child, and places are limited, so booking is essential.
The fun sessions are designed to promote reading for pleasure
To increase the sense of belonging to a community
To help children feel more confident and empowered
To offer children the chance to interact positively with adults and each other about reading
To broaden children's reading horizons
To develop peer to peer reading support
To develop children's confidence about themselves as readers
To help children develop a reading habit
To provide a safe space to discuss books
Angels - Autism and ADHD Support - Spring Programme