Issue 19 - 1st February 2023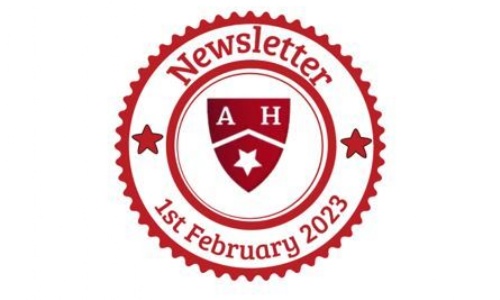 Dear Parents/Carers,
On Tuesday 7th February, we will be joining schools and youth organisations across the UK in celebrating Safer Internet Day 2023. Safer Internet Day is a global campaign to promote the safe and responsible use of technology, which calls on children and young people, parents, carers, teachers, social workers, law enforcement, companies, policymakers and more, to help to create a better internet.
Using the internet safely and positively is a key message that we promote in school and celebrating Safer Internet Day is a great opportunity for us to re-emphasise the online safety messages we deliver throughout the year. We would be delighted if you could join us in celebrating the day by continuing the conversation at home. To help you with this, the UK Safer Internet Centre have created some free activities and information for parents and carers which are available at: https://saferinternet.org.uk/safer-internet-day/safer-internet-day-2023/parents-and-carers
Whether you have 5 minutes to start a conversation or hours to spare, there are top tips, quizzes and films which you can use at home with your child. This is particularly pertinent as in the last few weeks, I have had several parents contact me about unkind and inappropriate contact via social media and technological devices. As a school, it is our responsibility to educate the children about safe and responsible use of technology but ultimately, we do not have the power to enforce this at home. I cannot stress strongly enough how important it is that parents remain in control of the technology their children are using. Apart from the fact that misuse can seriously affect the wellbeing of your children both inside and outside of school, an increasing amount of teaching time is being spent dealing with issues that start outside of school and end up affecting the children's ability to learn in school.
Please can I remind parents that there is no longer a need to test for COVID-19. If your child is unwell and unable to attend school, please follow our usual absence reporting procedure. You do not need to show proof of a positive test. If someone in the household has tested positive, or has symptoms for COVID, your child can still come to school providing they feel well. The below website may be a usual reference for parents:
https://www.nhs.uk/live-well/is-my-child-too-ill-for-school/
I would like to give parents of year 6 children some advance notice of some Easter school provision that we will be running in the holidays. Not all children will be invited and we understand that some parents will have made plans or have other commitments at this time. For a small number of targeted pupils for whom the provision will be suitable, there will be 3 days of Easter school running on Tuesday 4th, Wednesday 5th and Thursday 6th April. Each day will start at 9.30am and finish at 2.30pm. With permission, children may come to and leave from school independently and children will be expected to bring lunch each day. Miss Simmons will be leading the provision and further details including the invitations will be sent after half term. I just thought it would be useful to have some advance notice.
Emma Fordham,
Headteacher

Diary Dates

Thursday 2nd February
Governor morning
Tuesday 7th February
Safer Internet Day
Wednesday 8th February
Uniform Sale 3.00-3.30pm
Monday 13th February –
Friday 17th February
Half term
Monday 20th February
FOAH Year 5 and 6 movie night Tuesday 21st February
Almond Hill Book Sale (50p)

Monday 27th February
FOAH Year 3 and 4 movie night
Wednesday 8th March
Uniform Sale 3.00-3.30pm
Friday 10th March
FOAH Mother's Day Present Room
Monday 13th March –
Friday 17th March
Science Week
Tuesday 14th March
Individual photos


Tuesday 14th March
Parents' evening –
details to follow
Thursday 16th March
Parents' evening –
details to follow
(subject to change due to industrial action)
Monday 20th March
Year 3 British Museum trip
Tuesday 28th March
Almond Hill Book Sale (50p)
Friday 31st March
Last day of term
School Dinners
Please log onto http://app.schoolgrid.co.uk to order lunches for your child. Lunch orders are no longer taken in the school. In line with HCL guidance, children without a pre-order are offered a jacket potato. Please note that only a small number of additional potatoes are cooked each day. Should the number of additional meals required exceed the quantity available, we may call you to request a lunch is provided from home.
Next week, we will be on week 3.
Attendance
Year 3 – 97.5% Year 4 – 94%
Year 5 – 93% Year 6 – 91%
All students – 94%
Class winners – 3B – 99%
I understand due to illness there is a lot of absences this time of year however I would like to commend year 3 on their amazing attendance this week but this is the 2nd week running that year 6 is the lowest in the school.
The government expectation for attendance is 96%+
Almond Hill Achievements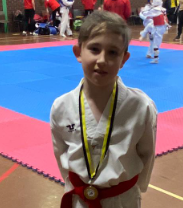 Eden participated in a sparring training event in Wales over the weekend. Despite the size difference and the competitor being a higher belt, Eden won this and a follow up match 2-0.

He was awarded a medal on the day! Well done, Eden!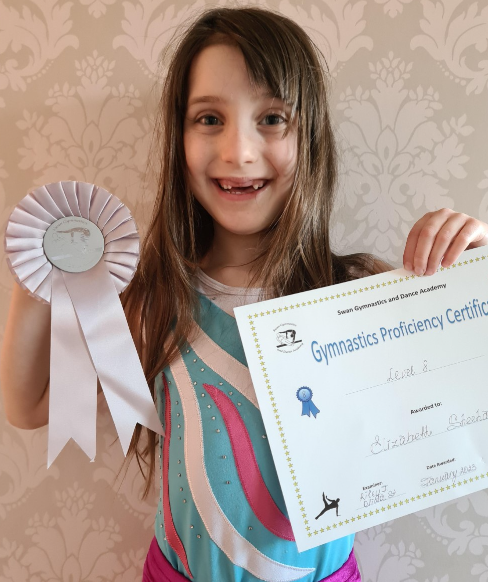 Elizabeth in Year 3 has gained her Level 8 Gymnastics Award.

Well done, Elizabeth!

Eco Committee Trip
Our Eco Committee has been planting trees for a long time now so Mrs Osborne offered to take us to Fairlands Valley Park to plant native trees to England (e.g. apple trees and cherry trees). Some of our members' thoughts on the trip…
'I really liked it. It was learning but it was fun!'
'Incredible and I love feeling the mud. It has a really nice texture.'
'We made a home for all the worms we found!'
Look out for some more information about our trip on the next edition of 2Cool4School, our children's newspaper.
Written by Ellie in year 5.
For more photos, please visit our gallery: Photos of Events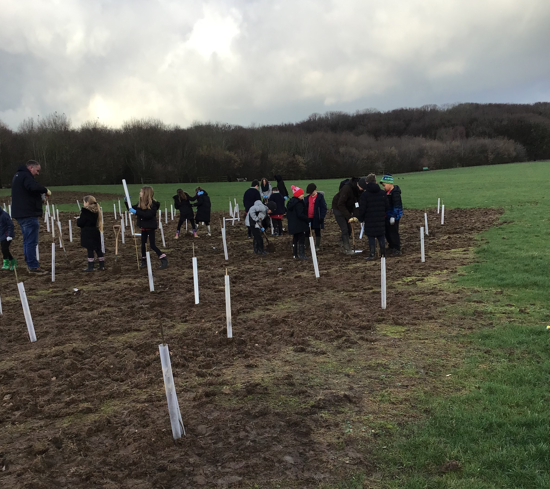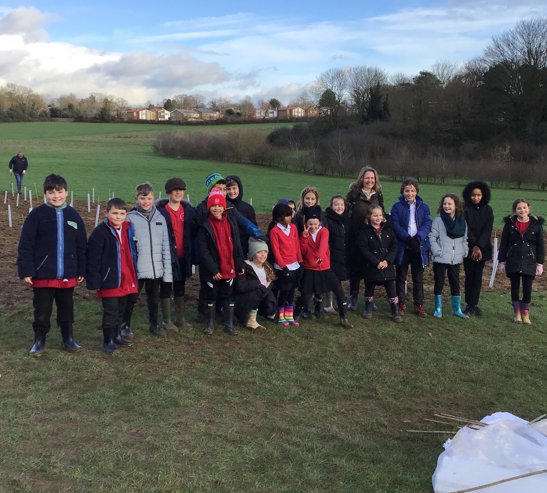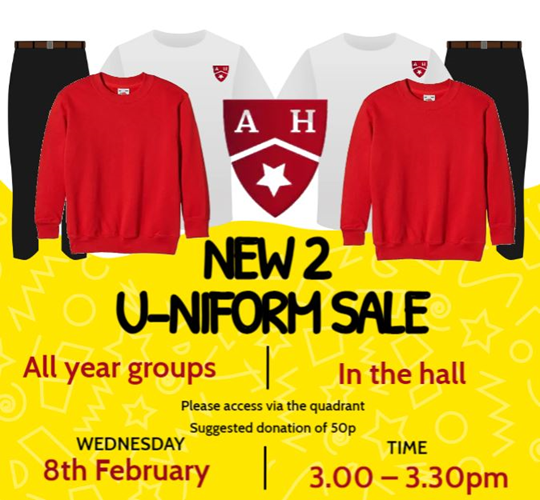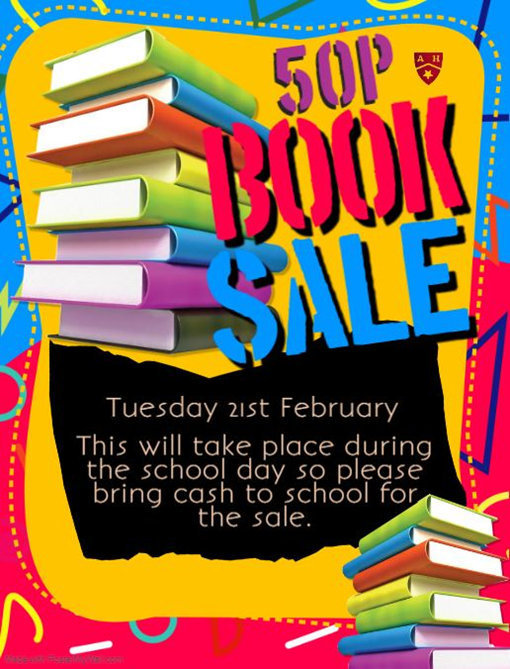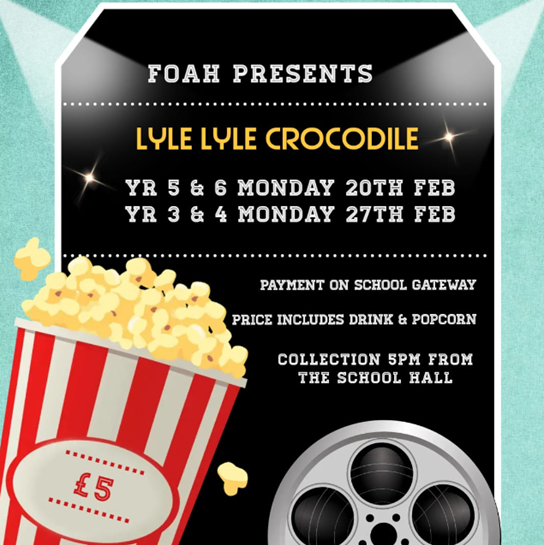 Film Night
Please be advised that Lyle, Lyle Crocodile is a PG rated film. If your child does not have consent to watch PG films in school, your child will not be able to attend.
Due to half term, payments for the year 5 and 6 film night will close on Thursday 9th February.
Payments for the year 3 and 4 film night will close on Wednesday 22nd February.
We cannot accept payments on the day or after the payment system has closed. This is essential so we can have an accurate list of children attending to ensure dietary and medical needs are met as well as making sure we have enough staff present to chaperone.
Children's Services Conference 2023