Issue 30 - 3rd May 2023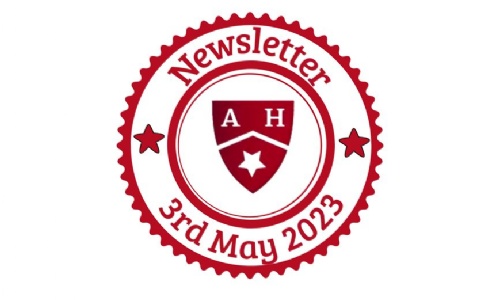 Dear Parents/Carers,
This term is a very busy term with lots of exciting events planned. Year 5 children have been taking part in Bikeability this week which teaches children about road safety. After a fantastic 7-0 win last week against Martinswood, our boys' football team took on Round Diamond on Tuesday and won 5-1. To finish the week, we have our red, white and blue day on Friday.
Many new families have joined our school over the last few weeks. I'm sure you will all join me in welcoming them to Almond Hill.
Have a good week.
Emma Fordham

Key Messages
SATs week – Tuesday 9th – Friday 12th May
It is essential children come to school and on time otherwise they may not be able to sit the tests. Please contact school if there are any queries/concerns before or on the day. It is important to ensure children have plenty of rest the night before to set them up for the day ahead. We have engaged in lots of practice tests so they are well versed in the process and this should reduce undue anxiety. We see the tests as an opportunity to show what children can do and there should be no other pressure or worries than this. The tests are sent away to be marked externally and the teachers share the outcomes with the children on the day their reports come out. This is done on a one to one basis so children can ask questions and be supported whatever the outcome.
Year 6 children only are invited to come to school at 8.30am on all four days of SATs week where breakfast will be provided and they will have the chance to not feel rushed before they start each day. They will be met on the playground by their teachers at this time.
It would really help our year 6 children if parents across the school could make a concerted effort to ensure their children are on time for school this week. Some children will be taking their SATs in rooms across the school and late arrivals can cause disruption to these children. Children behaved impeccably during our mock SATs week in March and I look forward to seeing the same behaviours demonstrated next week.
Tuesday 9th May
Wednesday 10th May
Thursday 11th May
Friday 12th May

Grammar

Spelling

Reading

Maths 1 - Arithmetic

Maths 2 - Reasoning

Maths 3 - Reasoning
Changes to staffing
Miss Harris left us last week to begin a new adventure in Devon. She will be missed by all but we wish her well in her job!
Drop off and Collection
Please can I thank the parents who have taken notice of our slightly altered open and closing times. Just to reiterate, the gates are now closed at 8.55am to ensure all children are safely registered. This is really important. If you arrive at or after 8.55am please enter via the office. I have had another complaint about the number of cars queuing and causing an obstruction at the end of the school day. There are only a limited number of parking spaces in the drop off zone and the gates are not opened till 3.10pm now to discourage people queuing earlier in the afternoon. Dangerous driving should be reported to the police.
Attendance

Year 3 – 98% Year 4 – 94%
Year 5 – 92% Year 6 – 92%
All students – 94%
Class winners –3A - 96%
The government expectation for attendance is 96%+
School Dinners
Click here to log on and place your child's order
Next week, we will be on week 1.
Diary Dates
Click the months below to open our calendar.
House Points

Click the button below to view our house points totals.
Almond Hill Achievements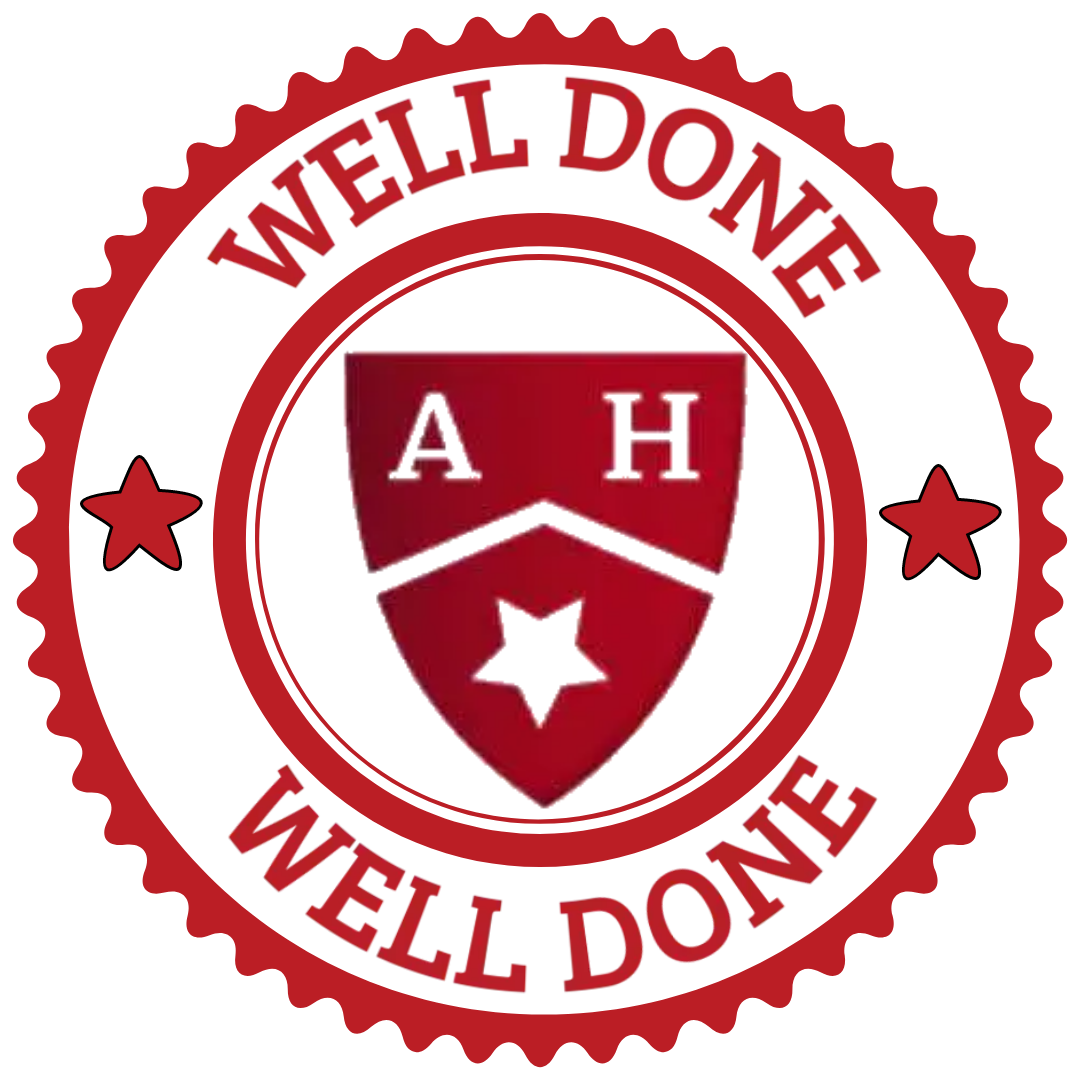 Click the button below to see all the wonderful things our children have achieved outside of school.
In Other News...
Celebrating the Coronation
Did you know?
The King was the first heir to the throne to earn a university degree. The King studied archaeology and anthropology in his first year at the University of Cambridge, switching to history for the remainder of his degree. His Majesty also spent a term at the University College of Wales at Aberystwyth (April to June 1969) learning Welsh.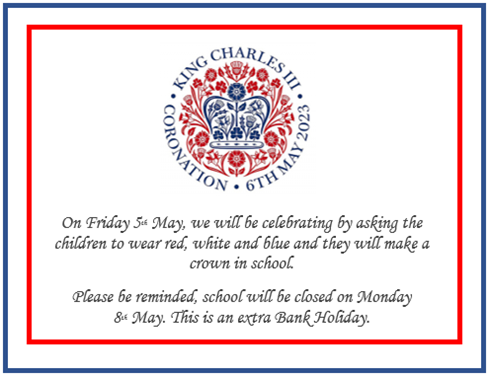 Year 3 Maths Challenge
On the 2nd of May, Adam, Josh, Shubham and Advika were entered into the HFL Education Maths challenge for Year 3. They had to answer 4 rounds worth of tricky questions which included calculating and estimating. They worked well together and agreed on their answers even though they only had 2 minutes to answer each question! Well done to them for all of their hard work; it was very impressive watching them explain their working to each other. They exemplified our learning behaviours of 'working together' and 'aiming high'. We are now awaiting the results from the other heats to find out our score and if we have got into the final!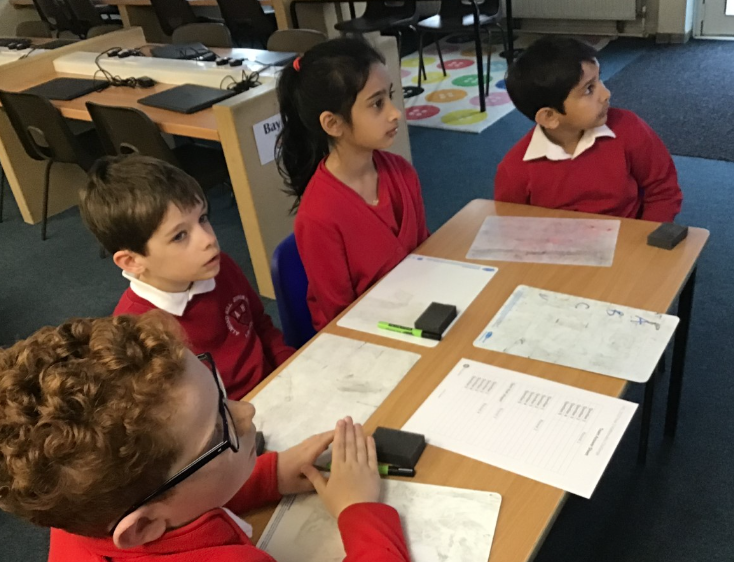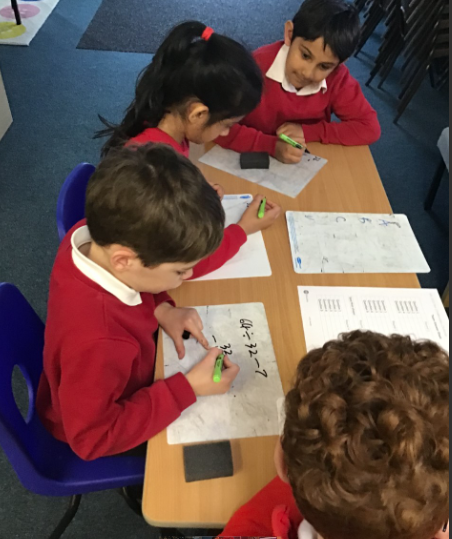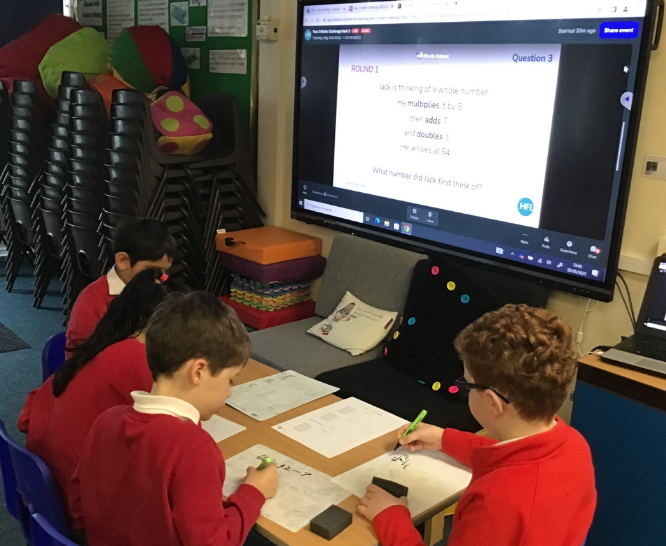 Tune in Together - An Autism Awareness Chill and Chat Session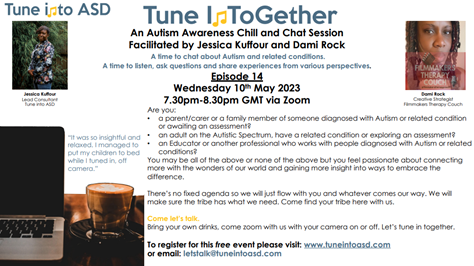 Summer Programmes from Family Lives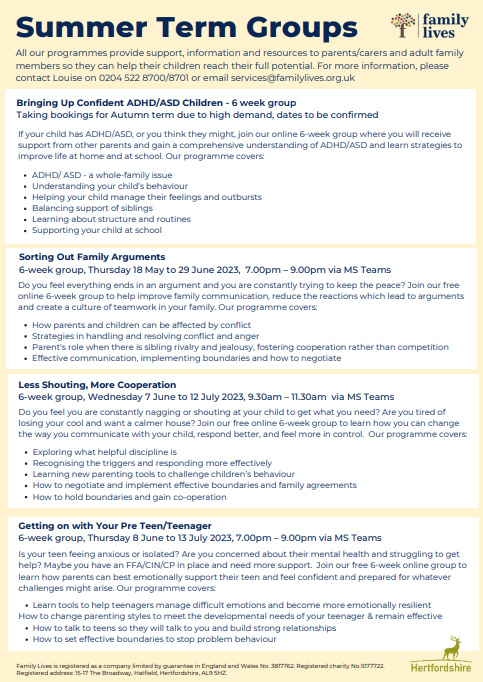 Funded Mental Health Workshops, Advice and Support