Achievements and Photos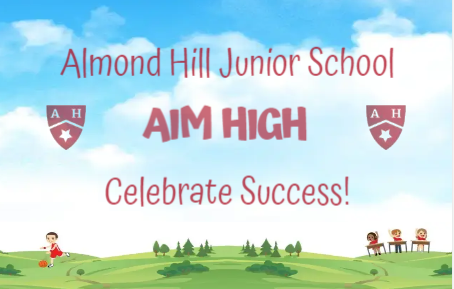 We would love to hear from you!
At Almond Hill, we love to share and celebrate your successes. If you would like your child featured in our weekly newsletter, please email admin@almondhill.herts.sch.uk with a photo of your child and a bit of information about the wonderful things they have been doing. You can see some of our recent achievements below!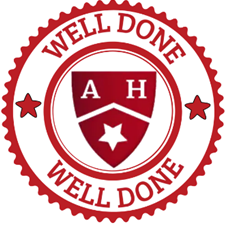 Almond Hill Achievements 2022/2023
Oscar progressed to stage 5 in his swimming lessons the week before half term. Well done, Oscar!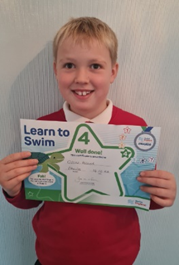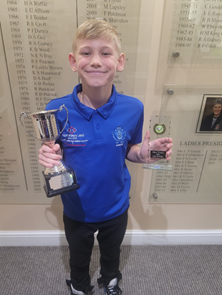 This weekend Jack attended his final golf competition of the year at Letchworth Golf Club which he is a member of. He was awarded "Best Academy Player of the Year 2022" and received a trophy. The competition organiser for his club said he nominated Jack without hesitation. This is a fantastic achievement for Jack who only starting playing in the summer!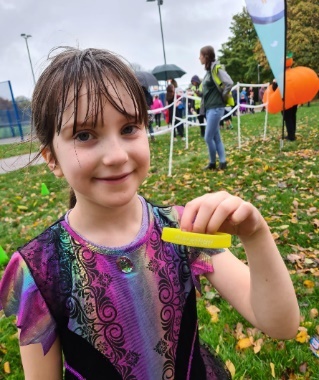 Elizabeth in Year 3 has completed 21 Junior Park Runs and has earned her marathon wristband. Well done!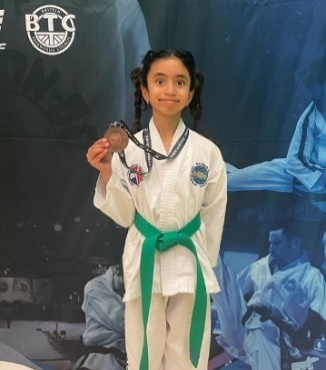 During the half term, Aahana in Year 5 participated in Taekwondo National Championship and won a Bronze medal for her club. Fantastic!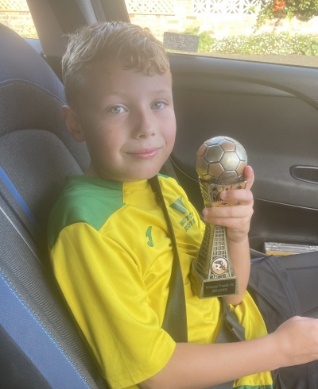 Well done to Jack in Year 4 for being awarded 'Man of the Match' at his football game over the weekend. Well done, Jack!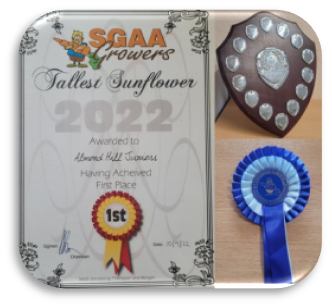 A big well done to our gardening club for coming first in the SGAA Growers tallest sunflower competition.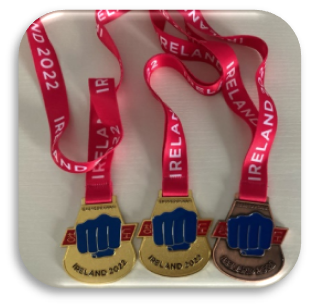 Jake did a great job at the Irish international open taekwondo championships at the weekend. He achieved a Gold in the Poomsae individual and Bronze in the pairs, as well as Gold in the sparring. Well done, Jake!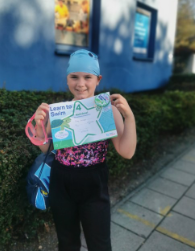 Ruby achieved her stage 4 swimming award and is now working on stage 5 in blue hats. Congratulations!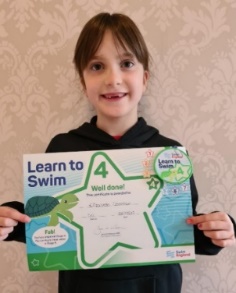 Elizabeth passed her Stage 4 swimming and has moved on to Stage 5 blue hats. Well done!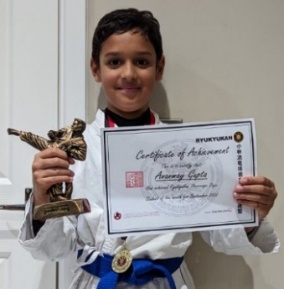 Ananmay was awarded student of the month at his karate dojo for initiative and good listening and learning. Well done!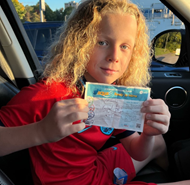 Archie signed up to do regular swimming lessons because he enjoyed the school lessons so much.
In just a couple of weeks he had gone up a level already! Good job!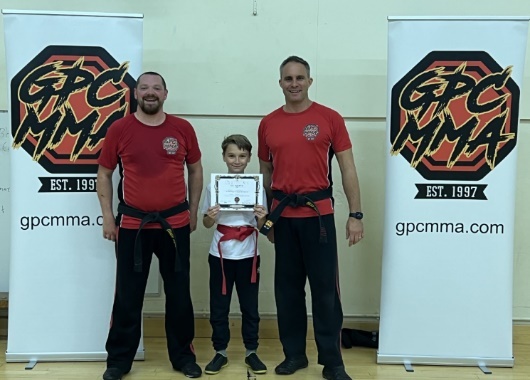 A BIG well done to Bobby who has recetly achieved Red Belt grading in MMA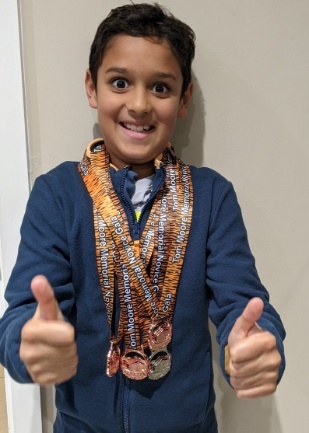 Ananmay took part in the swimming gala last weekend and won 3 bronze and one silver medal for the 4 races he participated in!
25m front crawl and breast stroke and 50m front crawl and breast stroke! Great achievement, well done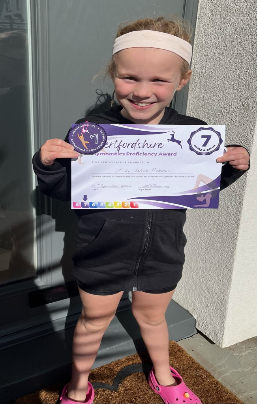 Lola started a new acrobatics group and is having to start again with her levels. This weekend she has achieved her level 7 (again). Well done, Lola!
Jake took part for in the taekwondo British National Championships last weekend, the first time. No medal this time, but a super competitive category and he won his first fight. Great job!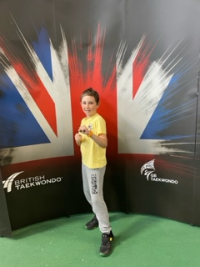 Eden took part in the British Taekwondo National Championship this weekend. The competition was tough with him having to go up against black belt level. Well done, Eden!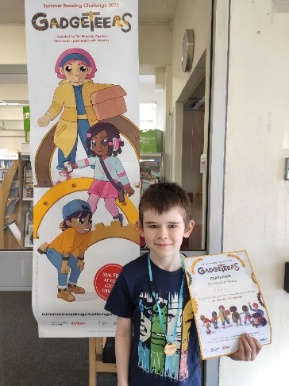 Congratulations Mark in year 4 for successfully completing the Herts Libraries Summer Reading Challenge.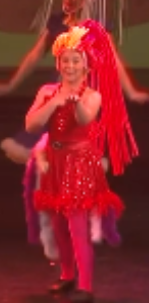 Anna in year 6 has been attending Stagecoach since she was 4 and has just been given her 6 year award. She goes for 3 hours every Saturday and it really is her favourite thing to do!
She has just completed her third performance on the stage at The Gordon Craig Theatre in her biggest role so far! She played Maizie La Bird in the production of Seussical Junior. Congratulations, Anna!
Almond Hill Achievements 2021/2022
Football

Trials have been completed for the Stevenage District football team. They started with 66 boys and narrowed them down week by week and we are delighted to tell you that TWO of our very own pupils have been picked for the team. A big congratulations to Harry in year 4 and Ralphie in year 5 we look forward to hearing how you get on.

Taekwondo

Eden in year 5 competed in the international Wales Poomsae and sparring championships. Eden got a silver medal in sparring, bronze in Poomsae teams and bronze in the individual Poomsae! Congratulations, Eden

Running

On Sunday Willow in year 4 completed the 5k race for life, this is her second race for life and she came in with an impressive time even in the heat. Well done, Willow!

Art

In year 5 art lessons, we created multimedia face pictures. Nelly in year 5 made her own picture at home. It looks brilliant!

Handwriting

Alexia in year 4 has been working really hard to improve her English and handwriting and received an honour student certificate and bronze medal for her work.

Gardening

WOW, look at that radish! Mercy in year 6 has been working hard in the allotment. Well done, Mercy!

Karate

Ananmay in year 3 passed his karate exam this weekend and earned his blue belt. Well done!

Taekwondo

Congratulations to Evah in year 4 for grading up to the next belt!

Dancing

Well done to Faine who achieved 'highly commended' in both his street dance and ballroom (quick step and waltz) exams. He is very pleased and so he should be!

Taekwondo

Congratulations Adam for going up a grade in Taekwondo!

Dance

A big well done to Mark in year3 who participated in the carnival dance parade for Stevenage Day on Sunday. He took part with great enthusiasm and concentration, including attending a 4-hour rehearsal in half term and a 3-hour dress rehearsal at the weekend.

Football

Archie has been awarded the 'most improved player' at his football presentation evening with AFC Walkern blues. Well done, Archie!

Football

Huge congratulations to the Almond Hill football team who were runners up in the league. Some of the team went to the trophy and medal presentation at the end of half term. Well done, boys!

Dancing

Brooke in year 6 won a trophy for her effort and listening in dancing from the 'Emerald Dance Academy'. Well done, Brooke!

Karate

Lily-Mae in year 6 recently went to a karate bootcamp. She came 2nd place in team games, 3rd place in sparring, the bigger trophy was for 'Warrior of the Week'. Well done, Lily-Mae!

Performing Arts

Evelyn, Casey and Rosie recently performed in the Peter Pan Show before half term at the Gordon Craig Theatre. They performed incredibly well. Well done!

Climbing

Last weekend, Abigail in year 4 climbed Glider Fawr 1001 meters via YGribin and Tryfan North Face Ridge (scrambled) 917 meters! She needed lots of determination and perseverance! Well done, Abigail!

May 2022

Football

.On Saturday, Phoebe in year 6 played her first ever football tournament with Bedwell Rangers. Phoebe scored a goal and her team won the tournament. Well done, Phoebe, we look forward to hearing how you and your team get on in the future!

May 2022

Taekwondo

Jake and Eden in year 5 took part in the Taekwondo Chungdokwan Great Britain (TCGB) National championships last weekend and both won silver medals in their respective categories. Their club TTKD also came 5th out of 17 overall. Well done, boys!

May 2022

Recognition in the Community

We have received a lovely email from the Compassionate Neighbours at the Garden House Hospice in recognition for the colouring the children in year 6 did for their Jubilee Party. Below is a snippet from the email. Well done, year 6.

I would like to say thank you from the bottom of my heart for the efforts you have put into the colouring in you all have done for our Jubilee party. I was over amazed by the skill and attention you all put into it.

I will like to say thank you once again for your efforts and to say I was amazed, but grateful when 90 posters turned up when only 30 were requested!

May 2022

Dancing

Ruby B in year 5 competed in the UK Street Dance Championship at the weekend representing her dance school "WARRIORS ". She was placed 2 in intermediate solo, 1st in advanced duo, 4th in 13 and under with her quad and 3rd with her team! Well done, Ruby.

May 2022

Football

Teddy in year 4 played in his 1st Football Tournament this weekend at Stevenage Football Club and we are incredibly proud to tell you that Teddy and his team won The Lamex Cup! Congratulations, Teddy.

May 2022

Taekwondo

Jake in year 5 took part in a taekwondo seminar in Basingstoke at the weekend with some of his team members. There were 180 attendees in total and they called out one participant to be given an award by the 9th Dan Grand Master from Korea that was hosting the event for effort and achievement during the event and we are incredible proud to tell you that Jake received the award! Well done, Jake.

May 2022

Dancing

Casey's (year 6) dance group came 2nd in their heat at Luton Festival recently and 1st in their heat at 'So You Think You Can Dance'. They came 2nd overall for the entire competition with over 150 acts. He has also just received a distinction on his grade 3 tap exam. Amazing achievement, well done!

May 2022

Swimming

A big well done to Marley in year 3 for completing her stage 2 in swimming and moving up to stage 3!

May 2022

Writing

Her Majesty Queen Elizabeth, The Queen Mother's Handwriting Awards 2022.

Joe in year 5 entered the competition and we are incredibly proud to tell you that he has been awarded 2nd place in 'Class 4'. He has been invited to receive a certificate in their awards ceremony in July. Congratulations, Joe!

April 2022

Football

A big well done to Jack in year 3 who won man of the match during the Easter holidays!

April 2022

Gymnastics

Tallulah passed her Level 6 in gymnastics recently - well done!

March 2022

Kickboxing

Cooper (year 4) won the class medal at his kickboxing class for doing really well in his first ever sparring session. Well done, Cooper.

March 2022

Swimming

Amelia in year 6 won GOLD in the 50m freestyle in her first swimming gala at the weekend. Well done, Amelia.

March 2022

Taekwondo

Congratulations to Adam and Ayoub who recently moved up to the next grade in Taekwondo. Great achievement, well done!

March 2022

Football

On Saturday, Mason in year 3 was over the moon to receive his third Man of the Match so far this season, for Bedwell Rangers FC U8's. Well done, Mason!

March 2022

Horse Riding

Mae (6J) came 2nd in her first dressage test with her horse, Campeon. Being a young competitor, she could have had assistance in the arena, but she wanted to do it by herself. She was the only competitor to do so and still took 2nd place! Well done, Mae!

March 2022

Fundraising

Abi from 3K helped raise £700 for the Ukraine relief last week. She spent Saturday getting all the items on the shopping list and then taking them up to Barnwell school depo point. She was such a big help as she was so moved from what she'd heard at school recently and wanted to help.

March 2022

Football

A big well done to Louie in year 3 who got man of the match at his football game at the weekend!

March 2022

Taekwondo

Eden in year 5 took part in his club's Taekwondo championship recently and won 2 gold medals and 2 silver! He won gold in 1:1 sparring and teams poomsae and silver in individual poomsae and pairs poomsae. Well done, Eden!

Taekwondo

Jake in year 5 also took part in the championship and he won a gold medal for sparring and two silver and a bronze for poomsae! Well done, Jake!

February 2022

The London Championship

Tate in year 6 competed in the London Championship for dance. She placed runner up in the intermediate section for slow and 3rd for the championship section for solo – well done, Tate!

February 2022

The London Championship

Macey in year 6 attends the London Academy to do Disco free style. She recently competed in the London Championship. She worked so hard following up to the competition and won 1st place in her Slow routine! Congratulations Macey!

February 2022

Spelling Bee

A big well done to Aahana who WON the Year 4 Spelling Bee! If your child won in year 3, 5 or 6 and you would like them featured in our newsletter, please email us a photo!

Spelling Bee

Well done to Sienna in year 3 who was the winner of the year 3 Spelling Bee!

February 2022

Stevenage Fire Station

Olivia in year 6 was personally invited to attend Stevenage Fire Station recently and even watched the fire fighters cut up a car! In one of the photos, Olivia is standing next to Lead Fire Officer Lily who spent time explaining what the Fire Officers were doing. She was given the chance to handle the equipment and to sit in the car. This was a fantastic opportunity for Olivia who wants to be a Fire Officer when she grows up!

February 2022

Dancing

Last week, Nelly and her dance partner made the final in their first ever Blackpool Champions national competition which is such a huge achievement for them! They competed with children from all over the UK. They are their dance teachers first ever Junior finalists at Blackpool, placing 4th in the UK and the only all girls couple to make the final! Well done, Nelly!

January 2022

Football

Having previously played for Watford, Harry in Year 4 has recently been signed for Tottenham Football Academy for under 9's! This is a huge achievement and shows how hard Harry works as well as his love and dedication for the sport. Well done Harry, we look forward to hearing how you get on at Tottenham.

December 2021

Dancing

Nelly in Year 5 has been ballroom and Latin dancing for 2 years now and frequently competes in national competitions. She has now won over 30 trophies. Most recently, Nelly competed and placed FIRST in all of her dances! She's currently working towards a national competition taking place in Blackpool in January 2022. Well done Nelly!

December 2021

Gymnastics

A big well done to Annelise in year 5 who competed at the Hertfordshire County Gymnastics Championships over the weekend and won gold! Annelise is county champion cup level 1 age 9-10. Congratulations!

November 2021

Taekwondo

Jake and Eden in year 5 recently competed in their first Taekwondo competition and we are incredibly pleased to tell you that they came 3rd! Well done both of you, we are looking forward to hearing about your future achievements.

November 2021

Mrs Joannou ran the Marathon!

Mrs Joannou ran the virtual London Marathon on Sunday: 26.2 miles in loops of her village, raising money for the Ian Pratt Motor Neurone Disease Foundation. Lots of fun was had, including the wearing of various different fancy dress outfits (different for every lap!) and lots of money was raised for this small charity that supports those diagnosed and living with MND.

October 2021

Race for Life

On Saturday 9th October, Willow in year 4 took part in a 5k kids muddy Race for Life event. She did an amazing job and raised £300 for Cancer Research. Well done Willow!

October 2021