Achievements and Photos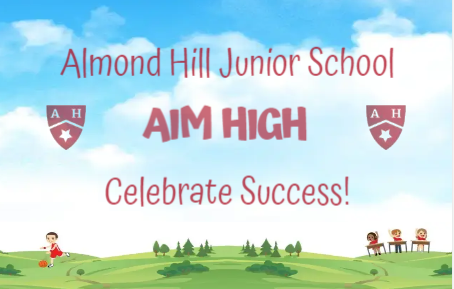 We would love to hear from you!
At Almond Hill, we love to share and celebrate your successes. If you would like your child featured in our weekly newsletter, please email admin@almondhill.herts.sch.uk with a photo of your child and a bit of information about the wonderful things they have been doing. You can see some of our recent achievements below!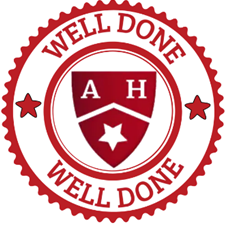 Almond Hill Achievements
Writing

Her Majesty Queen Elizabeth, The Queen Mother's Handwriting Awards 2022.

Joe in year 5 entered the competition and we are incredibly proud to tell you that he has been awarded 2nd place in 'Class 4'. He has been invited to receive a certificate in their awards ceremony in July. Congratulations, Joe!

April 2022

Football

A big well done to Jack in year 3 who won man of the match during the Easter holidays!

April 2022

Gymnastics

Tallulah passed her Level 6 in gymnastics recently - well done!

March 2022

Kickboxing

Cooper (year 4) won the class medal at his kickboxing class for doing really well in his first ever sparring session. Well done, Cooper.

March 2022

Swimming

Amelia in year 6 won GOLD in the 50m freestyle in her first swimming gala at the weekend. Well done, Amelia.

March 2022

Taekwondo

Congratulations to Adam and Ayoub who recently moved up to the next grade in Taekwondo. Great achievement, well done!

March 2022

Football

On Saturday, Mason in year 3 was over the moon to receive his third Man of the Match so far this season, for Bedwell Rangers FC U8's. Well done, Mason!

March 2022

Horse Riding

Mae (6J) came 2nd in her first dressage test with her horse, Campeon. Being a young competitor, she could have had assistance in the arena, but she wanted to do it by herself. She was the only competitor to do so and still took 2nd place! Well done, Mae!

March 2022

Fundraising

Abi from 3K helped raise £700 for the Ukraine relief last week. She spent Saturday getting all the items on the shopping list and then taking them up to Barnwell school depo point. She was such a big help as she was so moved from what she'd heard at school recently and wanted to help.

March 2022

Football

A big well done to Louie in year 3 who got man of the match at his football game at the weekend!

March 2022

Taekwondo

Eden in year 5 took part in his club's Taekwondo championship recently and won 2 gold medals and 2 silver! He won gold in 1:1 sparring and teams poomsae and silver in individual poomsae and pairs poomsae. Well done, Eden!

Taekwondo

Jake in year 5 also took part in the championship and he won a gold medal for sparring and two silver and a bronze for poomsae! Well done, Jake!

February 2022

The London Championship

Tate in year 6 competed in the London Championship for dance. She placed runner up in the intermediate section for slow and 3rd for the championship section for solo – well done, Tate!

February 2022

The London Championship

Macey in year 6 attends the London Academy to do Disco free style. She recently competed in the London Championship. She worked so hard following up to the competition and won 1st place in her Slow routine! Congratulations Macey!

February 2022

Spelling Bee

A big well done to Aahana who WON the Year 4 Spelling Bee! If your child won in year 3, 5 or 6 and you would like them featured in our newsletter, please email us a photo!

Spelling Bee

Well done to Sienna in year 3 who was the winner of the year 3 Spelling Bee!

February 2022

Stevenage Fire Station

Olivia in year 6 was personally invited to attend Stevenage Fire Station recently and even watched the fire fighters cut up a car! In one of the photos, Olivia is standing next to Lead Fire Officer Lily who spent time explaining what the Fire Officers were doing. She was given the chance to handle the equipment and to sit in the car. This was a fantastic opportunity for Olivia who wants to be a Fire Officer when she grows up!

February 2022

Dancing

Last week, Nelly and her dance partner made the final in their first ever Blackpool Champions national competition which is such a huge achievement for them! They competed with children from all over the UK. They are their dance teachers first ever Junior finalists at Blackpool, placing 4th in the UK and the only all girls couple to make the final! Well done, Nelly!

January 2022

Football

Having previously played for Watford, Harry in Year 4 has recently been signed for Tottenham Football Academy for under 9's! This is a huge achievement and shows how hard Harry works as well as his love and dedication for the sport. Well done Harry, we look forward to hearing how you get on at Tottenham.

December 2021

Dancing

Nelly in Year 5 has been ballroom and Latin dancing for 2 years now and frequently competes in national competitions. She has now won over 30 trophies. Most recently, Nelly competed and placed FIRST in all of her dances! She's currently working towards a national competition taking place in Blackpool in January 2022. Well done Nelly!

December 2021

Gymnastics

A big well done to Annelise in year 5 who competed at the Hertfordshire County Gymnastics Championships over the weekend and won gold! Annelise is county champion cup level 1 age 9-10. Congratulations!

November 2021

Taekwondo

Jake and Eden in year 5 recently competed in their first Taekwondo competition and we are incredibly pleased to tell you that they came 3rd! Well done both of you, we are looking forward to hearing about your future achievements.

November 2021

Mrs Joannou ran the Marathon!

Mrs Joannou ran the virtual London Marathon on Sunday: 26.2 miles in loops of her village, raising money for the Ian Pratt Motor Neurone Disease Foundation. Lots of fun was had, including the wearing of various different fancy dress outfits (different for every lap!) and lots of money was raised for this small charity that supports those diagnosed and living with MND.

October 2021

Race for Life

On Saturday 9th October, Willow in year 4 took part in a 5k kids muddy Race for Life event. She did an amazing job and raised £300 for Cancer Research. Well done Willow!

October 2021
Joining the Team!
After attending trials for Stevenage District's football team, we are very proud to announce that Gene in year 5 has been accepted and will be joining the squad for 2021-22. Well done, Gene!
To keep track of how the team get on during the season you can follow their progress here:
www.pitchero.com/stevenagedistrictprimaryschools
July 2021
Going for Gold!
The Stevenage team had their last event of the season, and it was a major tournament that began last October with 21 teams competing in regional hub events all over England and Wales. The climax was a finals tournament on Saturday 26th June down in Surrey where the final eight teams would play off to determine the champions.
The Stevenage side began the day in great form, and won their first two games against Wokingham and Swansea, and a draw with Gloucester meant that they would progress to the semi-final stage. They then faced another, really tough, team from Swansea and managed to beat them 2-1 to earn a place in the final. The final itself was a cagey affair, two teams working hard to try and score, but both defences in good form. The game finished all square at 0-0, but the organisers decided to give Stevenage the gold winners medals as they had beaten Wokingham earlier in the group stages.
This is a huge achievement, and we are incredibly proud of the boys but more specifically, Tom in year 6 who was part of the winning side — congratulations Tom!
June 2021