Achievements and Photos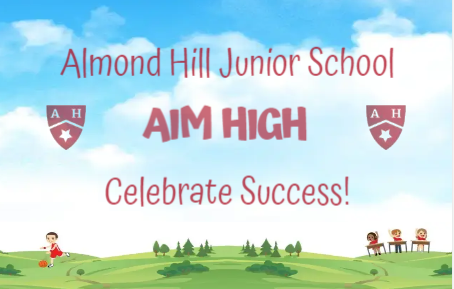 House Points
Children have been allocated a team colour (Red, Blue, Green or Yellow -please note this may be different from what they have previously been for sports day). They will remain in this house colour for the duration of their journey through Almond Hill. Siblings have been placed in the same team colours. Ask your child about their colour.
We wish to celebrate success at Almond Hill so throughout the year children can earn house points for their team colour for their ENGAGEMENT, ENJOYMENT and ACHIEVEMENT.
We love hearing about the children's successes outside of school too so please continue to keep us informed of any outside achievements. We will share these in the newsletter and will reward children with a house point for their team colour.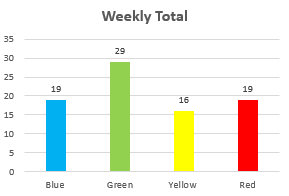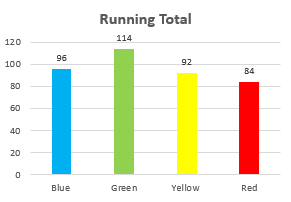 We would love to hear from you!
At Almond Hill, we love to share and celebrate your successes. If you would like your child featured in our weekly newsletter, please email admin@almondhill.herts.sch.uk with a photo of your child and a bit of information about the wonderful things they have been doing. You can see some of our recent achievements below!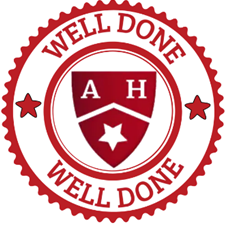 Almond Hill Achievements 2023/2024
September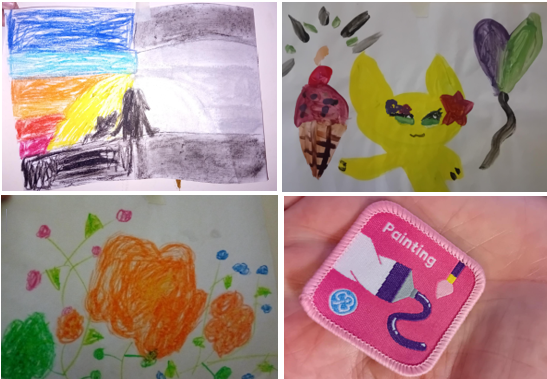 Lottie in Year 4 was recently awarded her Artist badge at Brownies. She did some brilliant artwork! Well done Lottie!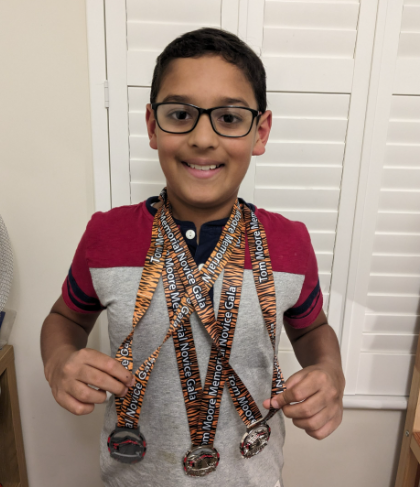 Ananmay participated in a swimming gala this weekend and won 2 silver medals in the 25 and 50 meter breast stroke competition. Well done!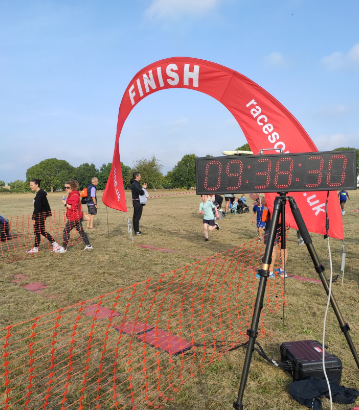 A big congratulations to Mark in Year 5 who completed a mile long race this weekend before the Stevenage 10k.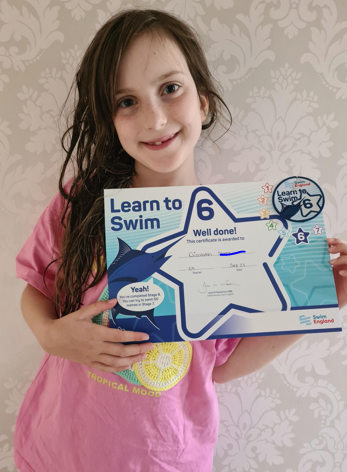 Elizabeth in Year 4 has completed her Stage 6 Swimming Certificate and has moved on to Purple Hats in Stage 7.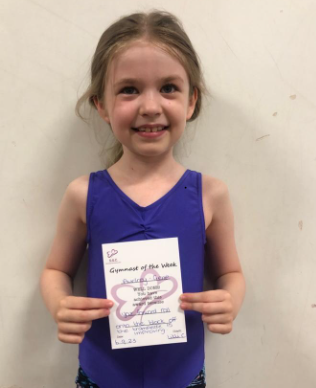 Gene in Year 4 returned to gymnastics this week and was gymnast of the week for improving her forward roll on the block off of the trapeze. Good job, Gene!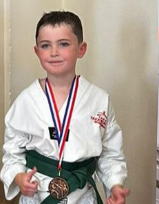 Teddy in Year 3 competed at the Taekwondo English cup championship this week. He came 3rd place for Sparring and was presented with a Bronze medal. Congratulations!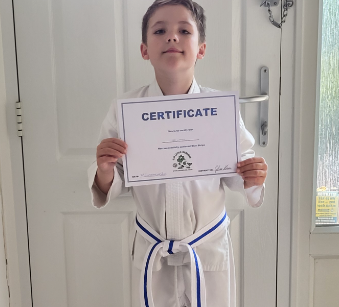 Well done to Rj in Year 4 who Rj has completed his blue stripe belt in Taekwondo!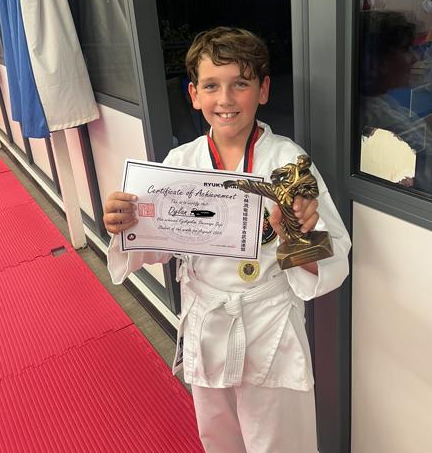 Congratulations to Dylan in year 5 who was awarded student of the month at his karate club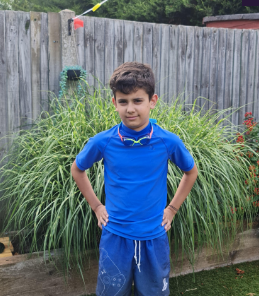 Hari in Year 6 progressed to level 8 Comp in swimming a few weeks ago.
During his recent session, he was asked by his instructor if he would join a couple of level 10 students who were attempting their 1-mile continuous swim (no stopping) challenge. Just to give it a go as they wanted to establish his endurance level. He wasn't expected to complete the whole distance even a third would be huge achievement.
He completed the whole distance and finished ahead of the others. One whole mile (1600meters) 76 laps of the pool. A massive achievement, well done!
During the holidays, Hari went on to complete level 9 and 10. He has now completed all of the Swim England levels. An amazing achievement.
He has been approached about competitive swimming but he's next challenge is Rookie Life Guard training!
Almond Hill Achievements 2022/2023
Football trials for next season's Stevenage District Football team is now complete. The organisers had to narrow down the squad from 60+ to the required squad number. We are incredibly proud to tell you that Adam and Guy (current year 4) have made it on to the team! They will train with the District squad next season in preparation for the following year. Well done, boys!
Abigail, Albert, Penelope and George (all in Year 4) had their first ever musical at Nobel school on Sunday with their dance company Everett Academy.

They had two performances and played werewolves and cheerleaders in the iconic children's musical Zombies!
Amazing achievement - you should be very proud of yourselves!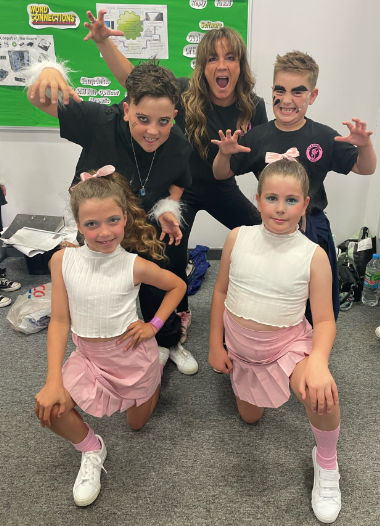 Some of our children had an exciting visit at their Karate club last week. They had their usual lesson and was greeted by the Mayor of Stevenage who even joined in with the class.

Elizabeth in Year 3 has passed her Level 7 Gymnastics Proficiency Award. She also received her Ultra Marathon wristband for completing 50 Junior Park Runs. What an achievement. Well done!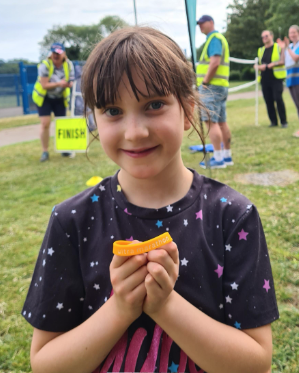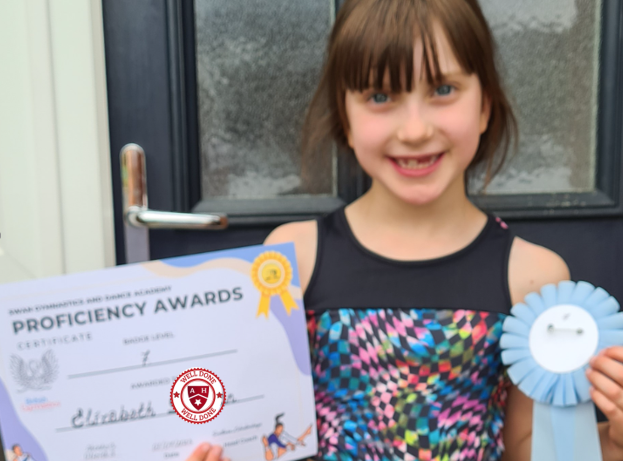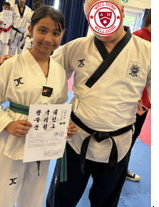 Well done to Evah for achieving her next belt in Taekowondo. She is now at blue stripe level!
Amazing!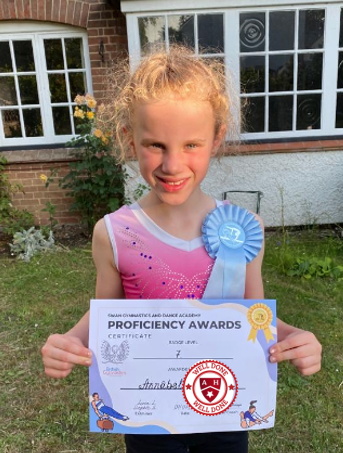 Annabel in Year 3 passed her level 7 at gymnastics at the weekend. She is very proud of herself and so she should be!
Well done!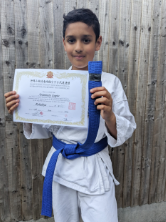 Last week, Ananmay was assessed for the next level in karate and he got his next belt - blue with a black stripe! Well done, Ananmay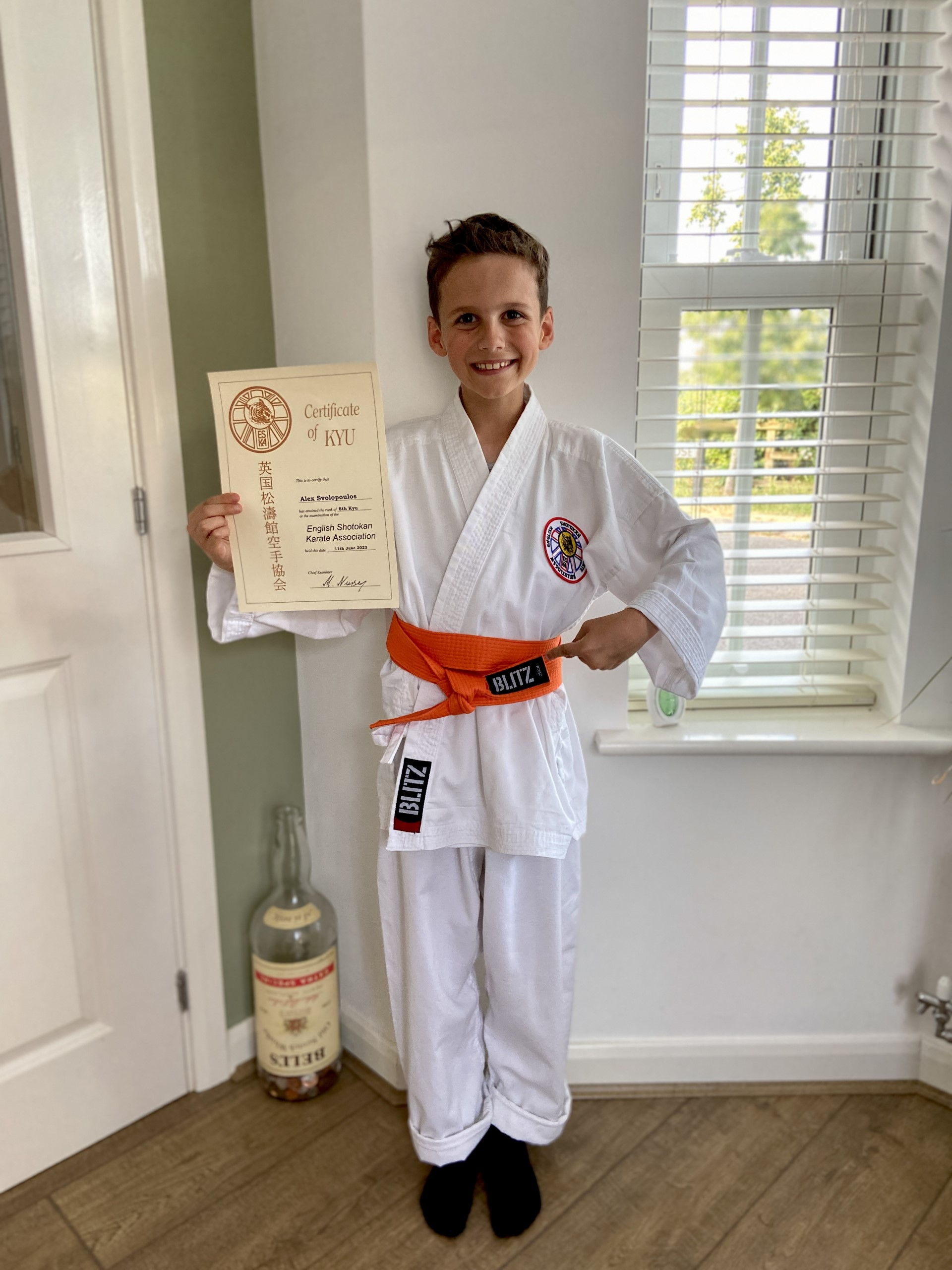 Alex in Year 5 passed his third Karate grading moving from red belt to orange belt. Congratulations!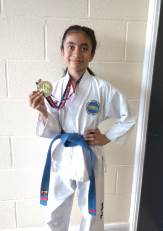 Aahana participated in Taekwondo tournament and won a gold medal! What an achievement! Well done!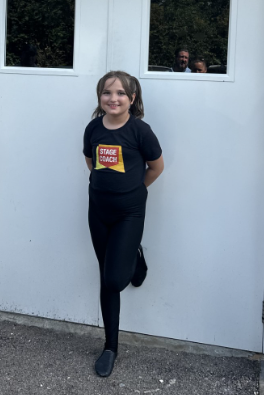 A big well done to Emelia-Rose in Year 4 who recently performed at the Gordan Craig Theatre! Amazing!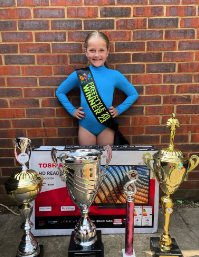 Maddison in Year 4 won Under 10 slow beginner section and also won under 10 fast beginner section at a dance competition she attended recently in Wales!
In fast, if they win, they dance against all beginner winners to get one overall winner - and she also won this!
This means that Maddison is getting a grade move to a harder section. Absolutely fantastic and lots of hard work!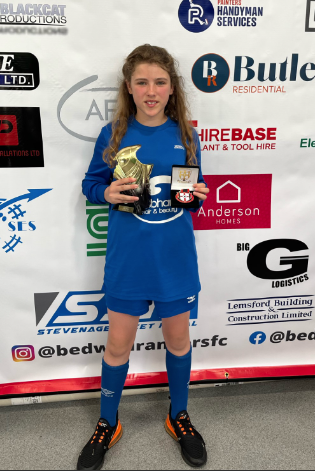 Summer in Year 5 won the most improved player of the season at her football club's presentation event on Saturday. Well done, Summer.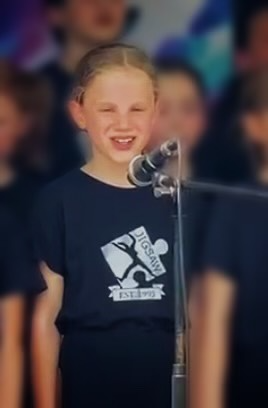 Annabel in Year 3 took to the stage this weekend to perform a Madonna medley with her Jigsaw Performing Arts Class to celebrate Stevenage Day. What a fantastic achievement in front of all those people! Well done, Annabel!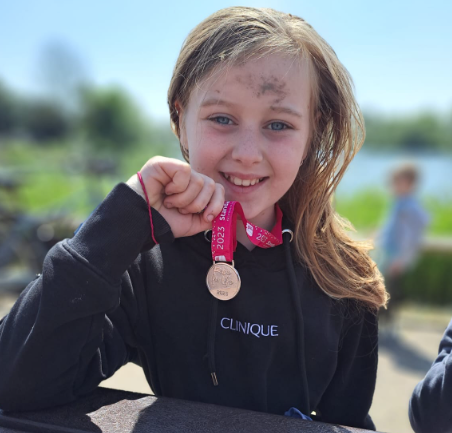 At the start of half-term Willow in year 5 ran a 5km kids muddy run for race for life raising £200 for Cancer Research UK. Amazing achievement, well done!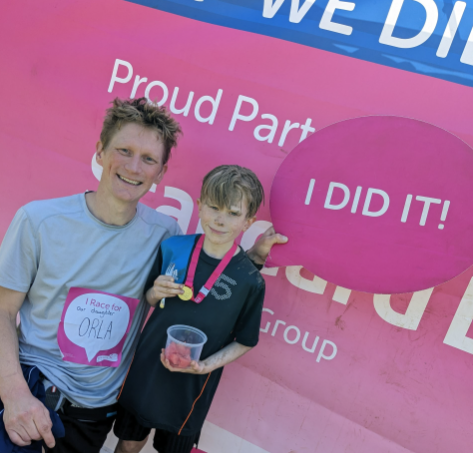 Eddie completed a 5k 'tough mudder' for Cancer Research UK during half-term, raising over £1000 in aid of his sister, Orla. He completed the entire course and all obstacles in under 30 minutes! Absolutely fantastic. Well done!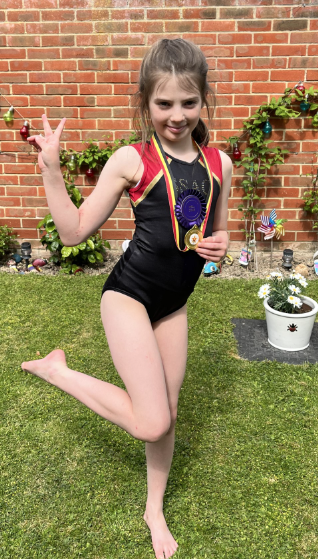 Amelie took part in a gymnastics/acro competition last week and did really well. She came first in her category, doing a perfect routine with her acro partner and was thrilled to earn a gold medal.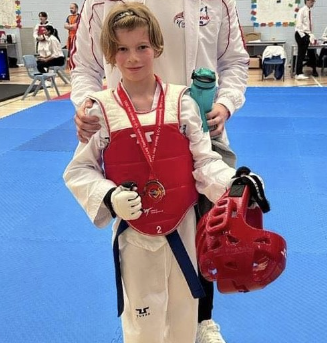 Jake has had a trio of successes in taekwondo in the past few weeks. He has progressed to red tag following grading, has been given an award by a Grand Master from Korea in a recent seminar and got a gold medal in a competition for sparring. Very well done Jake!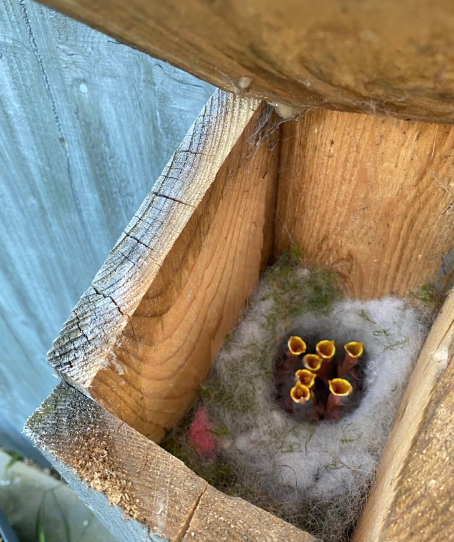 Daisy in year 4 sent us a wonderful photo of the blue tits that have hatched in the bird box in their garden!
Oliver's team won the Calvert cup on Saturday by winning 5-1. Oliver is the goalkeeper for his team! Well done, Oliver.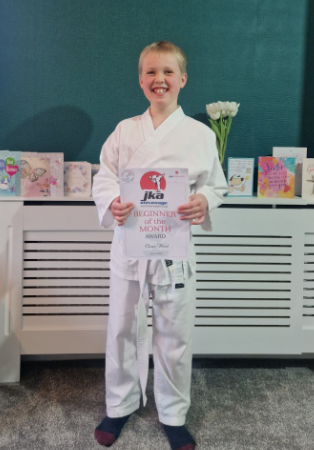 Oscar started karate at the end of March and has just won the Beginner of the Month award, which includes the adults too! He has been practising at home and staying after his lessons to watch and learn. Well done, Oscar!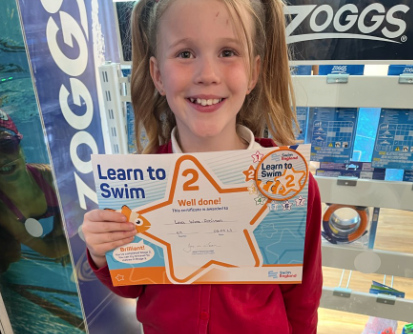 Lola in 4L passed her level 2 swimming. Well done!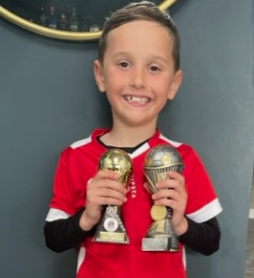 Stanley achieved both trainer of the week and man of the match this week! Wow, well done Stanley!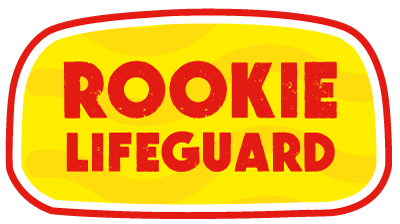 Sidney in year 4 achieved his Bronze Rookie Lifeguard Certificate at the weekend! A huge achievement. Well done Sidney!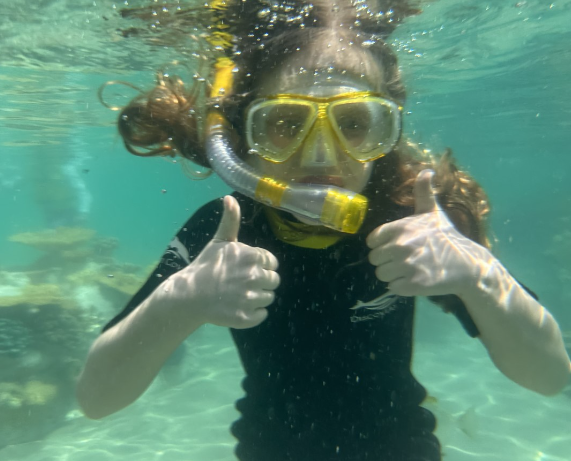 Annabel in Year 3 passed her stage 5 swimming level and has become a dark blue hat. She put all that to good use over the Easter holidays swimming and snorkelling!
Mason in year 3 was awarded his 20 metre swimming certificate recently. Well done, Mason!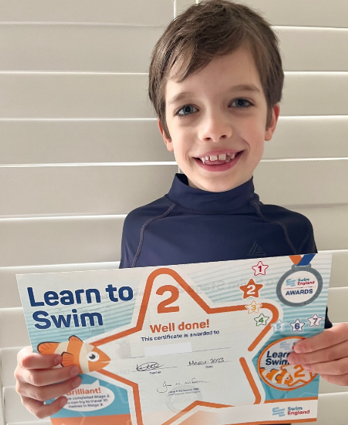 Adam in Year 3 passed his Swim England stage 2 swimming award and has now moved onto stage 3. Well done, Adam!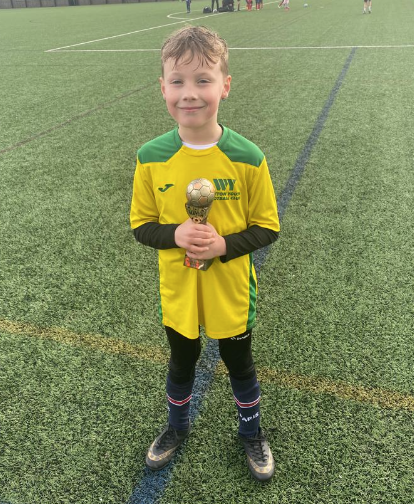 A big well done to Jack who was awarded 'Man of the Match' at this football match this weekend!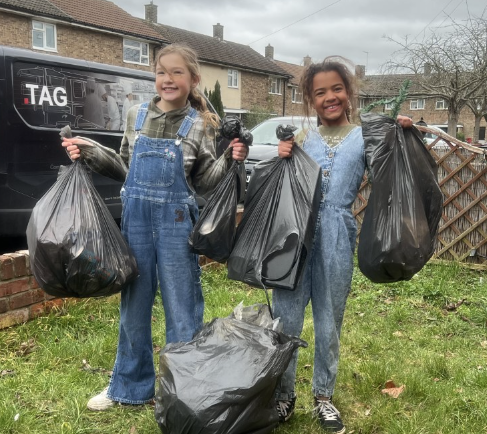 Anniyah and Marley in year 4 spent time on Sunday collecting litter and what a fabulous job they did! This fits in nicely with the Big Litter Pick that we have pledged to take part in next week!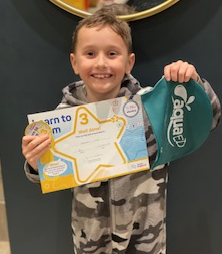 Congratulations to Stanley who has recently been awarded his level 3 certificate in swimming!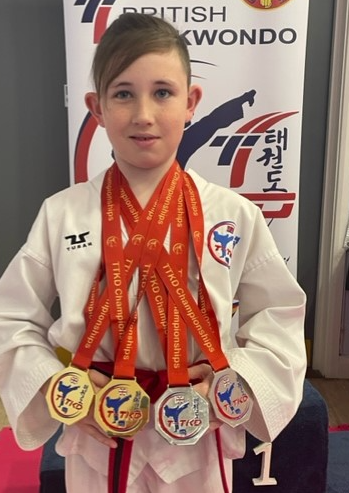 Eden won several medials at a taekwondo competition at the weekend. Great job, Eden. Well done!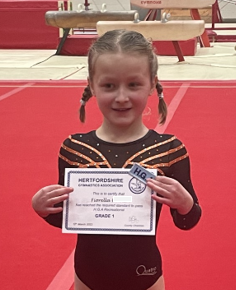 Fiorella took part in a HGA grading competition over the weekend with her squad at Marriotts. Fiorella passed her grade 1! Well done, Fiorella!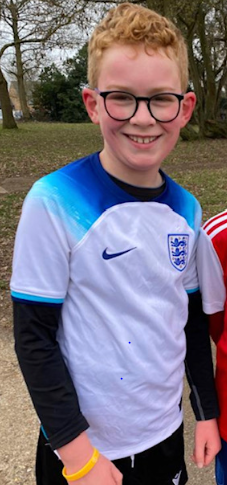 Louis was awarded his "ultra marathon" yellow wrist band at Stevenage Junior Park Run on Sunday. That marks 50 junior park runs since Louis started in January 2022.
An incredible achievement Louis, well done!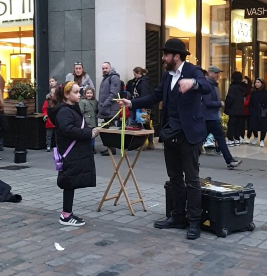 Alexia had a 'magic moment' this weekend when she was a magicians assistant in Covent garden! She built up her confidence and bravery to stand up in front of 100 people and wanted to share this with everyone. WOW! Well done!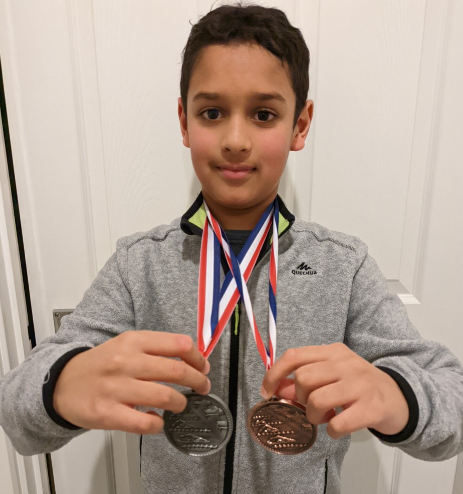 Ananmay participated in the swimming gala on the weekend and won a bronze medal in 25meters breast stroke race and silver in the 25 meters butterfly stroke.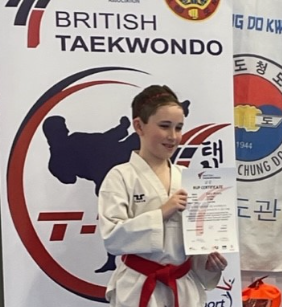 Eden recently passed his taekwondo grading and now is a black tag belt. This is his last before going for black belt later in the year! Well done, Eden!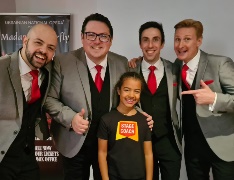 Anniyah recently took part in a performance at the Gordon Craig with the Opera Boys and Stagecoach. Very well done on a brilliant performance.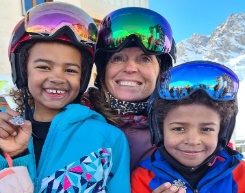 During half term, she achieved her 1st Etoile badge for skiing, and has managed to ski down a black run with style and grace.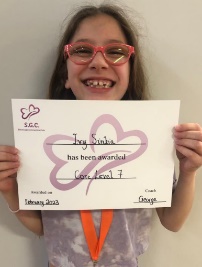 Ivy was awarded her certificate and medal for completing level 7 in gym! Well done!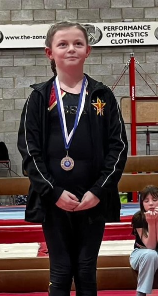 Annelise took part in a tumbling competition in Milton Keynes and she got the silver medal!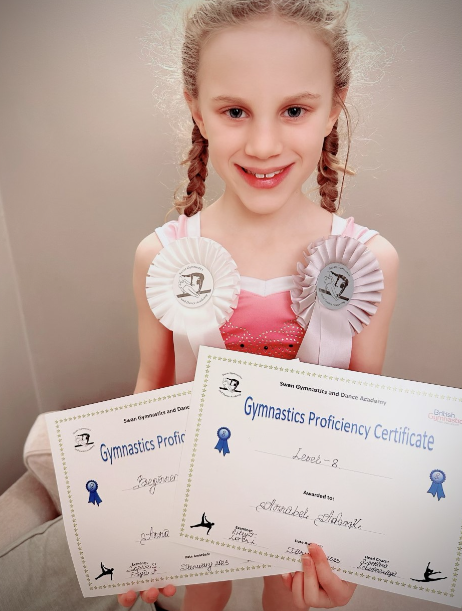 Annabel in year 3 successfully passed her Level 8 Gymnastics last weekend too. This has increased her determination to spend as much time as possible upside down cartwheeling and hand standing!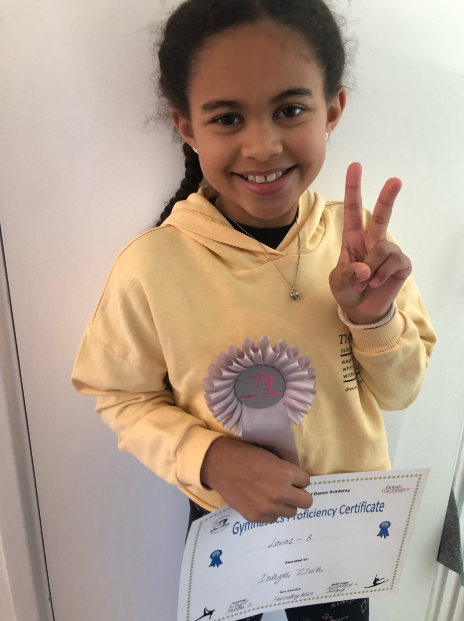 Inayah in year 3 has also achieved the next level at gymnastics and is now a level 8 gymnast! Fantastic work, Inayah!
Well done to all our gymnasts!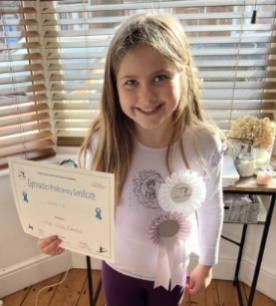 Ava-Rose in year 3 received her level 8 certificate in gymnastics this week! Congratulations, Ava-Rose!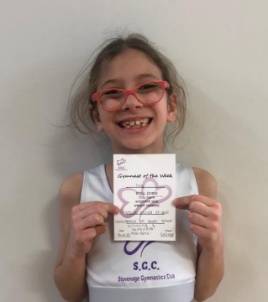 After lots of hard work, Ivy was awarded gymnast of the week for her bravery doing a handstand on the beam! Well done, Ivy!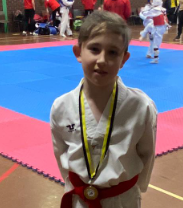 Eden participated in a sparring training event in Wales over the weekend. Despite the size difference and the competitor being a higher belt, Eden won this and a follow up match 2-0.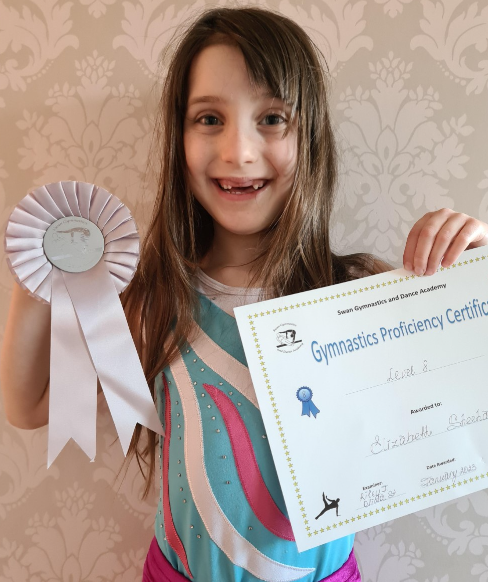 Elizabeth in Year 3 has gained her Level 8 Gymnastics Award.

Well done, Elizabeth!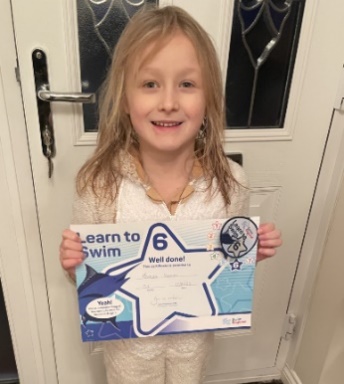 Fiorella was recently awarded her stage 6 badge in swimming. She has now moved to purple hats stage 7.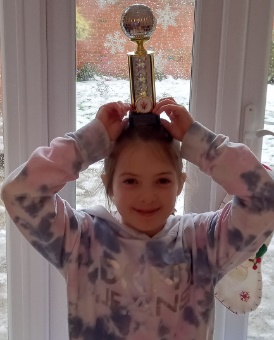 Amelie in Year 6 won Stevenage Sports Acrobatics Club Most Improved Gymnast for 2022 (Development Squad). A great achievement Amelie, well done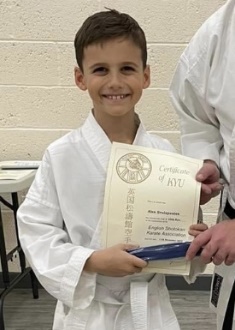 Alex in year 5 recently passed his first Karate grading moving from white belt to blue belt. He started in September and really loves his lessons! Well done, Alex.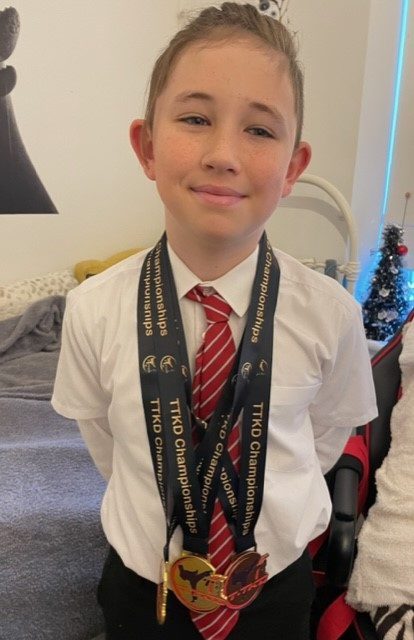 Eden won 2 gold and 1 bronze medal in a taekwondo tournament over the weekend. He entered 3 categories; solo, pairs and a group trio. Well done, Eden!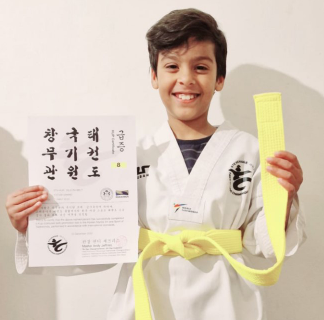 Ayoub went up a grade to yellow belt in his taekwondo class last week. Congratulations!
In class on Friday, year 4 were discussing what community issues are important to us, what changes could be made and how Parliament could help. After reading a letter about the homeless from The Salvation Army, Layla made a lovely donation to help the homeless. What a fantastic example of citizenship!
Inayah in year 3 took part in her gymnastics club showcase on Sunday 4th December. She did a great job – well done!
A big well done to every pupil who took part in our 'England Rocks' times table competition. Our school finished in the top third nationally of the schools that entered! Congratulations to 5P (upper school) and 4O (lower school), you are true TTRockstars. Congratulations also to individual class winners, who were presented with a certificate in assembly.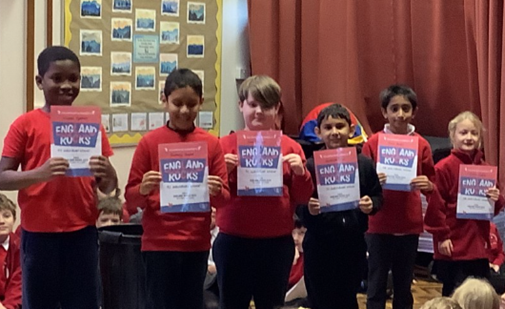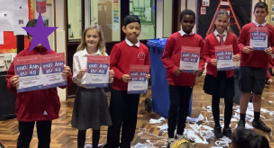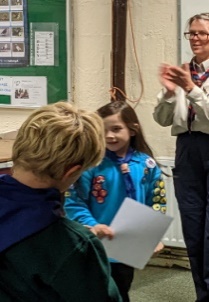 On 10th November Lottie-Page received her bronze award in beavers. This is the highest that can be completed in beaver scouts. On Sunday, she was chosen by the district team to lead the scouting community in the Remembrance Day parade.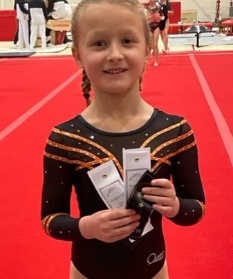 Fiorella took part in the Marriott's gymnastics club championships on Sunday with her squad and she was awarded Silver in Bars, Silver on the Vault and 4th place overall. Fantastic achievement, well done.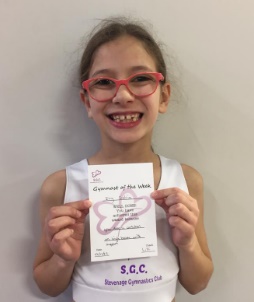 Well done to Ivy in year 4 who received a certificate of achievement in gymnastics for doing a cartwheel on a beam! Wow, well done!
Oscar progressed to stage 5 in his swimming lessons the week before half term. Well done, Oscar!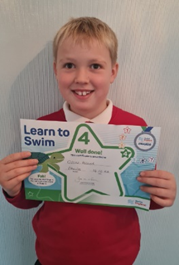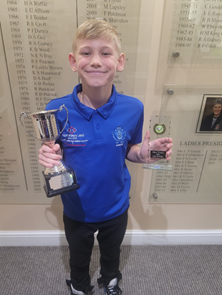 This weekend Jack attended his final golf competition of the year at Letchworth Golf Club which he is a member of. He was awarded "Best Academy Player of the Year 2022" and received a trophy. The competition organiser for his club said he nominated Jack without hesitation. This is a fantastic achievement for Jack who only starting playing in the summer!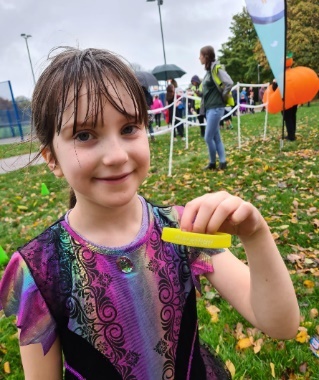 Elizabeth in Year 3 has completed 21 Junior Park Runs and has earned her marathon wristband. Well done!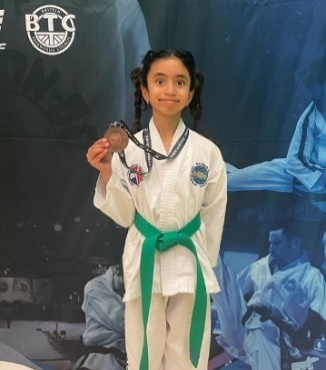 During the half term, Aahana in Year 5 participated in Taekwondo National Championship and won a Bronze medal for her club. Fantastic!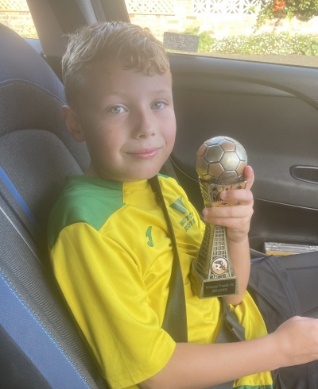 Well done to Jack in Year 4 for being awarded 'Man of the Match' at his football game over the weekend. Well done, Jack!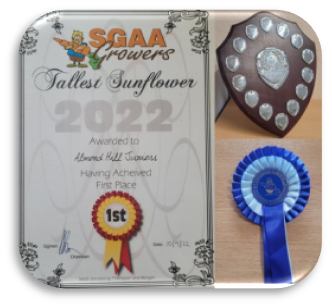 A big well done to our gardening club for coming first in the SGAA Growers tallest sunflower competition.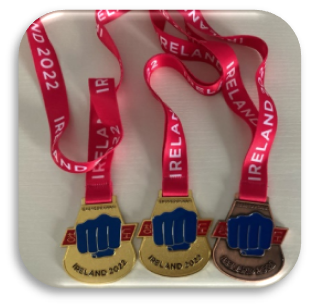 Jake did a great job at the Irish international open taekwondo championships at the weekend. He achieved a Gold in the Poomsae individual and Bronze in the pairs, as well as Gold in the sparring. Well done, Jake!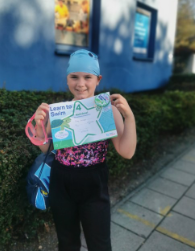 Ruby achieved her stage 4 swimming award and is now working on stage 5 in blue hats. Congratulations!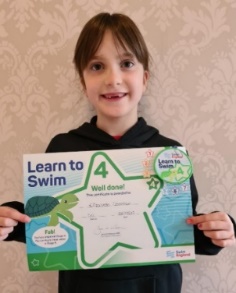 Elizabeth passed her Stage 4 swimming and has moved on to Stage 5 blue hats. Well done!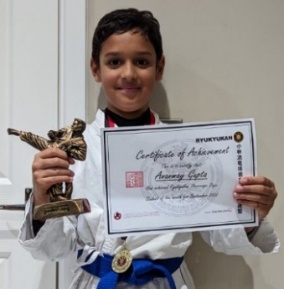 Ananmay was awarded student of the month at his karate dojo for initiative and good listening and learning. Well done!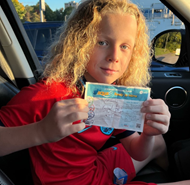 Archie signed up to do regular swimming lessons because he enjoyed the school lessons so much.
In just a couple of weeks he had gone up a level already! Good job!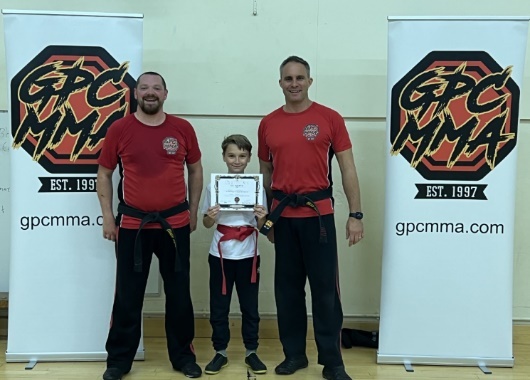 A BIG well done to Bobby who has recetly achieved Red Belt grading in MMA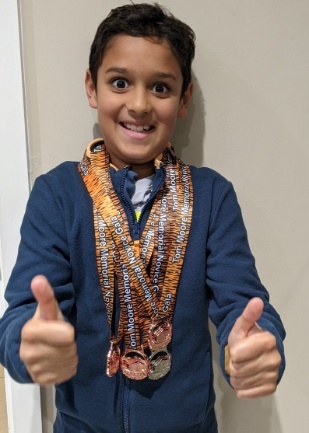 Ananmay took part in the swimming gala last weekend and won 3 bronze and one silver medal for the 4 races he participated in!
25m front crawl and breast stroke and 50m front crawl and breast stroke! Great achievement, well done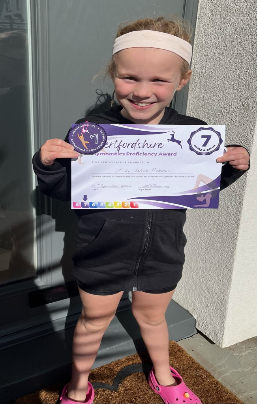 Lola started a new acrobatics group and is having to start again with her levels. This weekend she has achieved her level 7 (again). Well done, Lola!
Jake took part for in the taekwondo British National Championships last weekend, the first time. No medal this time, but a super competitive category and he won his first fight. Great job!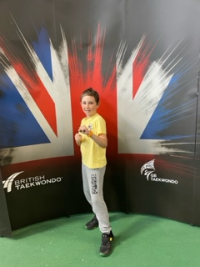 Eden took part in the British Taekwondo National Championship this weekend. The competition was tough with him having to go up against black belt level. Well done, Eden!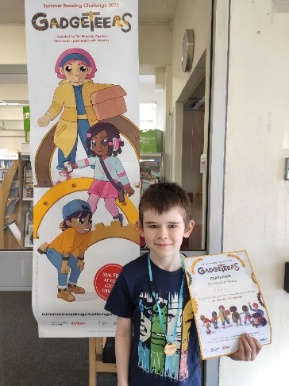 Congratulations Mark in year 4 for successfully completing the Herts Libraries Summer Reading Challenge.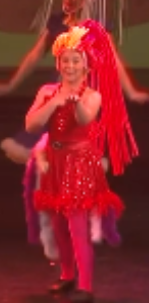 Anna in year 6 has been attending Stagecoach since she was 4 and has just been given her 6 year award. She goes for 3 hours every Saturday and it really is her favourite thing to do!
She has just completed her third performance on the stage at The Gordon Craig Theatre in her biggest role so far! She played Maizie La Bird in the production of Seussical Junior. Congratulations, Anna!