Behaviour
Almond Hill – 'The STEPS approach'.
Hertfordshire Steps is the local authority's preferred approach to supporting positive behaviour management in schools and settings. The Steps approach forms part of the authority's behaviour strategy. It has been agreed through the SEND Executive and forms part of Hertfordshire's Local Offer.
What is Hertfordshire Steps?
Hertfordshire Steps is a therapeutic approach to positive behaviour management and is already well established in our school. The Steps approach is based on the following principles:
Shared focus on inclusion of all children and young people within their educational settings
A shared set of values and beliefs
Open and shared communication
A shared commitment to diversion and de-escalation
Shared risk management
Shared reparation, reflection and restoration
Staff at the school receive regular training updates from Hertfordshire County Council and our staff fully believe in the benefits a Steps approach brings to the wellbeing of our children and staff alike. We have even offered coaching to our parents to encourage the principles to be used at home. You will find a power point from our last training session at the bottom of this page. Please look out for more opportunities to join us for future workshops.
You can find more information about Hertfordshire Steps and the Behaviour Strategy for Hertfordshire by clicking here.  
With STEPS there is a focus on equity and not equality and we very much believe in giving children what they 'need' to learn. This is often linked to them feeling 'pro social and happy' and sometimes additional work is required to achieve this.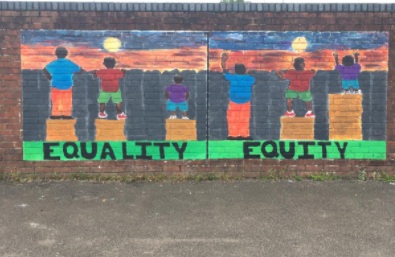 The wall on our school grounds was painted during Summer 2020
School Rules
We have very few rules and those we do have are concerned chiefly with safety, the happiness of the child and preparing for life in society.
We expect children to follow our Code of Conduct:
Always treat others in a way you would wish to be treated yourself
Enable good learning for yourself and others
Take responsibility for what you say and what you do.
Take pride in all you do at school.
Talk to each other, teachers and other adults in a respectful, polite and friendly way and listen to others.
Make sure you always show good manners around the school and in the playground.
Use every opportunity to act as an ambassador for the school within school itself and in our local community.
Treat school equipment, classrooms, grounds and the school environment with respect and care
Always ask first before borrowing anything
If someone provokes you, move away from them, or if you find it hard to regulate yourself, find an adult to help you or a safe space
Wear your school uniform smartly and take pride in your appearance including your PE kit
Follow safety rules to ensure everyone is and feels safe by following the classroom rules which are displayed in every classroom and referred to by all adults in the school
For our policies relating to behaviour, please click the link below to be taken to our polices page.