Learning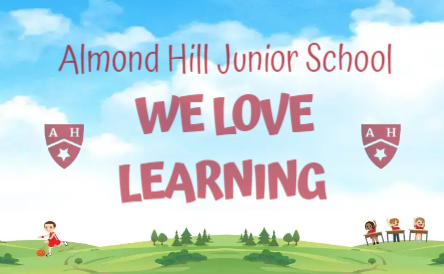 Learning Behaviours
At Almond Hill, we believe 'Learning Behaviours' help prepare our children with the skills to help them adapt to the future challenges they will face in an ever-changing world. Children who are inspired learners have the confidence to recognise that by working hard and focusing on learning these skills, they can achieve success.
The way we describe our learning behaviours change as the children progress from the lower school to the upper school, however the behaviours stay the same. Our learning behaviours are outlined below along with the key attributes we ask the children to consider within their learning.
We actively promote the learning behaviours within the school and encourage you to do so at home and whilst in the wider community.
Lower School

Upper School


Have a go

Marvellous mistakes – it's okay to make mistakes and have another go,
Try on my own but know where to find help.

Making mistakes means I'm learning,
Use my own initiative to find a range of resources.


Being curious

Ask questions to learn more,
Try things out in a different way

Ask questions to extend my learning,
Experiment with different ideas and choose the best one.


Enjoy learning

Show you are interested by sharing your ideas.
Find out more about things that interest you.
Be happy to join in.

Always be an active learner,
Ask to do more,
Be happy to join in an encourage others.


Ready to learn

Show you can listen to adults and other children,
Have all the equipment you need for the task,
Focus on your own learning.

Show you can listen and respond,
Have everything you need for the school day,
Manage distractions independently.


Working together

Work with a learning partner and in different small groups,
Follow class rules and routines.

Work in a range of groups taking on different roles,
Follow class rules and routines with adults.


Aiming high

Feel OK to take on a challenge,
Know that feedback will help me improve,
Remember what I have learned before and link it to new learning.

Look for ways to challenge yourself,
Use previous feedback to help in future tasks,
Make connections between different subjects and transfer to a wide range of situations.
The Almond Hill Pyramid
We are working with all children across the school to reach the top of our pyramid. The pyramid helps children to identify why they make the choices they do. Is it for reward or positive praise? Is it because they want to avoid negative consequences? Or is it because it's just who they are?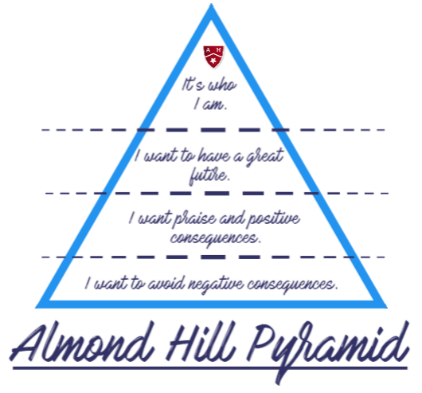 It's Who I Am
It is fantastic to see more children reaching the top of the pyramid. Well done!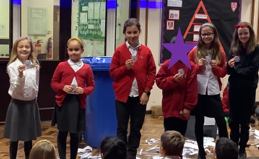 We are encouraging children to be the best that they can in everything they do. This includes learning and personal development. All of our children are somewhere on their journey towards the top of the pyramid and it gave me great pleasure to award 5 children 'top of the pyramid badges' in our assembly on Monday. Well done to Elyssia, Tokoni, Dylan, Luna and George.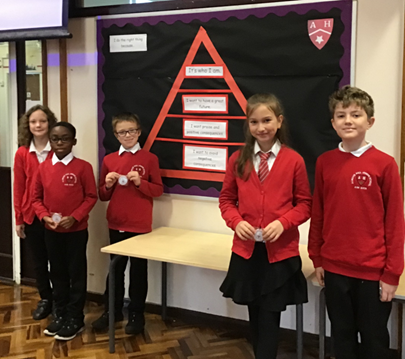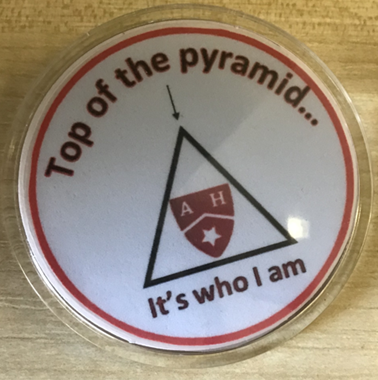 November 2022
In school, we have celebrated the achievements of a group of children who undertook the summer DT learning challenge. Children were asked to take an every day object that may be found in the home and to redesign it to make it even better than the original. 20 children participated across the school and Ananmay, Aahana, Hana and Tokoni presented their designs in the lower and upper school assemblies. A very big well done to all that took part.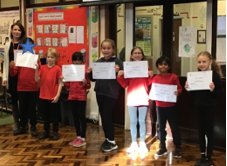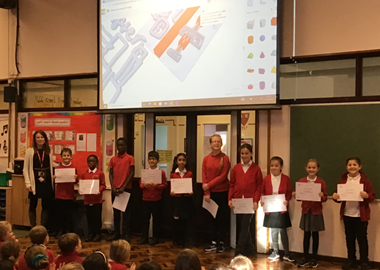 November 2022
Gabriel has shown he is someone who does the right thing because it is who he is. Each year group is working on learning and reciting a poem. Gabriel decided, without prompting, to take his copy home and continue his learning. This week, he was very proud to recite all 4 verses, word for word, to his teacher and Headteacher who were equally as proud to learn that he had worked so hard on it. Very well-done Gabriel.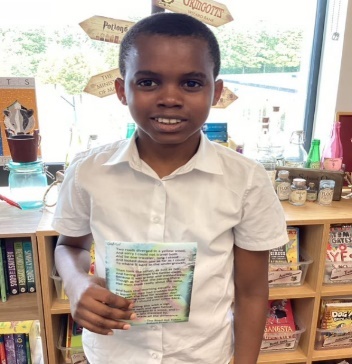 Megan was so interested when Mrs Cleaves told her they would be learning about solar eclipses in the future that she went and found out about them at home and created this masterpiece!