Parents' Evening
Parents are invited to attend a parents' evening with their child's class teacher twice during the school year. Once in the autumn term and then again in the spring term with reports being sent to parents at the end of the school year.
In response to feedback from parents last term, we are trialling a hybrid system for appointments, whereby it is parental choice whether the appointment is face to face or online for all times offered. Appointment lengths are ten minutes and teachers will need to keep to strict timings.
The system we use for booking these meetings is the same as we recently used for clubs. Please visit https://almondhill.parentseveningsystem.co.uk to book your appointment. To log on, you will need the following information:
your child's first name,
surname and
date of birth.
Face to Face Appointments
Face-face appointments are held in school and you will be able to have a look at their books and the classroom displays, and then head to meet with your child's teacher at your allocated time. There will be a map on a flip chart pad in the hall telling you which teacher will be in which room.
Online Appointments
If you choose an online meeting, please see the attached link for a guide on using the system. Please read this carefully as it tells you how to check that your technology will work correctly for the meeting. You will be sent a link for the meeting and you will need to ensure you are prompt to start. The meetings follow back to back so your time cannot be adjusted. The meetings will be timed to 10 minutes and will cut out after this time. There will be a clock on screen as an indicator for both you and the teacher that the meeting is coming to an end.
https://support.parentseveningsystem.co.uk/article/801-video-parents-how-to-attend-appointments-over-video-call
We must ask parents to comply with our remote learning policy to ensure safeguarding in the meetings. In attending the meeting, parents must be appropriately dressed, they should be should be in a neutral, quiet, downstairs area of the home. Parents should be aware of any backgrounds that could be seen by teachers - e.g. personal photographs of family and background noise.
All meetings are subject to technology working and we ask you to be supportive if things do not go quite to plan. Please be assured that if there is a technical hitch at the time of the meeting then your child's teacher will contact you to rearrange.
Parents' Guide for Booking Appointments
Browse to https://almondhill.schoolcloud.co.uk/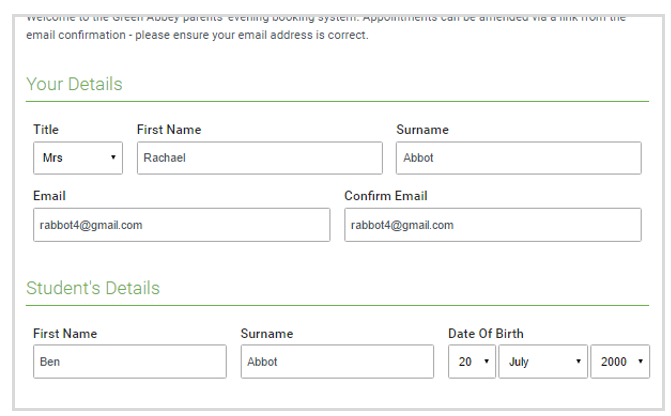 Step 1: Login
Fill out the details on the page then click the Log In button.
A confirmation of your appointments will be sent to the email address you provide.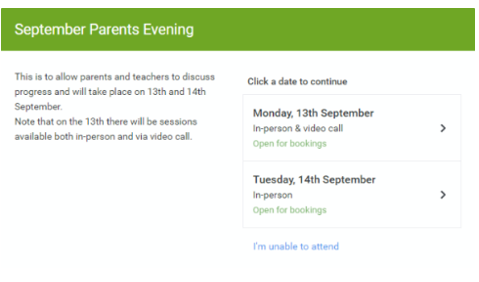 Step 2: Select Parents' Evening
Click on the date you wish to book.
Unable to make all of the dates listed? Click I'm unable to attend.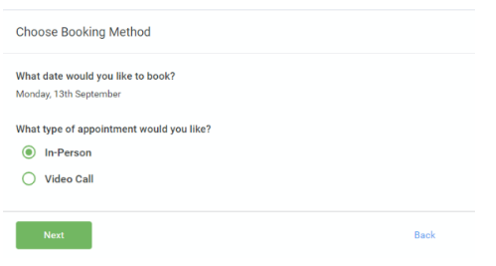 Step 3: Select in-person or video
When you choose a date that has both in-person and video appointment sessions available you can choose which one you want to book. ​
Then press Next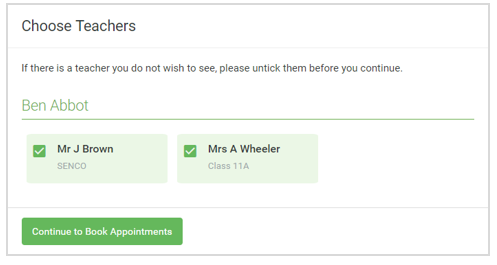 Step 4: Choose Teachers
Select the teachers you'd like to book appointments with. A green tick indicates they're selected. To de-select, click on their name.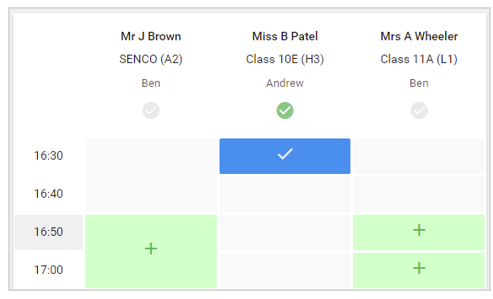 Step 5: Book Appointments
Click any of the green cells to make an appointment. Blue cells signify where you already have an appointment. Grey cells are unavailable.
To change an appointment, delete the original by hovering over the blue box and clicking Delete. Then choose an alternate time.
You can optionally leave a message for the teacher to say what you'd like to discuss, or raise anything beforehand.
Once you're finished booking all appointments, at the top of the page in the alert box, press click here to finish the booking process.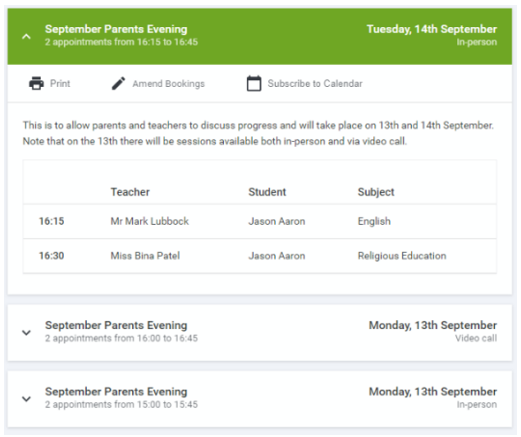 Step 6: Finished
All your bookings now appear on the My Bookings page. An email confirmation has been sent and you can also print appointments by pressing Print. Click Subscribe to Calendar to add these and any future bookings to your calendar.
To change your appointments, click on Amend Bookings.