Parents
Contact with Class Teachers
There will be times, as parents, where you need to contact the school and general enquiries can be made via the school office by phone or email. You can also use the year group email addresses to contact your child's year group.

If you have any concerns regarding your child, please make an appointment after school to see the class teacher initially. For more urgent matters, please first contact Miss Simmons, our Deputy Head (admin@almondhill.herts.sch.uk) or if your child has special educational needs or disabilities, Mrs Birchall our SENCo (iep@almondhill.herts.sch.uk). Mrs Fordham can be contacted using the admin email address and will respond accordingly. However, depending on the nature of your email, it may be passed on to a more appropriate member of staff for a response.

The Designated Teacher for Child Protection is Mrs Fordham, with Mrs Birchall and Mrs Burgess as deputies.
Attendance and Punctuality
We hope all children achieve 100% attendance or as close to this figure as possible. Regular attendance really does make a difference as does punctuality, so please support your child to be on time! There is a copy of the school attendance policy on the website.
Equipment
Please provide your child with a book bag, pencil in the lower school and pen and pencil in the upper school. All other stationery will be provided. Pens will be on sale in school at break time for 50p (pencils are free of charge). Please make sure your child has their PE kit in school every day in a PE bag. Please do not send any other school bag into school as we do not have room in the cloakrooms, particularly in Acorn House where the cloakroom areas are really limited!
What do I need to bring?
You should bring a named water bottle daily.
A jacket/coat (clothes for the weather – we will go outside – (waterproof/sun hat/cap).
Packed lunch if you are not having school lunch.
Healthy snack – e.g. a piece of fruit/cereal bar. No products containing nuts.
Stationery equipment on the first day (colour pencils/rubber/pencil sharpener with lid – these will stay in school in your wallet).
Small, named, refillable hand sanitizer.
You should wear your PE kit to school on the days you have PE.
Please do not bring
Any bags.
Any toys or games from home.
Anything to share/show your class/teacher.
You said, we did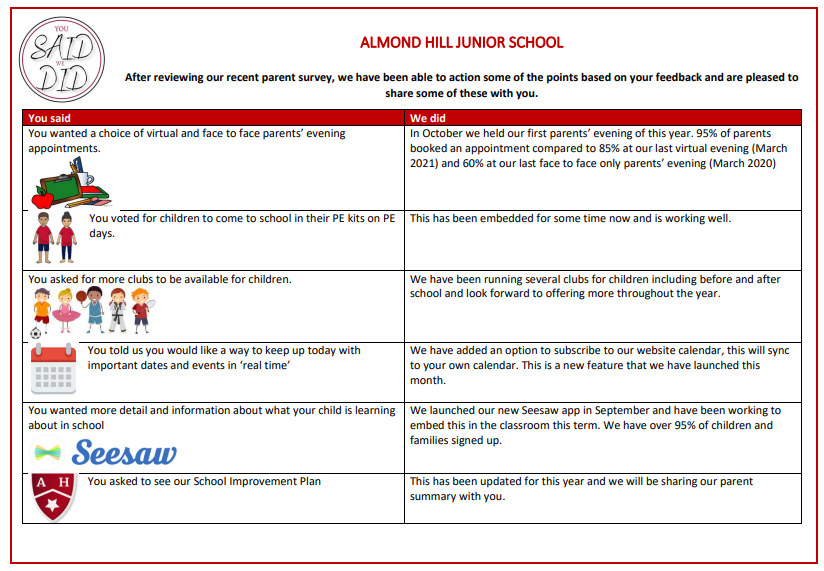 November 2021