Safeguarding
Our school is committed to the safety of all pupils and staff. All of our children have the right to be safe and happy at school and it is our aim to make them feel that way every day when they come to school.
All adults working in school are subject to DBS clearance and appointments follow the school's safer recruitment policy. All staff receive regular safeguarding training and 'safeguarding' is on the agenda for all staff meetings. Keeping children safe is at the heart of what we do every day and we aim to be vigilant and pro-active to ensure our children feel secure and our practice is effective. The governing body has appointed a governor to regularly monitor all of the school's safeguarding procedures. Copies of safeguarding policies can be found in the 'Policies' section of the website.
Mrs Lovelock is the Designated Senior Person (DSP) for Child Protection. In her absence Mrs Fordham and Mrs Birchall deputise in this role. We will be happy to discuss any questions or concerns parents/carers may have about our child protection policy and practice. The appointed governor for child protection is Mrs Michelle Finch and the school safeguarding governor is Mr Andrew Boakes.
If there are concerns about a child's welfare we may need to share information and work in partnership with other agencies. We will ensure that any concerns about a child are discussed with parents/carers first, unless we have reason to believe that such a move would be contrary to the child's welfare.
At Almond Hill we actively support action to counter radicalism and extremism through the government's Prevent strategy.
'Together we can takle child abuse' - Department for Education
The DFE has launched a campaign: "Together, we can tackle child abuse" to remind everyone of the need to share concerns they might have about children and young people. Click on the link below to learn more about the campaign.
https://tacklechildabuse.campaign.gov.uk/
How can you as parents/carers help us to be effective with safeguarding?
We welcome parent/carer support in the following ways:-
Letting us know if you have an issue or concern that you have noticed regarding safety or the welfare of your child or our pupils.
Informing the office before 9.00am if your child is going to be absent.
Informing us of any changes in address/contacts and providing us with two emergency contact details.
Informing us of any medical/dietary changes for your child.
Attending Parent Forums so we can hear your views.
Making sure where possible you walk to school rather than drive – this helps to reduce congestion.
Using the pedestrian entrances appropriately so you avoid crossing the drop off zone.
Using the' drop off zone' as requested.
Not arriving or sending your child before 8.45am – the playground is not supervised at this time.
Letting us know if you are delayed and coming into the school main entrance to sign your child out when you arrive to collect them.
If you are late for any reason bringing your child into school yourself and signing them in.
Parking
If you are driving to school, please park safely and in line with restrictions. Please also show respect to our neighbours in adjacent roads so their access is not restricted by inconsiderate parking.
Drop off Zone
Thank you very much for using the drop off zone as we have asked, my only concern at the moment is that not everyone gets out to use the pedestrian crossing with their child when they park up. This is very important for safety purposes so please do make sure you accompany your child correctly across. Also as the days shorten with darker mornings and evenings please take time for an extra 'check' in your mirrors before moving off.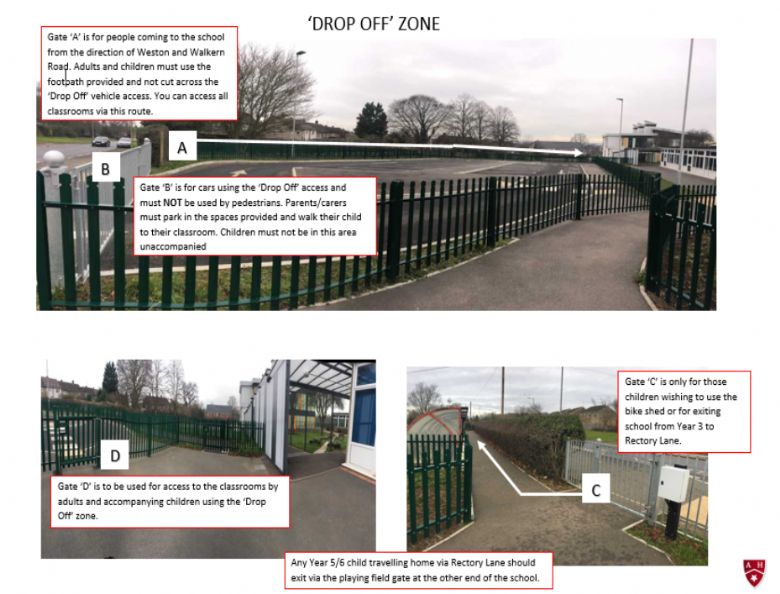 Breakfast Club Drop off
If your child attends breakfast club, please ensure that you walk them to the door. It is not appropriate to let them walk unaccompanied from the main entrance.
Cycling/Scooters
We welcome children riding bikes/scooting to school if they are wearing a safety helmet. They may ride a bike to school without an adult in year 6 if they have passed their cycling proficiency.
Being Aware
Please supervise younger children in and around the school entrances and if you are waiting outside of classrooms. The main gates are automatic. Sometimes younger children are not supervised and are allowed to climb onto the gates and handrails and run around near the vehicle entrance. KEEP CLEAR OF THESE GATES AND ENSURE YOUNG CHILDREN STAY CLOSE TO PARENTS AND ARE PROPERLY SUPERVISED.
Mobile Phones
Only children in years 5 and 6 are allowed to bring mobile phones to school. They must be turned off and placed in a box with the class teacher during the school day. Our e-safety rules do not allow children to use phones within the school premises. Please will adults respect this rule and not use their mobile phones within school premises.
Headlice
Unfortunately, headline is a recurring issue. We do urge all parents to check their children's hair regularly, and treat any cases immediately before sending them back to school. More information on what to look out for and how to treat headline can be found on the NHS website http://www.nhs.uk/Conditions/Head-lice/Pages/Introduction.aspx
Schools have recently been made aware that GPs are now routinely prevented from prescribing treatments for head lice, therefore we may see a rise in reported cases. Please ensure you check your child's hair routinely. For further information on head lice and how to treat, please visit https://www.nhs.uk/conditions/head-lice-and-nits/
No Nut Policy
Can we stress to all parents the importance of not allowing children to come to school with any product containing nuts. At present we have a number of children with severe allergies and therefore strongly require parents to be mindful and check that the snack and lunch items they are providing are not containing nuts.
Medicines
Where carers/parents request prescribed or non-prescribed medication to be given short term (less than 4 weeks) they should make an appointment to complete the form required. Parents/carers should be aware that 8.45am is a very busy timest the office and they will need to wait until 9.00am to do this.
We will administer long term medication (4 weeks +). This must be prescribed and a health care plan will be drawn up with parents prior to administration. The school will only administer as prescribed.
Children should never be given medication/creams to administer themselves.
Sun Safety
Whilst, or should I say when, the weather is exceptionally hot please ensure you put sun cream on your child before school. We advise that they wear a sun hat/cap and have a water bottle for break and lunchtime.