School Aims and Values
School Aims
The Almond Hill community have agreed to promote the following aims:
To stay physically and emotionally healthy
To keep ourselves safe and use common sense
To learn to interact socially within different groups and cultures and communicate effectively including respecting everybody's views.
To be literate and numerate and able to apply those skills to solve problems
To learn about the world and make cross-curricular links and to see the bigger picture
To take pride in personal appearance and presentation of work
Develop their capability to use a range of technology for lifelong learning
To recognising and developing creative skills
To appreciate that society needs rules and achieving self discipline
We aim to provide an excellent education for all pupils whilst working in partnership with other local schools to provide continuity in learning and pastoral care and with parents and carers to help them support their child's education.
Monthly Values
In our everyday school life we discuss, and try to model values to support our aims and the values of life that support respect for each other and care of our community. We look at different values each month and consider what these mean and how we can show them in our actions and behaviours.
Please find the proposed order of monthly values which we will be sharing during the school year:-
September - Friendship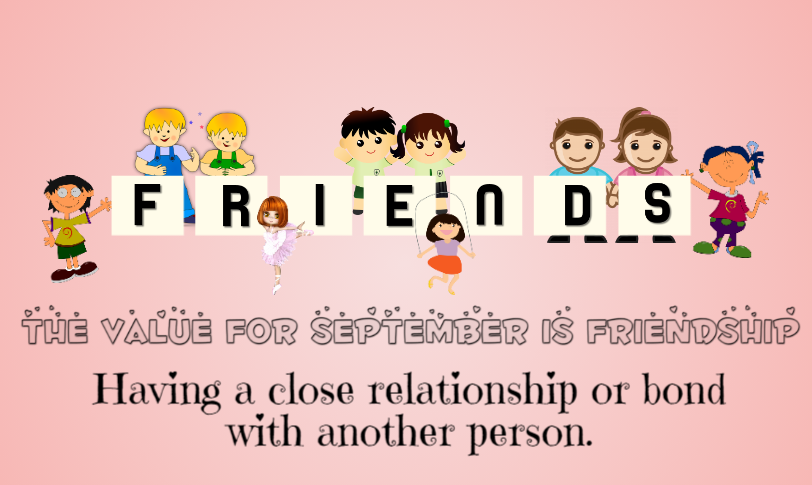 Examples:
Offering to play with everyone – not leaving others out.
Helping others in your class.
Realising that sometimes you might have an argument and fall out but making up.
October - Honesty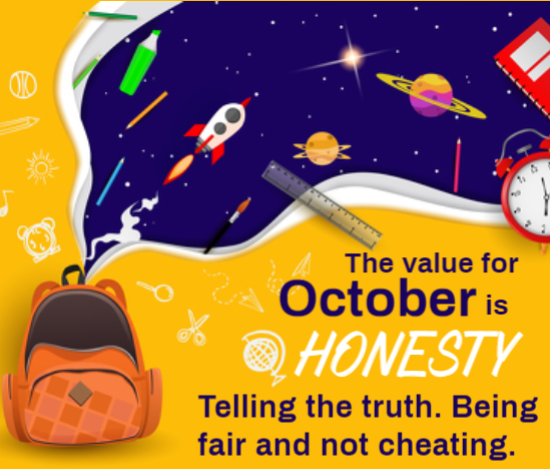 Examples:
Owning up if you make a mistake
Doing your own work.
Not telling lies.
November - Respect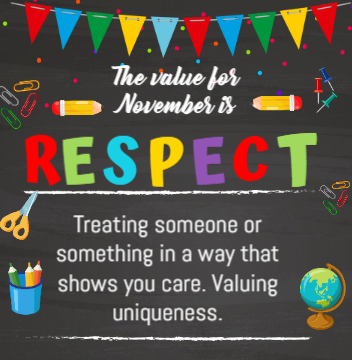 Examples:
Showing good manners, being polite.
Showing interest in the talents, cultures and religions of others.
December - Generosity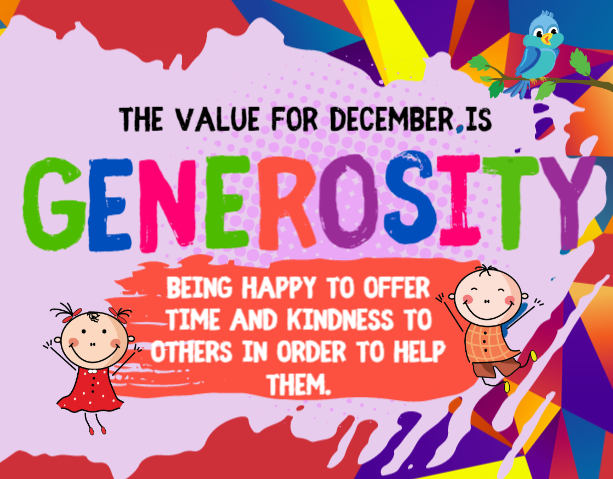 Examples:
Being a good learning partner.
Considering other people before doing what we want to do.
Letting others go first.
January - Tolerance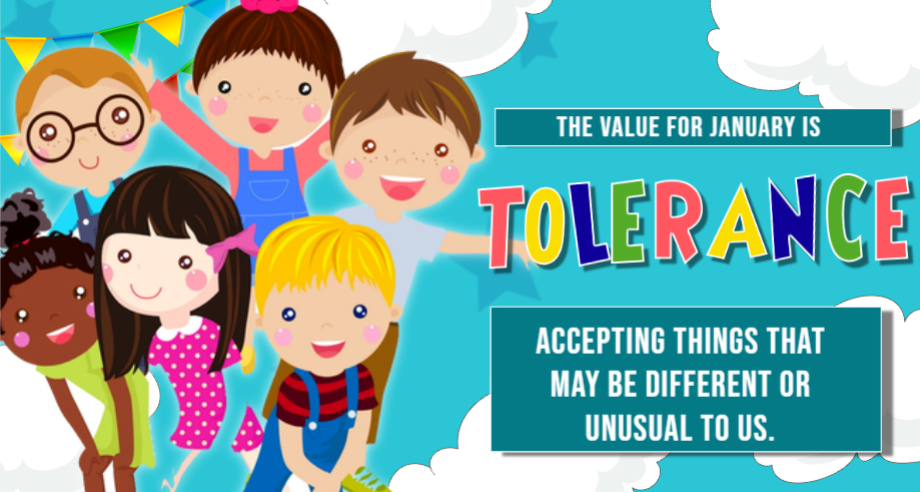 Examples:
Enjoying working with different people and learning from them.
Understanding that others have different views and opinions.
February - Courage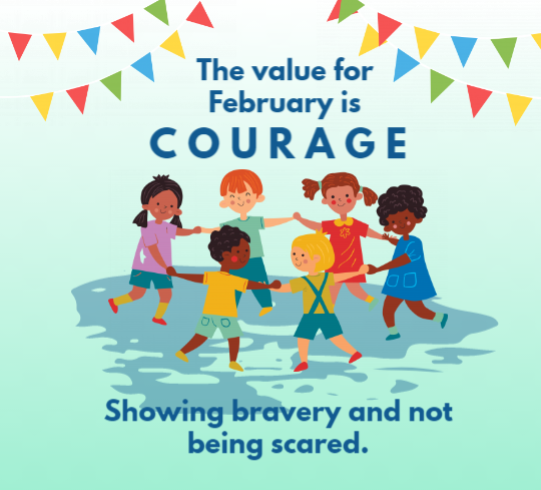 Example:
Having a go and trying new things even if they seem hard.
March - Kindness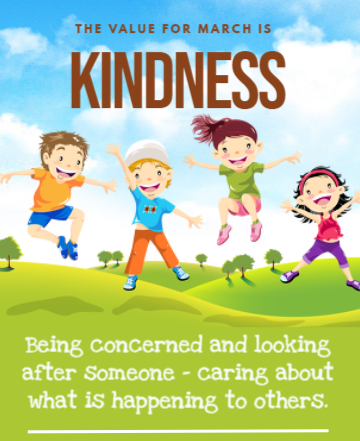 Examples:
Helping someone who is upset or in need of help.
Welcoming someone new.
April - Positivity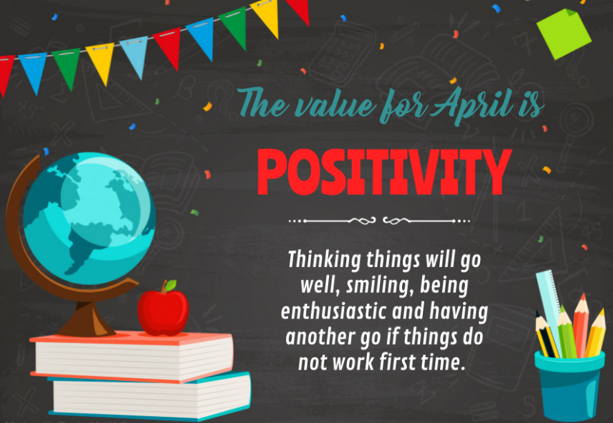 Example:
Thinking things will go well, smiling, being enthusiastic, having another go if it does not work first time
May - Trust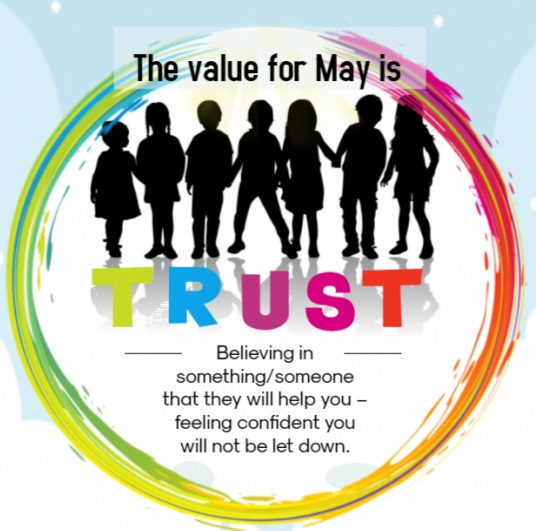 Examples:
Sharing your worries or personal information.
Not listening to or spreading gossip.
Completing things you have been given responsibility for.
June - Inclusivity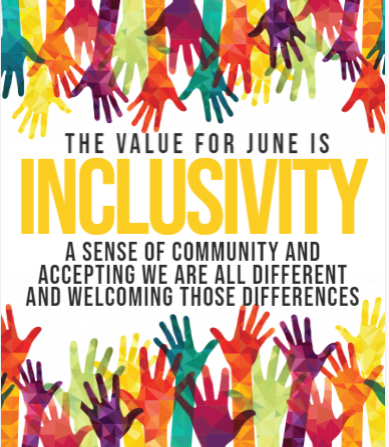 Example:
Enjoying working together with people from different backgrounds and with differing abilities; co-operating with them helping them and learning from them
July - Reliability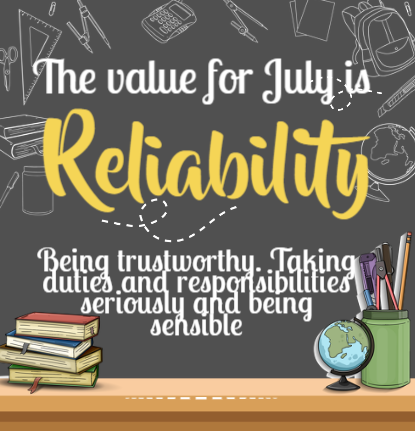 Examples:
Being ready with everything you need on time.
Offering to help.
Completing a job properly
Gratitude
In addition to our monthly values, we will be having a whole school focus on the concept of gratitude this year. The dictionary definition of gratitude is: the quality of being thankful and readiness to show appreciation for and to return kindness. ​
It is more than just being grateful, or polite or kind. It's all these things rolled into one. Showing gratitude is really important! Gratitude is a powerful positive force. It has real impact on physical health, emotional wellbeing, motivation, engagement and belonging. This is both for the people that show gratitude and receive it. ​
Gratitude is also the root of happiness. It tends to focus you on what you have and replace a sense of what you might be lacking. According to some philosophers, you can't feel both grateful and unhappy, so when your mind focuses on all you are thankful for, you're more likely to feel joy. This is the information that has and will continue to be shared with the children.