School Uniform
My Clothing supply Almond Hill Junior School uniform complete with embroidered school logos.
www.myclothing.com/almond-hill
Please support us by following our uniform expectations.
For our standard uniform we would like all children to wear the following:
Standard red cardigan or jumper*
White polo shirt* (children in year 6 may wear a shirt and tie)
Black trousers or skirt
In summer, children may wear red and white gingham dresses.
Black shorts/skirts
Plain black shoes/trainers
Black/red tights preferred
PE kit
Red crew neck t-shirt (no collar)*
Black shorts/skorts (appropriate length) for summer and black jogging bottoms for winter
Children can wear their usual red school jumper or black sweatshirt/hoody
Black unbranded tracksuits for PE are preferred
*items can have the Almond Hill logo on but without is absolutely fine.
Uniform Sales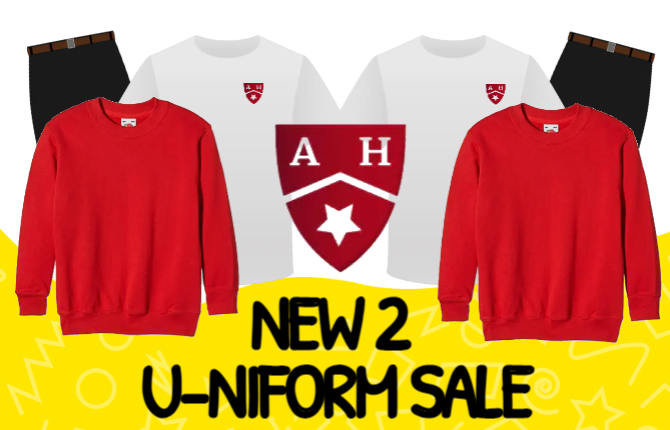 It is really important that all uniform is clearly labelled to allow lost items to be returned to your child. We regularly invite parents to look through and claim items that belong to their child. Although some items are collected, we are still left with lots of uniform. Ordinarily, these items would be recycled but after listening to parents and understanding how successful 'nearly new' uniform sales have been locally, we have decided to hold uniform sales once a month at the end of the schoold day. We have lots of items including t-shirts, cardigans and jumpers and welcome all parents to come to the sales. We are asking for a voluntary donation of 50p which will be given back to the school.
Please support your child to look after their uniform by naming items clearly.
Only stud earrings and watches are allowed, no other jewellery should be worn. Whilst we appreciate that hair style is a parental choice, we ask all parents to support our policy of no fashion styles for school e.g. shaving patterns into hair or colour in hair.
FOAH Baseball Caps
Designed by the school along with FOAH, Almond Hill would like to introduce the new design baseball cap!
Unisex, and without a school logo but instead using our school moto 'AIM HIGH', this American style cap can be worn in and out of school.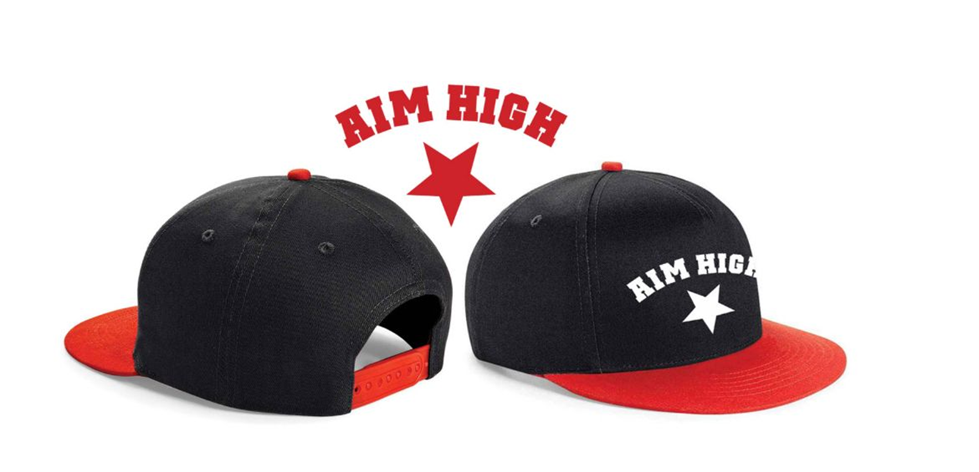 We think it looks fantastic, and we hope you do too!
Perfect for hot weather, they are one size and come with a snap back rather than Velcro.
The caps are £8 each. Please place your pre-orders via School Gateway. We will send them home with your children as soon as they arrive!
With the popularity of the school baseball caps Friends of Almond Hill have created a school motto beanie hat with the same design.
Pre-order now for delivery to school
Available on School Gateway for £8.00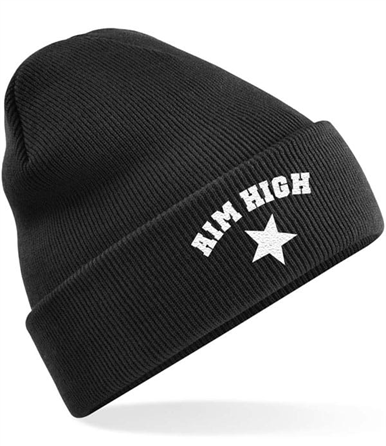 Equipment
Please provide your child with a book bag, pencil in the lower school and pen and pencil in the upper school. All other stationery will be provided. Please do not send any other school bag into school as we do not have room in the cloakrooms, particularly in Acorn House where the cloakroom areas are really limited!
What do I need to bring?
You should bring a named water bottle daily.
A jacket/coat (clothes for the weather – we will go outside – (waterproof/sun hat/cap).
Packed lunch if you are not having school lunch.
Healthy snack – e.g. a piece of fruit/cereal bar. No products containing nuts.
Stationery equipment on the first day (colour pencils/rubber/pencil sharpener with lid – these will stay in school in your wallet).
You should wear your PE kit to school on the days you have PE.
Please do not bring
Any bags.
Any toys or games from home.
Anything to share/show your class/teacher.