School Uniform
Please support us by following our uniform expectations.
In response to parent queries and in order to make sourcing uniform as easy and as cost effective as possible whilst still maintaining a smart appearance, we are currently reviewing our uniform policy. We want to streamline it and make it simpler for parents. We have looked into our local retailers and what they offer and found that Asda were the easiest (and cheapest) for sourcing all uniform. Some parents like to purchase uniform with our logo on and this will still be available at www.myclothing.com
We are looking into working with the provider to make some changes on this site to make it even better.
For our standard uniform (from September 2022) we would like all children to wear the following:
Standard red cardigan or jumper*
White polo shirt* (children in year 6 may wear a shirt and tie)
Black trousers or skirt
In summer, children may wear red and white gingham dresses.
Black shorts/skirts
Plain black shoes/trainers
PE kit – Now children are wearing their PE kit all day, it has been commented on by parents at events that our school does not look as smart as others and we would agree. We would like to continue to offer the option for children to wear PE kits all day on the day they have PE as you told us this is easier for you as families. We also think if families know this is the case, they can buy less uniform and it all can be washed together at the end of the week. However, we do want to improve the smartness of PE kits so will be asking parents to provide the following for PE:
Red crew neck t-shirt (no collar)*
Black shorts for summer and black jogging bottoms for winter.
Children can wear their usual red school jumper or black sweatshirt/hoody.
*items can have the Almond Hill logo on but without is absolutely fine.
I hope that with enough notice, parents will have plenty of time to purchase uniform ready for the new school year. We do not want parents to purchase uniform unnecessarily, but the vast majority of parents purchase new uniform for September, so feel this is the best time to implement changes. Whilst clothing is equally acceptable with or without the Almond Hill logo, we are very keen to avoid sport logos and would ask that parents purchase plain (which are also cheaper) unbranded clothing for PE which helps with creating a smart appearance.
Uniform Sales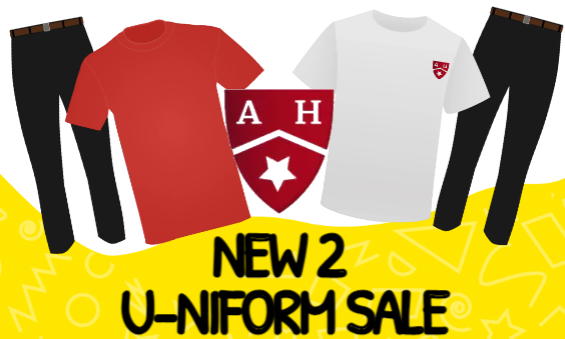 Over recent months, we accumulated lots of unclaimed school uniform. It is really important that all uniform is clearly labelled to allow lost items to be returned to your child. At the end of last term, we invited parents to look through and claim items that belonged to their child. Although some items were collected, we were still left with lots of uniform. Ordinarily, these items would be recycled but after listening to parents and understanding how successful 'nearly new' uniform sales have been locally, we have decided to hold a uniform 'sale' for each year group. We have lots of items including t-shirts, cardigans and jumpers and welcome all parents to come to the sales. We are asking for a voluntary donation of 50p which will be given back to the school. Uniform sales will be held each half term.
Please support your child to look after their uniform by naming items clearly.
Only stud earrings and watches are allowed, no other jewellery should be worn. Whilst we appreciate that hair style is a parental choice, we ask all parents to support our policy of no fashion styles for school e.g. shaving patterns into hair or colour in hair.
Other resources
Children will need a book bag.
The school provides all resources for classroom learning so pencil cases are not required. Children in years 5 and 6 will be provided with a handwriting pen in September.
Please do not send any other bags into school. Our cloakroom facilities, particularly in the new building, are very limited and we do not have room to store these.