School Uniform
Click here to be taken to the My Clothing website, where all of our uniform can be purchased.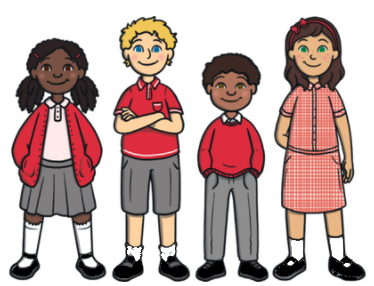 Please support us by following our uniform expectations.
Boys:
red sweatshirt/jumper
grey or black trousers / school style shorts
white shirt.
Girls:
red sweatshirt/jumper/cardigan
grey skirt or black school trousers (not leggings or a fashion style)
red and white dress
white shirt.
Footwear: black school style shoes/sandals and socks. Sandals need to be appropriate for playing, not a fashion style. Pupils may wear boots to school in cold weather but need to change into school shoes in the classroom.
Children in year 6 are encouraged to wear a shirt and tie and act as ambassadors to promote smart appearance. Ties can be purchased from the school office for £3.75.
PE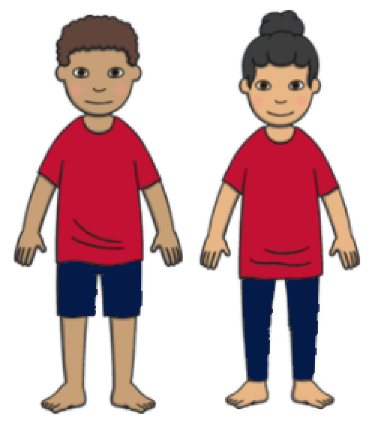 We want children to be just as smart in their PE uniform. Children wear their PE kit to school on their classes PE day: navy blue shorts and red t-shirt for indoor PE and for cold weather warm jogging bottoms and sweatshirt with plain black or white trainers. In previous years we have not stated what colour the jogging bottoms and sweatshirts needs to be. This is because children only wore this for part of the day. Now that children are wearing the tracksuit for the whole day, we would prefer the tracksuit to be navy or black.
Please support your child to look after their uniform by naming items clearly.
Only stud earrings and watches are allowed, no other jewellery should be worn. Whilst we appreciate that hair style is a parental choice, we ask all parents to support our policy of no fashion styles for school e.g. shaving patterns into hair or colour in hair.
Other resources
Children will need a book bag.
The school provides all resources for classroom learning so pencil cases are not required. Children in years 5 and 6 will be provided with a handwriting pen in September.
Please do not send any other bags into school. Our cloakroom facilities, particularly in the new building are very limited and we do not have room to store these.